5th April 2018 – 5th May 2018
In each of the 9 grids you will see two numbers. The number on the upper left represents the annual star (red = afflictive, blue = auspicious) and the black number in the bottom right represents the monthly star. If you are not yet familiar with the compass orientations of your home, then please use a reliable compass to take the directions. I recommend to take one compass reading from your main door, looking out, and another one from the center of your living room, looking towards your balcony or picture window. These two readings should enable you to determine the compass directions and locations of your home.
Take particular note of the location of your front door and your master bedroom, as the stars in those sectors will affect you the most.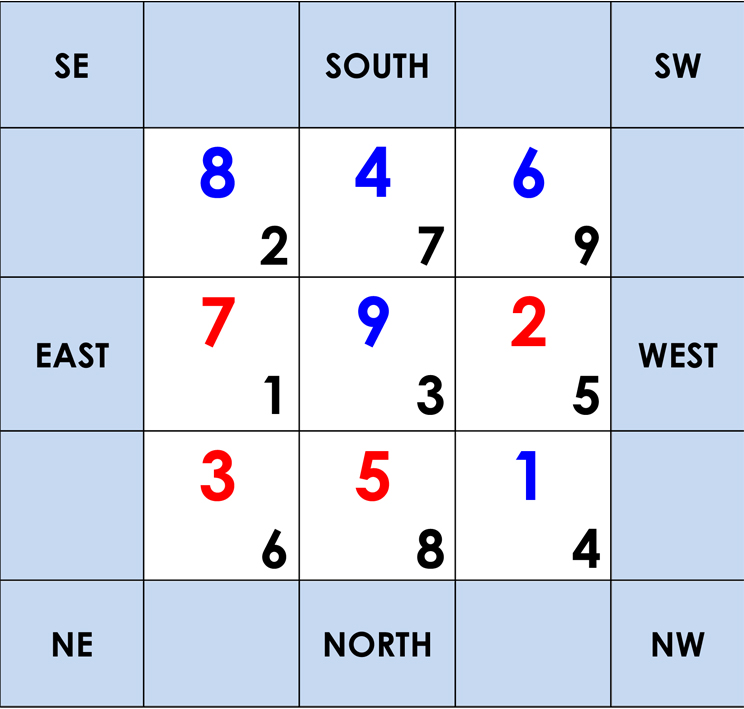 SOUTHEAST (8/2)
The monthly No 2 Illness Star brings health problems to the SE, likely affecting the liver. Those with bedrooms in the SE as well as those born in the Years of the Dragon and Snake ought to carry a Garuda Wu Lou amulet to protect themselves from falling sick.
Pregnant ladies and elderly family members would be wise to avoid the SE this month. Display a Garuda Wu Lou to protect your health.
Having said that, the two stars form the lucky "Sum of Ten" this month which is excellent news, as this gives an incredible boost to your wealth and prosperity luck! Enhance with Ten Golden Pears, Ten Golden Pineapples or the new Musical Wealth Granting Tree in your SE (but not in a bedroom).
For those with main doors in the SE it is a good time to invest in property and other assets.
SOUTH (4/7)
Please be careful in the SOUTH this month as the violent No 7 Star brings the danger of robbery and loss of any kind. Display the new Anti-Burglary Mountain or an Anti-Burglary Lumi Tile in your SOUTH for protection, especially if your main entrance is located here. Use Anti-Burglary stickers for your SOUTH facing windows.
Those born in the Year of the Horse and those with bedrooms in the SOUTH should protect themselves by carrying an Anti-Burglary amulet.
Don't expect much love luck this month.
The elements of the two stars are clashing, which leads to mistakes in paperwork. Please be very attentive and double-check your documents to avoid legal problems arising from your errors. Yin (still) water will balance the elements. You can also use the colour blue.
SOUTHWEST (6/9)
There is good money luck this month for those living in SW-facing houses or with bedrooms in the SW. You can boost your wealth luck with a Treasure Chest or a Wealth Granting Tree.
However, the combination of stars can also cause frustration between the young and older generations of the family, leading to arguments and disagreements. Problems with the stomach or infections of the mouth are additional possible side effects.
Restore balance and harmony with Six Smooth Crystal Balls or the God of Wealth Sitting on a Tiger.
EAST (7/1)
Career and prosperity luck is increased this month for those with bedrooms and/or main doors in the EAST, thanks to the monthly No 1 Victory Star, but there is strong competition at work. Display a Rooster on your work desk to protect you from office politics. A Bejewelled Wind Horse or a Wind Horse Lumi Tile will help you win against the competition and enhance your general good fortune luck this month.
Stay calm and avoid confronting others. The 9 Dragon Kwan Kung will bring solid support.
Remember the annual No 7 Star though and be careful when using sharp or heavy metal objects/instruments to avoid accidents and injuries.
CENTRE (9/3)
The quarrelsome No 3 Star brings aggressive energy to the center of the home, affecting all family members with a bad and quarrelsome mood. Get ready for arguments and fights, especially between siblings.
You need fire energy to help keep everyone calm. Place red accessories in the centre of your home and/or the centre of your living room, eg a red carpet, a red picture, or red sofa cushions. If you would like to use a Feng Shui cure, place a pair of Red Tzi Chi Kau in your centre and avoid too much noise there.
Of course, a picture of a Happy Laughing Buddha is always good to bring a smile back on your face and restore peace in your home!
WEST (2/5)
The 2/5 combination of stars is extremely dangerous, bringing serious illness and disaster. It is best to avoid the WEST, and those who are already suffering from bad health or feeling frail should definitely sleep in a different bedroom this month. Place a Garuda Wu Lu or a Medicine Buddha for protection.
Those with bedrooms in the WEST and those born in the Year of the Rooster should also carry a Garuda Wu Lou amulet and a 5 Element Pagoda amulet to keep them safe from misfortune. A 10 Hums amulet is another powerful protector.
Avoid bright lights and open fire (candles) as these would further strengthen the negative energy of both of the stars.
Keep this area as quiet as possible this month.
NORTHEAST (3/6)
Luck improves in the NE with the monthly Heaven Star bringing unexpected money and prosperity luck. You can enhance this with a Wind Horse print or the Three Emperors on Horses.
However, there is conflict between the elements, which is highly unfavourable for the youngest son. Problems with the stomach might occur, likely to be caused by metal objects.
Place a Red Apple (or a bowl of red apples) or a pair of Bejewelled Fu Dogs as a cure.
NORTH (5/8)
The monthly No 8 Star brings wealth and prosperity luck to those staying in the NORTH and those born in the Year of the Rat. However, avoid gambling and speculative play as the No 5 Misfortune Star still dominates the area. If you have not already done so, please place a large 5 Element Pagoda in your NORTH for protection and carry a 5 Element Pagoda amulet.
Occupants of the NORTH have a chance to be successful though this month and it is highly recommended to enhance your wealth luck with a Set of 5 Dzambhala, a Wealth Bowl or a Water Feature. If this is your bedroom, you can enhance the monthly Wealth Star in the NORTH of your living room instead.
NORTHWEST (1/4)
Students, writers and artists will benefit from staying in the NW this month as the No 4 Star brings wonderful study luck as well as literary and artistic luck. Those staying in the NW might also achieve a promotion at work.
Displaying a Bejewelled Lou Han will activate the auspicious No 4 Star. Students can also place a 7 Level Pagoda on their study table in the NW to enhance good luck with their exams and carry an Education amulet.
Men may enjoy wonderful romance luck and if you are single, you might finally find your "Mrs Right"! If it is love luck you are looking for, display a Pair of Mandarin Ducks or Love Birds in your NW.
Source: World of Feng Shui
1 April 2018