4th February 2018 – 5th March 2018
In each of the 9 grids you will see two numbers. The number on the upper left represents the annual star (red = afflictive, blue = auspicious) and the black number in the bottom right represents the monthly star. If you are not yet familiar with the compass orientations of your home then please use a reliable compass to take the directions. I recommend to take one compass reading from your main door, looking out, and another one from the center of your living room, looking towards your balcony or picture window. These two readings should enable you to determine the compass directions and locations of your home.
Take particular note of the location of your front door and your master bedroom, as the stars in those sectors will affect you the most.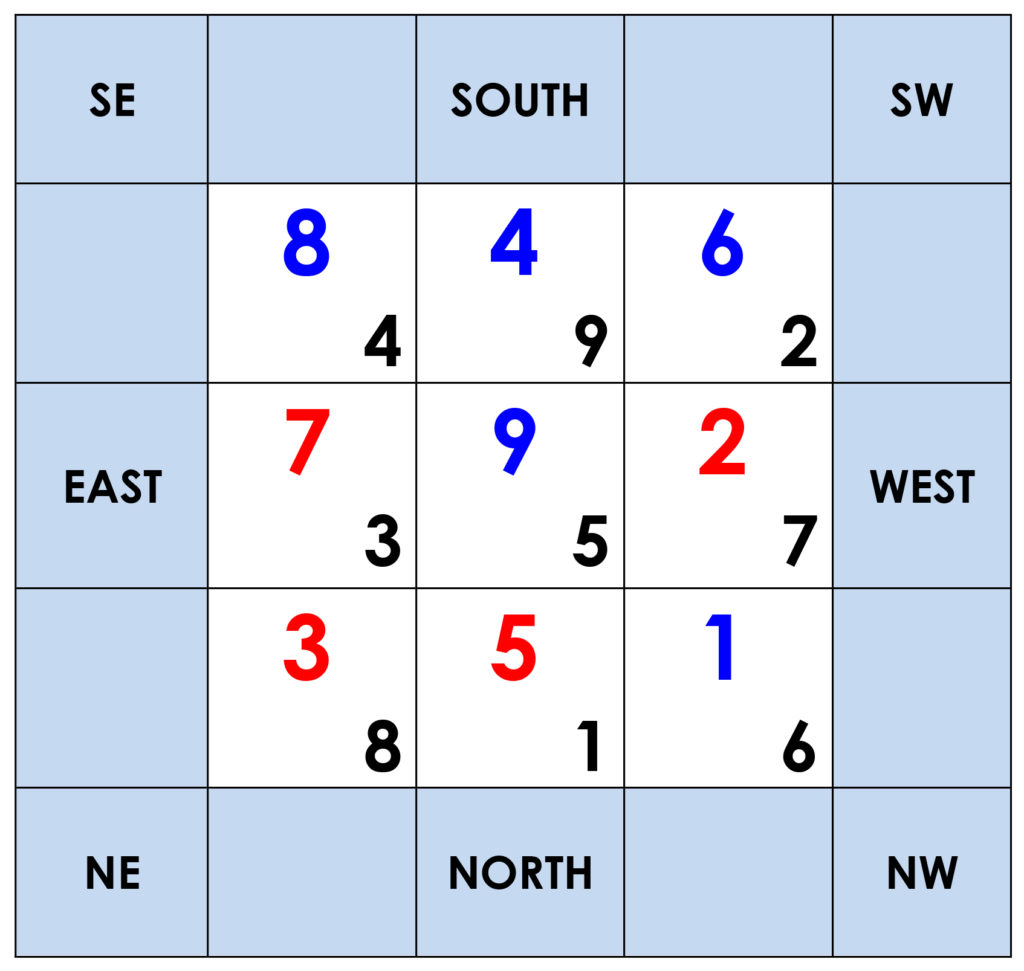 SOUTHEAST (8/4)
The wealth luck in the SE is weakened by the incoming wood energy of the monthly No 4 Star. You can place a Bejewelled 108 Lime Tree or a Wish-Fulfilling Tree to overcome the conflict energy in this area.
Love luck is great though! Singles staying in the SE or single Dragons and Snakes might well see their romance blossom this month. Display your Peach Blossom Animal to enhance, if you wish.
Students will also benefit and do well in their exams this month. Activate study luck with a Bejewelled Luo Han or display the 4 Scholastic Objects in your SE or in the SE of the student's room.
SOUTH (4/9)
This is another auspicious sector for students and writers, and anyone involved in research. Especially those preparing for exams will find the month of February a very productive time. Enhance the positive energy with a Dragon Carp or Luo Han and your academic or literary ventures will be successful.
But the luck does not end there. The 4/9 combination is also a Ho Tu combination, bringing additional good luck for business and overall success.
Look out for fire hazards though as the No 9 Star also indicates danger of fire. Do not leave candles or the (gas) stove unattended.
SOUTHWEST (6/2)
The monthly Illness Star brings problems with the stomach and particularly affects the matriarch and those born in the Years of the Sheep and Monkey. Display a Garuda Wu Lou and/or the Bejewelled Medicine Buddha in your SW to protect your health.
Pregnant ladies and elderly people should sleep in a different bedroom this month if possible.
The annual No 6 Star brings luck from heaven in the form from helpful mentors. Display 3 Emperors on Horses or a Wind Horse to boost this wonderful luck. Accept offers of assistance if you are lucky enough to meet a new mentor figure.
EAST (7/3)
Conflict energies are reaching a peak in the EAST this month with the Quarrelsome No 3 Star moving in. Those staying in EAST bedrooms or EAST facing houses might find themselves arguing with others for no reason and might end up in a major dispute!  Display the Bejewelled Red Fu Dogs here to counter the aggressive energy.
Residents could also become victims of break-ins and robberies. If your main door is in the EAST make sure it is well protected. Those staying in the EAST and born in the Year of the Rabbit ought to carry an Anti-Burglary amulet to keep them safe from thieves and pick-pockets.
There is also danger of injuries caused by metal objects so it is best to keep sharp objects away from this sector.
CENTRE (9/5)
The 9/5 combination indicates poor health luck this month. Anyone staying in the centre of the home needs to take extra care with their health, in particular watch their stress levels and blood pressure, as the monthly Five Yellow Star is enhanced by the annual No 9 Star.
Place a large 5 Element Pagoda or a Bejewelled Guru Rinpoche Mansion to counter the bad energy. If you feel you are getting too tense take time out to relax and rest your eyes.
Speculative luck is low so gambling is not a good idea right now as you are bound to lose.
There is danger of fire – do not leave candles or the (gas) stove unattended!
WEST (2/7)
The violent No 7 Star flies into the WEST, bringing danger of theft and break-ins. Display an Anti-Bruglary Mountain with Secret Mantras to subdue the negative energy and protect against break-ins and robbery.
If you suffer from increased competition at work display a 9 Dragon Kuan Kung behind you to give you support in your career.
Placing a Rooster on your desk with help quell office politics.
The Ho Tu combination 2/7 offers good completion luck which means your projects can come to a successful close.
NORTHEAST (3/8)
The monthly Wealth Star brings fabulous money luck and promises wealth opportunities for everyone, especially those born in the Years of the Ox and Tiger and those staying in the NE. You can enhance this by displaying a Wealth Vase or a Mountain of Gold to boost your business and income luck.
If you have been planning new projects or new business strategies, now is an excellent time to implement them!
Wearing a Wish-Fulfilling Pendant will bring good fortune overall.
Avoid gossiping this month as that could backfire.
Those with main doors or bedrooms in the NE and Ox and Tiger are under the influence of the quarrelsome No 3 Star and should carry a Peace and Harmony amulet.
You can also display 6 Smooth Crystal Balls or hang a peaceful Buddha picture (ideally in red colours) in your NE to improve relationships within your family.
NORTH (5/1)
The auspicious No 1 Victory Star brings positive energy into an otherwise afflicted NORTH. Those of you wishing to boost their career advancement are recommended to place a Dragon Tortoise or a Bejewelled Wind Horse in your NORTH. Using a Wind Horse lumi tile on your work desk (eg as a paper weight) will also be helpful to give your prospects of promotion that final push.
The elements of the two stars are in conflict though, bringing the danger of injuries caused by accidents as well as other misfortunes. Take care during your daily activities, especially those born in the Year of the Rat, and place a 5 Element Pagoda here to subdue the negative energy.
If you spend a lot of time in your car, place 6 Peacock Feathers in your car or wear a Golden Conch Shell.
NORTHWEST (1/6)
The NW is the luckiest sector this month, enjoying great money and career luck. Opportunities for promotion and recognition will present themselves and you must seize them when they appear! This is excellent news for the patriarchs and those born in the Years of the Dog and Boar. Activate this fabulous luck with a Wind Horse canvas print here, hung high so that the horse can fly!
The 1/6 is another Ho Tu combination which usually means good fortune in money as well as in career. You can boost the fabulous energy further with a water feature in the NW this month.
Those of you looking for a new job can enhance their chances of success with a God of Wealth Sitting on a Tiger and a Ru Yi placed in the NW.
This sector is particularly auspicious for men starting out in their professional careers.
Source: World of Feng Shui
4 February 2018