6th March – 4th April 2019  
In each of the 9 grids below you will see two numbers. These are the so-called "Flying Stars". The number on the upper left represents the annual star (red = afflictive, blue = auspicious – these should have been taken care of at the beginning of the year) and the black number in the bottom right represents the monthly star, which will influence your luck during this current month.
If you are not yet familiar with the compass orientations of your home, then please use a reliable compass to take the directions. I recommend to take one compass reading from your main door, looking out, and another one from the center of your living room, looking towards your balcony or picture window. These two readings should enable you to determine the compass directions and locations of your home, so you can ascertain which stars fly into which area.
Please take particular note of the location of your front door and your master bedroom, as the stars in those sectors will affect you the most.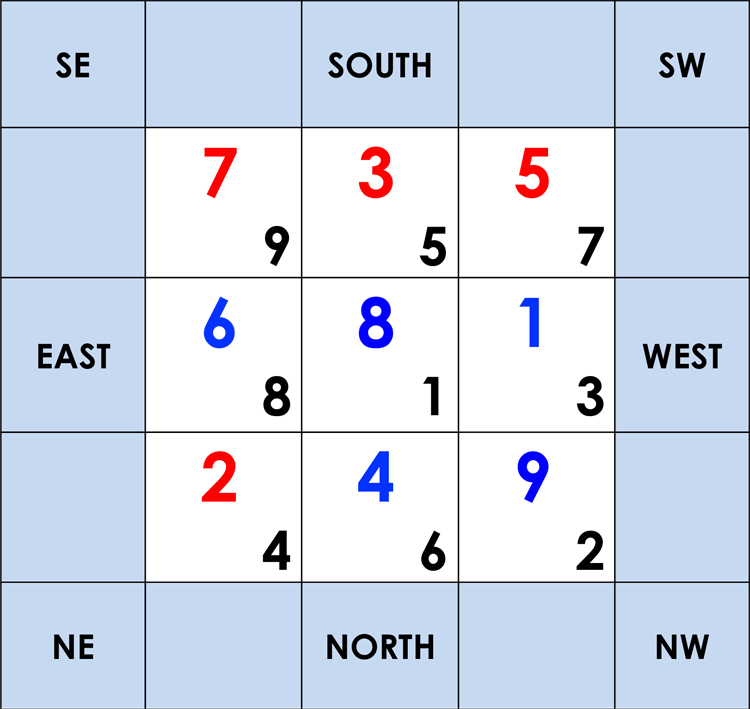 SOUTHEAST (7/9)
The 7/9 combination is bad news because the monthly No 9 Star multiplies the dangers brought by the annual No 7 Burglary Star. Hence, the danger of a robbery, burglary or any kind of loss is very real this month!
Protect your household with a 9 Dragon Kwan Kung placed in your SE, as well as the traditional cure for the No 7 Star, a Blue Rhino & Elephant. If your main entrance door is located in the SE, your protection needs to be particularly strong. You might wish to add an Anti-Burglary Plaque or an Anti-Burglary Lumi Tile.
Residents of SE facing homes are also advised to carry an Anti-Burglary amulet this month for protection.
In addition, the elements of the two stars clash, which creates conflict energy. This could lead to heated arguments and even violent fights. Keep sharp objects away from this area and use still water to subdue the conflict energy.
SOUTH (3/5)
The monthly Five Yellow Star is always bad news; it brings financial troubles and arguments, which can lead to loss of wealth and loss of business luck. If you are born in the Year of the Horse or your bedroom is located in the SOUTH, you could face serious financial loss and disputes connected to money.
Display a Tri-Coloured 5 Element Pagoda in this sector to keep the negative energy under control. Keep this area as quiet as possible and remove windchimes here. Ladies should avoid staying in the SOUTH as they might be affected with health problems to do with the heart.
If your bedroom is in the SOUTH it would be highly advisable for you to carry a Tri-Coloured 5 Element Pagoda amulet or a Garuda Wu Lou Amulet as protection from the negative energies.
SOUTHWEST (5/7)
Another unlucky sector this month is the SW, which particularly affects the matriarchs and those born in the Years of the Sheep and Monkey. Those who spend a lot of time in this area (eg if your bedroom or office is located here) can expect an increase in misfortune, arguments, and robbery this month. Occupants of the SW will also fall ill easily, having issues with digestion. In addition, there is danger of poisoning or injury to the stomach area or womb.
The best cure is having a yang water feature in your SW this month and placing a metal Wu Lou on your bedside table if your bedroom is in the SW.
EAST (6/8)
The EAST is extremely lucky this month, being the home of two of the best stars! The monthly No 8 Wealth Star promises great prosperity luck for those staying in the EAST of the home and those born in the Year of the Rabbit. Combined with the annual No 6 Star, you can look forward to money luck and a smooth and profitable process if you are buying or selling properties.
You can enhance the prosperity chi by displaying a Dragon Treasure Trove in your EAST.
Your work will also receive a boost and your popularity will rise thanks to wonderful mentor luck.
For those having problems in the love department, displaying the God of Love & Romance or carrying a 9-Tailed White Fox amulet will help to boost romance luck.
If your front door is located in the EAST, you can pursue new ventures and the stars will help you to success.
CENTRE (8/1)
The No 1 Victory Star flies into the Centre, bringing fabulous career advancement and wealth luck. This will particularly benefit those who live in homes with an open plan concept.
This wonderful good energy can be enhanced with a 5 Element Victory Banner.
This combination of stars promises lots of opportunities for making money, BUT the conflicting elements also bring differences in opinions and misunderstandings, which could lead to disagreements among business partners. Displaying a Bejewelled Flying Wind Horse or a Wind Horse Lumi Tile will attract good fortune.
Spend more time in your Centre area if you can!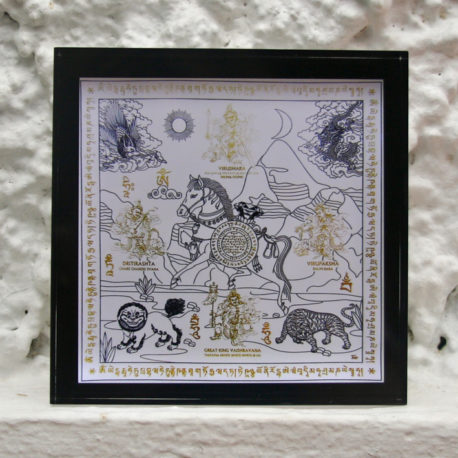 WEST (1/3)
Tempers will be heating up in the WEST due to the Quarrelsome No 3 Star moving in, bringing aggressive energy, where minor disagreements can turn into major fights.
Displaying Red Peace Apples will calm the angry chi. You can also display the Three Star Deities Fuk Luk Sau to enhance overall good fortune.
Keep this area quiet and remove any windchimes you might have hanging here, as they will aggravate the quarrelsome star. The affliction can get so bad, you might end up at court!
Fire energy in the form of light or red accessories is also a good cure to exhaust the aggressive chi (but not too much as that could have an adverse effect on the luck of the WEST). For extra protection, carry the Apple Peace amulet – especially recommended for those born in the Year of the Rooster or those with bedrooms in the WEST.
NORTHEAST (2/4)
The monthly No 4 Star brings positive energy to the afflicted NE, which is nice. It is an auspicious time for those following academic and literary pursuits and students are highly recommended to work in this area this month. If your bedroom is located in the NE you will enjoy good exam luck.
Enhance with a Wisdom Pagoda and/or carry a Scholastic Success amulet.
The No 4 Star also brings romantic opportunities, especially for men. Single men have a good chance to find a partner, but married women should keep an eye on their spouses. You can place a God of Marriage in your NE to strengthen your relationship and counter the danger of an external romance developing.
Married men – please be patient! Your spouse is quarrelling because of the clashing energies.
NORTH (4/6)
The No 6 Star is bringing wonderful money luck from heaven and unexpected windfalls, which will benefit the whole family.
This good fortune can be enhanced by hanging a Gui Ren Windchime in your NORTH or by carrying a Buddha's Foot amulet.
Spend more time in this area, especially is this is your living room or dining room, to enjoy enhanced business success and upward movements in your career.
Having said that, those in creative industries could suffer from lack of inspiration due to a mental block slowing down their work process. Display a figure of the Goddess Saraswati to give your creativity and resourcefulness a boost.
NORTHWEST (9/2)
Those staying in the NW are likely to fall ill frequently this March and suffer from lung problems.
If this is your bedroom, place a Healing Herbs Wu Lou on your bedside table and carry an Anti-Illness amulet; otherwise hang a Garuda Windchime in your NW area to protect your family from the illness energy. Elderly people should sleep in a different bedroom this month as the danger of illness is quite severe.
The 9/2 combination magnifies negative feelings, causing lots of worries and anxiety. Displaying a Happy Laughing Buddha will ease your mind and take away your worries.
Source: World of Feng Shui
4 March 2019