7th November 2017 – 6th December 2017
In each of the 9 grids you will see two numbers. The number on the upper left represents the annual star (red = afflictive, blue = auspicious) and the black number in the bottom right represents the monthly star. If you are not yet familiar with the compass orientations of your home then please use a reliable compass to take the directions. I recommend to take one compass reading from your main door, looking out, and another one from the center of your living room, looking towards your balcony or picture window. These two readings should enable you to determine the compass directions and locations of your home.
Take particular note of the location of your front door and your master bedroom, as the stars in those sectors will affect you the most.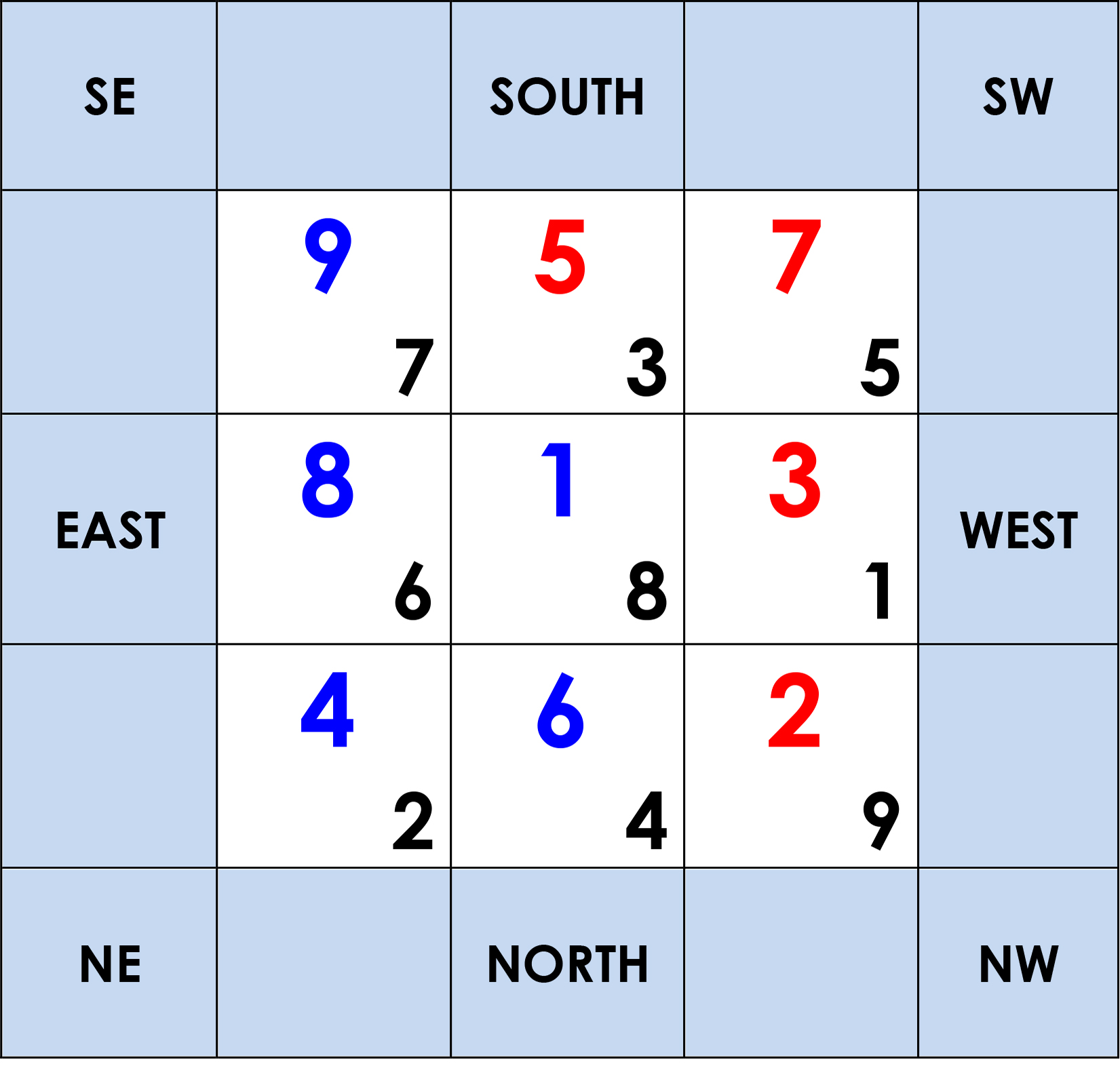 SOUTHEAST (9/7)
Bad news for the SE as the monthly Burglary Star moves in, bringing danger of robbery, burglary and pick pockets. Place an Anti-Burglary lumi tile or a Blue Rhino and Elephant here to subdue the negative energy. A yang water feature is another excellent cure, which will also help protect against the danger of unintentional fire caused by human negligence.
Those staying in this sector could be vulnerable to sexual advances. Display a fierce looking Rooster in the SE to remedy this situation.
SOUTH (5/3)
This is going to be a stressful month for those staying in the SOUTH (and those having to live with them! 😉 as the monthly Conflict Star adds aggressive energy to a sector that is already suffering from the annual Misfortune Star. Display a figure of the Bejewelled Guru Rinpoche or a Laughing Buddha with a golden robe to help keep emotions under control.
Disputes over money are also possible, causing bad business luck. This is not a good time to sign new deals or enter into collaborations with third parties. There is an indication of serious cashflow problems. If possible, stay away from this area and keep it as quiet as possible. Crystal Balls will absorb the negative energy.
SOUTHWEST (7/5)
This is another seriously afflicted sector this month, suffering from the monthly Misfortune Star AND the annual Burglary Star. It will be wise to stay away from the SW as much as possible, as the danger of theft and robbery is serious, with additional health problems. Illness might be related to complications or injuries to the stomach area.
Placing an Anti-Burglary lumi tile or an Anti-Burglary Totem is important for protection this year. In addition, displaying a Triple 5-Element Pagoda and a metal Wu Lou is highly recommended this month. Excessive worrying causes even more problems.
EAST (8/6)
This is fabulous news for those staying in the EAST or those with main doors in the EAST! The 8/6 combination promises prosperity and abundance, as well as numerous opportunities to extend your business. Hang a Gui Ren windchime to enhance this wonderful good luck!
If your main door is in this sector, keep it well lit at all times.
Romance luck, however, is rather low this month. If it is luck in love you are seeking, display a pair of Mandarin Ducks in your EAST. Couples may find their love life very quiet at the moment. A pair of Love Birds can help to bring back those loving feelings for each other.
CENTRE (1/8)
The Centre is another most auspicious area this month and homes with an open plan concept will particularly benefit from the excellent stars here. Spend more time in your Centre if you can! The energy here is fabulous, binging wonderful wealth and prosperity luck and good career opportunities. This is a good time to advance in your career or expand your business before the end of the year.
Boost your prosperity luck with a Wealth Bowl, a Treasure Chest or a water feature placed in your Centre.
There might be some sibling rivalry though, which can be eased by displaying Six Smooth Crystal Balls here.
WEST (3/1)
Those born in the Year of the Rooster can take a bit of a breather as the monthly Victory Star makes an appearance, improving the energy of the WEST. The auspicious Chi brings promotion luck and profitable business opportunities.
Display a Wind Horse or the Trinity of Horses to boost this wonderful good luck.
There are changes on the cards for those living in the WEST.
Beware of the aggressive energy of the annual No 3 Star though, which can lead to problems caused by gossip and insults, as well as the possibility of court cases. Display a Red Eagle clutching the Jade Star to help keep everyone calm, or carry a Peace and Harmony amulet.
NORTHEAST (4/2)
The Illness Star flies into the NE, affecting those born in the Years of the Tiger and Ox and those with bedrooms in the NE. Look out for problems with the internal organs, in particular the lungs. The best cure is a Garuda Wu Lou or the Medicine Buddha.
The luck stays positive for academic pursuits and success in literary professions. This can be enhanced with the Double Carp Crossing the Dragon Gate.
Married women ought to look out for their husbands as they seem easily susceptible to outside flirtations (and more?) at the moment. Cure with an amethyst placed in your NE or under your bed, on the woman's side.
NORTH (6/4)
This month's luck in the NORTH is improved as the No 4 Star brings the luck of romance and a great big boost in creative writing. Unexpected windfall luck might fall on you, bringing financial gain. Enhance with a figure of the Jade Emperor.
Students, writers and those working in the media will benefit when staying or working in the NORTH.
Academic luck can be enhanced with a Crystal Point or a Bejewelled Luo Han.
However, problems with the kidneys might develop. Especially those born in the Year of the Rat are advised to carry a Health amulet or wear the Medicine Buddha Pendant to protect them against falling ill and catching viruses.
NORTHWEST (2/9)
The multiplying No 9 Star strengthens the annual Illness Star, which is of course not good for those with bedrooms or main doors in the NW. Illness may particularly affect the lungs.
Avoid excessive drinking and carry a Garuda Health amulet for protection. Pregnant ladies should sleep in a different bedroom this month as the affliction is quite serious.
Having a Medicine Buddha Plaque or a large metal Wu Lou here is a must this month.
This is a seriously bad combination so please don't take any risks.
.
Source: World of Feng Shui
30 October 2017
.