8th October 2017 – 6th November 2017
In each of the 9 grids you will see two numbers. The number on the upper left represents the annual star (red = afflictive, blue = auspicious) and the black number in the bottom right represents the monthly star. If you are not yet familiar with the compass orientations of your home then please use a reliable compass to take the directions. I recommend to take one compass reading from your main door, looking out, and another one from the center of your living room, looking towards your balcony or picture window. These two readings should enable you to determine the compass directions and locations of your home.
Take particular note of the location of your front door and your master bedroom, as the stars in those sectors will affect you the most.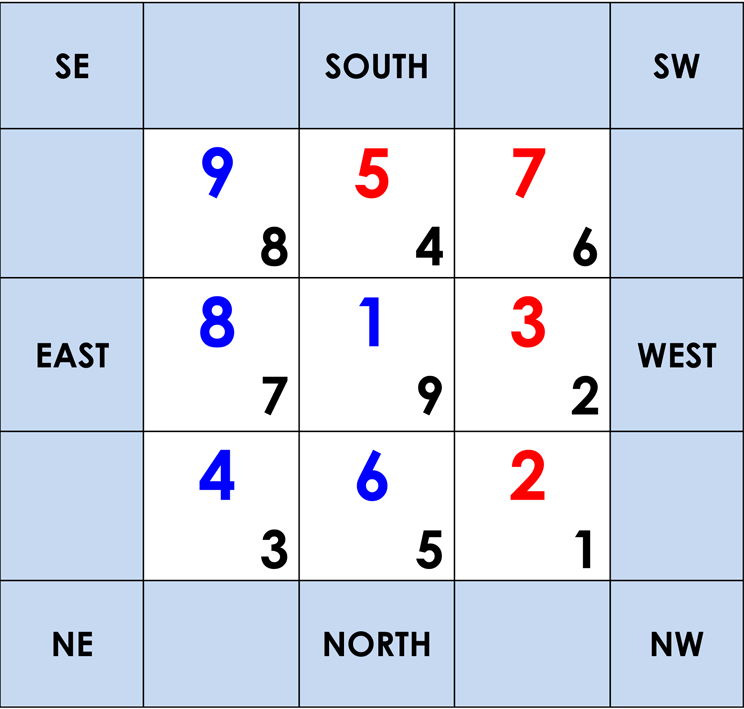 SOUTHEAST (9/8)
The No 8 Prosperity Star moves into the SE this month, bringing fabulous wealth luck, good news, happy occasions and reasons for celebrations for those with bedrooms or main doors in the SE. Those born in the Years of the Dragon and Snake will benefit from this excellent energy too.
Display a Stupa of 8 Doors to Abundance or a Wealth Bowl in your SE if you wish to activate for wealth luck, or install a water feature to boost growth.
Ladies will enjoy social gatherings, so fill your social calendar!
Business and money luck are great too but do look out for clashes with your elders.
SOUTH (5/4)
The energy in the SOUTH is much improved this month with the No 4 Star moving in, particularly affecting the areas of love and literary luck in a positive way. Students and writers will notice an increase in productivity and more opportunities to excel.
Display a Crystal Globe or an Aventurine Tree to boost the auspicious energy.
Money luck will improve as well and can be enhanced with a Wealth Treasure Chest Box or a Wealth Tree to boost your wealth and business luck.
Young couples whose room is located in the SOUTH will see their romance blossom.
SOUTHWEST (7/6)
The matriarchs and those born in the Years of the Sheep and Monkey can also look forward to a better month. The lucky Heaven Star will bring success and help, but you should make your move early if you are heading towards a competitive situation. That is the best way to surprise and beat your competition!
If your office is located in the SW, place a Tortoise behind you to gain firm support from your superiors. If it is co-operation you need, display your secret friend and allies in the SW this month (or in your own animal sign location).
However, there is an excess of metal energy which could bring violence and quarrels. Keep knives and sharp objects away from this area to avoid unwanted accidents and carry the Anti-Burglary amulet.
EAST (8/7)
The violent No 7 Star brings serious danger of armed robbery. Please be extra careful if your main entrance is located in the EAST or facing EAST. Use a pair of Fu Dogs as door guardians or install an active water feature to keep this nasty star under control.
The oldest son and those born in the Year of the Rabbit are highly recommended to carry an Anti-Burglary amulet for protection this month.
Keep your money and jewellery safely locked away this month. Those with bedrooms in the EAST might lose money in the next few weeks, so better to abstain from gambling.
But all is not bad because you can still benefit from the annual Wealth Star! A Wealth Ship or a Wealth Bowl in your EAST will enhance your money luck.
CENTRE (1/9)
In the Centre, the stars combine to form a sum of ten which is excellent news, creating powerful energies that bring auspicious career and financial luck. Those staying in the Centre will also enjoy good business luck.
Enhance this good fortune luck with a 9 Bamboo Water Wheel Fountain.
The clashing elements might affect your health though, and early nights and light suppers are recommended.
A healthy exercise routine will help you keep your energy levels up.
WEST (3/2)
The monthly Illness Star moves in and, in combination with the annual No 3 Star, causes problems in your personal and business relationships. The best remedy is a Red Eagle to deal with the No 3 Star (which you should already have here) and a Garuda Wu Lou to counter the monthly No 2 Star.
Marriages and relationships continue to suffer from the aggravations caused by the aggressive No 3 Star. Display a Mystic Knot or a Laughing Buddha to help calm everyone down.
Those involved in politics will go through serious ups and downs.
NORTHEAST (4/3)
Arguments and tension are expected for those staying in the NE and those born in the Years of the Tiger and Ox. There is also the possibility of a romantic scandal, causing sorrow and pain to the men.
The wood energy is extremely strong this month, causing troubles in your relationships and serious emotional stress.
Display a Red Eagle grasping the Green Jade Star to symbolically remove the aggression and be careful not to have too much fire energy here.
Having said that, the auspicious No 4 Star continues to bring success in studies and literary pursuits. Students and writers with bedrooms/offices/work stations in the NE will do well.
Place a Yellow Crystal Point to boost examination luck.
NORTH (6/5)
The Five Yellow seriously dampens the luck of the NORTH and brings misfortune and illness, particularly to male members of the family. Those with bedrooms or main doors in the NORTH need to be particularly careful.
Display a Triple 5 Element Pagoda for protection and hang a 6-Rod Metal Windchime to suppress the negative energy while supporting the annual No 6 Star at the same time.
Take care of your health, especially the kidneys.
Avoid undertaking high risk investments.
There is lots of anxiety which can lead to disagreements and fights, causing emotional stress.
Place a figure of Kuan Kung for protection.
There is still Heaven Luck to be enjoyed thanks to the annual No 6 Star, but this may not be evident this month.
NORTHWEST (2/1)
The auspicious No 1 Star brings success and promotion luck to the NW, which particularly benefits the patriarchs and those born in the Years of the Ox and Boar.
If you would like to move ahead in your career, place a Dragon Tortoise or a Windhorse lumi tile in your NW. For students, use a Luohan or a Dragon Carp Stamp to support study luck.
Continue to look after your health, watch your diet and try to avoid unhealthy habits. If this is your bedroom, keep a Garuda Wu Lou on your bedside table, or wear a Medicine Buddha pendant to protect your health.
Source: World of Feng Shui
1 October 2017