Expat Living's First Coffee Morning of the Year @ Ni-Night/Tomato Photography, 24 January 2017

I was really excited to again be the guest speaker at Expat Living's first coffee morning of the year. The talk was fully booked within a few days and Expat Living had to start a waiting list! That must have been a record. Despite a very rainy start of the day everybody turned up and not a single seat was empty.
I was delighted to meet Stacy, one of the new owners of Ni-Night, and Hazel, who looks after the shop from Mondays to Fridays. And of course it was a real pleasure to see Susan and the team from Expat Living again.
As always, the audience was fantastic. It seemed that the ladies and gentlemen (!) were as enthusiastic as I was. I kept the introduction short so I could focus on the main topic:
The Flying Stars for the upcoming Year of the Fire Rooster and how they affect us and our families.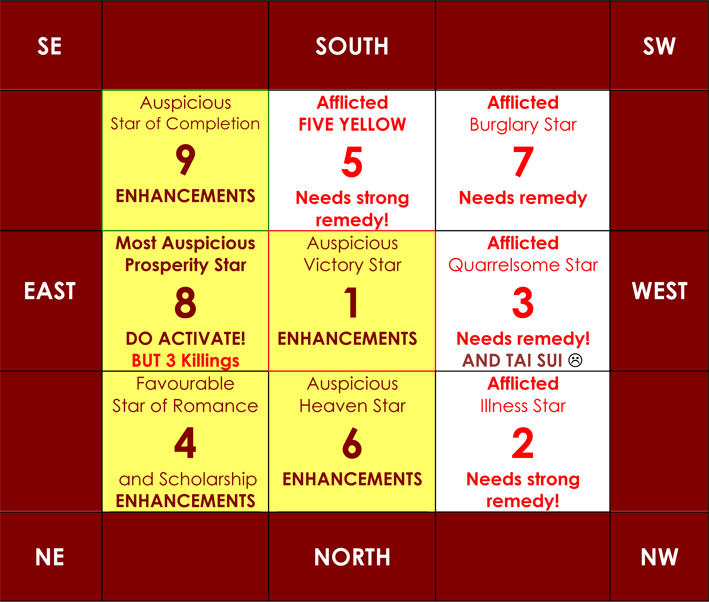 The above shows the Flying Stars Chart for 2017. The red numbers are the affliction stars that bring danger and various types of misfortune while the maroon numbers on yellow background are the auspicious stars. These "stars" are represented by the numbers 1 – 9 and fly into different locations each year, resulting in quite significant changes in energy from year to year!
The year 2017 is dominated by the No 1 Victory Star which is a great improvement from last year. Since the No 1 Star flies into the Centre, it has a positive effect on ALL family members! The No 1 Star brings victory luck and hence opportunities for new beginnings in many different ways. If you have been thinking about applying for a new job, moving house or even moving to a new country, this is the year to go for it because "the force is with you"!
Although it may be difficult to gain recognition luck this year, seeing that the South sector is afflicted by the Five Yellow, those who wish to further their career will have the support of the No 6 Heaven Star which flies into the North. This is fabulous news as it will help bring supportive people into your life who can boost your career and/or open new doors for you. Even if you don't move up the career ladder, you might still benefit from an unexpected salary increase!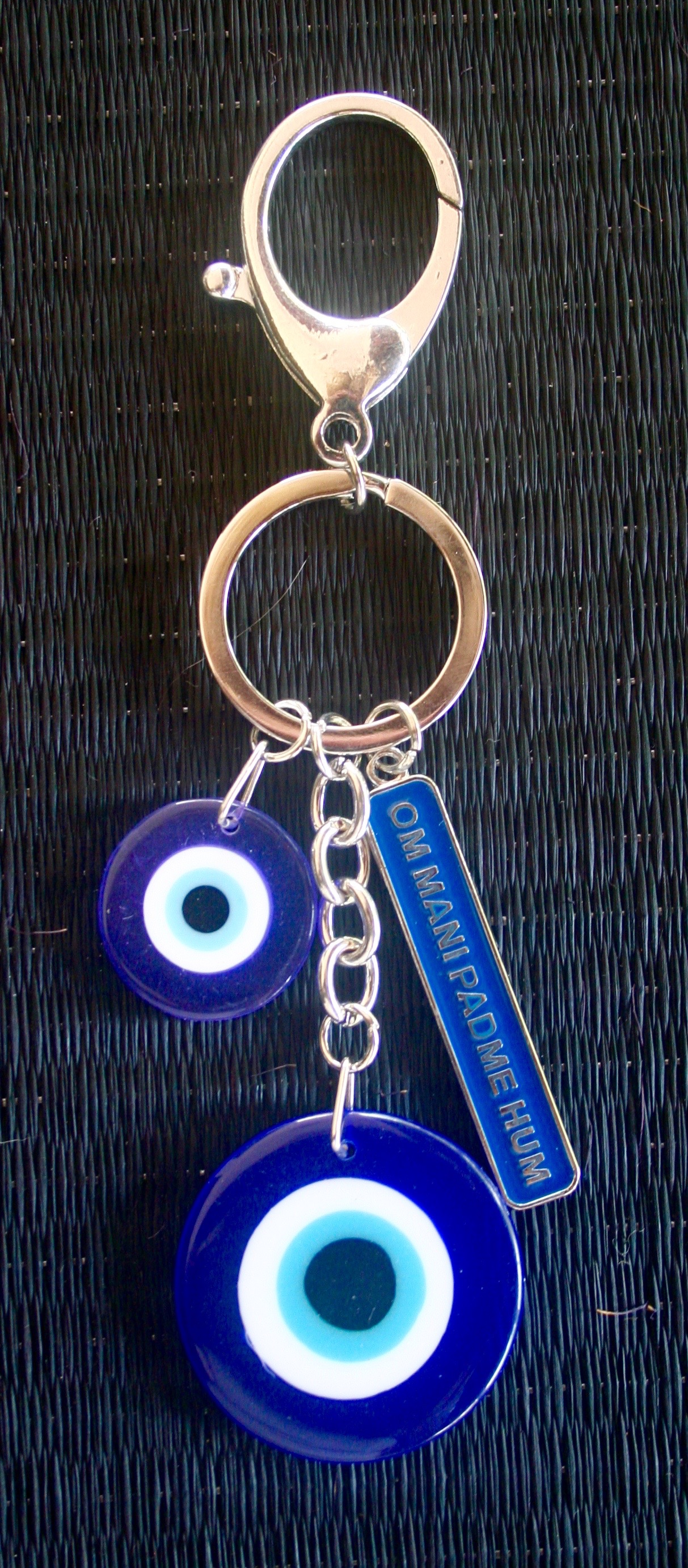 Unfortunately, the Patriarchs can expect another bad year because of the annual Illness Star in their sector. It is therefore very important to place an appropriate cure in the NW, eg a Garuda Wu Lou or a Herbal Wu Lou, and increase the metal element in order to keep the illness Chi at bay.
The Matriarchs need to be extremely careful as well because they are affected by the annual Robbery Star which can bring burglary, pick-pockets, accidents or even physical danger associated with guns or knives. I highly recommend that all Matriarchs carry a strong protective amulet, eg the Anti-Burglary amulet or an Evil Eye amulet to help them stay safe. Please take care not to find yourself at the wrong place at the wrong time. Your home also needs to be protected, ideally with a Blue Rhino or an Anti-Burglary lumi tile placed in the SW.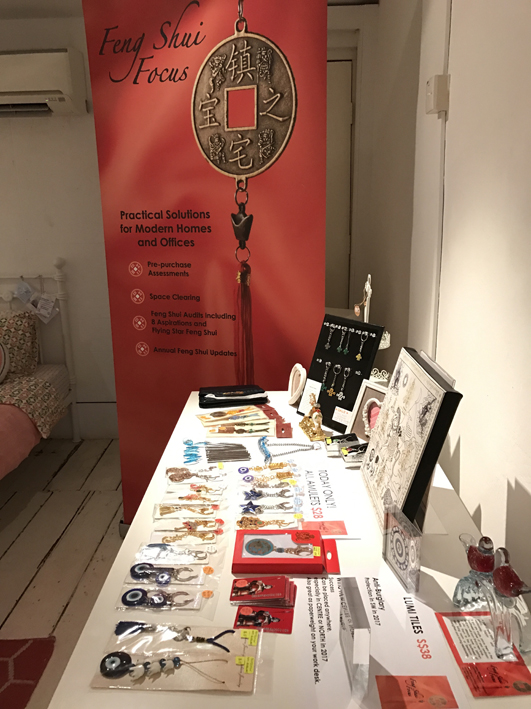 These are just a few items I wanted to highlight and for those who were not able to join the coffee morning or didn't take enough notes, please look out for the complete analysis of the 2017 Flying Stars which will be posted on my website very soon.
We ended with a very lively question and answer session and of course the customary lucky draw which saw two happy winners – one receiving a Wealth and Success amulet and the other a very cute hand-knitted bunny from Cambodia.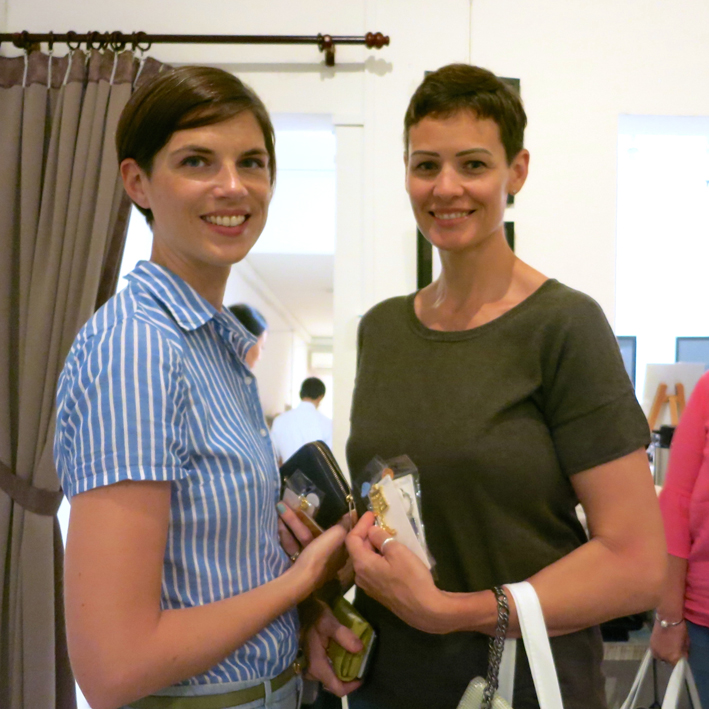 As always, a visit to Ni-Night is also a wonderful shopping opportunity. I had displayed a selection of new Feng Shui amulets which make pretty and auspicious handbag charms. What better way to end an informative and enjoyable morning than with your own precious charm at the end?!