5th April – 5th May 2020  
The Flying Star chart below shows 9 fields, each containing two numbers. The number on the upper left represents the annual star (red = afflictive, blue = auspicious) and the black number in the bottom right represents the current monthly star. These are the numbers (stars) that change every month and create new energy patterns in your home and office.
To apply these monthly stars successfully, you need to map out the compass sectors in your home or office. If you are not yet familiar with the compass orientations of your home, I recommend you take two compass readings: one from your main door, looking out, and another reading from the center of your living room, looking towards your balcony or picture window. These two readings should enable you to determine the compass directions and locations of your home. Then you are in a position to allocate the stars (numbers) to the correct areas.
Please take particular note of the location of your main entrance door and your master bedroom, as the stars in those sectors will affect you the most.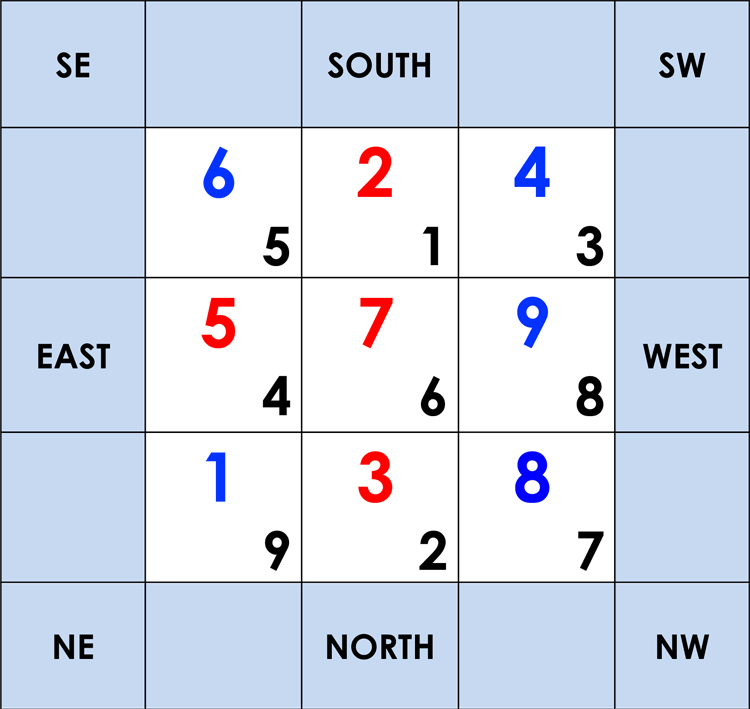 SOUTHEAST (6/5)
The No 5 Misfortune Star throws a shadow on the SE this month, affecting those born in the Years of the Dragon and Snake as well as those living in SE facing houses or homes with main doors in the SE.
The best Feng Shui cure is a 5 Element Pagoda with "Om Ah Hum" to remove the negative energy here. In addition, you can display the God of Longevity to increase your life force. Avoid high-risk investments at the moment as concerns about financial risks can lead to arguments, which can further increase mental stress.
The Dragons and Snakes among you and those with bedrooms or offices in the SE might want to carry a 5 Element Pagoda amulet this month for protection.
SOUTH (2/1)
The SOUTH benefits from the No 1 Victory Star this month, so if your office is located here, you can enjoy career advancement and victory luck, giving you a competitive edge! This also applies to those born in the Year of the Horse.
If you wish, you can enhance this good luck with a Dragon Tortoise with Ru Yi or a 5 Element Victory Banner. A Wind Horse Lumi Tile placed in the SOUTH will be very useful too.
Don't forget about the annual Illness Star though, which is very strong this year. Definitely keep your health protection in place!
Those with bedrooms in the SOUTH need to watch their diet and not allow unhealthy habits to form.
SOUTHWEST (4/3)
It is never nice for people who have to put up with the Quarrelsome No 3 Star – and that includes those living with that person! This month, the matriarchs and those born in the Years of the Sheep and Monkey are particularly affected by quarrelsome energy. To make matters worse, when the No 3 Star combines with the yearly No 4 Star there is a risk of romantic scandals, causing great sorrow to the lady of the house.
There is an excessive amount of wood energy in the SW this month and it would be good to balance this out with fire energy. Install a light which you can switch on for several hours each day and display a Red Tzi Chi Kau or a Red Crystal Apple here to counter the No 3 Star. If arguments persist, add a red carpet/rug and carry an Anti-Conflict amulet with Red Dragon.
Anyone needing study or examination luck can carry a Scholastic amulet and place a 7-Level Pagoda in their SW.
EAST (5/4)
The EAST suffers from the influence of the annual Misfortune Star but overall luck improves this month thanks to the No 4 Star, bringing love and romance and success for students.
To boost exam luck, you can place the Bejewelled Lou Han for Scholastic Success here and carry a Scholastic amulet.
Those involved in research or creative work, including writers or people in RP professions, will find their ideas flow easier and their productivity is increased if they work in the EAST.
Those looking for romance can display Kurukulle's Banner of Love or a Love & Happiness Gold Talisman in the EAST of their home or bedroom.
Things particularly brighten up for the oldest son of the family.
CENTRE (7/6)
The energy in the Centre is also drastically improved this month, which is a blessing for everyone. The No 6 Heaven Star flying in brings helpful friends and unexpected windfalls. It also has a positive effect on leaders, helping them with better judgment and better decisions being made at all levels.
You can capture the heaven energy with the Kumbum Stupa placed in your Centre area – this is a very auspicious Feng Shui enhancer for the Centre, no matter what stars reign here – or an image/figure of Kuan Kung, the Chinese God of Wealth and War.
Anyone you wishes to improve their situation can carry a Jade Emperor with Qui Ren Amulet keychain to gain heavenly support.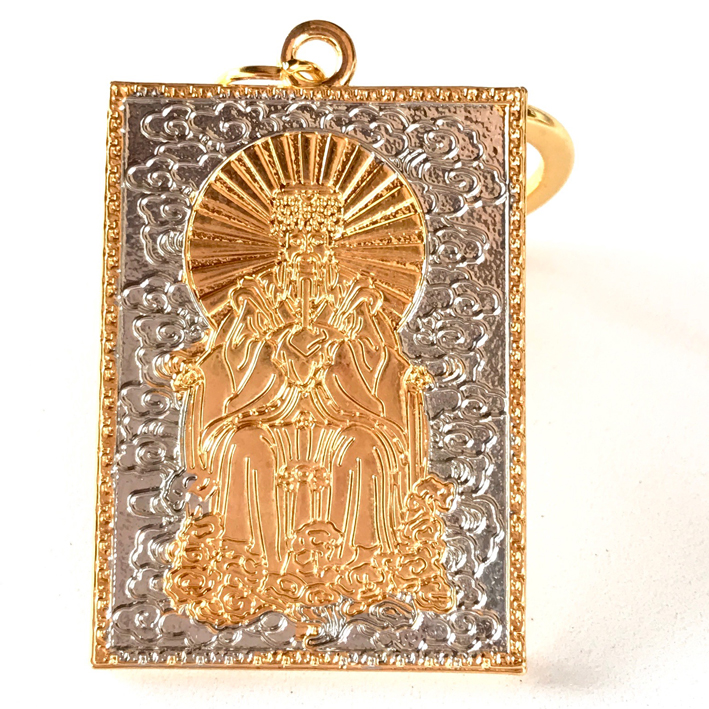 WEST (9/8)
The Wealth Star flies into the WEST this month, which is especially powerful, as it combines with the annual No 9 Star. Those staying in the WEST and those born in the Year of the Rooster in particular will enjoy great wealth luck and possible financial windfalls. The monthly No 8 Star is further strengthened by the annual No 9 Star, bringing long term profits too!
Spend as much time as possible in your WEST as yang energy is the best and easiest energizer. Work here or spend precious family time here, whichever is easier for you. The more activity you bring to your WEST this month, the better.
To harness the wealth luck, activate your WEST with a Golden Rat Holding Coin and carry a Mongoose Wealth amulet.
NORTHEAST (1/9)
The stars combine to form a Sum-of-Ten, which brings fabulous completion luck to the NE and those staying here. You will be able to complete your projects successfully and move on to new tasks. Those with offices in the NE and people born in the Years of the Ox and Tiger would also do well to make plans for the future and start preparing the foundations. The energy will support you. New ideas will continue to come to you.
Enhance this area with lights and activity this month.
If you wish to activate your completion luck, display a pair of Fu Dogs on Treasure Chests in your NE or carry a Sum-of-Ten amulet. This will be particularly useful for business owners and those needing to negotiate deals.
NORTH (3/2)
The NORTH is going through another month of troubles as the monthly Illness Star pairs up with the annual Quarrelsome Star, causing problems in personal and in business relationships. Marriages and close relationships will be under much strain. In fact, conflict between family members will be worse than with outsiders.
Place a Red Eagle here as a cure. Anyone who feels he/she is affected by the quarrelsome energy ought to carry an Anti-Conflict Amulet with Red Dragon to help stay calm.
Health problems are also on the cards and residents of the NORTH and those born in the Year of the Rat ought to carry a Garuda Wu Lou Health Amulet.
To bring harmony back into your home, display a Golden Apple with Peace Symbol or a Happy Smiling Buddha and keep this sector as quiet as possible.
Avoid making rash decisions about your career as it is not a good time to change jobs.
NORTHWEST (8/7)
The Burglary Star affects the NW this month and therefore the patriarch and those born in the Years of the Dog and Boar. Those in leading positions ought to be very careful this month. If your main door is in the NW (or facing NW), make sure you lock it well at night and check your security system.
Protect yourselves with the Blue Elephant and Rhino with Talisman Feathers or an Anti-Burglary Lumi Tile placed in the NW and keep this area as quiet as possible.
People with bedrooms in the NW ought to wait for a better time to engage in gambling or high-risk investments as the chances of losing money are high.
Placing a Blue Wealth Cabinet in your NW will help protect you from money loss or will at least keep any losses to a minimum.
Source: World of Feng Shui
30 March 2020