5th April – 5th May 2021  
After a quiet and peaceful month of March we are now facing aggravation and conflicts again, as the monthly No 3 Star moves into the Centre. This will affect everyone in your household, so be prepared for arguments and differences in option and practice patience! Don't let others provoke you, and don't allow disagreements to get out of control. This can also affect you at the workplace and office politics could become fiercer.
The NORTH is the luckiest area this month thanks to the monthly No 8 Wealth Star, forming the "Sum of Ten" with the annual No 2 Star. This is one of the places you want to spend your time in this month and activate it with music, lights and activity. If you are working from home, set up your work space in the NORTH room if you can, or in the NORTH corner of your living/dining room. Place a Wealth Bull or a Wealth Ox in the NORTH corner of your work desk!
Other auspicious areas are the NE and EAST, while the SE, SOUTH, SW and WEST need remedies for negative monthly stars.
The Flying Star chart below shows nine fields, each containing two numbers. The bigger number on the upper left represents the annual star (red = afflictive, black = auspicious) and the slightly smaller number in the bottom right represents the current monthly star. These smaller numbers change every month and therefore create new energy patterns in your home and office.
To apply these monthly stars successfully, you need to map out the compass sectors in your home or office. If you are not yet familiar with the compass orientations of your home, I recommend you take two compass readings as follows:
one compass reading from your main door, looking out, and
another reading from the center of your living room, looking towards your balcony or picture window.
Please take particular note of the location of your front door and your master bedroom, as the stars in those sectors will affect you the most. Obviously, for those of you who continue to work from home, the location of your home office/home work station is also important.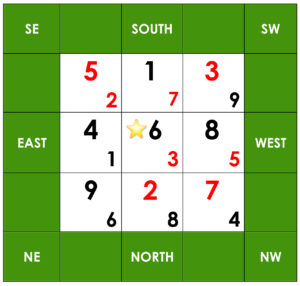 SOUTHEAST (5/2)
The SE is the most dangerous place this month and those staying here as well as those born in the Years of the Dragon and Snake need to take extra care of their health. The combination of Illness Star and Misfortune Star is not to be taken lightly; the dangers also include potential money loss.
To subdue the danger of illness, place a Medicine Buddha & 7 Sugatas Gau, a Healing Deer, or a Metal Wu Lou in your SE. If you feel you are getting sick, go and see a doctor immediately, don't just leave it alone and wait/hope to get better.
If your bedroom is located in the SE or your home faces SE, it is recommended you carry a Medicine Buddha Amulet for Good Health & Protection or an Anti-Illness Amulet Card along with your 5 Element Pagoda Amulet. This also applies to those born in the Years of the Dragon and Snake. Alternatively, you can wear a "Self-Protection" Medallion for all-round protection this month.
SOUTH (1/7)
While still enjoying victory luck, we also see the danger of loss and betrayal in the SOUTH. Those staying here or having their office in the SOUTH could find themselves being let down by people they trust.
To protect yourself against that kind of disappointment or money loss you can place a Blue Mongoose Carpet here. If your office or work desk is in the SOUTH, display an Anti-Burglary Lumi Tile on your desk.
Avoid hanging windchimes or metal bells here, as this would increase the danger of injury caused by metal objects.
The stars also bring fierce competition and office politics, which will particularly affect those born in the Year of the Horse and those who spend a lot of time in this sector (eg if your office or bedroom is located here). Better to keep this room quiet this month. If you feel that you are affected by this you can carry an Anti-Cheating Amulet with Kuan Kung for protection.
Those of you who need the support of their boss can display Kuan Kung on Horseback in the SOUTH (but not in a bedroom).
If you are looking to beat the competition, place a Flag of Victory here and/or carry a Victory Banner Amulet.
SOUTHWEST (3/9)
The monthly No 9 Star magnifies the annual No 3 Star, increasing tension and arguments. Those spending a lot of time in the SW as well as the Sheep and Monkeys will be more confrontational and argumentative than usual.
You can calm the energy by placing a red carpet here and keep this area of the home quiet. Fire energy in the form of bright lights is also helpful. Avoid spending too much time here.
There is also indication of trouble with the law and the possibility of a lawsuit being filed against you. Display the 9 Phoenix Plaque in your SW for protection.
If you are already involved in a lawsuit, you can carry the Dragon Holding Fireball Amulet or the Talisman to Win a Court Case. Alternatively, hang the Little Fiery Dragon by Louise Hill or Clare Haxby's Chinatown Singapore fine art print in your SW to help calm the tempers.
EAST (4/1)
The EAST enjoys positive energy this month, fostering academic achievements and artistic creativity. There will also be chances for recognition and promotion.
If your office is located in the EAST you can strengthen your career luck with a Dragon Horse. Those running their own business can use the Dragon Tortoise instead.
Those of you in writing professions or students preparing for exams will benefit greatly from these stars. To enhance exam luck and academic success, display a Dragon Carp for Study Luck or a Manjushri Gau in your EAST or in the student's room. Of course students will also benefit from carrying a Manjushri "Dhih" Scholastic Amulet while they are out at school.
The 4/1 combination of stars also helps to bring love and romance, which is excellent for Singles. To activate, you can display the Rabbit in the Moon Enhancer in your EAST or carry a Green Jade Hearts Charm this month.
A word of warning though – if you have a water feature in your EAST it would be better to switch it off or place it elsewhere this month, as the 4/1 combination also brings the danger of infidelity into marriages if activated by water.
CENTRE (6/3)
The quarrelsome No 3 Star is dominating the energy this month, which is unfortunate, as this affects EVERYONE. Many people consider the No 3 Star to be worse than the other affliction stars, as quarrels and arguments can often lead to heartache and nasty situations. Fights and arguments create such negative vibes and not only affect our emotional well-being but also our ability to deal with things. If you disagree with your friend or partner, don't allow this to sour your relationship.
The best advice for this month is to STAY CALM, be generous and hug often. Show the love!
All homes suffer from the effects of the No 3 Star this month, so it is highly recommended to display a pair of Red Peace & Harmony Apples in your Centre area to subdue the aggression. If you feel you are particularly affected you can carry an Apple Peace Amulet.
Having said that, there are still possibilities of unexpected (financial) windfalls and if you would like to boost the wealth aspect of the annual No 6 Star, you can display a Celestial Water Dragon or a Tree Bringing 3 Kinds of Wealth here.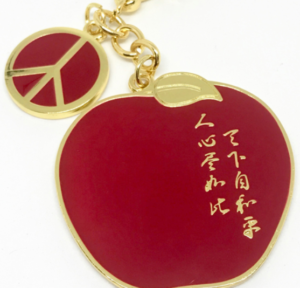 WEST (8/5)
The nasty Five Yellow Star flies into the WEST this month and brings misfortune and illness to those staying here. If you live in a WEST-facing home it would be best to postpone any significant business decisions or signing of contracts.
The best cure against the No 5 Star is the 5 Element Pagoda with Tree of Life. Since the No 5 Misfortune Star can also bring illness (especially affecting lungs and nose this month) it would be a good idea to place a metal Wu Lou in your WEST as well.
Those born in the Year of the Rooster or living in WEST-facing homes ought to carry a Garuda Wu Lou Health Amulet for protection. Elderly people and anyone who is already suffering from bad health would be wise to sleep in a different bedroom this month.
NORTHEAST (9/6)
The luck of the NE improves drastically this month thanks to the No 6 Heaven Star moving in, bringing unexpected windfalls to those who stay in the NE as well as those born in the Years of the Ox and Tiger.
If you wish to boost your chances of financial windfalls such as lottery wins, bonus payments or stock market gains you can display a Winning Chip Talisman in the NE of your home or office.
However, the elements of the two stars are in conflict, causing illness and disagreements with the older generation. If this is a concern for you, you can display the Fire Dragon Holding a Fireball here or carry an Apple Peace Amulet. In addition, you may wish to carry a Medicine Buddha Amulet for Good Health & Protection or an Anti-Illness Amulet Card to safeguard your health.
NORTH (2/8)
The "Sum of Ten" combination is always great news and promises excellent money luck for the month of April! Those with bedrooms or offices in the NORTH as well as people born in the Year of the Rat are likely to achieve financial success, especially in the area of property and assets.
If you wish to boost prosperity luck, you can place an Asset Wealth Bull, a Winning-Chip Talisman or a Wealth Bowl here. This will also help to attract more opportunities to give your career and income luck a boost.
If it is completion luck you need, carrying the Sum of Ten Amulet this month will help you complete your projects successfully.
Don't forget about the annual Illness Star though and make sure you have your health protection in place.
NORTHWEST (7/4)
The luck in the NW improves thanks to the No 4 Star, which brings luck to students young and old and those learning a new skill. The No 4 Star also brings romance luck, but not necessarily the kind you want. Combined with the annual No 7 Star it means that those staying in the NW could be taken for a ride by someone of the opposite sex. Be cautious if you are dating and don't move too fast. Married couples and those in long-term relationships please be aware, as there might be temptations from an outside party.
Place a pair of Mandarin Ducks in your NW and carry the Enhancing Relationships Amulet to protect your relationship. Alternatively, the Green Jade Hearts Charm will also help to strengthen your loving relationship.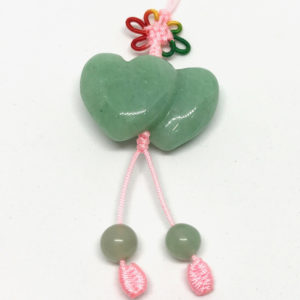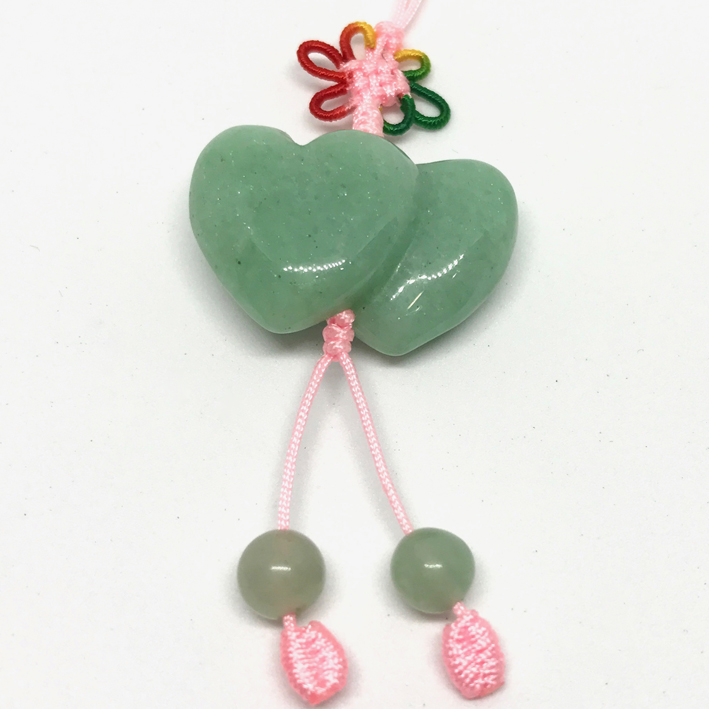 Source: World of Feng Shui
30 March 2021