8th August – 7th September 2019
The Flying Star chart below shows 9 fields, each containing two numbers. The number on the upper left represents the annual star (red = afflictive, blue = auspicious) and the black number in the bottom right represents the current monthly star. These are the numbers (stars) that change every month and create new energy patterns in your home and office.
To apply these monthly stars successfully, you need to map out the compass sectors in your home or office. If you are not yet familiar with the compass orientations of your home, I recommend you take two compass readings: one from your main door, looking out, and another reading from the center of your living room, looking towards your balcony or picture window. These two readings should enable you to determine the compass directions and locations of your home. Then you are in a position to allocate the stars (numbers) into the correct areas.
Please take particular note of the location of your main entrance door and your master bedroom, as the stars in those sectors will affect you the most.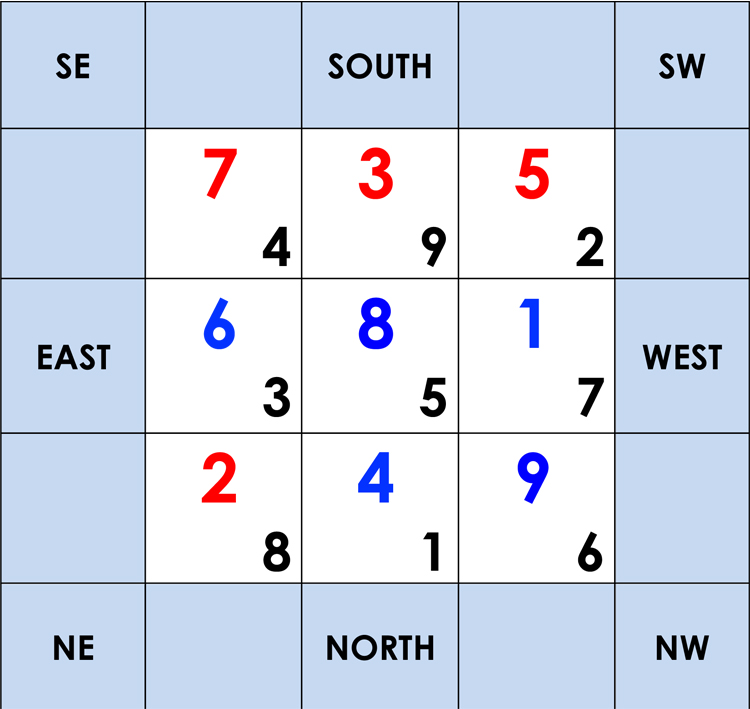 SOUTHEAST (7/4)
The SE is a good place for students this month, as they will greatly benefit from the energies brought by the monthly No 4 Star. The same goes for writers and those in writing professions, such as journalists, correspondents or marketing professionals.
Students can carry a Scholastic Success Amulet, especially if they are preparing for exams, or place a Wisdom Pagoda on their desk.
However, the elements of the two stars clash, leading to arguments between siblings. Pregnant ladies should avoid this area.
If your office is located in the SE, you ought to be more careful with your work this month. Check it thoroughly as small mistakes could have big consequences.
Generally speaking, the energy here will be better for the younger generation this month.
SOUTH (3/9)
The monthly No 9 Star strengthens the quarrelsome energy that is prevalent in the SOUTH this year. Quarrelsome people staying in the SOUTH will be even more argumentative!
Keep this sector quiet, avoid playing music or having excessive activity in this area. No parties in your SOUTH rooms.
Display a Happy Laughing Buddha here to help calm the tempers. Those born in the Year of the Horse and those with bedrooms in the SOUTH ought to make sure they carry their Apple Peace amulet.
SOUTHWEST (5/2)
This is a serious affliction for all matriarchs and those born in the Years of the Sheep and Monkey this month, causing problems and bringing misfortune. If your bedroom is located here, you might experience problems at work, such as financial disputes, loss or illness.
Place a metal Wu Lou in your SW to overcome the negative energy. Refrain from lighting candles or having other forms of open fire here this month, and keep the area dimmed and as quiet as possible.
Make sure your 5 Element Pagoda in the SW is in good condition.
EAST (6/3)
This is another troublesome area this month where residents will be plagued by disagreements, which could cause lawsuits or additional bureaucratic red tape.
A Pair of Red Fu Dogs placed here will help to subdue the aggressive energy and to reduce obstacles to success. You should also keep this area as quiet as possible. You can use some fire energy to further calm the chi but not too much, so you won't harm the annual Heaven Star.
However, men are advised not to stay in the EAST this month as it is a highly unfavourable area for them with regards to their health. Problems with the legs are indicated, so if you are born in the Year of the Rabbit or have your bedroom in the EAST it would be wise to refrain from playing overly physical sports such as football or rugby.
CENTRE (8/5)
The No 5 Misfortune Star brings financial problems and general misfortune, which will affect everyone in your household, especially if you live in an open plan home.
Placing a 5 Element Pagoda in the Centre of your home is highly recommended this month to protect yourself against reversals of fortune and serious money loss.
This is another area to keep quiet and dimmed, avoid bright lights. Children and younger members of the family better spend their time in the auspicious areas of your home.
WEST (1/7)
Dangers of money loss and betrayals loom in the WEST this month, as well as robbery and accidents.
Display an Anti-Burglary Lumi Tile or a Blue Rhino to protect against theft and harm, while a Yang Water Feature will help protect you from being cheated or deceived.
If your work desk or office is located in the WEST, you can display a Double Humped Camel to boost your income and protect a healthy cashflow.
NORTHEAST (2/8)
The luck in the NE changes for the better, thanks to the No 8 Wealth Star bringing prosperity luck to the residents of this sector. Those with main doors facing NE will particularly benefit.
You can activate this promising energy with a Bejewelled Pair of Carp displayed in your NE, or by carrying a Bejewelled Pair of Carp amulet – especially if you are born in the Years of the Ox or Tiger.
The stars also form a "Sum of Ten", which is extremely positive and will help you complete your projects successfully.
Minor health issues will spoil good fortune luck in investments, hence taking extra care with your health is important.
Make sure you have a Garuda Windchime or a metal Wu Lou in your NE to subdue the illness chi.
NORTH (4/1)
The Victory Star boosts the good fortune luck of students and scholars this month, as well as writers and those involved in a writing profession. They will make good progress and can expect success in their literary endeavours.
You can enhance this auspicious energy with a figure of Luo Han displayed in your NORTH or on your desk.
There is also wonderful romance luck indicated for those staying in the NORTH. If this is what you are looking for, you can enhance the auspicious energy with a Double Happiness with Peony or a Pair of Love Birds. Alternatively, you can carry a 9-Tailed White Fox amulet.
It is better not to enhance the No 1 Star for Victory with water this month, as that might lead to unpleasant scandals, but carrying a Wind Horse amulet is always useful!
NORTHWEST (9/6)
The NW is blessed with Heaven Luck this month, which is fabulous news for patriarchs and the heads of households, as well as those born in the Years of the Dog and Boar.
Display the Bamboo Forest of Prosperity to boost wealth luck and hang 6 Chinese Emperor Coins with Red String to activate windfall luck. Do spend more time in the NW to further activate and tap the auspicious energy!
However, the clashing elements of the stars could lead to conflict between the generations, causing arguments between the young and the old. Placing a cluster of Apples with Peace Symbol will help to calm the energy and reconcile the elements.
Source: World of Feng Shui
29 July 2019