7th December 2018 – 5th January 2019  
The Flying Star chart below shows 9 fields, each containing two numbers. The number on the upper left represents the annual star (red = afflictive, blue = auspicious – these should have been taken care of at the beginning of the year) and the black number in the bottom right represents the current monthly star. These are the numbers (stars) that change every month and create new energy patterns in your home and office.
To apply these monthly stars successfully, you need to map out the compass sectors in your home or office. If you are not yet familiar with the compass orientations of your home, I recommend you take two compass readings: one from your main door, looking out, and another reading from the center of your living room, looking towards your balcony or picture window. These two readings should enable you to determine the compass directions and locations of your home.
Please take particular note of the location of your front door and your master bedroom, as the stars in those sectors will affect you the most.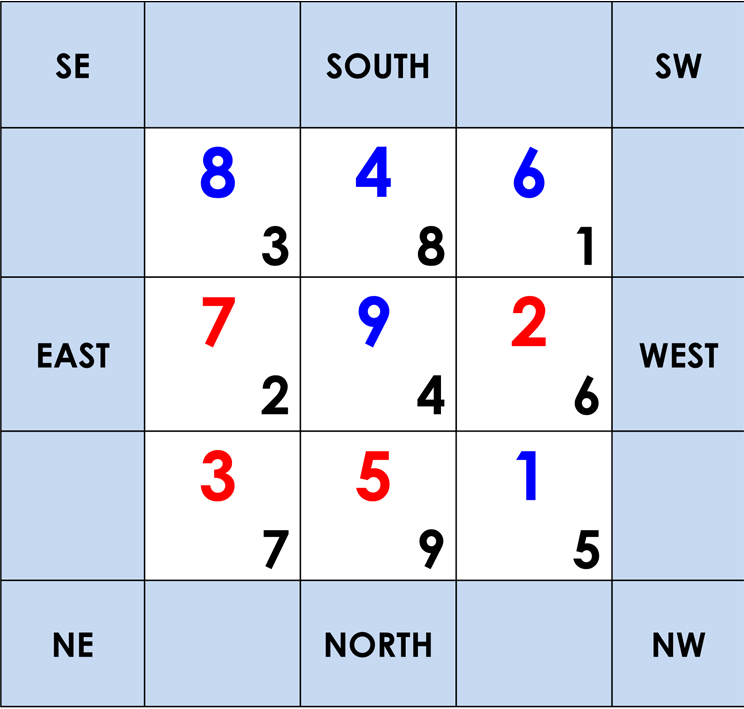 SOUTHEAST (8/3)
The monthly No 3 Star brings quarrelsome energies which will particularly affect those living in the SE and also those born in the Years of the Dragon and Snake.
It does not help that the elements of the two stars clash this month, bringing bad vibes and gossip.
The best cure to calm the energy is a pair of Red Fu Dogs. If this is your dining room, you can also keep a bowl of red apples on your dining table.
Having said that, the 3/8 is a Ho Tu combination, which brings good luck for those in leadership positions. This can be enhanced by placing the Dragon Horse Stamp on your work desk.
SOUTH (4/8)
The SOUTH is a very lucky sector this month, thanks to the No 8 Prosperity Star flying in, promising great financial luck. If your living or dining room is located in the SOUTH, you could enjoy an increase in income.
To enhance your money luck, place one or more treasure chests or a wealth bowl in your SOUTH.
Students and writers will find this a productive time, the words will flow easily. Those looking for romance and love might also be lucky. If this is your wish, place a pair of Mandarin Ducks in the SOUTH of your bedroom.
SOUTHWEST (6/1)
Wonderful luck shines in the SW this month, with the 6/1 combination bringing enhanced financial luck. This could likely be in the form of an unexpected windfall, eg a promotion (earning you an increase in salary), a bonus, or a lottery win. There is a great chance you will be recognized for your hard work. This will particularly affect those staying in the SW and those born in the Years of the Sheep and Monkey.
Do not waste this opportunity to end the year on a high!  Activate your SW area with lights, music and other forms of yang energy. If this is your dining room, invite friends over for dinner! You can also display a Victory Banner or a Wind Horse in your SW.
If your office is located in the SW, displaying a blue stone Ru Yi on your desk will help to enhance your creativity and flow of ideas, whereas the 3 Great Emperors on Horseback can give your career a welcome boost.
EAST (7/2)
The monthly Illness Star brings bad health, especially danger of liver attacks. Those staying in the EAST should be careful when engaging in physical or dangerous sports. If you can, avoid staying in the EAST altogether.
The best cure is a Herbal Wu Lou displayed in your EAST. If this is your bedroom, it would also be good to carry a health amulet this month.
Men might fall victim to office politics, as jealous colleagues might start and stir rumours. Carry an Evil Eye amulet for protection and place a Rooster on your desk.
CENTRE (9/4)
Luckily, the luck improves in the Centre with the No 4 Star moving in. This is wonderful news for those who are still single and looking for love or a serious partner as the No 4 Star brings romance opportunities. Those staying in the Centre will be very attractive to the opposite sex.
If you wish to boost your love life, you can display a pair of Mandarin Ducks, Love Birds or the God of Love & Marriage here.
The Centre is also very auspicious for students, bringing good study luck and opportunities to do well.
A Wisdom Pagoda placed here will help with exam luck while a figure of Luo Han will help with study luck.
WEST (2/6)
Those with main doors or bedrooms in the WEST will enjoy wonderful Heaven luck this month, presenting itself in the form of unexpected windfalls or new opportunities coming into your life. This also applies to those born in the Year of the Rooster.
You can activate this wonderful luck by hanging a Buddha's Foot windchime in your WEST. Alternatively, you can carry a Buddha Foot amulet. You can also place a Bamboo Cluster of Prosperity to attract new sources of income.
Remember to subdue the annual Illness Star though and make sure you have a Herbal Wu Lou on your bedside table.
NORTHEAST (3/7)
The No 7 Star brings danger of robbery and burglary this month and possible financial losses. Keep the NE as quiet as possible. The clashing elements of the two stars don't help either.
Place an Anti-Burglary lumi tile for protection and a Red-faced Sitting Kuan Kung to calm the clashing energies. Those with bedrooms in the NE and those born in the Years of the Ox and Tiger should also carry an Anti-Burglary amulet when they are out. Please be careful and don't fall victim of pickpockets.
Having said that, the stars also form a Sum-of-Ten, which means there will be opportunities to bring projects to a successful completion this month.
NORTH (5/9)
The NORTH is badly affected by the Misfortune Star this year anyway, which is made worse by the monthly No 9 Multiplying Star. Children and/or the men in your home may lose their temper easily, especially if the NORTH is a "public" area in your home. Stress levels and blood pressure can rise quickly, so please be careful if your health is not 100%.
Display a large 5-Element Pagoda to counter the negative energy.
There is danger of fire, hence it is best not to use candles here this month and do not leave your stove unattended.
NORTHWEST (1/5)
The monthly 5 Yellow brings misfortune of various types, including health problems related to the lungs, especially to those born in the Years of the Dog and Pig and those with main doors or bedrooms here.
Display a 5-Element Pagoda to control the negative energy and move into another bedroom or use another entrance if you can. You can also hang a Garuda Windchime to cure the affliction. If you have health problems, the blessings of the White Tara can also be of help.
Keep this area as quiet as possible and do NOT undertake any renovations here this month.
Source: World of Feng Shui
27 November 2018