7th December 2019 – 6th January 2020  
The Flying Star chart below shows 9 fields, each containing two numbers. The number on the upper left represents the annual star (red = afflictive, blue = auspicious) and the black number in the bottom right represents the current monthly star. These are the numbers (stars) that change every month and create new energy patterns in your home and office.
To apply these monthly stars successfully, you need to map out the compass sectors in your home or office. If you are not yet familiar with the compass orientations of your home, I recommend you take two compass readings: one from your main door, looking out, and another reading from the center of your living room, looking towards your balcony or picture window. These two readings should enable you to determine the compass directions and locations of your home. Then you are in a position to allocate the stars (numbers) into the correct areas.
Please take particular note of the location of your main entrance door and your master bedroom, as the stars in those sectors will affect you the most.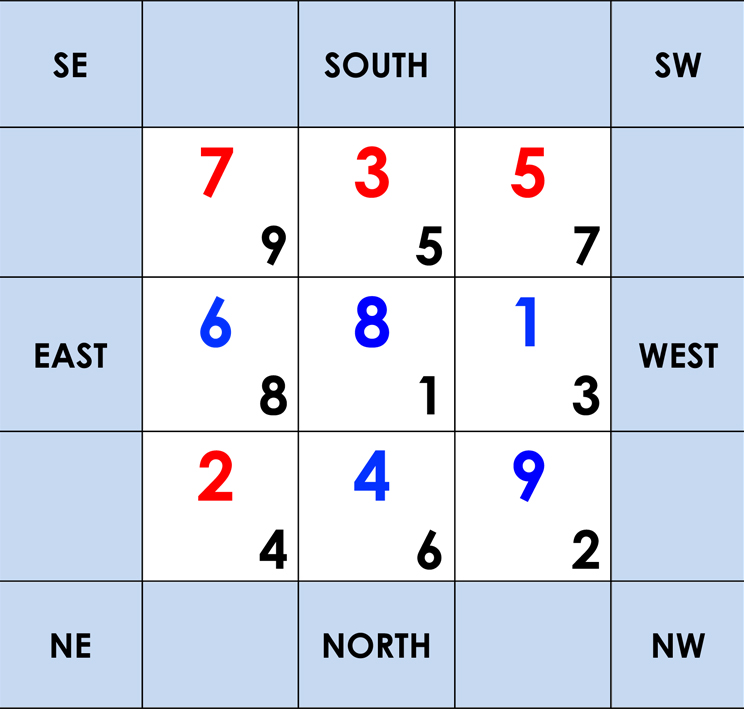 SOUTHEAST (7/9)
This is a seriously bad combination of stars, bringing violence caused by metal objects (think knives or guns) and robbery and theft, magnified by the monthly No 9 Star.
If your main entrance is located in the SE or your main door is facing SE, please make sure it is well locked during the night and when you are out, especially during the Christmas season! Place a pair of Fu Dogs flanking your entrance as door guardians to protect your home from people with bad intentions.
Those staying in the SE or born in the Years of the Dragon and Snake ought to carry an Anti-Burglary amulet when they are out and about, also to protect them from pickpockets and accidents.
Those with offices in the SE can display a Red-Faced Sitting Kuan Kung and a Blue Elephant & Rhino with Talisman Feathers to protect your job or your business from losses and hard competition.
SOUTH (3/5)
The SOUTH is another very unfortunate location this month with occupants possibly experiencing money troubles and other disasters. The monthly Five Yellow Star gets strengthened by the fire element of the SOUTH, so you will need strong cures here.
Display a 5 Element Pagoda in your SOUTH to subdue the negative energy. It is also advisable to keep this area as quiet as possible. Too much yang energy (= activity) in the SOUTH rooms could lead to quarrels, causing unpleasant disruptions to the family harmony.
If your main entrance is located in the SOUTH display a Fire Dragon Holding a Fireball near your main door.
You don't want to have bright lights here this month.
SOUTHWEST (5/7)
The monthly No 7 Robbery Star adds further problems to the already heavily disadvantaged matriarchs and people born in the Years of the Sheep and Monkey. The No 7 Star is a violent star, bringing danger of robbery and snatch thieves, as well as losses, betrayals and infidelities. All females should be very careful this month and carry a 15 Hums Protection Wheel amulet when they are out, especially if you drive on your own and need to park in public places. Ladies, it is safer not to be out alone at night this month.
If your main door is located in the SW, protect it with a Blue Elephant and Rhino figure. Use an Anti-Burglary Sticker on all windows facing SW, especially if you live on a low floor.
EAST (6/8)
There is fabulous prosperity luck in the stars for those with main doors, bedrooms or offices in the EAST; not to mention houses facing EAST. The 6/8 combination promises wonderful money luck, which is especially helpful for people looking to buy or sell property.
To invite this great money luck into your home you can display a Bejewelled Yellow Dzambhala in your EAST.
People with main doors in the EAST should use this as often as possible to activate the positive energy and make sure your entrance area is kept impeccably clean.
If you wish to strengthen your windfall luck, carry the Lucky Mahjong Tiles amulet, while the Jade Emperor with Qui Ren talisman can boost your mentor luck.
CENTRE (8/1)
Good luck truly shines in the Centre area this month with the No 1 Victory Star flying in and benefitting everyone in your household. People living in open plan homes will be able to benefit particularly from the extremely positive energy.
You can place or hang a Victory Banner in the Centre of your home to boost your chances of receiving winnings or other unexpected money coming your way. A Wealth Mongoose Spouting Jewels will also help to increase your wealth and prosperity luck. An auspicious vase displayed in your Centre is a fabulous symbol to attract and collect good fortune for the whole family.
WEST (1/3)
Quarrelsome energy makes its way into the WEST due to the argumentative No 3 Star. Keep this area quiet and remove any windchimes you may have hanging here as the noise could cause your family to become victims of defamations and unpleasant gossip.
You can place something red here, eg a red rug or carpet, to subdue the negative energy.
The No 3 Star can also bring legal problems and lawsuits; if you are affected by this, it will be good to carry the Talisman to Win a Court Case.
NORTHEAST (2/4)
The NE is a good area for students this month and those involved in research-based work. Anyone needing to study for exams or tests would be smart to do so in the NE of the house to take advantage of the supportive energy.
To further help with academic luck you can place a Luo Han for Scholastic Brilliance here.
The No 4 also brings romance luck, creating new romantic opportunities particularly for men. Single men have good chances to find their life partner this month. Married women, ought to keep an eye on their partners.
If your bedroom is in the NE, married women are advised to wear the Marriage Saver Amethyst Pendant.
Married men however ought to practice patience (take those yoga classes if you need help) as they tend to quarrel with their wife.
NORTH (4/6)
Good energy is created in the NORTH this month as the two stars form the most auspicious "Sum of Ten". This will help those staying here to close deals, complete projects and deadlines and enable them to follow things through successfully.
Display the Sum-of-Ten Enhancer here if you need help or carry it with you.
6 smooth coins or the Jade Emperor will help to bring you unexpected windfalls.
Students will also do well studying or revising in the NORTH.
Fill this space with activity and music, the more the better!
NORTHWEST (9/2)
The No 2 Star brings illness chi to the NW this month and together with the annual No 9 Star magnifies feelings of anxiety. Elderly people and those who fall sick easily should sleep in a different bedroom this month.
If this is your bedroom, display a Healing Herbs Wu Lou on your bedside table.
The No 2 Star also brings danger of accidents to the patriarch who should therefore not take any physical risks and avoid dangerous activities. Patriarchs and people born in the Years of the Dog and Boar should carry a Garuda Wu Lou Amulet for protection.
Source: World of Feng Shui
29 December 2019