7th December 2021 – 5th January 2022
We have reached the end of the year; a time to wrap things up, finish our projects and complete our tasks. And the No 4 Star moves into the Centre to help us with this! This is excellent news, as the No 4 Star forms the "Sum of Ten" with the annual No 6 Star, bringing completion luck from the universe. Whatever it is you are pursuing, this month's stars will help you to conclude your projects successfully so you can have a clear slate for the coming year, with new goals and new aspirations.
The other lucky sectors (extremely lucky I dare say) are the SOUTH and WEST, with the SOUTH enjoying excellent wealth luck and fabulous windfall luck coming to the WEST. This is where you want to spend your time this month, and you can activate the big Tai Chi as well as the small Tai Chi.
The sectors to be avoided this month are the SE, NE, NORTH and NW. Please be very aware and update your cures there.
Please study the chart below. In each of the 9 grids you will see two numbers. These are the so-called "Flying Stars". The bigger number at the top left represents the annual star (red = afflictive, black = auspicious) and the slightly smaller number in the bottom right represents the monthly star, which will influence your luck during this current month.
If you are not yet familiar with the compass orientations of your home, then please use a reliable compass to take the directions. I recommend to take the compass readings as follows:
Take one compass reading from your main door, looking out.
Take another reading from the center of your living room, looking towards your balcony or picture window
These two readings should enable you to determine the compass directions and locations of your home, so you can ascertain which stars fly into which area.
Please take particular note of the location of your main door and your master bedroom, as the stars in those sectors will affect you the most. Obviously, for those of you who continue to work from home, the location of your home office/home work station is also important.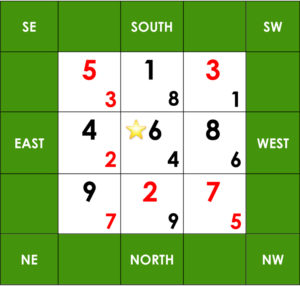 SOUTHEAST (5/3)
Quarrelsome energy moves into the SE, adding more negative energy to this sector. Noisy arguments and disputes can arise, as well as money troubles, causing unfortunate events and bad business luck.
Improve your relationships by displaying the Red Peace and Harmony Apples here or adding other red accessories. Since the SE is your wealth sector, you might want to display a Wealth Lock to protect your wealth too, as the 5/3 combination of stars can also cause cashflow problems. The shortage of money may well lead to arguments between family members and friends.
Try to keep this space in your home as quiet as possible this month.
SOUTH (1/8)
The SOUTH is one of the most auspicious sectors this month thanks to the monthly Wealth Star flying in. This benefits particularly those of you who live in SOUTH-facing houses or whose main door is located in the SOUTH. Of course those with bedrooms or (home) office in the SOUTH or born in the Year of the Horse will greatly benefit too.
To activate this wonderful money luck, you can place a Sacred Resource Cow or the 100 Blessings Energetic Deer here. A simple wealth bowl will do too! In addition, you can carry a Dakini Wealth Pi Yao amulet (or place it on your desk in the SOUTH).
To activate career luck, you can display a Dragon Horse instead and/or hang a Victory Banner with Mystic Knot and Evil Eye near your desk.
Although money luck really is great in the SOUTH this month, the elements of the two stars clash, which can bring disagreements between siblings. To make sure you maintain harmony within your family, you can display the Red Peace and Harmony Apples in this part of your home or hang a vibrant red picture here, such as Clare Haxby's Chinatown Singapore print.
SOUTHWEST (3/1)
After two tough months, the luck in the SW improves drastically thanks to the monthly No 1 Victory Star, promising improved career prospects, new opportunities, and better productivity at work.
This is not only useful for the matriarchs and working mums but also for those born in the Years of the Sheep or Monkey and anyone staying in the SW.
If you wish to activate this fabulous luck to help you end the year with success, you can display the Desktop Flag of Victory or a Wind Horse lumi tile on your desk or simply use the Flag of Victory amulet. These activators will also help you if you wish to try something new, diversify in your business, or change your path in life.
Don't forget about the annual Qarrelsome Star though and continue to suppress this with fire energy or a pair of Red Peace and Harmony Apples (yes, they are very versatile!).
EAST (4/2)
The Illness Star flies into the EAST, affecting the family's health luck, and particularly those who spend a lot of time in the EAST room of their house. You will be plagued by low energy levels and become more susceptible to illness.
To keep the illness energy under control, you can place a metal Wu Lou here or use the new Wu Lou with Joyous Crane instead. If your bedroom is located in the EAST, it is advised that you carry a health amulet (Stay Healthy amulet, Medicine Buddha Amulet for Good Health & Protection or Garuda Wu Lou Health amulet).
In addition, this combination of stars can also harm couples, so it would be a good idea to display the Marriage Lock here or a Double Happiness Tassel to keep your loving bond strong.
CENTRE (6/4)
The Centre is another most auspicious sector this month, which will bring good fortune to all members of the household. The monthly No 4 Star here brings love and romance as well as education luck.
So those of you looking for love can display a Rabbit in the Moon Love Enhancer or hang a Double Happiness Tassel here, while those needing a bit of help with their studies can use a study enhancer instead, eg the Manjushri "Dhih" Scholastic amulet.
What makes the Centre really special though this month is the fact that the two stars form the "Sum of Ten", which brings completion luck. This is so very fitting at this time of the year, as many of us are working hard to finish things off so we can start the New Year with a clean slate. There is nothing better than a bit of a cosmic boost to increase productivity and the ability to successfully conclude our projects! So, if you wish to activate this fabulous luck, you can carry a Sum of Ten amulet or place this in the Centre of your home.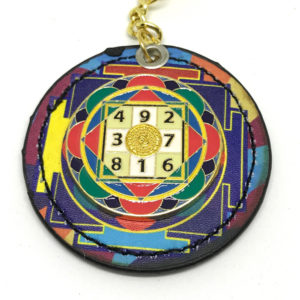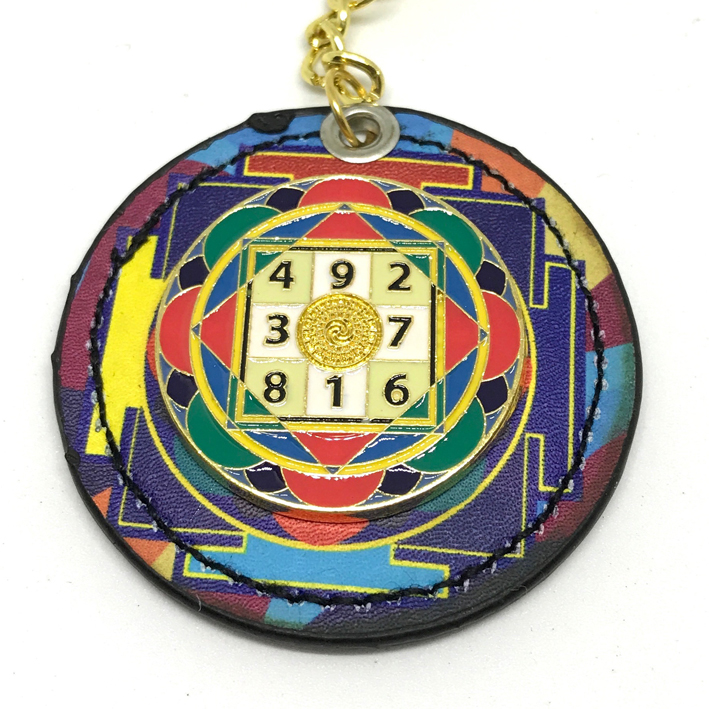 WEST (8/6)
The WEST is another extremely lucky sector this month, enjoying the annual Wealth Star combined with the monthly No 6 Heaven Star! There will be higher chances of windfalls coming your way, as well as recognition and mentor luck, especially for those of you living in WEST-facing houses or staying in the WEST room of your home.
But of course ANYONE can activate this wonderful luck by hanging a Jade Emperor Windchime in your WEST or displaying the Jade Emperor with Qui Ren Talisman here for new mentors to come into your life.
If you would like to activate money luck instead, you can display the Tree Bringing 3 Kinds of Wealth instead, or 6 Chinese coins tied with a red string.
There is a slight downside though, as this combination of stars can also cause loneliness for those staying here. As a precaution, you can display figures or images of your astrological friends and allies here this month to invite new friends into your life and old friends to renew contact. If you are not sure who your secret friend and allies are, please read my blog "Who is YOUR Secret Friend?".
NORTHEAST (9/7)
This is one of the places where great care is necessary, as the monthly No 7 Robbery Star flies in, bringing danger of robbery and burglary, betrayals, money loss and risk of accidents. These negative energies are further multiplied by the annual No 9 Star, so this is no joke.
For protection, it is highly recommended to display the following in your NE:
Kuan Kung with Dragon Mini Plaque to "have your back" and protect you against backstabbing.
Armoured Elephant and Rhino to minimize the risk of losing money, and
Wealth Lock Coin to preserve your asset wealth.
If your (home) office is located in the NE, you can also display an Anti-Burglary lumi tile on your desk.
Those of you staying in the NE ought to avoid long-distance travel this month due to the heightened dangers and be very alert at all times. If you are born in the Years of the Ox or Tiger you would also benefit from carrying an Anti-Cheating Amulet with Kuan Kung for your protection (or place this on your work desk).
NORTH (2/9)
The No 9 is a multiplying star, which means it multiplies the luck of the sector it flies into, whether this is good or bad. Unfortunately, this December it multiplies the illness energies in the NORTH. If you live in a NORTH-facing house or your bedroom is located in the NORTH – please be aware!
Everybody should take this serious though and increase their protection. Avoid large crowds when you go out and please take the Covid precaution rules seriously. If you live in a country with higher risk alerts and colder winter climates, please stay at home if you can, for your own safety.
Display a metal Wu Lou or a new Wu Lou with Joyous Crane in your NORTH and make sure you carry a protective amulet when you go out (Anti-Illness Amulet Card, Medicine Buddha Amulet for Good Health & Protection, Garuda Wu Lou Health amulet or a Buddha Vairocana Gold Card).
On a positive note, the No 9 Star also brings the luck of completion, so you can display the Heavenly Completion Horse here to activate this positive aspect of the star.
NORTHWEST (7/5)
The NW is another one of the badly afflicted areas, as the monthly No 5 Misfortune Star combines with the annual No 7 Loss Star. This can cause all sorts of problems, including money loss, betrayal and backstabbing and health issues.
To subdue the negativity, display a 5 Element Pagoda with "Om Ah Hum" or a Heart Sutra Pagoda in the NW. The Wu Lou with Joyous Cranes is another excellent protector, which activates for good luck of all kinds at the same time.
If you go out, carry a 5 Element Pagoda amulet with you.
It is best to keep the NW as quiet as possible this month and avoid this area if you can.
If you have an entrance in the NW, ensure your Blue Rhino and Elephant are in good order so they can continue to protect you until the end of the year.
Source: World of Feng Shui
29 November 2021