4th February – 5th March 2020  
This is the first month of the new Year of the Metal Rat! The energy shifts are deemed to be completed by the 4th February, so from that day on we can enjoy the new energy of the New Year. Isn't that exciting?! Have you updated your Feng Shui for the new year yet? If not, now is the time! You will see that the changes are quite significant.
The Flying Star chart below shows 9 fields, each containing two numbers. The number on the upper left represents the annual star (red = afflictive, blue = auspicious) and the black number in the bottom right represents the current monthly star. These are the numbers (stars) that change every month and create new energy patterns in your home and office.
To apply these monthly stars successfully, you need to map out the compass sectors in your home or office. If you are not yet familiar with the compass orientations of your home, I recommend you take two compass readings: one from your main door, looking out, and another reading from the center of your living room, looking towards your balcony or picture window. These two readings should enable you to determine the compass directions and locations of your home. Then you are in a position to allocate the stars (numbers) to the correct areas.
Please take particular note of the location of your main entrance door and your master bedroom, as the stars in those sectors will affect you the most.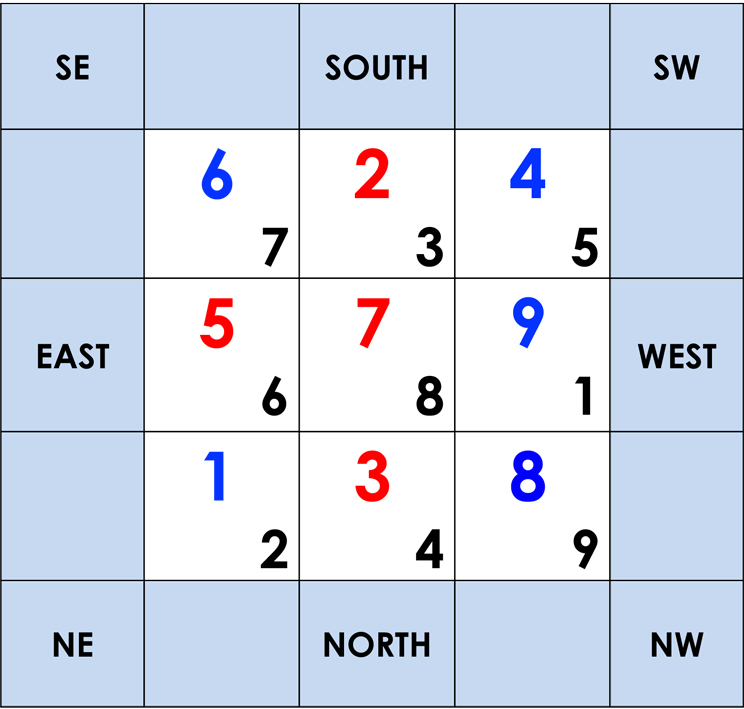 SOUTHEAST (6/7)
Although the annual No 6 Star here is very positive, together with the monthly No 7 Star there is excessive metal energy which indicates the possibility of violence, burglary and conflict involving metal. You need to be careful when using sharp objects in this area as chances of accidental injury are high. Those staying in the SE should not stay out late this month.
For protection, you can carry the powerful 15 Hums Protection Wheel amulet or the new Anti-Burglary amulet. If you have noisy metal windchimes here, please take them down for this month. Be careful and be aware of accidents, especially involving young daughters of the house.
Display an Anti-Burglary Lumi Tile to protect your home this month. A Blue Mongoose Carpet is also an excellent option.
SOUTH (2/3)
The 2/3 combination is always a bad sign, which is made worse by the clashing elements of the two stars, leading to conflict and disagreements. Those living in SOUTH facing homes or with bedrooms or offices in the SOUTH are particularly affected.
Keep this sector as quiet as possible and try not to spend so much time here.
Place a Fire Dragon Holding a Fireball to calm the argumentative energies. To avoid quarrels with your partner, you can wear the Marriage Saver Amethyst Pendant. It will be good for your relationship if you are patient and give each other the benefit of the doubt this month as small niggles can turn into big disagreements.
Those people mentioned above and those born in the Year of the Horse can also carry a Dragon Holding Fireball Anti-Conflict amulet this month.
SOUTHWEST (4/5)
The luck of the matriarch is going to improve this year thanks to the annual No 4 Star, which helps with good relationships and love luck. However, just a little more patience is necessary because the monthly Five Yellow brings problems and misfortune of all kinds this February! This can be health issues, money loss, unexpected expenses, … you name it.
You can place a new Five Element Pagoda with "Om Ah Hum" in the SW to remove the harmful energy and carry the same as an amulet. It will also be helpful to keep this area as quiet as possible this month to not aggravate the Misfortune Star.
Matriarchs and those born in the Years of the Sheep and Monkey will be particularly affected.
If you experience health problems this month, they could be related to the stomach. If this is a concern, place a metal Wu Lou on your bedside table, especially if your bedroom is located in the SW.
EAST (5/6)
This is an excellent month for those living in EAST facing houses and those spending a lot of time in the EAST. You can enjoy good speculative luck and possibly an unexpected windfall thanks to the monthly No 6 Heaven Star!
If your main door is in the EAST, place a water feature to attract the positive energy. There will be opportunities for upward movements in your career as well as business expansion. Wealth luck is also excellent.
Enhance your prosperity luck with Six Emperor Coins tied with a red string and by carrying a Heaven Seal amulet this month.
CENTRE (7/8)
Although the annual Robbery Star is a danger to everyone, wealth luck is great this month and many opportunities to expand and grow will present themselves. It will be a prosperous month for everyone – what a great start into the New Year!
If you are looking for new opportunities to make money you can display the Wealth Tree with Mongoose and 6 Birds in your Centre. Victory luck is also strong and you may well win money from competitions. Place the Crimson Phoenix Vase in this area to magnify the auspicious energy.
Remember that you also need protection from the annual No 7 Star and carry the new Anti-Burglary amulet.
.
WEST (9/1)
The WEST is also very auspicious this month, where the No 1 Victory Star combines with the annual No 9 Star to form the powerful Sum of Ten. This will be extremely helpful for career, fame and money matters and it creates excellent supportive energy for ambitious persons.
Make the most of this wonderful opportunity by placing a Wind Horse Boosting Victory Flag or a Wind Horse Lumi Tile here to attract the good fortune of the Sum of Ten combination (but not in a bedroom). You can also carry a Victory Banner Amulet with Wind Horse this month. If you wish to activate your wealth luck, you can display a miniature Wealth Cabinet.
BUT watch your workload to avoid a burn-out! You could also fall ill with head or lung problems.
Don't go over the top with activating these auspicious stars as doing so will override the good fortune they promise. Remember Feng Shui is all about balance!
NORTHEAST (1/2)
There is illness chi in the NE which will particularly affect those with bedrooms in the NE and living in NE facing houses. Also those born in the Years of the Ox and Tiger.
It is best to avoid unhealthy food and watch your diet. You can place a Healing Herbs Wu Lou (or just a plain metal Wu Lou) to protect your health and guard against accidents. If your bedroom is located in the NE, you ought to carry a Garuda Wu Lou Health amulet.
There may be temporary setbacks in your career and conflict with colleagues. To counter this, you can place a Pair of Dragon Horse (also known as Chi Lin), which will encourage a smoother and happier time at your workplace.
In case of marital problems place a pair of Mandarin Ducks or the Double Happiness Symbol in your NE to improve your relationship with your spouse.
NORTH (3/4)
Students and those in writing professions (journalists, writers, marketing professionals, bloggers) will be highly motivated and creative this month if their work station is in the NORTH. Those born in the Year of the Rat will also feel the positive influence.
To enhance exam luck and artistic creativity you can display a Crystal Globe or a Scholar on Dragon Carp on your desk. To enhance clarity of mind you can use a Crystal Point with Mantra.
There is a lot of wood energy though which can lead to emotional stress, affecting close relationships. Install a bright light to keep this under control.
Money luck is better and can be enhanced by placing the God of Wealth Sitting on Tiger in your NORTH (but not in a bedroom) or by carrying a Mongoose Wealth amulet.
NORTHWEST (8/9)
This is fabulous news for those staying in the NW! The prosperity luck they can enjoy this coming new year will be multiplied by the monthly No 9 Star, bringing good fortune and good news. How wonderful! This is indeed excellent for the patriarch, those born in the Years of the Dog and Boar, and those with bedrooms or offices in the NW. Get ready for some money luck!
You can enhance this with a Dragon & Rat Prosperity 8 or the Mongoose Spouting Jewels. A Golden Dragon is always welcome too!
Business luck is also excellent and if your office is located in the NW, you can boost this further by displaying the Bejewelled Fuk Luk Sau.
Spend more time in your NW this month. If this is your dining room, host dinner parties. If it is your living room, invite friends over for games or a movie night. Have a party and play happy music to create yang energy. Enjoy!
Source: World of Feng Shui
31 January 2020