4th February – 5th March 2021
So this is it! We are in the first month of the new Year of the Ox. Even though the Year of the Ox does not begin until 12 February, the annual flying stars will be in position on 4 February, the "Day of Spring". In fact, they have started shifting last December already and this is why you may have felt slightly different energies this January. But now everything will settle down and we can follow the new chart for the year, starting with this month of February.
You will see the monthly Misfortune Star in the Centre, which is a warning that the year has a difficult start (don't we know it) and will continue to be challenging. But the influence of the annual No 6 Star in the Centre of the chart will get stronger and stronger, and with it the situation of the world will improve too.
This February, the luckiest sectors are the NE and the SOUTH, while the SE, NORTH and NW also enjoy auspicious energies. Keep these areas of your home active and spend your time there as much as you can.
Mothers need to be careful though as they are affected by the 3/2 combination of stars, which is never a good sign. It will cause stress and irritability and we mothers will be more susceptible to illness too. Don't leave your home without protection.
In each of the 9 grids below you will see two numbers. These are the so-called "Flying Stars". The bigger number at the top represents the annual star (red = afflictive, black = auspicious) and the slightly smaller number in the bottom right represents the monthly star, which will influence your luck during this current month.
If you are not yet familiar with the compass orientations of your home, then please use a reliable compass to take the directions. I recommend to take the compass readings as follows:
Take one compass reading from your main door, looking out.
Take another reading from the center of your living room, looking towards your balcony or picture window
These two readings should enable you to determine the compass directions and locations of your home, so you can ascertain which stars fly into which area.
Please take particular note of the location of your front door and your master bedroom, as the stars in those sectors will affect you the most.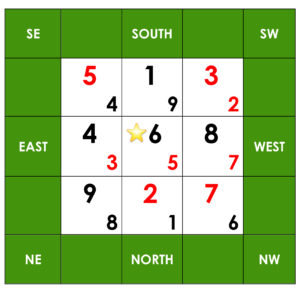 SOUTHEAST (5/4)
Despite being home to the annual No 5 Misfortune Star, the SE enjoys positive energy this month. The No 4 Star brings good relationship luck for those who are born in the Years of the Dragon and Snake as well as those who have their bedroom or office in the SE.
If you would like to boost the loving bond in your current relationship, place the Rabbit in the Moon Love Enhancer in the SE this month. This will also help smooth little quarrels between spouses. Carry a Green Jade Hearts Charm to fill your heart with love.
Singles staying in the SE will enjoy plenty of attention but the feng shui advice is not to rush into anything serious too quickly.
With the annual Five Yellow now in place in the SE, please make sure to protect yourself and your family with a 5 Element Pagoda with Tree of Life for the coming year.
SOUTH (1/9)
The stars in the SOUTH combine to the Sum of Ten, which is a very powerful combination, bringing success and completion luck.
Those born in the Year of the Horse and those with bedrooms or office in the SOUTH ought to carry a Sum of Ten Amulet to help them turn the fabulous luck potential into reality. Place the 9 Dragon Plaque here to benefit the whole household.
Keep the lights on in your SOUTH room and install a light in the SOUTH of your living room to boost the auspicious energy. The luck in this sector is also beneficial for investment gains and successful picks in the stock market. If you are an active investor you want to display the Asset Wealth Bull here (but not in a bedroom).
SOUTHWEST (3/2)
The SW is seriously afflicted this month with the troublesome 3/2 combination affecting those born in the Years of the Sheep and Monkey as well as the mothers. As if the actual stars were not bad enough, the elements of the stars clash, causing problems in relationships and disturbing the harmony in the family. Having an irritable and bad tempered Mum around will not be easy this month but please be patient!
You can place Lillian Too's Mystic Knot Red Carpet in your SW to calm the energies, or hang a gorgeous red Double Happiness or Mystic Knot tassel here.
Carrying the Relationship Enhancing Amulet will also be good to reduce the tension.
Cure the annual No 3 Star with the red Peace & Harmony Apples and add the Healing Deer this month to protect from illness. The Sheep, Monkey and mothers would also benefit from carrying a Medicine Buddha Amulet for Good Health & Protection when they are out and about, or an Anti-Illness Amulet Card, not to mention the red Apple Peace Amulett, which is a must.
EAST (4/3)
This is another area that suffers from quarrelsome energy. Here the monthly No 3 Star might even lead to an embarrassing romantic scandal! The wood energy is far too strong and brings emotional stress caused by aggression. Angry feelings, which have been brewing for quite some time, are likely to erupt.
Display a pair of red Peace and Harmony Apples in your EAST and install a bright light for this month. Those spending a lot of time in the EAST might like to carry an Apple Peace Amulet for precaution and protection.
Having said that, the No 4 Star does bring some positive energy, which will help bring success in academic endeavours. If you have children at school or university, display a Dragon Carp or the new Manjushri Gau in your EAST to boost study and exam luck and gift your children a Manjushri "Dhih" Scholastic Amulet to carry in their school bag or place on their study desk.
The EAST is also a very good area for those who are in a creative profession.
CENTRE (6/5)
The stars in the Centre have an effect on everyone and the monthly No 5 Misfortune Star brings all sorts of troubles: strained relationships, problems at work, unexpected expenses, health problems, and more. This might hit some of you lightly and others more severe – it all depends on your own personal circumstances.
I highly recommend you place a 5 Element Pagoda with Tree of Life in your Centre area this month and those of you who are back at work and commuting every day ought to carry a 5 Element Pagoda with Tree of Life Amulet.
Your wealth is also in danger; carry a Hum Dakini Wealth Protection Amulet if you are concerned.
There will be a lot of anxiety, which can cause quarrels and fights within the family. If this affects you, display a 28 Hums Protection Wheel or a Happy Buddha picture in your Centre to calm the negative energy.
Despite all these troubles, there IS heaven luck for everyone!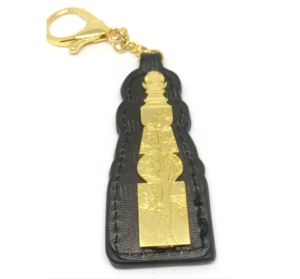 WEST (8/7)
The No 7 Star brings theft, violence and money loss to the WEST area. If your main entrance is in the WEST or facing WEST, please make sure it is securely locked at night and place an Anti-Burglary Plaque with Door Guardians facing your door.
For your WEST rooms you can use an Anti-Burglary Lumi Tile for protection.
Those with bedrooms in the WEST or born in the Year of the Rooster will benefit from carrying an Anti-Burglary Amulet when they are out and about.
The stars also indicate betrayal and domestic violence. Here, Kuan Kung on Horseback can help to counter this hostile energy.
To protect your wealth from being lost or stolen place Lillian Too's Blue Mongoose Carpet in your WEST.
NORTHEAST (9/8)
The NE is one of the luckiest sectors this month, which will particularly benefit those who are born in the Years of the Ox and Tiger. People living in NE facing homes will be smiling too! Do energize your NE as much as possible if you wish to enjoy current and future wealth luck.
Keep your NE active, play music and spend your time here. Install a bright light (or just a new floor lamp) and switch it on every evening for a few hours. Next, activate with the Rat & Ox Perfect Partnership Enhancer or a miniature Wealth Cabinet filled with gold coins and your wishes for the future written on a piece of paper. The Annual Amulet 2021 will also be very helpful.
Business and financial luck are also very good but please be aware of clashes with elders. Place a Wealth Tree here to enhance profits. The new Wealth Tree for 2021 is the "Tree bringing 3 Kinds of Wealth". Of course you can also carry a Wealth Pi Yao Gold Talisman Card or display this on your desk.
NORTH (2/1)
The NORTH enjoys victory luck and success at work this month, which is wonderful news for those staying here and people born in the Year of the Rat.
If you wish to give your career a boost, place a Dragon Horse in the NORTH.
If you wish to boost your success luck, display a Windhorse Carrying a Jewel or a Victory Banner and carry a Windhorse Success Amulet.
Please look out for the annual Illness Star though and make sure you have your protection in place, such as a Metal Wu Lou or the new Medicine Buddha and the 7 Sugata Gau. If your house faces NORTH or your bedroom or office is located in the NORTH, carry a Medicine Buddha Amulet for Good Health & Protection or an Anti-Illness Amulet Card.
Elderly people and pregnant ladies are advised not to sleep in a NORTH bedroom this year.
NORTHWEST (7/6)
The No 6 Heaven Star brings fabulous energy to the NW of your home, which is particularly useful for ambitious people. Put your strategies into action early to get a head start over your competitors. The stars here also favour the patriarch as well as the Dog and Boar, and gives strength to those in a leading role, be it the leader of a household, a company, a community, or a country.
You want to activate your heaven and mentor luck in order to benefit from this wonderful star. Placing a Nobleman Gui Ren Talisman in your NW (or the NW of your office) and/or carrying a Nobleman Gui Ren Talisman Amulet will help attract the support of influential people who can help you.
Please be careful though, as the excessive metal element can cause accidents involving metal objects. Balance the energy with yin water and remember to cure the annual No 7 Star too.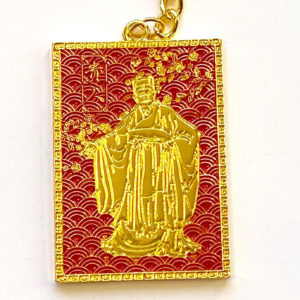 Source: World of Feng Shui
2 February 2021