4th February 2022 – 5th March 2022 
The Year of the Water Tiger has started and brought a significant energy shift. Can you feel it? Now, this is a major change to the January chart because both – the big AND the small numbers (= stars) have changed.
While the Tiger can be an aggressive, wild animal, there is also a soft side to the Tiger, being playful and purring like a cat. The Tiger is strong and fast moving though, so the Tiger year will be fast paced.
The year 2022 is dominated by the No 5 Misfortune Star, which needs a strong cure. In addition, we see the No 2 Illness Star in the CENTRE this month, adding to the danger. So you must sort out your protection first before enhancing the auspicious areas. February is a time to be very cautious.
Also, the NE, NORTH and NW suffer from negative monthly stars – bringing misfortune, loss and quarrelsome energy respectively.
Positive vibes are prevalent in the SE, SOUTH and SW and anyone living in a home facing SOUTH can look forward to a good month.
The Flying Stars chart below shows nine fields, each containing two numbers. The big number on the left of each field represents the annual star (red = afflictive, black = auspicious) and the smaller number on the right represents the current monthly star. These smaller numbers change every month and therefore create new energy patterns in your home and office.
If you are not yet familiar with the compass orientations of your home, then please use a reliable compass to take the directions. I recommend to take the compass readings as follows:
Take one compass reading from your main door, looking out.
Take another reading from the center of your living room, looking towards your balcony or picture window
These two readings should enable you to determine the compass directions and locations of your home, so you can ascertain which stars fly into which area.
Please take particular note of the location of your main entrance door and your master bedroom, as the stars in those sectors will affect you the most. Obviously, for those of you who continue to work from home, the location of your home office/home work station is also important.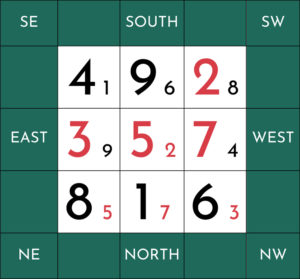 SOUTHEAST (4/1)
The annual No 4 Star brings love & romance, study luck, and boosts creativity. It improves relationships of all kinds, and if you are looking for a new love, you can enhance this luck by placing a pair of Mandarin Ducks or the Kurukulle Plaque in the SE and carrying your Peach Blossom Amulet.
The monthly No 1 Victory Star will help boost career, success and recognition luck. You can activate this with a Dragon Horse placed in the SE or a Windhorse Lumi Tile displayed on your desk and carrying a Sky Horse Amulet.
Students who would like to boost their scholastic luck can place the Dragon Carp Plaque in the SE instead.
The Lunar Mansions Harmonizing Plaque is the best overall enhancer for the SE this month, as this will help capture new opportunities that come along.
SOUTH (9/6)
There is strong heaven luck in the SOUTH this month, which is excellent for those living in SOUTH-facing houses. Also those of you with bedroom or office in the SOUTH will enjoy recognition, mentor luck and financial luck this month. There are good chances of upward movements in your career.
To activate, you can display the Nobleman Gui Ren Talisman or hang a Jade Emperor Windchime in your SOUTH. If you are back at work, carry a Jade Emperor Amulet.
You can also activate the annual No 9 Star with the Teapot with Completion Horse, to help attract success and completion luck.
You can also take advantage of this combination of stars to activate for wealth by placing the Activating Prosperity Tree here.
Unfortunately, the elements of the two stars clash, which brings possible misunderstandings between the older and younger generations. You can place the Harmony Lock or Magical Cosmic Apple here to help keep everyone calm or display a Buddha image or figure instead for this month.
SOUTHWEST (2/8)
The annual No 2 Illness Star will be a particular danger to the matriarchs and those born in the Years of the Sheep and Monkey this year. Having said that, the annual Illness Star should be cured in EVERY home.
Thanks to the monthly No 8 Wealth Star the energy in the SW is improved drastically, as the two stars form the "Sum of Ten", promising strong money luck and completion luck. Those staying in the SW will benefit especially.
To activate the excellent wealth luck here, you can display the Trio of Wealth Gods Sitting on Tiger or the 100 Blessings Energetic Deer in your SW (but not in a bedroom).
If you want to grow your net worth, you can display the Activating Prosperity Tree instead. This will bring investment luck and help you keep a healthy cash flow, enabling you to make more money than you can spend.
If you are looking to generate new sources of income you can display the Sky Salamander.
Don't forget to cure the annual Illness Star though. The best remedies are a metal Wu Lou or the new Wu Lou with Joyous Cranes in gold. All matriarchs as well as Sheep and Monkeys should also carry a Stay Healthy Amulet while they are out and about.
EAST (3/9)
Be warned – those of you living in the EAST part of the home are afflicted by the annual No 3 Star, making you more quarrelsome and argumentative than usual. To make matters worse, the aggressive energy is further strengthened by the No 9 Star this month.
Please place a strong cure in your EAST, eg a Magical Cosmic Apple, the Harmony Lock, or a RED Wu Lou with Joyous Cranes. Do not use bright lights here.
The oldest son and those born in the Year of the Rabbit are directly affected too and would benefit from carrying a Magical Cosmic Apple Amulet this month when they are out and about (eg at school or at work).
The No 9 Star does have a positive side though, indicating future wealth and lasting prosperity. Once the quarrelsome Chi is subdued, you can activate the No 9 Star with the Teapot with Completion Horse or a Heavenly Completion Horse.
Hanging a red fiery picture, like Clare Haxby's "Singapore Chinatown" fine art print, will also help improve the energy of the EAST.
CENTRE (5/2)
The No 5 Misfortune Star in the CENTRE is a serious threat to everybody this year and even more so this month, as the No 2 Illness Star flies in. The 5/2 combination brings danger of illness and money loss und must be subdued.
One of the most powerful cures for this year is the Supremacy of Heaven Plate, which represents the powerful energy of the six celestial animals, transforming the negative energy of the No 5 Star into positive energy, as their supreme heavenly force prevails over the earth element of the No 5 Star. Another strong cure is the new Heart Sutra Pagoda, to be placed in the CENTRE of your home.
In addition, you also want to display a metal Wu Lou or a new Wu Lou with Joyous Cranes here this month to subdue the Illness Star. Remember that all stars are very strong this year and the 5/2 combination is truly perilous.
Those of you who are back at work or at school are also recommended to carry a Heart Sutra Pagoda Amulet to help keep you safe while you are out, and a Stay Healthy Amulet for this month.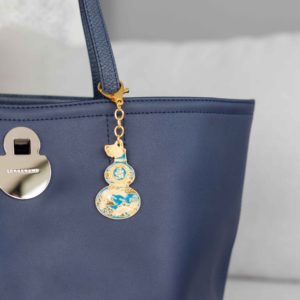 WEST (7/4)
In the WEST we see the monthly No 4 Star flying in, which improves chances of romance and networking luck for those staying here. In addition, the WEST is a good place for students to study in this month.
To activate education luck and good exams, you can display the Dragon Carp with 3-legged Toad Plaque or a Manjushri Wisdom Stupa in the WEST.
If you are looking for romance, you can place a Romance Lock in your WEST; but married couples looking to strengthen their loving bond ought to use a Marriage Lock instead.
The elements of the two stars clash unfortunately, which can lead to arguments and aggression, putting your friendships and relationships in danger. Carry a Four Friends Talisman keychain to help prevent this and improve friendships.
This clash of elements also brings the possibility of lung problems. If you are staying in the WEST or are born in the Year of the Rooster, it will be best to avoid crowded places this month and to carry one of the health talismans for protection.
NORTHEAST (8/5)
The NE is one of the lucky sectors this year thanks to the presence of the auspicious No 8 Wealth Star. However, this month we also see the No 5 Misfortune Star here, which is not such good news as it brings various dangers.
The best protection is to place a Heart Sutra Pagoda in your NE to subdue the bad luck brought by the No 5 Star. If you have elderly people sharing your household, you might also like to display a Golden Wu Lou with Joyous Cranes or a plain metal Wu Lou to protect their health.
The Misfortune Star also brings the danger of accidents and injury, so people born in the Years of the Ox or Tiger should avoid dangerous sports or any other activities that carry a physical risk. You can carry a 28 Hums Protection Lotus Amulet for protection.
NORTH (1/7)
The NORTH is another most auspicious sector for the year 2022, but the luck is adversely affected by the No 7 Loss Star this month. That means, those of you staying in the NORTH or born in the Year of the Rat need to take extra care this month. Minor mishaps could occur, causing unexpected expenditures.
It might be a good idea to set some money aside for such unexpected costs. In addition, place a Wealth Lock and an Anti-Robbery Protection Tablet here to protect your wealth. There is also a Wealth Lock Coin amulet you can carry for additional protection.
At work, there is a good chance of career improvement, but the No 7 Star brings strong competition. Some colleagues will be on your side, while others will go to great lengths to impede your success. To give your overall luck a boost this month, you can carry the Four Friends Talisman amulet to keep your allies on your side and the Sky Horse amulet to help you beat the competition. You can also display them on your work desk. They will help anyone whose goal is success at work, not just those people mentioned above.
NORTHWEST (6/3)
The argumentative No 3 Star flies into the NW and brings angry energy, conflict, gossip and misunderstandings. You don't want any unnecessary noise in the NW this month, as that would only aggravate the No 3 Star further. Hence, remove any water feature or windchimes you may have placed here for this month, as well as plants.
Next, subdue the quarrelsome energy with a Magical Cosmic Apple and/or some red accessories, eg a red rug or a red picture. The colour Red represents fire energy, which will help to keep everyone calm and prevent misunderstandings from turning into serious arguments. A figure or image of a Buddha is also very helpful in this situation.
Looking at the bright side, the annual No 6 Star brings the possibility of financial windfalls, as investment and speculation luck is good. This can be activated with the Sacred Resource Cow placed in the NW. There is also a Sacred Resource Cow amulet which you can carry this year.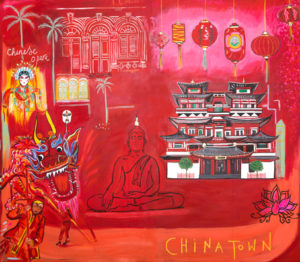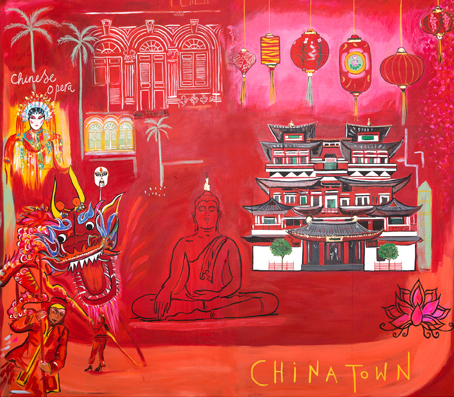 Source: World of Feng Shui
3 February 2022