7th December 2020 – 5th January 2021  
The year 2020 surely ends with a bang – seeing that the flying stars are doubling up in each sector! This makes the lucky sectors even luckier but the unlucky sectors much more dangerous, and it is imperative to place protective cures.
So PLEASE watch out for illness in the SOUTH, general danger and misfortune in the EAST, and most of all, the double No 7 Star in the Centre, greatly increasing the danger of loss for everyone. Loss can come in many forms so please be extra vigilant, make sure you have strong protection, and don't expose yourself to risks.
Instead, spend more time in the SE, SW, NE and NW to enjoy the fabulous energies there.
The Flying Star chart below shows nine fields, each containing two numbers. The number on the upper left represents the annual star (red = afflictive, blue = auspicious) and the black number in the bottom right represents the current monthly star. These black numbers are the numbers (stars) that change every month and create new energy patterns in your home and office.
To apply these monthly stars successfully, you need to map out the compass sectors in your home or office. If you are not yet familiar with the compass orientations of your home, I recommend you take two compass readings as follows:
one from your main door, looking out, and
another reading from the center of your living room, looking towards your balcony or picture window.
Please take particular note of the location of your front door and your master bedroom, as the stars in these sectors will affect you the most.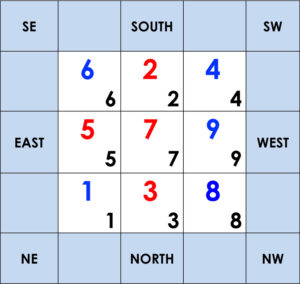 SOUTHEAST (6/6)
There is double good fortune shining in the SE, which is excellent for those born in the Years of the Dragon and Snake and those living in SE-facing houses or with bedrooms in the SE. You definitely want to activate the energy here and keep this space busy (except if it is your bedroom).
You can display the new Celestial Water Dragon to boost unexpected windfall luck. This most promising heaven luck can also bring big breaks, new opportunities, and attract helpful mentors into your life. If you are hitting your head against a brick wall – figuratively speaking – because you are facing obstacles, display the 8 Immortals Plaque to invite a helpful person who can steer you in the right direction.
SOUTH (2/2)
The monthly Illness Star joins the annual Illness Star which is bad news for those with bedroom in the SOUTH or those living in SOUTH-facing houses. Also those born in the Year of the Horse will be afflicted by the excessive illness energy. Elderly people or those who are already suffering from health problems should sleep in a different room this month.
Being in the winter season does not help, as this usually causes a spike in flus and colds, not to mention the dreaded Covid virus.
It is very important to have adequate health protection in your SOUTH rooms this month, such as a metal Wu Lou (the bigger the better) or a Medicine Buddha (but not in a bedroom). Carrying an Anti-Illness Amulet or a Garuda Wu Lou Health Amulet is also highly recommended, especially for those who are commuting daily to their office or workplace.
Avoid spending too much time in the SOUTH and do not use any bright lights here this month.
SOUTHWEST (4/4)
Creative juices will be flowing this month for those who are staying in the SW. The stars also promise great good luck for students and people taking exams.
To activate creativity in your job or business you can display the Lou Han with Crab, while the Lou Han with Qi Lin is excellent to activate study luck for students of all ages. Of course, carrying a Scholastic Amulet will also be useful to boost interest and love for learning.
Friendship luck and social opportunities will increase for those staying in this part of the home but observing the Covid rules of your country/area should be routine by now.
If you are in business, you can activate the energy of the No 4 Star to boost networking luck and to strengthen your relationships with clients and customers. You can use the Three Emperors on Horseback or your zodiac allies and secret friend.
It is also a great time for love and romance, especially for those born in the Years of the Sheep and Monkey. If desired, you can enhance this with a Green Jade Hearts Charm or a Peach Blossom Music Tree.
EAST (5/5)
TWO Misfortune Stars in the EAST is a very dangerous combination, bringing loss of wealth and extremely serious risk of illness.
The negative energy must be suppressed with a 5 Element Pagoda with Om Ah Hum and people living in EAST-facing houses or with bedrooms in the EAST should also carry a 5 Element Pagoda amulet at all times for their protection.
Despite the danger, there are also good news as the two stars form the lucky Sum-of-Ten, bringing completion luck. This means you can finish your projects or close outstanding deals successfully before the calendar year ends. To enlist cosmic help, carry the Sum-of-Ten Amulet or place this in your EAST or the EAST of your office, but avoid spending too much time here and do keep the lights dimmed.
CENTRE (7/7)
The Centre is another very afflicted area as both the monthly and the annual No 7 Robbery Star enter this sector, bringing burglary, betrayal and violence. This is a great danger for everyone in the household and you might feel worried and unsafe. Do not trust others too easily and always be cautious!
Protect your home and your family by displaying the Blue Rhino and Elephant with Talisman Feathers in your Centre, as well as a 28 Hums Protection Wheel or an Anti-Burglary Lumi Tile. It would also be good to have a pair of Fu Dogs flanking your main entrance for additional protection.
Switch the light on in your Centre area and avoid working with metal objects here as chances of accidents and injuries are high.
A water feature will boost your wealth luck and help to prevent losses.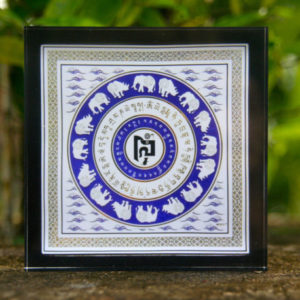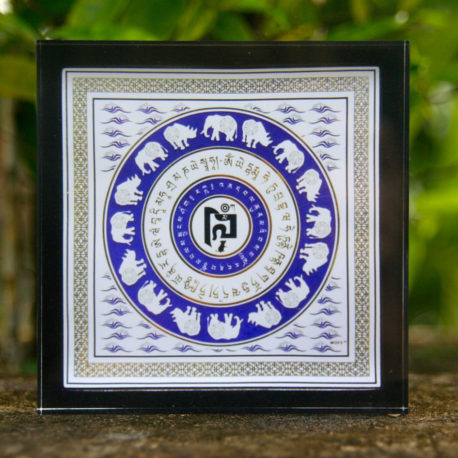 WEST (9/9)
The No 9 Star promises future prosperity so those of you staying in WEST-facing homes could consider investing in the stock market to harvest long-term gains. Things could move quickly for those staying in the WEST, sometimes even too quickly and some of you will feel the need to purposely slow down. Be careful of not letting things spiral out of control.
The auspicious energy also brings good fame luck, benefitting those in the public eye; not only politicians, also those in communications or media professions.
If desired, you can display a Crimson Phoenix Vase or the 9 Phoenix Plaque in the WEST to activate for popularity and recognition, but be careful not to over-activate, as that can be dangerous.
Avoid open flames and candles in this area and place a crystal ball to calm the conflicting elements.
NORTHEAST (1/1)
The NE is one of the very lucky areas this month as the doubled Victory Star brings lots of opportunities to excel in your field! The energy here will boost your competitive advantage and lend you the fighting spirit needed to overcome any challenges that are in your way. The No 1 Star will help you win! It also brings new opportunities. Those of you living in NE-facing houses can benefit from promotion luck, especially if you are born in the Year of the Ox or Tiger.
Boost your career with the 3 Victory Flags in the NE and by carrying a Victory Banner Amulet, while the Wealth Tree with Mongoose and 6 Birds placed here will boost your wealth luck. Carry a Wind Horse with Life Force Amulet when you are out (especially if you are commuting to work) and keep an eye out for money-making opportunities.
If you are running your own business, displaying the Luo Han with Crab in your NE or in the NE of your office will assist you in making timely strategic decisions.
NORTH (3/3)
There is a lot of anger and aggression in the NORTH this month due to the doubling of the quarrelsome No 3 Star. A lot of the stress is due to gossip, leading to conflict and relationships going sour.
To calm the stars here, display the Fire Dragon Holding a Fireball and add red accessories. This could be red cushions on your sofa or a red table runner on your dining table if these are in the NORTH. If your bedroom or office is located in the NORTH, you should also carry a Dragon Holding Fireball Anti-Conflict Amulet to help you stay calm.
Avoid spending time in this area if you can and keep it as quiet as possible.
NORTHWEST (8/8)
The NW is another extremely lucky area as the No 8 Wealth Star doubles this month! This is the best news for those who live in NW-facing houses and those who spend a lot of time in their NW. If this is your dining room, host dinner parties to activate the space with precious yang chi – all within your local Covid regulations of course.
The energy here will help you create wealth and accumulate assets and will particularly benefit the patriarchs, people in leadership roles and those born in the Years of the Dog and Boar.
To enhance your asset wealth, display an Asset Wealth Bull here; to boost your prosperity luck, place a Mongoose Spouting Jewels here and carry a Golden Pineapple Amulet.
The more time you spend in your NW the better!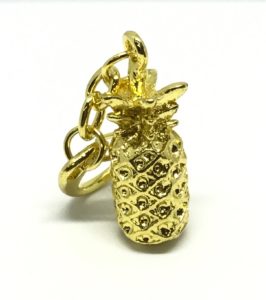 Source: World of Feng Shui
27 November 2020