7th November – 6th December 2020  
The overall luck is better in November as the monthly Wealth Star moves into the Centre. This will have a positive influence and calm the annual No 7 Star.
The NW is the luckiest sector this month, which is good news for leaders and patriarchs. The EAST, WEST and Centre also benefit from the good monthly energies.
In the chart below you will see two numbers in each of the 9 grids. These are the so-called "Flying Stars". The number on the upper left represents the annual star of the sector (red = afflictive, blue = auspicious). The black number in the bottom right represents the monthly star, which will influence your luck during this current month.
To adjust your Feng Shui accordingly, you need to map out the compass sectors in your home or office. If you are not yet familiar with the compass orientations of your home, then please use a reliable compass to take the directions as follows:
one compass reading from your main door, looking out, and
another compass reading from the center of your living room, looking towards your balcony or picture window
These two readings should enable you to determine the compass directions and locations of your home, so you can ascertain which stars fly into which area.
Please take particular note of the location of your main entrance door and your master bedroom, as the stars in these sectors will affect you the most.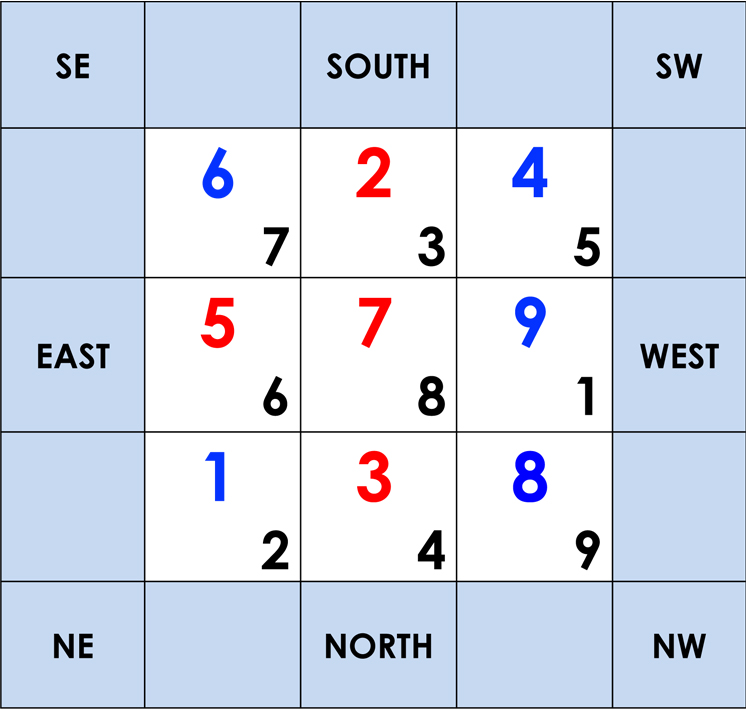 SOUTHEAST (6/7)
There is too much metal energy in the SE this month, which increases the possibility of violent acts, theft and conflict. Keep sharp objects away from this sector to avoid danger of injuries, which could lead to profuse bleeding.
Place a Blue Elephant & Rhino with Talisman Feathers or your Anti-Burglary lumi tile here to counter the monthly No 7 Star. You can also display Kuan Kung on Horseback to protect you from deceit. Be very careful as accidents could easily happen, especially to the thighs and limbs.
If your bedroom is located in the SE, you might like to wear the "Self-Protection" Medallion to protect yourself from all kinds of harm.
SOUTH (2/3)
The 2/3 combination is never a good sign. Not only are both stars dangerous, their elements clash too, which will add to the conflict and disharmony brought by the monthly No 3 Star. This can have a negative knock-on effect on publicity and PR campaigns, so those of you who are spokespersons for their company or organization need to be very cautious of what they say in public. Words could easily get misquoted and original (good) intentions misunderstood.
Display a Fire Dragon Holding a Fireball or hang the "Little Fiery Dragon" by Singapore based artist Louise Hill in your SOUTH to calm the aggressive energy.
Couples with bedroom in the SOUTH will find there is tension in their marriage or close relationship. Carry a Dragon Holding Fireball Anti-Conflict Amulet or an Apple Peace Amulet to help you stay calm. You can also place a Dragon & Phoenix Mirror in this area to help improve the relationship with your spouse.
Stay away from the SOUTH if you can and keep this area as quiet as possible. Take down any windchimes you might have hanging here this month.
SOUTHWEST (4/5)
The monthly Misfortune Star flies into the SW, bringing financial loss and bad luck to those staying here. It will also affect the mothers of the families and students staying here will find this month particularly challenging, as their productivity decreases and opportunities to shine and demonstrate their skills are rare.
The stars also indicate injuries to the stomach area. Please be careful and pay extra attention to your health and hygiene.
Those affected can carry a Garuda Wu Lou Health Amulet when they are out and about and place a metal Wu Lou or the God of Longevity in their SOUTH room.
Display a 5 Element Pagoda with "Om Ah Hum" to counter the negative energy brought by the Misfortune Star this month and keep the area as quiet as possible.
EAST (5/6)
Luck improves in the troubled EAST as the No 6 Heaven Star brings speculative luck und the possibility of unexpected windfalls. This is good news for those born in the Year of the Rabbit and those with offices here.
You can activate the prosperity energy with a Red Treasure Chest for Windfall Luck or 6 Coins tied with Red String.
You can also activate mentor luck with the Nobleman Gui Ren Talisman or the Precious Minister to invite a new benefactor into your life.
However, there might be danger of mental stress and frustration due to health problems. For protection, place the God of Longevity for long life and good health in your EAST.
Those staying in the EAST can wear a Happiness & Wealth Medallion to enhance their good fortune luck.
CENTRE (7/8)
There is wealth luck arising in the Centre thanks to the No 8 Prosperity Star! This is wonderful news for the whole family. Remember to control the No 7 Star though while activating the No 8 Star.
There are many wealth enhancers you can use, eg a wealth bowl, a Dragon & Rat Prosperity 8, or a Wealth Cabinet with wealth mantra. Continue to fill the cabinet or the wealth bowl throughout the month with gold coins or real "treasures" to symbolically increase your household income.
Make sure you keep your Anti-Burglary lumi tile or other cures here to subdue the No 7 Star.
WEST (9/1)
Spend your time in the WEST this month if you can, as this is one of the luckiest areas and will greatly benefit from activity, music and bright lights. The two stars form the lucky "Sum of Ten", which brings wonderful career and completion luck. In addition, the monthly No 1 Victory Star will give those staying here a headstart over the competition, including opportunities for promotion at work.
If you would like to activate this fabulous energy, you can carry a Victory Banner Amulet while you are out at work, and display a Lou Han sitting on Dragon Tortoise or a Pair of Dragon Horses in the WEST of your home or office.
If you wish to enhance your financial luck, you can place a Wealth Tree with Mongoose & 6 Birds instead. The Sum of Ten Amulet will also be useful to help you bring your projects to a successful completion.
NORTHEAST (1/2)
The No 2 Star brings danger of illness and those staying in the NE or with main doors facing NE need to be particularly careful. Follow the social distancing rules of your community as you are at increased health risk. Watch your diet and avoid unhealthy food.
Those with main door or bedroom in the NE as well as people born in the Years of the Ox and Tiger should carry a Garuda Wu Lou Health Amulet at all times and place a Wu Lou on their bedside table.
You can also place a Medicine Buddha or the God of Longevity near your main door (if this is in the NE) to protect your health.
The elements of the two stars clash, which may lead to setbacks in your career. To improve this, place a Lou Han sitting on Dragon Tortoise in your NE or on your work desk.
The conflicting elements might also lead to marital problems and danger of miscarriage. Pregnant women should therefore avoid this sector this month.
NORTH (3/4)
Luck in the NORTH improves thanks to the No 4 Star, making this an auspicious sector for students and writers of all ages.
Those who have exams coming up can display a Scholar on Dragon Carp in the NORTH and carry a Scholastic Amulet to boost their academic success.
However, there is too much wood energy in this area, which can lead to emotional stress. If you suffer from this, avoid spending too much time here.
Although relationship luck improves for those with bedrooms in the NORTH, the annual No 3 Star can still cause friction between close family members. Stay calm! Display a Red Dragon Holding Fireball in this area or hang a red picture, such as the vibrant art print "Chinatown Singapore" by UK artist Clare Haxby.
If the strain of the Covid restrictions is making you feel restless, claustrophobic and quarrelsome, display a Pair of Mandarin Ducks in your NORTH to protect your marriage.
NORTHWEST (8/9)
Lucky stars continue to shine in the NW, bringing financial benefits to those staying here. The patriarchs of the household and those in leadership positions will particularly benefit from this awesome energy. This is a good time to make serious plans for the future!
You can enhance this wonderful luck with the Nine Phoenix Plaque. Carry a Golden Pineapple keychain with your house or car keys.
Those running their own business can display a Bejewelled God of Wealth sitting on a Tiger or the White Dzambhala with Four Dakinis in the NW of their office or on their desk.
If this is your dining room or living room, invite your friends over for dinner or a game night to create activity here – all within the allowed social distancing numbers of course.
Although very auspicious, this combination of stars could also lead to conflicts between the different generations, so when organizing your events, it would be good to keep the younger and the older folks separate. A Happy Laughing Buddha or a pair of Red Peace and Harmony Apples will help to keep the tempers calm.
Source: World of Feng Shui
28 October 2020