8th October – 6th November 2020  
While the month of October presents us with some extremely positive areas, the overall advice is nonetheless to be very very careful. This is because the annual No 7 Star, which rules the year 2020, is being magnified by the No 9 Star this month, greatly increasing the dangers of violence, accidents, betrayal and financial losses. Please be extra careful when you are out and about and make sure your home is safely locked up at night. Refrain from making risky financial investments and from speculating on the stock market. Strengthening the protective cures for the No 7 Star in the Centre of your home is advisable.
Spend more time in the auspicious sectors this month, namely the SE, SW and NW, to improve your overall luck.
The Flying Star chart below shows nine fields, each containing two numbers. The number on the upper left represents the annual star (red = afflictive, blue = auspicious) and the black number in the bottom right represents the current monthly star. These black numbers are the numbers (stars) that change every month and create new energy patterns in your home and office.
To apply these monthly stars successfully, you need to map out the compass sectors in your home or office. If you are not yet familiar with the compass orientations of your home, I recommend you take two compass readings as follows:
one from your main door, looking out, and
another reading from the center of your living room, looking towards your balcony or picture window
Please take particular note of the location of your front door and your master bedroom, as the stars in these sectors will affect you the most.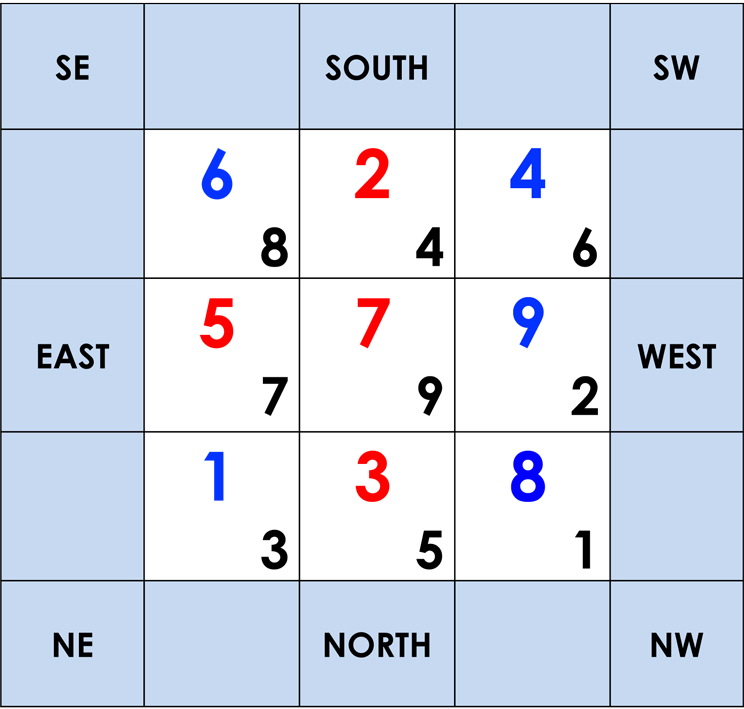 SOUTHEAST (6/8)
The SE is one of the luckiest sectors this month as two of the best stars combine and bring wealth luck to this area and those who stay here.
You can activate this luck by placing a water feature in your SE this month (but not if this is a bedroom) or by displaying the Dragon and Rat Prosperity No 8. It will also be great to activate the SE with lights, sound and activity. Spend your family time here and if this is your dining room, have friends over for dinner (within the allowed numbers of course regarding Covid regulations).
You can also display a Celestial Water Dragon to invite new income and opportunities.
Having said that, the stars could also lead to stress in marriages and within the family, so please be mindful and patient with each other. If this is affecting you, place a Pair of Mandarin Ducks in your SE or carry/display our pretty little Green Jade Hearts Charm.
If there are arguments within other family members, displaying the Red Peace and Harmony Apples will help calm things down.
SOUTH (2/4)
The energy in the SOUTH brings good academic luck to students of all ages, as well as boosting the learning capacity of those acquiring a new skill. This is a good time for research.
You can activate knowledge and wisdom by displaying the Scholar on Dragon Carp or carrying a Scholastic Amulet (those who are able to go to school; home learners can place the Scholastic Amulet on their desk).
Females with bedrooms in the SOUTH will enjoy increased romantic opportunities and may well find their soulmate or finally get together with the man they have been admiring. Married men however are advised to keep a discreet eye on their spouse. Couples can strengthen their marriage by placing a Pair of Mandarin Ducks in the SOUTH and hubby could gift the cute Green Jade Hearts Charm to his wife (a nice surprise!).
People with bedrooms or offices in the SOUTH should enjoy better health this month as the No 4 Star controls the annual No 2 Illness Star.
SOUTHWEST (4/6)
Here the two stars form the extremely favourable "Sum of Ten", which will bring fabulous wealth luck to the ladies of the house. In fact, it will bring windfall luck to females and recognition luck to men.
Ladies can carry a Sum of Ten Amulet or place this in the SW of their home, while men can enhance their luck by displaying the Nobleman Qui Ren Talisman here. Alternatively, you could use 6 Emperor Coins or the Red Treasure Chest for Windfall Luck to boost this wonderful good fortune.
Having said that, productivity could slow down for some people, as mental blocks hinder their inspiration. If this is you, you may want to wear the Water Element Dragon Charm Bracelet or display a Luo Han with Qi Lin in the SW.
The clashing elements of the two stars bring danger of injuries of the stomach caused by metal impact. A yin water cure or some blue accessories in your SW will balance the elements.
EAST (5/7)
The monthly No 7 Star brings more bad luck to the EAST, which is already afflicted by the annual Misfortune Star. Added to the overall dangers of misfortune, people staying in the EAST may also experience severe misunderstandings, backstabbing, or betrayals.
Keep this area as quiet as possible and avoid spending time here. Refrain from noisy activities such as watching TV or listening to music.
Place a pair of Blue Rhino and Elephant with Talisman Feathers or an Anti-Burglary Lumi Tile here for protection or display the Red-Faced Sitting Kuan Kung to mitigate any possible losses and keep you safe.
Those spending a lot of time in the EAST may suffer from mouth-related diseases or food poisoning. Please take extra care if you are eating out and display a metal Wu Lou to boost your health.
CENTRE (7/9)
The Centre is a very dangerous place this month as the No 9 Star multiplies the bad luck brought by the annual No 7 Star. This includes betrayal, robbery and infidelity, and poses a great danger to everyone in the household. On top of that, the clashing elements of the two stars might further cause disagreements and arguments. Tempers may run high within the family. Cashflow problems are also possible, leading to more stress and tense relationships.
Do check that your Anti-Burglary Plaque or Anti-Burglary Lumi Tile in your Centre is still in good order. Make incense offerings regularly and reduce the strained atmosphere with the Red Peace and Harmony Apples.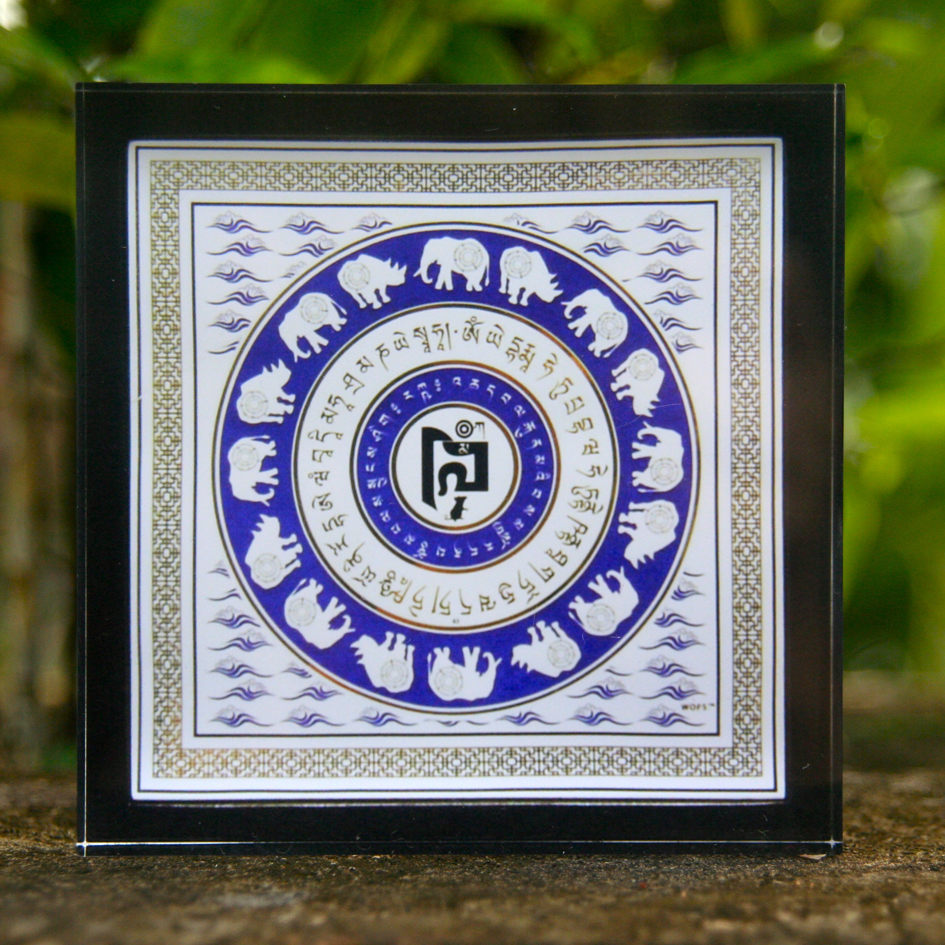 WEST (9/2)
The No 2 Star brings illness to the WEST this month, which is highly unfavourable for women and people born in the Year of the Rooster.
Pregnant women should stay away from the WEST and are advised to sleep in another room if their bedroom is located in the WEST. Young children should avoid this sector too. The energy here really is very inauspicious and needs to be remedied, ideally with a Healing Herbs Wu Lou or a Medicine Buddha. Displaying 6 Emperor Coins with Mystic Knot will also help to keep the negative chi under control.
If you are allowed to go back to your office and your office is located in the WEST, then you would highly benefit from carrying a Garuda Wu Lou Health Amulet. The same goes for people born in the Year of the Rooster when they are out.
NORTHEAST (1/3)
The NE is plagued by disharmony and aggression this month. People staying in the NE and those born in the Years of the Ox and Tiger may well be more stubborn and cranky than usual, making them very unpleasant company indeed, even if they are usually patient and peaceful persons!
You need to subdue the quarrelsome energy with Red Peace and Harmony Apples or the Fire Dragon Holding a Fireball. If you have a wall in your NE, you can also hang a red artwork here for this month, eg the Little Fiery Dragon by Louise Hill or Clare Haxby's Chinatown Singapore.
If your dining room is located here, you can keep a bowl of red apples on your dining table or display a set of Fuk Luk Sau. A Happy Laughing Buddha is another option!
Remove any windchimes you might have hanging here this month to avoid further aggravating the aggressive energy.
If your main door faces NE, place a pair of Fu Dogs as door guardians to protect your home from the negative Chi and keep the light above your main door switched on during the night.
NORTH (3/5)
Serious trouble looms in the NORTH as the quarrelsome No 3 Star of the year is made worse by the No 5 Misfortune Star this month. The fact that the elements of the two stars clash adds more negativity, potentially causing serious arguments that could cause you to lose your business, job and/or good relationships. There could be unexpected expenditures this month, so please take good care of your finances. Those with bedrooms in the NORTH might experience terrible financial losses.
If your kitchen is located here, it could bring serious illness to any one of your family members.
Keep the NORTH as quiet as possible and avoid this sector. Place a 5 Element Pagoda with "Om Ah Hum" for protection. Those born in the Year of the Rat might also want to carry a 5 Element Pagoda Amulet while they are out and about as the dangers are so severe this month.
NORTHWEST (8/1)
The NW is another most auspicious sector this month, promising wealth luck and career enhancement. This is where you want to spend your time! These most auspicious stars will particularly benefit patriarchs and leaders, and those born in the Years of the Dog and Boar. People staying in the NW will gain more recognition and have a good chance to be promoted.
Activate the fabulous wealth luck by displaying the Asset Wealth Bull in your NW or on your desk.
If you would like to further your career, display the Monkey God on Elephant instead and carry the Monkey God on Elephant Amulet.
However, the elements of the stars clash, which could lead to misunderstandings. A Happy Laughing Buddha will help to keep the harmony.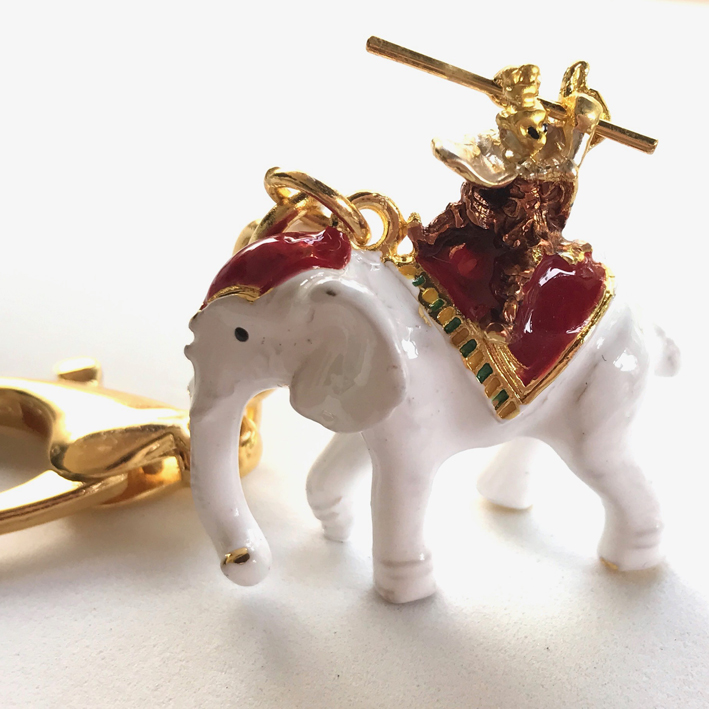 Source: World of Feng Shui
30 September 2020