8th September – 7th October 2020  
The Flying Stars for September are not quite as promising as the last couple of months BUT we see the No 1 Star flying into the Centre which is wonderful news for everyone. The No 1 Star is the Victory Star, but it is also a star of transformation, as it brings change and new beginnings and therefore new hope! As the world is adjusting to the "new normal", the No 1 Star in the Centre may help individuals find a new path for themselves and encourage companies to move ahead in this new reality. September may well be a transformative time, at the end of which we will hopefully have a better picture of our future.
In the chart below you will see two numbers in each of the 9 grids. These are the so-called "Flying Stars". The number on the upper left represents the annual star of the sector (red = afflictive, blue = auspicious). The black number in the bottom right represents the monthly star, which will influence your luck during this current month.
To adjust your Feng Shui accordingly, you need to map out the compass sectors in your home or office. If you are not yet familiar with the compass orientations of your home, then please use a reliable compass to take the directions as follows:
one compass reading from your main door, looking out, and
another compass reading from the center of your living room, looking towards your balcony or picture window
These two readings should enable you to determine the compass directions and locations of your home, so you can ascertain which stars fly into which area.
Please take particular note of the location of your main entrance door and your master bedroom, as the stars in these sectors will affect you the most.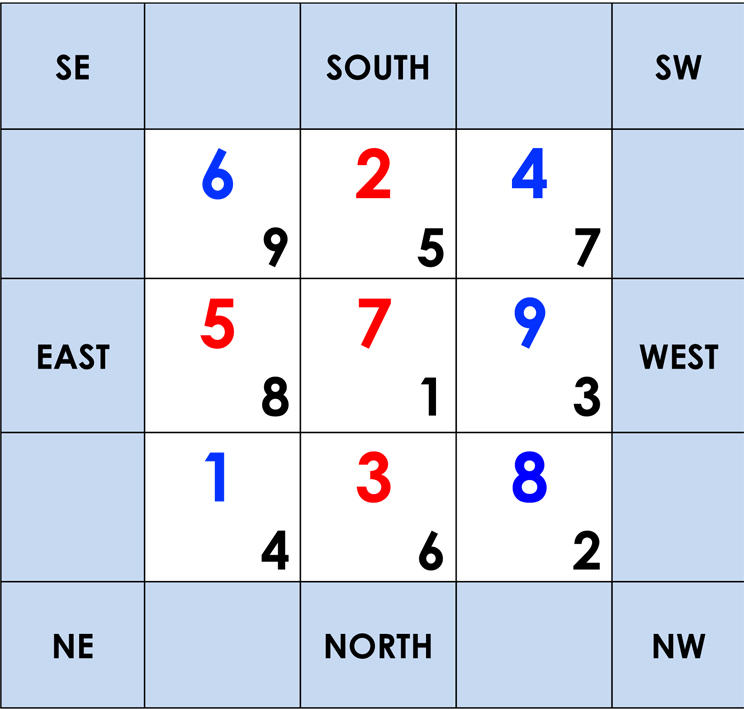 SOUTHEAST (6/9)
There is wealth luck in the SE but the elements of the two stars clash, which will lead to disagreements. There will be frustration between the older and younger generations.
If your dining room is located here, keep a bowl of red apples on your dining table or display a red crystal apple to prevent arguments from getting too heated. Displaying an Anti-Conflict amulet will be helpful too.
There is also a health risk related to the liver and tongue.
If your main entrance is in the SE, you can use a Yin Water Cure and place Six Smooth Crystal Balls to restore peace in your household.
If you wish to activate the wealth luck of the SE this month you can do so by displaying a Wealth Cabinet in Green or some lucky bamboo.
SOUTH (2/5)
The monthly Misfortune Star will bring serious trouble to the SOUTH which is already afflicted by the annual Illness Star. This makes the SOUTH a very dangerous place and you should avoid it as much as possible. The 2/5 combination may lead to serious illness and loss of money. Anyone staying in the SOUTH as well as those born in the Year of the Horse need to be extra careful and carry a Garuda Health amulet or an Anti-Illness amulet this month.
Keep this area as quiet as possible, no loud noise, no loud music, take down any windchimes, no entertaining here.
Place a 5 Element Pagoda with Om Ah Hum as a cure and a Medicine Buddha to safeguard your health. The Medicine Buddha can be in the form of a figure or a picture.
Those staying in the SOUTH might suffer from problems with the heart or eyes.
In addition, make sure you don't have strong fire energy here this month, avoid bright lights and open flames (eg candles).
SOUTHWEST (4/7)
Those staying in the SW also need to take extra care this month as the violent No 7 Star brings danger of robbery (possibly armed robbery), accidents and money loss.
Please place an Anti-Burglary Lumi Tile or the Blue Elephant & Rhino with Talisman Feathers in your SW, especially if your main door is located here. If you need to visit high-risk places or you are born in the Year of the Sheep or Monkey protect yourself with an Anti-Robbery amulet.
Couples with bedroom in the SW might find they fight more than usual this month. This is due to the clashing elements of the two stars, which can also lead to serious mistakes in paperwork. Take the time to double-check your documents to avoid legal problems. Reconcile the elements with yin water (or the colour blue).
It might be a good idea to put aside some money to cover unexpected expenses that may occur this month.
EAST (5/8)
The luck of the EAST is improving a bit thanks to the No 8 Wealth Star, which promises good fortune and money luck to those staying here. Be sure you have a cure for the Annual Five Yellow Star in place though! Otherwise you will not be able to enjoy the good luck of the monthly No 8 Star.
Activate this month's wealth luck here with a wealth bowl or a Dragon & Rat Prosperity 8 figure.
Those staying in the EAST and those born in the Year of the Rabbit are likely to experience financial success this month. This does not include gambling though or speculating on the stock market! Those engaged in gambling and/or the stock market ought to carry a Lock Coin to protect themselves against money loss.
Elderly people staying in the EAST are advised to take care of their health and place a metal Wu Lou on their bedside table.
CENTRE (7/1)
The No 1 Victory Star in the Centre is good news for everyone as it brings the promise of new opportunities and new prospects in these worrysome times. People living in homes with an open-plan concept will be able to enjoy this wonderful energy most as it can flow freely to the other parts of the home. Spend as much time as possible in the Centre area this month, play music here or just relax – the area will be activated by your presence!
If you are looking for success luck or are pursuing new ventures, you can enhance the No 1 Star with a Red Wind Horse or a Wind Horse Lumi Tile displayed in the Centre. You can also display the 5 Elements Victory Banner if you need to win against competition or use the Victory Banner amulet.
Boost the good fortune for your family with a Lucky Money Frog on Water Lily.
| | |
| --- | --- |
| Victory Banner Amulet with Windhorse | $28 | Victory Banner Amulet 2020 | $28 |
WEST (9/3)
There is aggressive energy in the WEST this month due to the quarrelsome No 3 Star flying in. This will cause tension and arguments as those staying in the WEST will be more argumentative than usual. This is another area to keep quiet this month. Please also remove any windchimes you might have hanging here as well as plants.
Display a Fire Dragon Holding Fireball or a pair of Red Peace Harmony Apples to calm the energy. A red picture such as Clare Haxby's Chinatown Singapore print or the Little Fiery Dragon by Louise Hill would also be very helpful to keep the peace.
Do not leave your candles or gas stove unattended.
NORTHEAST (1/4)
The NE is fabulous for children and students this month as the No 4 Star brings great good study luck – helping everyone to have a good start back at school. Writers and those following literary pursuits can also benefit from this auspicious energy. Those staying in the NE could also get a promotion at work.
To activate study luck, place a Crystal Point with Mantra in your NE and a Scholar on Dragon Carp on the study desk.
To activate promotion luck, place a Pair of Dragon Horse in your NE or in the NE of your office.
The 1/4 combination also brings romance luck for women. If you are looking for a life partner, display a pair of Mandarin Ducks in your NE and carry a Green Jade Hearts Charm.
Married couples however need to look out as there is a risk of infidelity. Check that you do not have too much water here as that might lead to a sex scandal.
NORTH (3/6)
Luck shines in the NORTH again, with the Heaven Star promising unexpected windfalls.
Activate the auspicious energy with a Red Treasure Chest for Windfall Luck and/or a Heaven Seal amulet.
It is likely to be a period of slow growth though for entrepreneurs.
Unfortunately, the elements of the two stars clash, which could bring the danger of illness, in particular related to the ears or kidneys. Those born in the Year of the Rat and those spending a lot of time in the NORTH need to be particularly wary of this. Cure with a Healing Herbs Wu Lou and carry an Anti-Illness amulet when you are out.
NORTHWEST (8/2)
The monthly Illness Star brings bad health to the NW, particularly affecting the patriarchs and those born in the Year of the Dog and Boar.
Place a Healing Herbs Wu Lou or a God of Longevity and carry a Garuda Health amulet to help protect you from serious illness. Problems with the lungs or nose are likely. Elderly people or those who are already sick should avoid the NW this month.
Despite the above, there is also good energy as the two stars form the most auspicious Sum of Ten. This is extremely positive, as it promises wealth and windfall luck for those with bedrooms or main doors in the NW. The patriarchs and those born in the Year of the Dog and Boar can of course benefit too. This is a good time for leaders and bosses.
To activate, place a Ru Yi and a Bejewelled Tree of Life in your NW or the NW of your office. Carrying or displaying a Sum of Ten amulet can also be extremely helpful.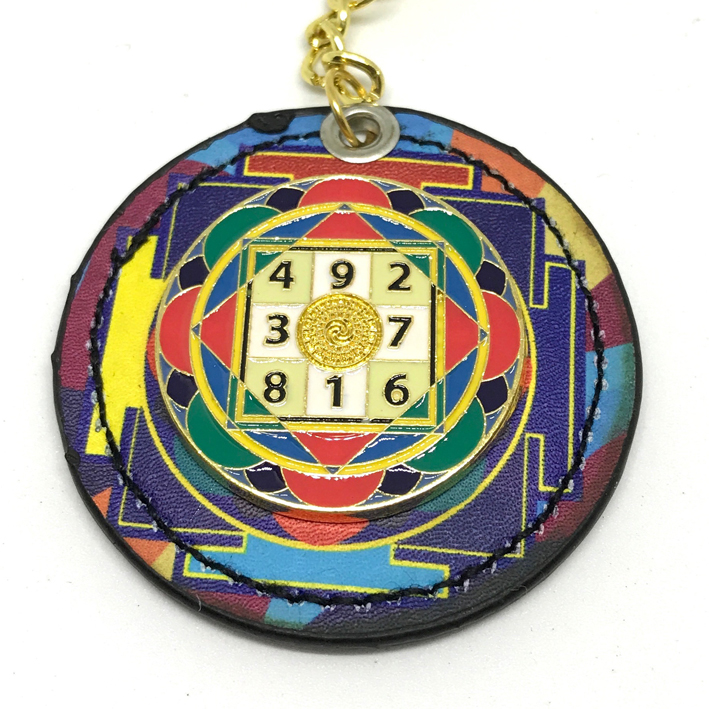 Source: World of Feng Shui
31 August 2020