6th January 2019 – 3rd February 2019  
In each of the 9 grids below you will see two numbers. These are the so-called "Flying Stars". The number on the upper left represents the annual star (red = afflictive, blue = auspicious – these should have been taken care of at the beginning of the year) and the black number in the bottom right represents the monthly star, which will influence your luck during this current month.
If you are not yet familiar with the compass orientations of your home, then please use a reliable compass to take the directions. I recommend to take one compass reading from your main door, looking out, and another one from the center of your living room, looking towards your balcony or picture window. These two readings should enable you to determine the compass directions and locations of your home, so you can ascertain which stars fly into which area.
Please take particular note of the location of your front door and your master bedroom, as the stars in those sectors will affect you the most.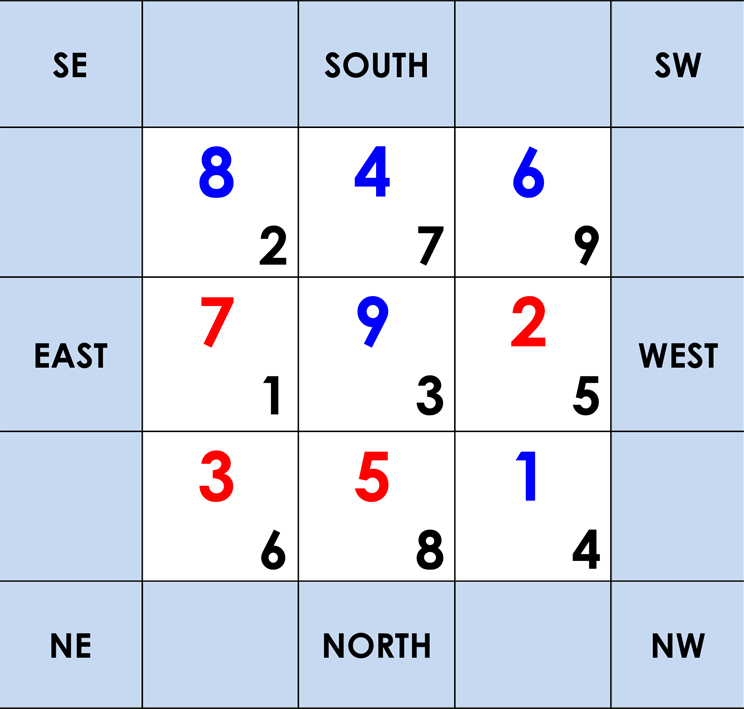 SOUTHEAST (8/2)
The No 2 Illness Star flies into the SE, bringing illness energy, in particular ear infections and kidney problems.
Those with bedrooms in the SE and those born in the Years of the Dragon and Snake should carry an Anti-Illness amulet this month or display a Longevity Vase on their bedside table to protect themselves from serious illness. Elderly people should sleep in a different bedroom this month if possible.
Having said that, the No 2 Star also forms the "sum-of-ten" with the annual No 8 Star, bringing completion and prosperity luck to those residing in this sector. This makes it a good time for property and asset accumulation.
SOUTH (4/7)
There is danger in the SOUTH due to the violent No 7 Star flying in. Those with bedrooms or main doors in the SOUTH as well as those born in the Year of the Horse need to be particularly careful and carry an Anti-Robbery amulet this month. In addition, place a Red-faced Sitting Kuan Kung in the SOUTH of your home for protection.
The elements of the two stars clash, which brings conflict energy. To avoid legal problems, use yin (still) water.
SOUTHWEST (6/9)
There is help from benefactors and support from people in positions of power. Hang a Qui Ren windchime or display the 9 Dragon Kuan Kung to enhance this good fortune.
Wealth luck can be enhanced with a Bejewelled Boar, which will also bring good mentor luck.
However, the clashing elements of the stars can cause disagreements between the different generations in the household. Place six Red Apples with Peace Symbol or hang a Happy Laughing Buddha picture in the SW to restore peace and harmony in your home.
EAST (7/1)
The monthly Victory Star brings good career and prosperity luck, but there is strong competition at work. Display the Five Elements Victory Banner or the Key for Success & Victory to help you beat the competition. You can also install a water feature here this month to further boost your good fortune.
Placing a 9 Dragon Kuan Kung behind you will bring good support.
CENTRE (9/3)
The quarrelsome No 3 Star brings aggression and negative energy affecting everyone in the household. Do not have plants in the Centre area of your home this month and keep this area as quiet as possible. Remove any windchimes you might have hanging here.
Use fire energy to calm things down, eg by placing a Hum & Tam Lamp or a 4 Seasons Tree of Life Carpet. Red accessories will also be helpful. Avoid using candles and other forms of open fires though as these will activate this afflicted area and might lead to violent fighting. Place a Bejewelled Red Dragon with Flaming Sword to combat the negative energy.
WEST (2/5)
The WEST is seriously afflicted this month as the No 5 Misfortune Star teams up with the annual Illness Star, bringing serious illness and disaster. Illness will most likely be related to the limbs, liver and neck. Protect yourself with a Bejewelled Medicine Buddha in your WEST. Those born in the Year of the Rooster and those with bedrooms in the WEST ought to carry a Five Element Pagoda amulet this month.
Do not have bright lights or open fires here this month, as fire energy will strengthen both stars. Instead, keep the area quiet.
NORTHEAST (3/6)
The energy of the NE is much improved this month thanks to the No 6 Heaven Star moving in, bringing unexpected money and prosperity luck. If desired, you can enhance this with the Bejewelled Orgyen Norlha, the Buddha of Wealth, or a Buddha's Foot windchime. Those born in the Years of the Ox and Tiger can also carry a Buddha's Foot amulet to boost their luck this month.
However, the clashing elements of the stars could cause illness, stomach or hand problems. Use red accessories to calm the energies.
NORTH (5/8)
The NORTH too enjoys better luck this month as the Prosperity Star flies in, bringing good fortune, financial success and money luck, especially to those staying here and those born in the Year of the Rat. To activate, place a pair of Prosperity Elephants in your NORTH.
Elderly people should take care of their health because there is illness energy lingering around, which could cause problems with the lungs, mouth or nose. It is best to avoid drinking cold water and refrain from taking late night baths for the time being.
NORTHWEST (1/4)
This auspicious combination can benefit many people in different ways. Students will enjoy good study and exam luck while writers will be very creative. Promotions at work are also possible.
For good exam results place a Wisdom Pagoda in the NW and carry a Scholastic Success amulet.
There is also wonderful romance luck for women, which can be enhanced with a Music Tree displayed here.
Source: World of Feng Shui
31 December 2018
Feng Shui Keyrings and Accessories