7th January – 3rd February 2020  
In each of the 9 grids below you will see two numbers. These are the so-called "Flying Stars". The number on the upper left represents the annual star of the sector (red = afflictive, blue = auspicious) and please note that these are still the stars of the year 2019 as the new Feng Shui year does not start until 4th February. The black number in the bottom right represents the monthly star, which will influence your luck during this current month.
If you are not yet familiar with the compass orientations of your home, then please use a reliable compass to take the directions. I recommend to take one compass reading from your main door, looking out, and another one from the center of your living room, looking towards your balcony or picture window. These two readings should enable you to determine the compass directions and locations of your home, so you can ascertain which stars fly into which area.
Please take particular note of the location of your front door and your master bedroom, as the stars in those sectors will affect you the most.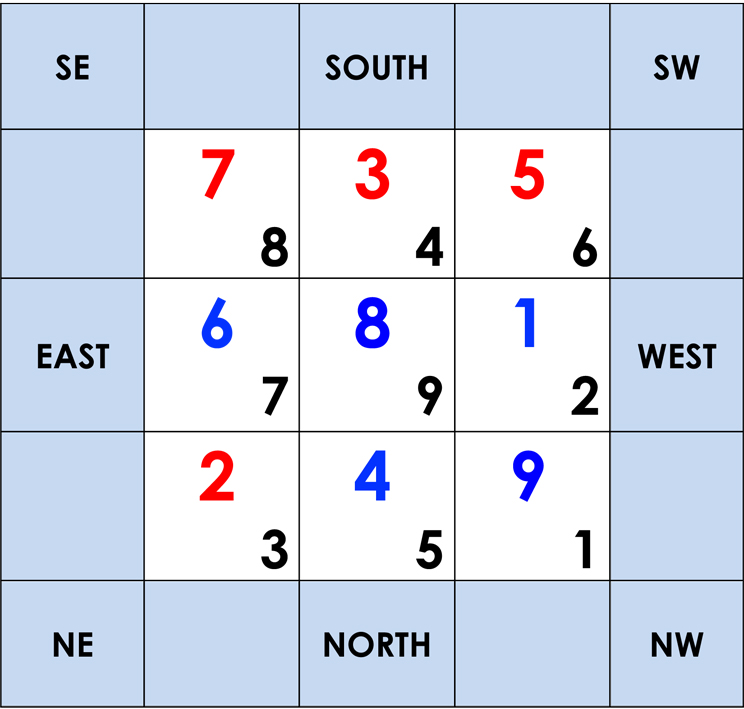 SOUTHEAST (7/8)
The energy in the SE is much improved thanks to the monthly Wealth Star flying in, bringing wealth and prosperity luck to those residing in the SE. New opportunities to make money will present themselves but there will also be fierce competition.
Boost your victory luck by placing the new Wind Horse Victory Flag here and carrying a Victory Banner amulet. If your office is located in the SE, placing a Wind Horse Lumi Tile on your desk will be effective. If you wish to boost your prosperity luck, display the Wealth Tree with Mongoose & 6 Birds instead.
Those born in the Year of the Dragon and Snake can particularly benefit from this auspicious energy. Carry a Mongoose Wealth amulet to activate.
Young females, in particular the oldest daughter, staying in the SE will experience improved romance luck. Attract marriage luck by wearing the Double Happiness Symbol if this is what you wish for.
SOUTH (3/4)
This is a good month for students and writers staying in the SOUTH. If you have exams coming up display a Bejewelled Wisdom Pagoda or a Crystal Point with Mantra on your desk to help you with your studies and exam luck.
There is excessive wood energy though which could lead to emotional stress caused by aggression. Relationship problems between family members are also possible. An outside person could cause a romantic scandal involving a family member. Don't be attracted by predatory outsiders who use flattery to get close to you. Protect yourself with the Hum and Tam syllables.
SOUTHWEST (5/6)
You can spend more time in the SW this month as the No 6 Heaven Star greatly improves the energy here, bringing unexpected windfalls.
Display a pair of Wealth Cabinets or the Wealth Bull in this area to activate. Those staying in the SW and people born in the Years of the Sheep and Monkey can also carry a Heaven Seal amulet to attract speculative luck. Play the lottery!
Unfortunately, there is also danger of mental stress and discontent caused by health problems. Place a Healing Herbs Wu Lou or a God of Longevity in this sector for protection and to boost your health.
EAST (6/7)
There is strong metal energy in the EAST this month, indicating the possibility of violence, theft and conflict. Keep sharp objects away from this sector as injuries are likely to happen. Remove noisy instruments and reduce metal element here.
To counter the effects of the monthly No 7 Star place the Blue Elephant & Rhino with Talisman Feathers or an Anti-Burglary Lumi Tile.
Be particularly careful with young children as accidents can easily lead to injury. A water feature will calm the energy.
Elderly people should sleep in a different bedroom this month and not stay in the EAST.
CENTRE (8/9)
The Future Prosperity Star flies into the Centre, enhancing the annual Wealth Star here. This makes for excellent prosperity luck!
Display the Dragon & Rat Prosperity 8 to activate, and place lamps here to light up the Centre area of your home.
Business luck is also very good. If desired, you can enhance this with a Lucky Money Frog on Water Lily or a God of Wealth placed in the Centre of your office. Carrying a 9 Ring Dragon Sword amulet will further enhance your business success.
Organize social events, host drinks or dinner parties to take advantage of this wonderful energy.
However, there could be misunderstandings between the generations. Stay calm and try not to be too argumentative.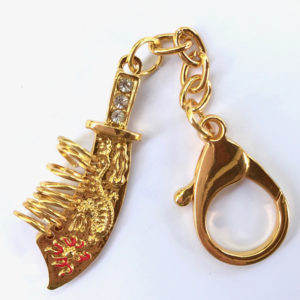 WEST (1/2)
The WEST suffers from the influence of the Illness Star this month so do take good care of your health, especially if you live in colder climates. Those staying in the WEST and people born in the Year of the Rooster are particularly affected and would benefit from carrying a Garuda Wu Lou Health amulet.
Place a God of Longevity in your WEST to protect your family from illness and accidents. To improve your health, display a Healing Herbs Wu Lou, especially if your bedroom is in the WEST.
The elements of the two stars clash, which could hinder your career progress. Calm the energy and boost your career luck with a Dragon Tortoise with Ru Yi or the 9 Rank Badges.
Pregnant women are advised to stay away from the WEST as there is danger of miscarriage.
NORTHEAST (2/3)
The 2/3 combination of stars always spells trouble, which is heightened by the clashing elements of the stars, causing conflict and disagreements.
Keep the argumentative energy of the No 3 Star under control with a Fire Dragon Holding Fireball and carry an Anti-Conflict amulet featuring a Dragon Holding Fireball – particularly if you are born in the Year of the Ox or Tiger.
Tension and stress will affect marriages and close relationships. Carrying a 9 Tailed White Fox amulet will help to improve the relationship with your spouse and other people in your life. You can also wear the Double Happiness Symbol.
If you have a water feature in your NE it would be better to remove it this month.
NORTH (4/5)
The nasty 5 Yellow Star brings danger of misfortune and illness to those staying in the NORTH and people living in NORTH facing houses. It is also a dangerous time for those born in the Year of the Rat.
Keep this area as quiet as possible and display a Five Element Pagoda with "Om Ah Hum" to protect your home. In addition, carry a Five Element Pagoda amulet.
Although this has generally been an excellent sector for students and writers this year, the influence of the 5 Yellow might block their productivity and success if their work desk is located in the NORTH.
There is also danger of injury to the head. Cure the negative energy with a Golden Garuda Bird.
NORTHWEST (9/1)
The "Sum of Ten" brings fabulous energy to the NW, promising good fortune, promotions, new opportunities at work, new clients for businesses and fame luck for those in the entertaining industry.
Enhance this wonderful energy with the 9 Dragon Kwan Kung or a Dragon Mirror with Wish-granting Mantra. Patriarchs, leaders and businessmen and -women will benefit from carrying a Sum of Ten amulet to attract this excellent luck. You can also display a Wind Horse Lumi Tile or the new Wind Horse Victory Flag in your office to further activate your victory luck to help you win new clients and contracts, especially if your office is located in the NW.
Source: World of Feng Shui
1 January 2020