6th January 2021 – 3rd February 2021  
A new year always brings new hope and indeed things are starting to look up although it may not feel like it just yet. Please continue to follow your local Covid guidelines and carry Anti-Illness amulets for protection. Those of you who are in lockdowns, I feel for you (!), but this too shall pass. Stay positive!
This January, we see the No 6 Heaven Star flying into the Centre area, bringing heavenly blessings for everyone. Other very auspicious sectors are the WEST and NE this month.
Patriarchs and leaders need to be extremely careful though as they may experience losses and/or betrayal this month. Please take precautions and be aware.
In each of the 9 grids below you will see two numbers. These are the so-called "Flying Stars". The number on the upper left represents the annual star (red = afflictive, blue = auspicious – these should have been taken care of at the beginning of the year) and the black number in the bottom right represents the monthly star, which will influence your luck during this current month.
If you are not yet familiar with the compass orientations of your home, then please use a reliable compass to take the directions. I recommend to take the compass readings as follows:
Take one compass reading from your main door, looking out.
Take another reading from the center of your living room, looking towards your balcony or picture window
These two readings should enable you to determine the compass directions and locations of your home, so you can ascertain which stars fly into which area.
Please take particular note of the location of your front door and your master bedroom, as the stars in those sectors will affect you the most.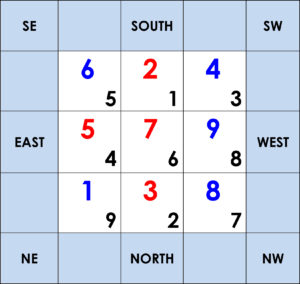 SOUTHEAST (6/5)
The monthly No 5 Misfortune Star brings bad luck and danger to the SE, which will particularly affect those with bedrooms here and people born in the Years of the Dragon and Snake.
The best cure is to place a new 5 Element Pagoda with Tree of Life in the SE of your home and keep this area as quiet as possible. Avoid open flames too. Carrying a 5 Element Pagoda Amulet is highly recommended.
The misfortune brought by the No 5 Star can also include illness and accidents. Protect yourselves by placing a Healing Deer here.
If your bedroom is located in the SE it would be good to carry a 28 Hums Protection Wheel Amulet to keep the harmful energies at bay.
SOUTH (2/1)
The luck in the SOUTH improves thanks to the No 1 Victory Star flying in, bringing improved career and income luck. There will be breakthroughs, in particular for those learning a new skill and people working in research and development.
To enhance your wealth and investment luck, display a Winning Chip Talisman in your SOUTH (but not in a bedroom).
To give your career a boost, place a Red Ru Yi with Bats, or a Dragon Tortoise in your SOUTH (again not in a bedroom) or in the SOUTH corner of your office. These will bring you support from your boss as well as your subordinates. You can of course also carry a new Windhorse Success Amulet or place this on your work desk.
However, the water element of the No 1 Star could lead to gossip and disagreements, affecting marriages and close relationships. Place one or two plants in your SOUTH to help keep the peace.
SOUTHWEST (4/3)
There is excessive wood energy in the SW this month which, combined with the monthly No 3 Star, will cause conflict and aggravations, particularly affecting the Matriarch.
Keep this area quiet, keep music and TVs on low volume. Place a pair of Red Peace and Harmony Apples in your SW or the FIre Dragon Holding a Fireball. Of course, hanging a red picture here is also a good cure! Do have a look at our Feng Shui Art for inspiration, I can highly recommend Clare Haxby's print "Chinatown Singapore" or the "Little Fiery Dragon" by Louise Hill.
Alternatively, use fire energy in the form of bright lights and carry an Apple Peace Amulet when you are out and about. This really is important for the mothers and those born in the Years of the Sheep and Monkey.
EAST (5/4)
Those staying in the EAST will notice improved relationships this month thanks to the No 4 Star moving in. This is also good news for those of you who are looking to find love.
If desired, activate your EAST with the new Rabbit in the Moon love enhancer. If your relationship has become stale and boring, however, it would be a good idea to carry the Enhancing Relationships Amulet to protect against external temptations.
Students will also enjoy good luck in the EAST this month. Studying in this sector of your home can help you do well in your exams, especially if you display a Dragon Carp here and/or carry a new Manjushri "Dhih" Scholastic Amulet.
CENTRE (7/6)
The monthly No 6 Star is beginning to set the tone for the coming new year, bringing luck from heaven. This can be in the form of financial gains or even an unexpected windfall (are you playing the lottery?).
To activate this good fortune, you can display the new Celestial Water Dragon in the Centre of your home or on the coffee table of your family room and carry a Dragon Heavenly Seal Amulet.
To activate wealth luck, you can display the Asset Wealth Bull instead.
Be aware of the extra strong metal energy though and do not keep any sharp metal objects here, as the danger of injury is high. The excess metal energy also strengthens the annual No 7 Star, which can be dangerous. Make sure you still keep your Anti-Burglary Plaque or Anti-Burglary Lumi Tile here this month, or a figure of Kuan Kung on Horseback.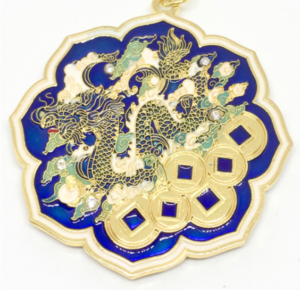 WEST (9/8)
The WEST is one of the luckiest sectors this month, as the monthly No 8 Wealth Star gets multiplied by the annual No 9 Star! Wow! This if of course fabulous news for people whose home or main door faces WEST, have their bedroom or office in the WEST, or are born in the Year of the Rooster.
The 9/8 combination of stars is particularly auspicious for accumulating properties, so if you have been thinking of investing in property, now is the time.
Spend more time in your WEST room(s) this month and activate the auspicious energy with an Asset Wealth Bull and a Wealth Tree. In addition, anyone can of course carry an Annual Amulet 2021 to activate the hidden wealth luck of the year, or a Wealth Pi Yao Gold Talisman to boost overall wealth luck. Make the most of this opportunity!
NORTHEAST (1/9)
There is fame luck and good news coming to those who stay in the NE, also favouring people born in the Years of the Ox and Tiger. Career luck is good and a promotion at work might even be on the cards!
To activate career luck, place a Dragon Horse in your NE or in the NE of your office and carry a Windhorse Success Amulet or a Crimson Phoenix Lunar Mansion Talisman Amulet.
Love and relationships are smooth but if you like, you can display a pair of Mandarin Ducks in your NE to boost this even more.
To activate financial luck, you can display the Ox Finding Hidden Wealth here.
Having said that, the elements of the two stars clash and it is important not to have too much fire element here this month as that might cause accidents caused by fire. Display a crystall ball to harmonize the elements.
NORTH (3/2)
The 3/2 stars are a serious concern in the NORTH, bringing illness and aggravation to those staying here. Illness will particularly affect the kidneys and urinary tracts.
To protect your health, place a Garuda Wu Lou or the Garuda Bird in your NORTH and carry a Garuda Wu Lou Health Amulet.
To protect you from arguments and possible problems with the law, place two Red Peace Apples in your NORTH and carry the Apple Peace Amulet.
Elderly people and pregnant women should avoid this area, as there is danger of mishaps and miscarriage. There is also danger of accidents, which could lead to serious injuries. Please be careful when driving! You can attach an Anti-Burglary sticker to your windscreen for protection.
NORTHWEST (8/7)
Although the NW still enjoys the prosperity luck of the year, the monthly No 7 Star brings danger to the Patriarch in the form of loss and betrayal. In businesses, big fraud might be uncovered. Those born in the Years of the Dog and Boar could also be affected. It is essential to have good protection.
Display an Anti-Burglary Plaque with Door Guardians or an Anti-Burglary Lumi Tile in your NW. Those persons mentioned above also ought to carry an Anti-Burglary Amulet.
If you run your own business, carry the Anti-Cheating Amulet to protect yourself and your business from the negative effect of the No 7 Star this month. This is important for all business leaders.
If your main entrance is located in the NW, display a Blue Rhino & Elephant here and carry an Anti-Burglary Amulet.
Please be aware, the stars also indicate illness related to the lungs.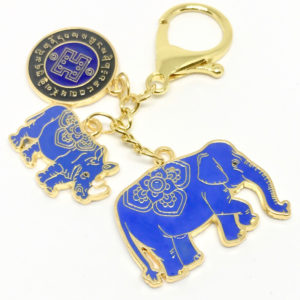 Source: World of Feng Shui
28 December 2020