6th January 2022 – 3rd February 2022  
The current Year of the Ox comes to an end in January, so we are likely to experience mixed energies as the Tiger year is starting to settle in. If you haven't already done so, now is a good time to invite in the 3 Wealth Gods sitting on Tigers, so the energies of 2022 are well controlled and working for you in good time for the actual start of the Year of the Tiger on 1 February 2022.
The month of January is dominated by the quarrelsome No 3 Star in the CENTRE, troubling everybody with conflict energies and arguments.
The luckiest areas are the NORTH, NE and EAST, with the most auspicious "Sum of Ten" luck in the NORTH, Heaven luck in the NE and Romance and Creativity in the EAST. Make sure to activate these rooms/spaces in your home and spend more time there.
The Flying Stars chart below shows nine fields, each containing two numbers. The bigger number on the upper left represents the annual star (red = afflictive, black = auspicious) and the slightly smaller number in the bottom right represents the current monthly star. These smaller numbers change every month and therefore create new energy patterns in your home and office.
To apply these monthly stars successfully, you need to map out the compass sectors in your home or office. If you are not yet familiar with the compass orientations of your home, I recommend you take two compass readings as follows:
one compass reading from your main door, looking out, and
another reading from the center of your living room, looking towards your balcony or picture window
Please take particular note of the location of your main entrance door and your master bedroom, as the stars in those sectors will affect you the most. Obviously, for those of you who continue to work from home, the location of your home office/home work station is also important.
SOUTHEAST (5/2)
Those of you living in SE rooms or in SE-facing houses need to take particular care of their health this month, as the Illness Star flies into the SE. This also affects those born in the Years of the Dragon or Snake. Since the No 2 Star joins the annual Misfortune Star it can bring serious health problems.
You want to subdue the illness energy with a Wu Lou with Joyous Cranes (White) and a Heart Sutra Pagoda displayed in the SE. If you belong to the group of persons mentioned above, you also ought to carry a Stay Healthy Amulet for protection when you are out and about. Keep a low profile this month and postpone any important decisions until next month, as the luck of this sector will greatly improve in the new Year of the Tiger.
SOUTH (1/7)
The monthly No 7 Star brings loss and betrayal, as well as danger of robbery and accidents. If you are staying in the SOUTH, please be extra vigilant and avoid staying out late at night. If your main door is located in the SOUTH, make sure it is locked and secure.
Display the Armoured Elephant & Rhino or an Anti-Robbery Plaque in your SOUTH for protection, or use an Anti-Burglary Lumi Tile for smaller SOUTH spaces.
Those living in SOUTH-facing homes are advised to watch their back this month. The same goes for those born in the Year of the Horse. To protect against money loss, you can display a Wealth Lock Mini Plaque or carry a Wealth Lock Amulet, while the Kuan Kung with Dragon Mini Plaque will protect against betrayals.
Try to keep this sector quiet this month.
SOUTHWEST (3/9)
You can expect turbulent times in the SW, as the No 9 Star multiplies the quarrelsome energy of the annual No 3 Star. This will particularly affect the matriarchs and those born in the Years of the Sheep and Monkey. Please remember this if/when something makes you angry; take a deep breath and stay calm! Take your time before you reply. This is not the time to be spontaneous. If there are any conflicts that need to be resolved, try to postpone this until next month if possible.
Add a lamp/light in your SW or red accessories to help keep the quarrelsome chi under control. A red picture – eg the Little Fiery Dragon by Louise Hill – or the Magical Cosmic Apple are also great cures for this situation.
Keep the SW as quiet as possible this month.
EAST (4/1)
The energy in the EAST will boost romance and creativity this month, as the No 1 Victory Star joins the annual No 4 Star. This is a good match, increasing study luck, creativity and inspiration, which is excellent for those in creative jobs, students, and those working on a research project.
To help achieve a successful culmination of study and hard work, you can display a Dragon Carp with 3-legged Toad mini plaque in your EAST.
To activate your romance luck, you can display a Kurukulle mini plaque or a Romance Lock instead.
CENTRE (6/3)
The quarrelsome No 3 Star flies into the CENTRE this month, bringing argumentative energy, causing disagreements and confrontations of all kinds. Please be aware, as this will affect EVERYBODY.
Calm the energy with a Magic Cosmic Apple or red accessories placed in your CENTRE space. Anyone who is involved in legal proceedings should carry a Talisman to Win a Court Case.
There is also a positive aspect though, as the 6/3 combination of stars also promises windfall luck, which you can activate with the Winning Chip Talisman placed in the CENTRE. If you go out to play in the casino or you are dealing in the stock market, you can also carry the "Winning Hand" Wealth Talisman to help you along.
The clashing elements of the two stars could bring minor health issues. If this is a concern, display a Wu Lou with Joyous Cranes in your CENTRE area to protect your health.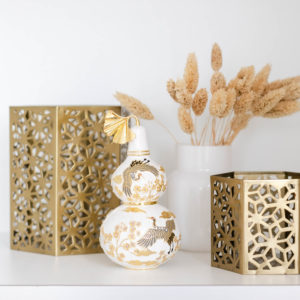 WEST (8/5)
The monthly Misfortune Star brings danger of misfortune in many forms, eg illness, accidents, money loss, heated arguments or even the loss of an important relationship.
You can subdue the misfortune energies with a 5 Element Pagoda or a Heart Sutra Pagoda placed in the WEST. Those born in the Year of the Rooster or with bedroom in the WEST would benefit from carrying a 5 Element Pagoda Amulet.
If you are suffering from ill health, then I also recommend you place a Wu Lou in your WEST.
This is definitely an area you want to keep quiet this month.
NORTHEAST (9/6)
Heaven luck is strong in the NE this month and those staying here can look forward to improved windfall luck and meeting new mentors.
You can boost this wonderful luck with a Jade Emperor Windchime hung in the NE and the Golden Earth Dragon displayed here. In addition, carry a Nobleman Gui Ren Talisman when you are out and about or attending important meetings where you need to have people on your side.
If you are starting something new, eg a new job, a new business or pursuing a new venture, then the Sky Beaver is the best activator.
If you wish to boost your financial windfall luck, you can display the Winning Chip Talisman instead.
However, the elements of the two stars clash, which can lead to conflicts between the older and younger generation. Display the Harmony Lock or hang a Laughing Buddha picture in your NE to reduce friction and keep everybody happy.
NORTH (2/8)
The No 8 Wealth & Prosperity Star flies into the NORTH, improving financial luck for those staying here, as well as those living in NORTH-facing houses and those born in the Year of the Rat.
To activate, you can display the 100 Blessings Energetic Deer in your NORTH (but not in a bedroom) and/or carry the 100 Blessings Energetic Deer Amulet.
The 2/8 combination also forms the auspicious "Sum of Ten", which further enhances the good fortune in the NORTH. To capture these good energies, you can carry the Sum-of-Ten Amulet. You also want to keep this part of your home active. If this is your dining room, invite friends over for dinner parties or quiz evenings (considering your local Covid rules of course) or set up your TV area here. This is the part of your home where you want to spend most of your time this month.
Don't forget about the annual Illness Star though and make sure you keep your Wu Lou or God of Longevity here to continue to protect your health.
NORTHWEST (7/4)
The monthly No 4 Star greatly improves the luck of the NW, bringing new ideas and inspiration to the patriarchs and those born in the Years of the Dog or Boar. While the No 4 Star is known to improve study luck for students of all ages, it also enhances strategic thoughts, which will benefit leaders of all kinds. If you are in any kind of leadership role, eg you are a leader of a team/department or a CEO of a business, the No 4 Star will help you make good decisions this month.
To activate, you can display the Marvellous Monkey from the Lillian Too Designer Range of Astrology Animals or a figure of a Monkey God in the NW.
However, there is also danger of extra-marital affairs and if this is a concern, you may wish to display the Marriage Lock here to protect your marriage and carry a Four Friends Talisman amulet.
Source: World of Feng Shui
28 December 2021