7th July – 7th August 2021
The No 9 Multiplying Star moves into the Centre this July, enhancing the heaven luck of the sector. This is wonderful news and we can all gain new hope from this. Things are starting to look up in general, even more so if you are a person who maintains a positive attitude and outlook in life. The No 9 is also called the "Star of Future Prosperity", which suggests new ideas put into place now can have successful outcomes later. This is a great time/opportunity to start planning ahead.
A very lucky sector is the SOUTH this month, and luck improves considerably in the SE, NW, SW and WEST, with the WEST enjoying completion luck.
The danger zones are EAST, NE and NORTH, which should be kept quiet and need cures in place. Those born in the Years of the Rabbit, Ox, Tiger and Rat will therefore need to be particularly careful.
Generally, the lucky sectors outweigh the unlucky areas and the pace will change to a faster one. Stay alert!
Please study the chart below. In each of the 9 grids you will see two numbers. These are the so-called "Flying Stars". The bigger number at the top left represents the annual star (red = afflictive, black = auspicious) and the slightly smaller number in the bottom right represents the monthly star, which will influence your luck during this current month.
If you are not yet familiar with the compass orientations of your home, then please use a reliable compass to take the directions. I recommend to take the compass readings as follows:
Take one compass reading from your main door, looking out.
Take another reading from the center of your living room, looking towards your balcony or picture window.
These two readings should enable you to determine the compass directions and locations of your home, so you can ascertain which stars fly into which area.
Please take particular note of the location of your main door and your master bedroom, as the stars in those sectors will affect you the most. Obviously, for those of you who continue to work from home, the location of your home office/home work station is also important.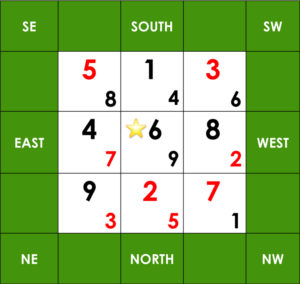 SOUTHEAST (5/8)
The Wealth Star brings good fortune and prosperity to the SE, which will particularly benefit those born in the Years of the Dragon and Snake and those with bedroom or office in the SE or main door facing SE. This really is wonderful news for everyone mentioned above. Keep the SE sector of your home well-lit and active. If your front door is located here, make sure the light is on every night; if your dining room is located here, have friends over for dinner parties (within your local Covid rules of course).
This is one of the places you want to spend more time this month.
To activate your wealth luck and increase your chances of recognizing new opportunities you can display the Ox Finding Hidden Wealth here.
If you are looking for additional sources of income, place the Tree Bringing 3 Kinds of Wealth.
For general great good fortune you can use the 8 Celestial Immortals Plaque instead.
Of course, carrying a wealth amulet such as the Dakini Wealth Pi Yao Amulet or the Asset Wealth Bull Talisman will also be of benefit.
But do keep your 5 Element Pagoda, which you should have placed here at the beginning of the year. This is still needed.
SOUTH (1/4)
The SOUTH enjoys two good stars this month, with the No 4 Star increasing love & romance and study luck and also bringing a burst of creativity. If your bedroom or office is located here, take advantage of the creative energy to come up with new plans and ideas.
The energy also benefits young school children. You can boost study luck with a Manjushri Gau here.
Those of you looking for love & romance can activate the SOUTH with the Rabbit in the Moon love enhancer and carry a Green Jade Hearts Charm. Couples can rekindle their loving feelings and rejuvenate their marriage with a pair of Dragon and Phoenix Mirrors placed in the SOUTH. A Red Double Happiness Tassel will work for both!
SOUTHWEST (3/6)
The energies in the SW are definitely changing for the better, which is good news for the matriarchs, whose maternal instincts will be heightened and will serve the whole family well. This is another area where you want to spend more time if you can.
Here, the monthly No 6 Heaven Star brings mentors and helpful people into your life. Activate this fabulous luck with a Jade Emperor with Qui Ren Talisman, even if you just use the keychain version.
If your office is located in the SW there will be good chances of upward career movements. If you are working from home and you would like to boost your career, set up your work space in the SW if you can. This is a good time for ambitious employees to get themselves noticed.
To invite new opportunities at work, you can display the 6 Birds Auspicious Multiplier here, whereas the Dragon Horse will help with promotion luck.
EAST (4/7)
The No 7 Star brings loss and betrayal to the EAST this month and those staying here ought to be extra careful. There is an increased possibility of getting cheated, getting robbed or incurring unexpected expenses. Don't fall for opportunities that seem too good to be true, as there are likely to be hidden catches that could get you into trouble.
For protection, display an Anti-Burglary Plaque or an Anti-Burglary Lumi Tile in your EAST this month or a Red-Faced Kuan Kung.
Those of you who are single and looking for love – be careful if your bedroom or office is in the EAST. Don't give your heart away too easily as your feelings may not be returned.
Couples need to be careful too and might like to place a Rooster with Crown in their EAST to protect their relationship from infidelity.
CENTRE (6/9)
As mentioned earlier, the No 9 Multiplying Star enhances the heaven luck in the Centre area this month, which is fabulous news for everyone. The No 9 Star also promises future prosperity, so any long-term plans put into action now will bear wonderful fruit later.
There are also new opportunities for financial windfalls if you activate this sector with a Celestial Water Dragon and a 9 Dragon Plaque.
Although the luck here is great, the clashing elements of the two stars may bring disagreements between the older and younger generations. To subdue the friction and help keep everyone calm you can display a pair of Peace and Harmony Apples or carry an Enhancing Relationships Amulet. A smiling Buddha is also great for this situation!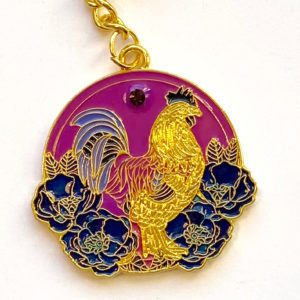 WEST (8/2)
Although the monthly star here is the No 2 Illness Star (and needs to be taken care of), combined with the annual No 8 Wealth Star we see the "Sum of Ten" here, which is excellent! This brings completion luck to those staying here, helping you to win new contracts or finish on-going projects successfully.
Wealth luck is also fabulous and displaying the Tree Bringing 3 Kinds of Wealth can help open up new sources of income for the family.
Do take care of the monthly No 2 Star though and display a pair of Garuda Wu Lou or a regular metal Wu Lou in your WEST, especially if your bedroom is located here. For older people it would be better to sleep in a different room this month if possible.
Those staying in the WEST and those born in the Year of the Rooster would also benefit from carrying a Medicine Buddha Amulet for Good Health & Protection this month when they are out and about to keep the illness energy away.
NORTHEAST (9/3)
This July, quarrelsome energy will affect those who have their bedroom or office in the NE, making them more short-tempered and unpleasant. Early signs that anyone is affected by this will be the picking at tiny details, which can then escalate rapidly into arguments, upsetting everyone.
To minimize the effects of the No 3 Star you can place a pair of Peace and Harmony Apples here. If this is your living room, add red sofa cushions or a red rug for the time being. Keep this area as quiet as possible and stay away from your NE as much as you can. Remove windchimes and avoid playing loud music here (teenager rooms included).
Hanging red wall art is another great option for this month to help keep everyone calm, eg Clare Haxby's "Chinatown Singapore" fine art print, or the "Little Fiery Dragon" by Louise Hill.
NORTH (2/5)
The NORTH is the worst afflicted sector this month as the No 5 Misfortune Star joins the No 2 Illness Star. Great care is necessary as this will bring an increased risk of illness, including COVID.
In addition to your health remedies it is also important to display a 5 Element Pagoda with Tree of Life in the NORTH.
Elderly people and those with underlying health conditions are recommended to move out of this sector for the time being. You can never be too careful when it comes to health but also protect yourself from other kinds of misfortune.
You can hang a Double Dorje Tassel in your NORTH and carry a Medicine Buddha Amulet for Good Health & Protection as well as a 5 Element Pagoda Amulet when you are out and about. A Buddha Vairocana Card is another excellent protector against COVID and other contagious diseases, keeping you safe from harm. Buddha Vairocana will also help you to make good and smart decisions.
Take your time to think things over and avoid making rash decisions.
NORTHWEST (7/1)
The patriarchs and leaders and those born in the Years of the Dog and Boar are suffering from the annual No 7 Star this year, but the arrival of the No 1 Victory Star this month will bring new luck for them. This is indeed a very positive indication, as the No 1 Star brings winning energy, new ideas and new opportunities. If things have been difficult, the new energies of July will be a turning point. Career luck is improved and those of you in senior positions will find themselves taking some important decisions.
To activate for positive outcomes, display a Victorious Windhorse Carrying a Jewel or a Windhorse Lumi Tile in your NW (or in the NW of your office).
Make sure you have a cure for the annual No 7 Star in place. This can be Kuan Kung on Horseback, a Blue Rhino and Elephant, or an Anti-Burglary Lumi Tile to protect you from robbery, loss or betrayal. In addition, carrying an Anti-Cheating Amulet with Kuan Kung will protect you while you are out.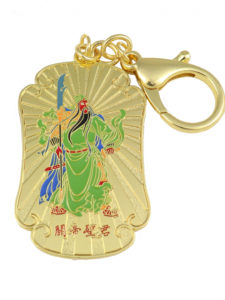 Source: World of Feng Shui
28 June 2021