6th June – 6th July 2019  
The Flying Star chart below shows 9 fields, each containing two numbers. The number on the upper left represents the annual star (red = afflictive, blue = auspicious) and the black number in the bottom right represents the current monthly star. These are the numbers (stars) that change every month and create new energy patterns in your home and office.
To apply these monthly stars successfully, you need to map out the compass sectors in your home or office. If you are not yet familiar with the compass orientations of your home, I recommend you take two compass readings: one from your main door, looking out, and another reading from the center of your living room, looking towards your balcony or picture window. These two readings should enable you to determine the compass directions and locations of your home. Then you are in a position to allocate the stars (numbers) into the correct areas.
Please take particular note of the location of your main entrance door and your master bedroom, as the stars in those sectors will affect you the most.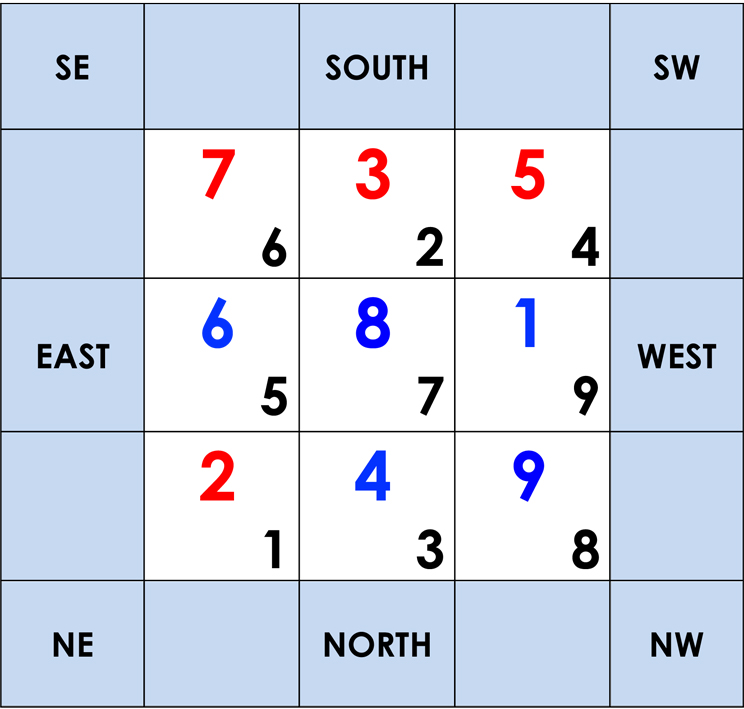 SOUTHEAST (7/6)
The monthly Heaven Star is a good influence in the SE this month, especially for those with bedrooms or main doors in the SE. If you find yourself in a competitive situation it would be good to make your move early and surprise the competition.
Hanging a painting of a mountain in your SE will bring support from your superiors, while displaying a Victory Banner will bring support from your peers. You can also hang a Qui Ren windchime or 6 Chinese Emperor Coins in your SE to activate the No 6 Star.
There is an excess of metal energy, which can cause conflict and violence. Keep sharp objects and knives away from this sector.
SOUTH (3/2)
The SOUTH is still heavily afflicted this month with the Illness Star joining the Argumentative No 3 Star. This can cause serious troubles in personal and business relationships.
Place a Healing Herbs Wu Lou in your SOUTH to counter the Illness Star and those staying in the SOUTH are also advised to carry a Health amulet for protection and a Golden Mystic Knot to keep the peace.
The conflict energy will affect marriages and close relationships, causing distress and burden. It will also be a troublesome time for anyone involved in politics. Carry an Apple Peace Hanging and display a Happy Laughing Buddha in your SOUTH to keep the aggression under control.
SOUTHWEST (5/4)
Romance and literary luck improves for those staying in the SW and writers and students will find this month much more productive and smooth. You can enhance the positive energy by displaying a Bejewelled Wisdom Pagoda.
Financial luck is also better. Those wishing to enhance their wealth luck can display a Lucky Money Frog on Water Lily Leaf or a Wish Granting amulet.
Young couples staying in the SW will see their romance blossom.
EAST (6/5)
The nasty Five Yellow Star brings misfortune and illness to those staying in the EAST, particularly the oldest son. The best cure is a Tri-Coloured 5 Element Pagoda, filled with earth from your garden or the grounds of your condo, to symbolically lock up the earth energy of the Five Yellow Star.
Look out for your health by exercising regularly, avoiding toxins and taking care of your diet. Do not engage in high-risk investments. Emotional stress can lead to arguments, which in turn lead to mental stress. Don't be distracted by temporary pressures.
CENTRE (8/7)
There is increased danger of theft and armed robbery due to the monthly Robbery Star moving in. Please be extra careful if your front door is located here and make sure your windows and doors in this part of your home are securely locked every night. You can place a water feature here and display the Anti-Burglary Lumi Tile to subdue the violent energy of the No 7 Star.
Those staying in the Centre area might suffer financial losses this month. Reduce the risk by carrying a Good Fortune Lock amulet or a Bat Lock Coin.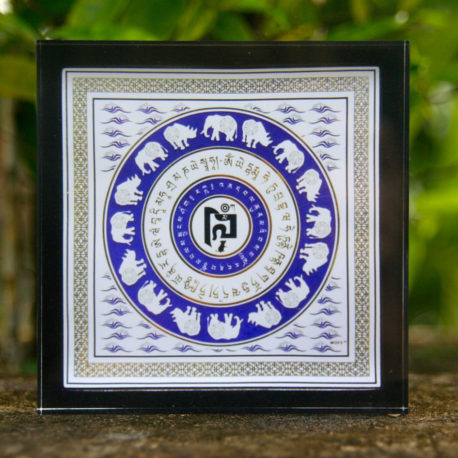 WEST (1/9)
The lucky stars continue to shine in the WEST, forming a "Sum-of-Ten" this month, which is extremely powerful. Activate this sector if you wish to improve your career and wealth luck. Business luck is also excellent for those staying here. You can invoke the help of the Nobleman Star by displaying the 3 Emperors on Horseback, while a pair of Fu Dog Treasure Chests will enhance your wealth luck.
Those with bedrooms in the WEST, however, are advised to get a good night's sleep and avoid eating late suppers. Stress and excessive food will have a negative impact on your health and liver. If this is a concern, place a Wu Lou on your bedside table to protect your health.
NORTHEAST (2/1)
The luck of those born in the Years of the Ox and Tiger will be greatly improved thanks to the No 1 Star flying into the NE, bringing new opportunities and career advancement. To give your success and career luck an extra boost you can display a Lucky Tortoise in your NE. If you need success over your competition, display 3 Victory Flags or a Wind Horse Lumi Tile.
Students who need study luck can display a Golden Chi Lin.
Remember to protect your health with a metal Wu Lou or an Eight Sugata Medicine Buddha Plaque. Watch what you eat and put a stop to unhealthy habits.
NORTH (4/3)
There is conflict energy due to the No 3 Star, creating aggravation between family members and the possibility of a romantic scandal. The wood energy is extremely strong and can lead to severe emotional stress, causing arguments and relationship problems. Red Apples are a good cure to bring peaceful vibes, or a Happy Laughing Buddha.
Students and writers can still benefit from the annual No 4 Star though and enjoy success in their studies or writing, especially if their work station is located in the NORTH. Anyone needing help with exam luck can display a Wisdom Pagoda here and carry a Scholastic Success amulet.
NORTHWEST (9/8)
Those staying in the NW can literally have it all this month: wealth luck, happy occasions, good news and many reasons to celebrate! The stars also favour those with main doors in the NW, the Patriarchs, and those born in the Years of the Dog and Pig. Display a Wealth Tree or a Wealth Bull to give your money luck a big boost.
There is a need to be mindful though of clashes with elders. Calm the conflict energy by carrying the Apple Peace amulet or displaying the Apple with Peace Symbol here.
Whether your kitchen is in the NW or in a different sector, add some Feng Shui fun and good vibes with our new Chinese Zodiac Tea Towel! Created by British artist Fiona Hollis Carney, this unique Tea Towel reveals many fun facts about the twelve zodiac animals.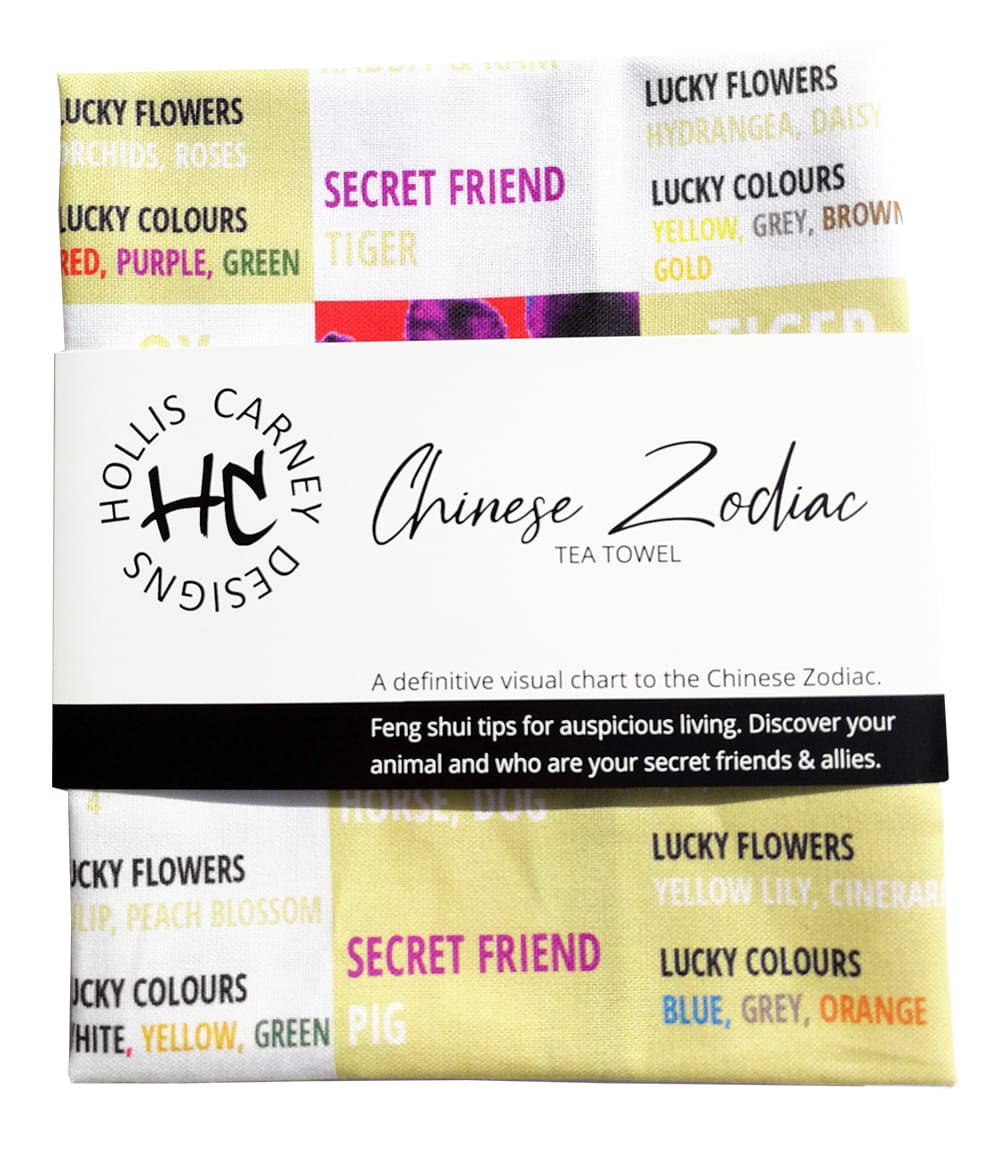 Source: World of Feng Shui
5 June 2019