6th June – 6th July 2020  
The Flying Star chart below shows nine fields, each containing two numbers. The number on the upper left represents the annual star (red = afflictive, blue = auspicious) and the black number in the bottom right represents the current monthly star. These black numbers are the numbers (stars) that change every month and create new energy patterns in your home and office.
To apply these monthly stars successfully, you need to map out the compass sectors in your home or office. If you are not yet familiar with the compass orientations of your home, I recommend you take two compass readings:
one from your main door, looking out, and
another reading from the center of your living room, looking towards your balcony or picture window
These two readings should enable you to determine the compass directions and locations of your home. Then you are in a position to allocate the stars (numbers) to the correct areas.
Please take particular note of the location of your front door and your master bedroom, as the stars in those sectors will affect you the most.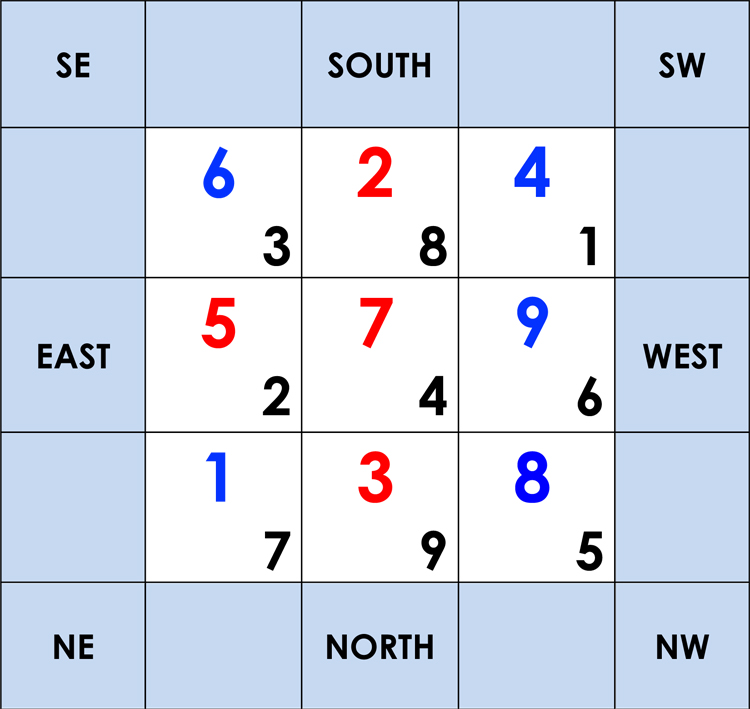 SOUTHEAST (6/3)
Anger and aggression will prevail in the SE as the No 3 Star moves in this month. This could even lead to lawsuits, so please try to stay calm and in addition display a Fire Dragon holding a Fireball in your SE. Alternatively, you could also hang a print of the "Little Fiery Dragon" here this month.
Those staying in the SE can still enjoy the luck of the annual Heaven Star though and an unexpected windfall is possible. To activate, display a Mongoose Spouting Jewels and carry a Mongoose Wealth Amulet.
Females staying in the SE need to look out for their health though as liver problems are indicated. Please avoid the SE if you can and display a Wu Lou here.
SOUTH (2/8)
The "Sum-of-Ten" formed by the two stars brings fabulous luck to the SOUTH. Residents of this sector and people with main doors facing SOUTH will enjoy completion luck, eg projects will be completed successfully, money can be collected, things generally come to a successful conclusion.
Plus, the monthly No 8 Star brings wealth luck to the SOUTH, which means you want to spend as much time here as possible and activate the space with your presence – especially if you are concerned about your income these days.
Place a wealth enhancer here, eg a wealth bowl or a wealth ship, but not if this is your bedroom. To boost investment luck, you can display a Wealth Cabinet in Blue here this month and carry a Treasure Chest with Lucky Cat Amulet.
However, the annual Illness Star will be strengthened by the earth element of the No 8 Star, so please make sure you have adequate health protection here. A Wu Lou will be most suitable or, if this is not your bedroom, you can also use a figure or image of the God of Longevity or a Medicine Buddha.
Those with bedrooms in the SOUTH and persons born in the Year of the Horse definitely ought to carry a Garuda Wu Lou Health Amulet.
SOUTHWEST (4/1)
The 4/1 combination of stars supports students and people pursuing knowledge. Anyone currently undergoing training, working in research or gaining a new skill can benefit from the energy of the SW. It also promises success luck to those who are staying in the SW and will benefit the mothers of the household.
You can activate this by placing a Wind Horse lumi tile and/or carrying a Victory Banner Amulet.
People born in the Years of the Sheep and Monkey and those staying in the SW will also enjoy romance luck but please be aware of placing any water features here as too much water will bring the risk of a love scandal and heartbreak. To protect your marriage from a third party you can place a pair of Mandarin Ducks in your SW this month.
EAST (5/2)
The 5/2 combination always spells trouble and this month it will bring misfortune particularly to the men in the family. Problems include trouble at work, quarrels over financial matters, illness and loss.
Place a metal Wu Lou in your EAST to counter the Illness Star and carry a Garuda Wu Lou Health Amulet or an Anti-Betrayal Amulet for protection this month. Keep the EAST as quiet as possible and those living in EAST facing houses ought to be particularly careful. Avoid going out and follow the social distancing rules, especially if you are born in the Year of the Rabbit. Staying at home really will minimize your risk of falling ill this month.
If your bedroom or office is in the EAST, try to sleep or work in a different room. In any case, place a 5 Element Pagoda in your EAST and carry a 5 Element Pagoda Amulet.
CENTRE (7/4)
The No 4 Star has a positive influence on the Centre, bringing study luck, literary motivation and romance luck. The latter could be good or bad, depending on your personal situation: If you are looking for a new love then it is of course positive as your romance could finally blossom this month while those in a long-term relationship need to be cautious as one of you might fall prey to temptation from the outside. Placing a Pair of Mandarin Ducks or a Jade Hearts Charm in your Centre will be good for either situation, just place them with the appropriate intention.
This is also a good time to learn a new skill or be creative. Get your knitting needles or scrapbook out or enroll in an on-line course. Anybody trying to improve themselves can make good and easy progress.
Displaying a figure of Kuan Kung on Horseback will be very helpful.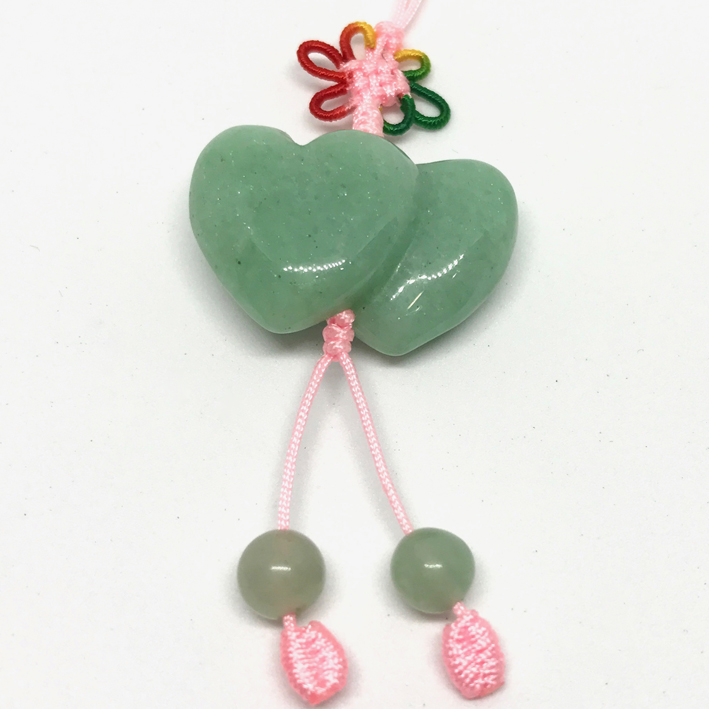 WEST (9/6)
Heaven Luck appears in the WEST this month which is excellent news for those staying there and people born in the Year of the Rooster.
You can strengthen the auspicious chi with a Wealth Tree with Mongoose and 6 Birds.
If your office is located in the WEST (at work or at home) you can enjoy good business and commercial luck this month. You can boost this with a Jade Emperor with Qui Ren Amulet.
However, disagreements between the older and younger generation are also in the stars and tempers can easily flare up and get out of control. In this case you can place some gold coins to harmonize the elements and/or a Happy Laughing Buddha to help keep the peace.
NORTHEAST (1/7)
The monthly No 7 Star brings the danger of burglary, robbery and financial loss to the NE. It is a violent star and people living in NE facing houses or staying in NE bedrooms/offices need to be particularly careful.
Place a yang water feature in your NE to keep the negative energy under control and display the Blue Elephant & Rhino with Talisman Feathers or an Anti-Burglary lumi tile to protect your home against robbery.
Those staying in the NE could find themselves facing fierce competition in their career or business. If this is you, carry a Victory Banner Amulet to make sure you will defeat your competitors, and an Anti Evil Eye Bag Charm to make sure you won't suffer from jealous people around you.
You can also protect your job security by carrying or displaying a Monkey God on Elephant Amulet on your desk or displaying a Lucky Tortoise in your NE this month.
NORTH (3/9)
If you have been feeling the effects of the annual No 3 Star, then be prepared for it to get worse this month as the No 9 Star magnifies the quarrelsome energies.
Make sure you have some red accessories here, eg hang the "Little Fiery Dragon" print by Louise Hill or place a red carpet here. Avoid open flames in the NORTH (including no candles) this month as there is also great danger of accidental fire.
The good news is that the No 9 Star also brings future prosperity, which is helpful for those starting new projects or embarking on new ventures. If this is you, carry a "Sum of Ten" Amulet to help you along!
People staying in the NORTH can also activate their prosperity luck with two Golden Pears if they wish.
NORTHWEST (8/5)
Anyone with a connection to the NW needs to take great care this month as the No 5 Misfortune Star brings bad energy. This will particularly affect the fathers and patriarchs, people born in the Years of the Dog and Boar, and those with bedrooms or main doors in the NW.
Please carry a 5 Element Pagoda Amulet to protect yourself.
There is wealth luck in the NW, but you need to stay alert. Avoid gambling or trying to make quick money as this could go awfully wrong and cause misfortune. It may be worth protecting your wealth by displaying a figure of the God of Wealth Sitting on a Tiger here.
Those staying in the NW should avoid dangerous activities such as rough sports or fast driving, as this could lead to injuries of the limbs or broken bones.
There is also illness energy which could cause health issues connected to the lungs. If your bedroom is in the NW place a Wu Lou on your bedside table.
Source: World of Feng Shui
27 May 2020