6th June – 6th July 2021
Could June be the turning point we are all waiting and hoping for? The stars are certainly very promising.
We continue to experience Ho Tu Luck in FOUR (!!) sectors this month, which is fantastic news. This brings excellent energy to the Centre, WEST, NW and NE sectors of our homes.
In addition, the SW enjoys "Completion Luck", the EAST benefits from the Wealth Star and the NORTH has the advantage of the month's Heaven Star.
That leaves only the SE and SOUTH to avoid and be kept quiet. Please read the more detailed analysis below and make sure you protect yourselves from the dangers here.
The Flying Stars chart below shows nine fields, each containing two numbers. The bigger number on the upper left represents the annual star (red = afflictive, black = auspicious) and the slightly smaller number in the bottom right represents the current monthly star. These smaller numbers change every month and therefore create new energy patterns in your home and office.
To apply these monthly stars successfully, you need to map out the compass sectors in your home or office. If you are not yet familiar with the compass orientations of your home, I recommend you take two compass readings as follows:
one compass reading from your main door, looking out, and
another reading from the center of your living room, looking towards your balcony or picture window.
Please take particular note of the location of your front door and your master bedroom, as the stars in those sectors will affect you the most. Obviously, for those of you who continue to work from home, the location of your home office/home work station is also important.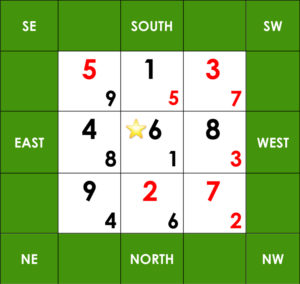 SOUTHEAST (5/9)
The No 9 Power Star multiplies the effects of the annual Misfortune Star, causing great danger. If your bedroom or main entrance is in the SE, you ought to double the cures you have already installed.
Make sure you have a 5 Element Pagoda with Tree of Life displayed prominently. Instead of placing a second 5 Element Pagoda, you can also display a Healing Deer or the Medicine Buddha & 7 Sugatas Gau here to help protect you and your family. Do not take this lightly, the No 5 Star multiplied by the No 9 can bring all kinds of misfortune if it is not cured.
Those staying in the SE can wear the Bhrum Pendant or a 5 Element Pagoda Amulet for protection.
Keep the SE of your home as quiet as possible and avoid using this sector if you can.
SOUTH (1/5)
The SOUTH is the second sector suffering from bad energy this month due to the monthly No 5 Misfortune Star. It is therefore important to keep this area as quiet as possible and do not have any bright lights here. You do not want to activate the SOUTH this month as this could cause all sorts of problems, including financial losses, work issues or health problems, the latter particularly relating to the eyes or the cardiovascular system.
The best protection is to display a 5 Element Pagoda with Tree of Life in your SOUTH sector. This can be a smaller one, as you need the big pagoda in the SE.
Those staying in the SOUTH or born in the Year of the Horse should also carry a 5 Element Pagoda Amulet this month when they are out and about.
Elderly people are advised to move into a different bedroom this month and anyone already suffering from health issues (with bedroom in the SOUTH) should display a metal Wu Lou on their bedside table and/or carry a Garuda Wu Lou Amulet.
SOUTHWEST (3/7)
The two stars in the SW are "bad" stars, but together they add up to the most auspicious "Sum of Ten", which is excellent for the matriarchs and those born in the Years of the Sheep and Monkey. The "Sum of Ten" brings completion luck, which will help you bring your current projects and tasks, which may have been dragging on for months, to a successful close. This is great news for our teenage Sheep and Monkeys who are finishing off their exams around now.
To activate this wonderful completion luck, you can display a Dragon Horse in your SW and carry a Sum of Ten Amulet.
Don't ignore the monthly No 7 Star though and protect your home and your family against burglary and break-ins by placing an Anti-Burglary Lumi Tile here or carrying an Anti-Burglary Amulet while you are out.
EAST (4/8)
The EAST benefits from the No 8 Wealth Star, promising financial luck for those who stay here and in particular the oldest son and those born in the Year of the Rabbit.
To activate, you can display a Wealth Tree here (this year's wealth tree is the Tree Bringing 3 Kinds of Wealth) or the Asset Wealth Bull. There is also an Asset Wealth Bull Talisman you can carry.
People in an academic or literary profession will have a smooth and successful time. Creative juices will be flowing freely.
Singles staying in the EAST sector of the home will enjoy improved romance luck. If you wish to activate this, you can place a Rabbit in the Moon Love Enhancer here or a pair of Mandarin Ducks. Married couples need to be more patient and understanding though as the 4/8 combination of stars also indicates misunderstandings with the in-laws. You can carry a Relationship Enhancing Amulet to help remedy the tension.
CENTRE (6/1)
The Centre area is always instrumental to the overall luck of the month, as it affects everyone in your household. So to have the No 1 Victory Star here in June is indeed very promising! The No 1 Star always brings changes, transformation and new opportunities. Together with the annual No 6 Star it also forms the Ho To combination that brings intelligence and creativity. This can help people make smarter choices and be more open to change. In business, the 6/1 Ho Tu combination could lead to exciting new breakthroughs. Thinking of COVID, it could mean the start of the recovery process.
ALL homes can benefit from this fabulous energy by keeping their Centre sector very active this month. Spend time here and switch on the lights.
To activate heaven luck, display the Tree Bringing 3 Kinds of Wealth or the Winning Chip Talisman to boost windfall luck. Adorn your cabinet doors in the Centre by hanging a Dragon Heavenly Seal Amulet on the cabinet door handles.
To activate the Ho Tu, place a Ho Tu Enhancing Mirror in your Centre and carry a Ho Tu Enhancing Amulet.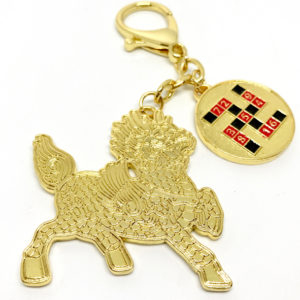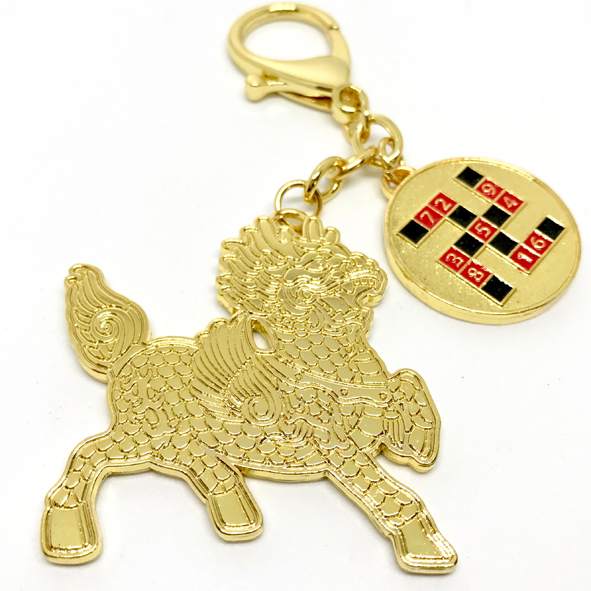 WEST (8/3)
There is quarrelsome energy in the WEST this month due to the No 3 Star. Disagreements can blow out of proportion, and you may not be able to stop it. Do not have any windchimes in your WEST this month, or other metal items that make noise. Keep this area quiet, no loud music, no entertaining; just avoid it if you can.
The good news is that the 8/3 stars also form a Ho Tu combination, which is related to leadership. This is very auspicious and brings promotion luck. But please be aware, as there may be autocratic leaders turning up who abuse their power. If you want to keep the Ho Tu luck in your favour, you can display a Ho Tu Enhancing Mirror or a Dragon Horse here. Those of you with bedroom, office or main door in the WEST, or born in the Year of the Rooster, would also benefit from carrying a Ho Tu Enhancer Amulet.
Subdue the quarrelsome energy with a pair of Red Peace Apples, a red Mystic Knot, or Lillian Too's Mystic Knot Red Carpet.
NORTHEAST (9/4)
The NE is home to another Ho Tu combination – the 9/4, which benefits business and commercial activities. Chances are you will see a big improvement in sales and profits.
Again, you can activate this excellent luck with a Ho Tu Enhancer Mirror or with a Ho To Enhancer Amulet.
If you are looking for new (business) opportunities, displaying the Ox Finding Hidden Wealth will be helpful.
You can even enhance your love luck in the NE this month if you wish by displaying the Rabbit in the Moon Love Enhancer here.
Students can activate for scholastic success thanks to the monthly No 4 Star. Displaying the Manjushri Gau in your NE and carrying the Manjushri "Dhih" Scholastic Amulet can help, but of course you also need to put in some work.
NORTH (2/6)
Those staying in the NORTH can look forward to heaven luck brought by the monthly No 6 Star. This is particularly useful for those who wish to advance in their career.
To attract influential people into your life who can open new doors for you, display the Nobleman Gui Ren Talisman or carry the Nobleman Gui Ren Talisman Amulet.
If you are aiming for a promotion, display the Dragon Horse instead and carry a Dragon Heavenly Seal Amulet.
Don't forget about the annual Illness Star though and check that you have adequate health protection installed. There is particular danger to the stomach area and womb, so pregnant ladies should not stay in the NORTH this year.
NORTHWEST (7/2)
Here we see another two negative stars forming something uniquely wonderful – the Big Wealth Ho Tu attracting financial windfall luck.
To activate this wealth luck, you can display the Asset Wealth Bull and/or carry the Asset Wealth Bull Amulet. If you are actively trading on the stock market, be aware that there may be excessive volatility and display the Winning Chip Talisman to keep the speculative luck in your favour.
The monthly No 2 Star brings health problems though, especially for those staying in the NW. Display a Healing Deer here or a metal Wu Lou for protection.
Those with office in the NW might also fall victim to office politics and betrayal. Men in senior positions might experience threats to their position at work. The best cure to keep office politics in check is the Rooster with Crown or Kuan Kung on Horseback.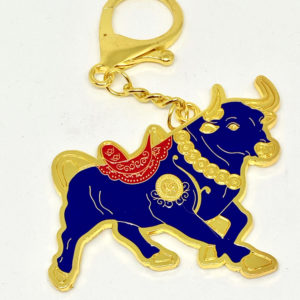 Source: World of Feng Shui
28 May 2021