6th March – 4th April 2020  
March is going to be a month of doubles! This can be excellent for some but also very troublesome for others. Why? Because the monthly flying stars and the annual flying stars double up in each grid, making each sector either VERY auspicious or DOUBLE negative and dangerous. Please be prepared!
In each of the 9 grids below you will see two numbers. These are the so-called "Flying Stars". The number on the upper left represents the annual star of the sector (red = afflictive, blue = auspicious). The black number in the bottom right represents the monthly star, which will influence your luck during this current month.
If you are not yet familiar with the compass orientations of your home, then please use a reliable compass to take the directions. I recommend you take one compass reading from your main door, looking out, and another one from the center of your living room, looking towards your balcony or picture window. These two readings should enable you to determine the compass directions and locations of your home, so you can ascertain which stars fly into which area.
Please take particular note of the location of your front door and your master bedroom, as the stars in those sectors will affect you the most.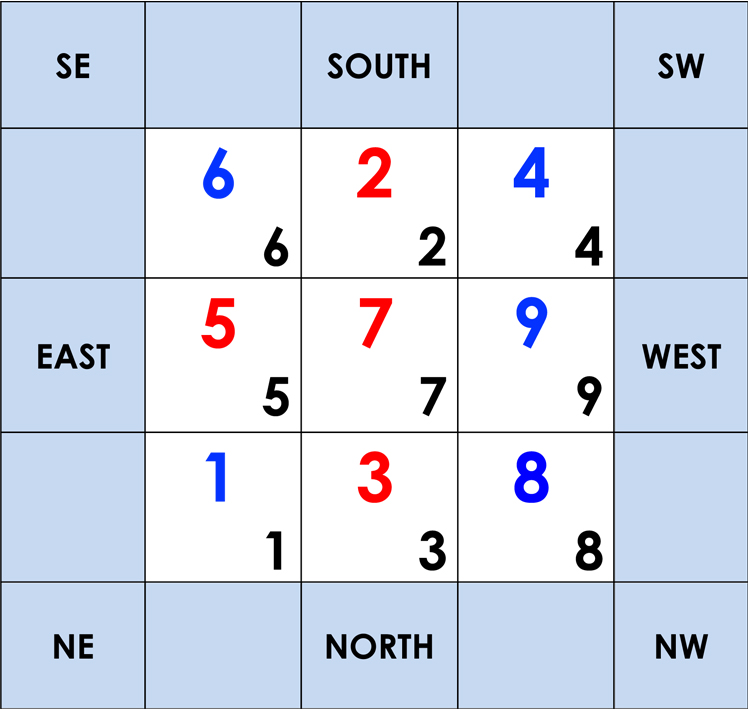 SOUTHEAST (6/6)
Can you imagine double heaven luck? Wow! Two No 6 Stars will attract the good fortune of unexpected windfalls in the SE this month, as well as financial gains. This is particularly beneficial for the daughters of the home and those born in the Years of the Dragon and Snake.
Spend more time in your SE if you can to keep the area activated. Play music here or place a moving object.
To activate your windfall luck, you can place a Red Treasure Chest here and carry the Lucky Mahjong Tiles amulet. A Treasure Chest with Lucky Cat amulet will also be very helpful.
There is excess metal energy though which could lead to injury or accidents caused by metal objects. Keep any sharp objects or knives well away from this sector.
SOUTH (2/2)
Anyone with a bedroom, office or main entrance door in the SOUTH needs to be VERY careful! The doubling up of the Illness Star makes the SOUTH a very dangerous place and you must strengthen it with Wu Lous and health cures, especially in these troubling times where the corona virus is spreading across the world.
Those people mentioned above and those born in the Year of the Horse should carry a Health amulet at all times when they are out. You can choose between the Garuda Wu Lou Health amulet and the Anti-Illness amulet. Of course, avoiding public places is also recommended to help you stay healthy these days.
Avoid bright lights in your SOUTH this month and keep the area quiet. Refrain from watching TV here or listening to loud music.
Elderly people or those who are unwell should sleep in a different room this month if possible.
SOUTHWEST (4/4)
The No 4 Stars can bring success in many areas – students and scholars studying for exams, people in creative professions seeking new inspirations, writers thinking about their next plot … all these individuals will benefit from working in the SW this month.
You can boost the wonderful energy here with a figure of Luo Han, one of the 18 Chinese Saints, or a Scholar on Dragon Carp. Students can also place a Scholastic amulet on their desk.
Romance luck is excellent too, which can be enhanced with a Peach Blossom Music Tree. Single people staying in the SW might well meet the love of their life this month!
Married couples can of course boost the love too but they must also be careful not to place a water feature in the SW as that could lead to infidelity.
EAST (5/5)
Now those staying in the EAST as well as people born in the Year of the Rabbit must be extremely careful this month as the monthly Misfortune Star joins the annual Misfortune Star. This is the most serious danger you can imagine, bringing misfortune, loss of money, terrible accidents or serious illness. Anyone staying in the EAST should stay put this month and not undertake anything risky.
Please make sure you have placed a 5 Element Pagoda with "Om Ah Hum" in your EAST or a Double Dorje symbol. People with main doors, bedrooms or offices in the EAST should also carry a 5 Element Pagoda amulet with "Om Ah Hum".
A Kumbum Stupa is also very powerful to overcome the negative stars.
Avoid open flames in this area, do not have candles, BBQs or stoves here.
CENTRE (7/7)
The No 7 Star is violent and having this double up in the Centre is seriously bad news, greatly increasing the risk of burglary, theft, accidents and violence.
Make sure you have displayed one of the recommended cures, the Blue Elephant and Rhino or an Anti-Burglary Lumi Tile to suppress the affliction and carry an Anti-Burglary amulet.
Avoid keeping sharp metal objects in the Centre area, as they can cause injury and bleeding. There is excess metal energy which will particularly affect the tongue and the limbs. You can place some yin water here (or the colour blue) to weaken the metal element.
Make sure your home security is working!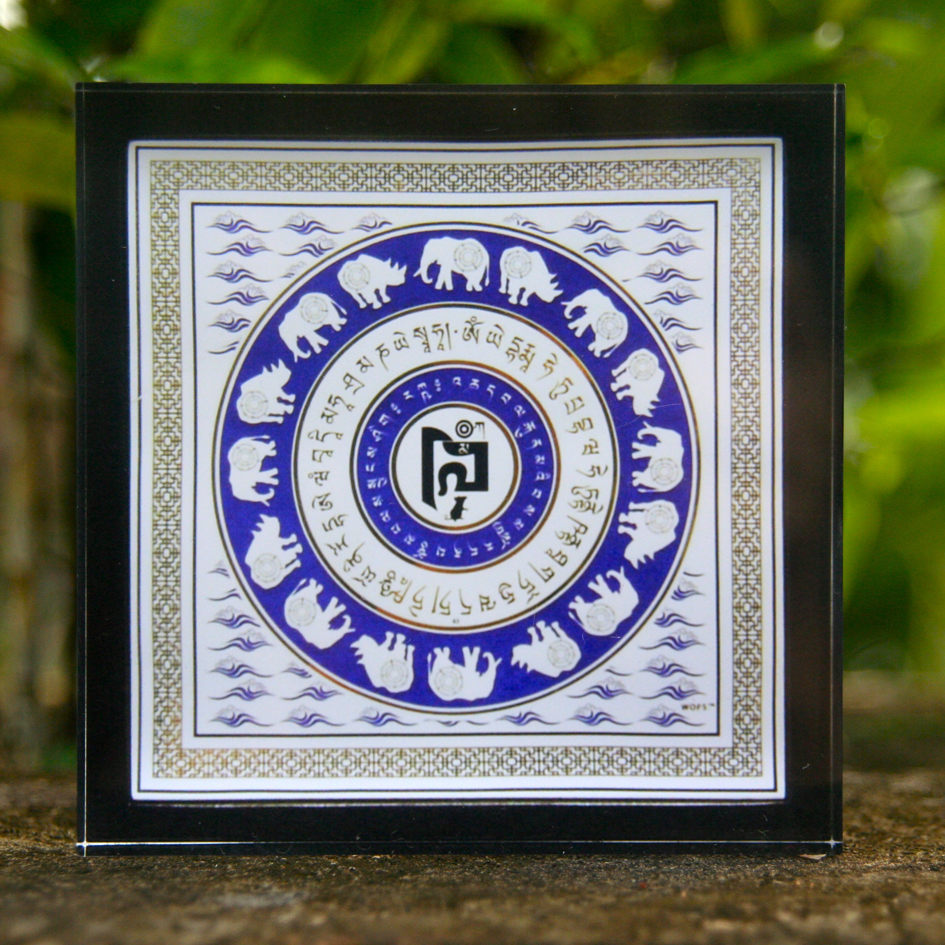 WEST (9/9)
Oooh! Watch out! The luck in your WEST could be extremely good or extremely bad, depending on the natal flying stars of your home. So please check! But there is good news nonetheless in that there is promotion luck and new job opportunities for those of you staying in the WEST.
If you wish to enhance this, you can place a Monkey God on Elephant to boost your promotion luck or carry the Monkey God on Elephant amulet. If you wish to enhance your wealth luck, display a Wealth Tree with Mongoose and 6 Birds instead.
But do be careful not to use too much fire element in your WEST, enhancing the area with symbols is better as fire could have terrible consequences. In fact, you might like to place crystal balls with gold spirals to keep the excessive fire element under control.
NORTHEAST (1/1)
Those who have their main entrance or bedroom located in the NE can look forward to many opportunities to excel this month. This strong winning energy will also favour those born in the Years of the Ox and Tiger.
Place a Lou Han with Crab in your NE to bring good news and opportunities. If you are looking for competitive success, place a Wind Horse-Boosting Victory Flag instead and carry the Victory Banner amulet with Wind Horse. For financial luck to come your way, place a Wealth Bull here.
The water element of the No 1 Star is in conflict with the earth element of the NE though and can bring stomach problems. If your bedroom is located in the NE, place a Healing Herbs Wu Lou or a Black Obsidian Wu Lou on your bedside table to protect your health.
NORTH (3/3)
Everybody KEEP CALM (!!) – especially if your house faces NORTH or your office or bedroom is located in the NORTH. It will be a stressful month for you but please avoid engaging in arguments or disagreements as they could easily spiral out of control and turn into huge fights. Those born in the Year of the Rat need to be particularly careful too.
If this is affecting you, KEEP CALM, count to ten before replying to even the slightest provocation, and carry a Dragon Holding Fireball Anti-Conflict amulet. It will also be helpful to display a Fire Dragon Holding a Red Fireball in the NORTH of your home. If this is a bedroom, use red ornaments instead or a red crystal ball.
Married couples with bedroom in the NORTH can display and carry the Love & Happiness Gold Talisman to help keep their relationship peaceful and loving.
NORTHWEST (8/8)
The double 8 Stars in the NW bring fabulous wealth and money luck, especially for those born in the Years of the Dog and Boar and the Patriarchs. Spend more time here as activity will enhance the good energy here and carry a Mongoose Wealth amulet so you can invite your wealth luck wherever you go.
To boost the great good fortune, you can also hang a Wealth Rat Windchime. If your office, dining room or living room is located in the NW, face your best direction when sitting here to increase your business turnover and watch your investments reap returns.
Place a bell in the NW and ring it every morning to boost the fabulous energy.
Source: World of Feng Shui
29 February 2020