6th March – 4th April 2021  
There will be a lot of positivity in March as we see the auspicious "Sum of Ten" in the Centre of the Flying Stars chart. This indicates that decisions or things put on hold can now move ahead with fresh new energy, work in progress can be completed successfully and new adventures can begin. It is a time when everybody can feel confident about the decisions they make. What a promising start of spring!
The luckiest sectors this month of March are the Centre, SOUTH, SW and WEST, so it would be great if you could spend as much time as possible in these areas. These are the sectors to be activated with your presence, with activity, cheerful laughter, sound and movement.
The negative areas are the SE, EAST, NE, NORTH and NW. These are the sectors to keep quiet and avoid if you can. And of course having the right Feng Shui cures here is important too so that the negative energy does not affect your overall luck.
In each of the 9 grids below you will see two numbers. These are the so-called "Flying Stars". The bigger number at the top left represents the annual star (red = afflictive, black = auspicious) and the slightly smaller number in the bottom right represents the monthly star, which will influence your luck during this current month.
If you are not yet familiar with the compass orientations of your home, then please use a reliable compass to take the directions. I recommend to take the compass readings as follows:
Take one compass reading from your main door, looking out.
Take another reading from the center of your living room, looking towards your balcony or picture window
These two readings should enable you to determine the compass directions and locations of your home, so you can ascertain which stars fly into which area.
Please take particular note of the location of your front door and your master bedroom, as the stars in those sectors will affect you the most. Obviously, for those of you who continue to work from home, the location of your home office/home work station is also important.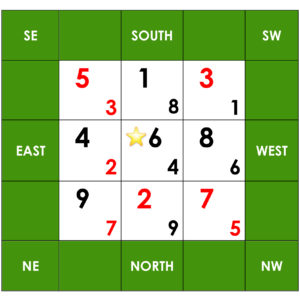 SOUTHEAST (5/3)
The monthly No 3 Star brings quarrels and aggression and is especially fierce when it flies into a wood element sector such as the SE. If you are born in the Year of the Dragon or Snake or if your home faces SE, please be warned! Also those of you whose office or bedroom is in the SE might feel the effects strongly. The 5/3 combination really is bad news and can cause serious troubles in all your relationships.
To calm the aggressive energy, you can place a pair of Red Peace & Harmony Apples in your SE or display a Happy Laughing Buddha. This can be a figure or a picture/painting.
Those people mentioned above should also carry an Apple Peace Amulet when they are out and about to avoid unnecessary arguments.
The stars might also bring unexpected expenses, leading to cashflow problems this month. It is best if you protect your wealth with a Dragon Pi Xie and activate your wealth luck with the Ox Finding Hidden Wealth and carry an Annual Amulet 2021 featuring a wealthy Ox.
Please also make sure you have a 5 Element Pagoda with Tree of Life in place in the SE for this year.
SOUTH (1/8)
The SOUTH is one of the luckiest sectors this month, with the stars promising enhanced prosperity for those who live here and people born in the Year of the Horse. If your bedroom, (home) office or main door is located in the SOUTH, your wealth potential is fantastic and it is a good time for business expansion or career advancement.
You really want to activate this fabulous luck with an Asset Wealth Bull or the Ox Finding Hidden Wealth. Boost your wealth luck further by carrying a wealth amulet, such as the Dakini Wealth Pi Yao Amulet.
However, the elements of the two stars clash, which can lead to conflicts and misunderstandings amongst siblings, couples and colleagues. You can place the Red Peace & Harmony Apples in your SOUTH or add some red home accessories to reduce the tension.
SOUTHWEST (3/1)
The No 1 Star can help you boost your career prospects and brings positive indications for those in research and academic professions.
If you are aiming for a promotion, place a Dragon Horse in your SW this month.
Don't forget about the annual No 3 Star though and stay cool if arguments break out. Make sure you have your cure in the SW, eg a pair of Red Peace & Harmony Apples, to calm the aggressive energy. Those spending a lot of time in the SW would also benefit from carrying the Enhancing Relationships Amulet to help keep all their important relationships intact and smooth.
It is important to keep the annual No 3 Star under control if you want to enjoy the good luck of the No 1 Star this month.
EAST (4/2)
The monthly Illness Star brings danger of illness to those who have their bedrooms here. Those spending a lot of time in the EAST will also notice their energy levels dropping.
Health is very important this year and you can place a Heart Mantra Vairocana Mini Plaque in your EAST and carry an Anti-Illness Amulet Card to protect your health.
The stars also hint to an external interference in marriages. Keep an eye on your partner and carry an Enhancing Relationships Amulet to protect your marriage. In addition you can place a Rooster with Crown in your EAST or in the EAST of your bedroom and place a Green Jade Hearts Charm on your bedside table (or your partner's).
CENTRE (6/4)
The Centre is the heart of the home, so anything that happens here will affect the whole family. This is wonderful news this month, as the stars here bring unexpected windfalls for the whole family.
To activate this fabulous luck, place an Asset Wealth Bull here. You might even want to play the lottery!
The stars also form the most auspicious "Sum of Ten", bringing completion luck and positive results for all your endeavours. EVERYBODY will benefit from carrying a Sum-of-Ten Amulet this month.
The Centre is definitely one of the places where you want to spend more time this month and keep it active.
WEST (8/6)
Another excellent area is the WEST of your home. Those staying here or living in WEST facing houses can look forward to increased wealth potential and popularity. Cash flow is positive, allowing you to indulge in little luxuries and treats. Ambitious people who are pursuing career success will get the chance to demonstrate their skills, while those who want to boost their business will see good prospects.
You really want to activate the monthly No 6 Star with the Nobleman Gui Ren Talisman to invite helpful people into your life. If you prefer more wealth luck, display a Wealth Tree or the Celestial Water Dragon in your WEST (but not in a bedroom) and carry a Dragon Heavenly Seal Amulet.
This is such an exciting time with potentially many good things happening, but please do not get too stressed. It is important to take time out and relax, no matter how busy your schedule gets. Of course you want to make the most of the fabulous energies, but don't burn the candle at both ends.
NORTHEAST (9/7)
ATTENTION! The monthly No 7 Star flies into the NE and brings financial loss and betrayal to those who stay here. There is also an increased risk of break-ins for NE-facing houses. PLEASE BE AWARE!
If your main door is in the NE, place the Anti-Burglary Plaque with Door Guardians facing your door and carry an Anti-Burglary Amulet.
If your office is located in the NE, display an Anti-Burglary Lumi Tile on your desk.
If your bedroom is located in the NE, carry the Anti-Cheating Amulet with Kuan Kung to protect you from betrayal and being cheated.
You can also display a crystal ball in your NE to suppress the No 9 Star, which multiplies the force of the monthly No 7 Star.
If you are married, do look after your relationship, as there is increased risk of infidelity. Those of you who are single, however, ought to watch out for sexual advances, as they may not be pleasant.
NORTH (2/9)
The No 9 Star lends additional strength to the annual Illness Star, so PLEASE look after your health, especially if you live in a NORTH-facing house or your (home) office or bedroom is located in the NORTH. Those born in the Year of the Rat also need to watch their health. Your energy levels will run low and illness can hit you out of nowhere.
In 2021, the best cure for the Illness Star is the "Medicine Buddha and the 7 Sugata Gau". If you are already having health issues, carry a Medicine Buddha Amulet for Good Health & Protection.
The 2/9 combination of stars also indicates arguments and stress, which can lead to marital problems. Place a Rooster with Crown in your NORTH area to help improve your relationship with your spouse.
NORTHWEST (7/5)
The NW is another badly afflicted area suffering from two nasty stars. The monthly No 5 Misfortune Star brings relationship, health and money problems to those who are staying in the NW. This will particularly affect all fathers, leaders and bosses, and must be taken care of.
The best cure for the No 5 Star is the 5 Element Pagoda with Tree of Life. If you already suffer from ill health and your bedroom is located in the NW it would be better to move to another bedroom this month. To protect your good health, place a Healing Deer in your NW and a Garuda Wu Lou on your bedside table. If you are out and about regularly (eg those of you who you are able to go back to work or school) you would also benefit from carrying a 5 Element Pagoda Amulet with Tree of Life.
The troubles brought by the No 5 Star can put a serious strain on your relationships; if this is affecting you, carry the Enhancing Relationships Amulet.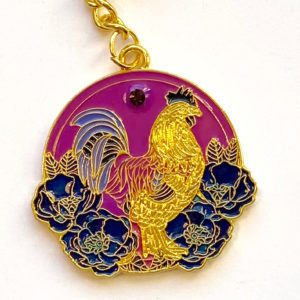 Source: World of Feng Shui
28 February 2021