6th May – 5th June 2020  
In each of the 9 grids below you will see two numbers. These are the so-called "Flying Stars". The number on the upper left represents the annual star of the sector (red = afflictive, blue = auspicious). The black number in the bottom right represents the monthly star, which will influence your luck during this current month.
If you are not yet familiar with the compass orientations of your home, then please use a reliable compass to take the directions. I recommend you take one compass reading from your main door, looking out, and another one from the center of your living room, looking towards your balcony or picture window. These two readings should enable you to determine the compass directions and locations of your home, so you can ascertain which stars fly into which area.
Please take particular note of the location of your front door and your master bedroom, as the stars in those sectors will affect you the most.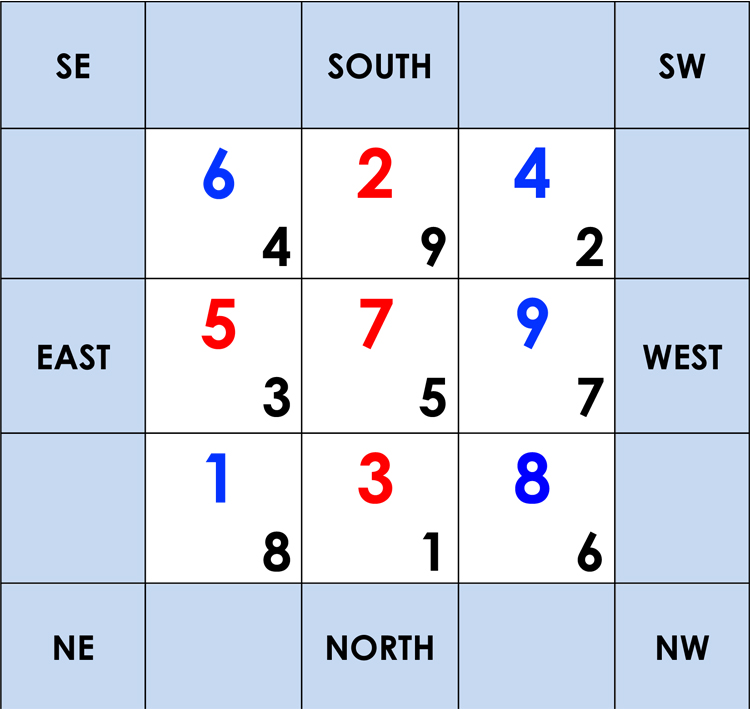 SOUTHEAST (6/4)
The stars in the SE form the "Sum-of-Ten" this month, which brings unexpected windfall luck, especially for the women.
To enhance this wonderful luck, you can place the Wealth Tree with Mongoose and 6 Birds in your SE.
Those with bedrooms, study rooms or offices in the SE will also experience enhanced creativity. If your job requires creativity it would be a good idea to move your work space to the SE if you can to let new ideas come to you more easily. This is also a good place for students to do their on-line learning this month.
Place the Scholar on Dragon Carp here to boost the auspicious energy and carry a Sum-of-Ten Amulet this month.
SOUTH (2/9)
The SOUTH is NOT the place to be this month as the monthly No 9 Star magnifies the annual Illness Star! Needless to say, this is particularly dangerous for those with bedrooms or home offices in the SOUTH. The 2/9 combination also affects the mind and causes stress.
If you and your partner are quarrelling, display a Pair of Mandarin Ducks in your SOUTH to calm the energy. This is particularly important for those of you living in small apartments and confined spaces during these times of lockdown.
Please also make sure you have a metal Wu Lou in your SOUTH room (or in the SOUTH of your living room) to help protect your family's health. Those born in the Year of the Horse should keep a Wu Lou (or an Anti-Illness Amulet) on their bedside table.
Pregnant ladies are best to avoid this area as much as possible.
SOUTHWEST (4/2)
All mothers and matriarchs – please look after your health this month as you are directly affected by the monthly Illness Star. If your main entrance is located in the SW, all family members will be in danger and could suffer from illnesses connected to the abdominal area such as stomach ache, food poisoning, tummy upset, etc. Be careful of takeaway food. Home-cooked meals are best and wash all food thoroughly before using.
To protect your health, you can place a Lucky Tortoise in your SW or a metal Wu Lou.
Disharmony between wives and their mothers-in-law are also possible; you can calm these with a Golden Apple with Peace Symbol.
EAST (5/3)
The EAST is another badly afflicted sector this month as the quarrelsome No 3 Star can cause serious arguments. Having to spend more time together these days is of course not helpful.
Keep the EAST of your home as quiet as possible. Even if you are a big family sharing your home at present, try to allow time for each family member to do their own thing.
Display a Fire Dragon with Fireball in your EAST to help keep the peace or hang the "Little Fiery Dragon" print by Louise Hill here this month (you can move it to the NORTH sector later).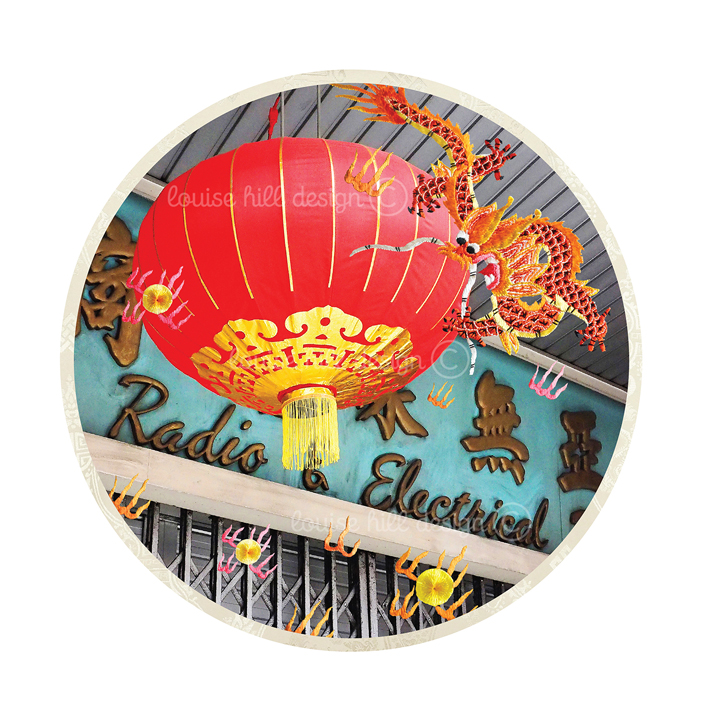 CENTRE (7/5)
Everyone in your household is affected by the stars in the Centre area and having the monthly Misfortune Star combine with the annual Robbery Star is not good. It will be a dangerous month for all. Please do not let your guard down!
The best cure is to display a 5 Element Pagoda along with your cures for the annual Robber Star (a pair of Blue Elephant and Rhino or an Anti-Burglary Lumi Tile). Keep the Centre area as quiet as possible and avoid bright lights here this month.
If you do go out, continue to observe the social distancing rules to minimize any danger.
WEST (9/7)
The luck of the WEST is afflicted by the No 7 Robbery Star this month, which brings danger of theft, burglary and losses. Those staying in the WEST or with main entrance here ought to be careful with money. Keep an eye on your savings and don't be tempted to overspend (keep tap of your on-line ordering!). Speculative investments should also be avoided this month.
Display the Blue Rhino and Elephant with Talisman Feathers in your WEST to counter the negative chi or place an Anti-Burglary Lumi Tile here.
People with bedrooms in the WEST or born in the Year of the Rooster could fall victim to sexual advances. Placing smooth natural crystals here is another option to suppress the negative energy.
NORTHEAST (1/8)
The NE is one of the most auspicious areas of your home this May, thanks to the monthly Wealth Star flying in. Together with the annual Victory Star, anyone who can spend a lot of time in the NE will benefit, and so will those living in NE facing houses. The 1/8 combination is especially helpful for career or business luck.
You can activate this fabulous energy with a Wind Horse, eg by placing a Wind Horse Lumi Tile in your NE (or on your work desk) to help you boost your success luck and beat your competition.
You can also use a Wealth Tree with Mongoose and 6 Birds to get your income flowing.
Others might be jealous of your success, in which case you want to carry an Anti Evil Eye Charm or display a Victory Banner Amulet with Mystic Knot and Evil Eye near your work space.
NORTH (3/1)
The energy in the NORTH is improved thanks to the monthly No 1 Victory Star, promising new beginnings and success. You can safely spend more time in the NORTH this month and activate it with yang energy, movement and light.
Those who are concerned about their jobs and careers can display a Wind Horse Lumi Tile in their NORTH and carry a Victory Banner amulet.
Anyone who is entangled in legal battles can display a Fire Dragon Holding a Fireball in the NORTH or hang the gorgeous "Llittle Fiery Dragon" print by Louise Hill. There is also a Talisman to Win a Court Case which you can carry.
NORTHWEST (8/6)
This is definitely the luckiest part of your home this month so do spend as much time as possible in your NW. Having your work station here in the NW while working from home during this circuit breaker period would be excellent. The monthly No 6 Heaven Star promises wealth and will also bring good relationships with those you interact with.
You can boost the good luck with a Great Increasing Jewel or 6 smooth crystal balls.
The NW is also the sector that holds good luck relating to career opportunities this month.
This is a time of uncertainty for many and energizing the positive areas is all the more important. Kuan Kung is always an excellent image to have in your NW (but not in a bedroom), as well as the Jade Emperor or Monkey God on Elephant. Both are available as amulets you can carry or display.
Source: World of Feng Shui
27 April 2020