6th May – 5th June 2022
Things are looking up. The No 8 Wealth Star is flying into the CENTRE, bringing new prosperity energy for everyone. We need to be careful though, because the No 8 Star also strengthens the earth element here, strengthening the annual No 5 Misfortune Star at the same time. Having strong protection is therefore important.
Houses on an EAST-WEST axis will enjoy auspicious stars, and the "Sum of Ten" brings completion luck to the NE.
The most dangerous sector is the SW this month, where the monthly Misfortune Star joins the annual Illness Star. With everyone being able to be out and about again, all mothers and also those born in the Years of the Sheep or Monkey should carry a Heart Sutra Pagoda Amulet when they are out for protection!
The Flying Stars chart below shows nine fields, each containing two numbers. The big number on the left of each field represents the annual star (red = afflictive, black = auspicious) and the smaller number on the right represents the current monthly star. These smaller numbers change every month and therefore create new energy patterns in your home and office.
To apply these monthly stars successfully, you need to map out the compass sectors in your home or office. If you are not yet familiar with the compass orientations of your home, I recommend you take two compass readings as follows:
one compass reading from your main door, looking out, and
another reading from the center of your living room, looking towards your balcony or picture window.
Please take particular note of the location of your main entrance door and your master bedroom, as the stars in those sectors will affect you the most. Obviously, for those of you who continue to work from home, the location of your home office/work station at home is also important.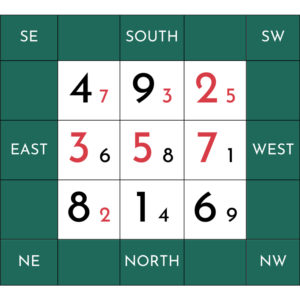 SOUTHEAST (4/7)
The violent No 7 Star flies into the SE and brings danger of theft, robbery and money loss.
For protection, you want to display an Armoured Elephant and Rhino couple here or, for smaller SE spaces, an Anti-Burglary Lumi Tile.
To protect from betrayal at the workplace, you can display a figure of Kuan Kung with Dragon and carry the 9 Dragon Kuan Kung Talisman Amulet or place this on your desk. This amulet is also highly recommended for anyone who is out late at night, especially ladies.
In addition, the clashing elements of the two stars might cause errors in paperwork/documentation, which could lead to legal problems. Please take the time to double-check all your documents before submitting them.
SOUTH (9/3)
The SOUTH suffers from aggressive energy this month due to the No 3 Star flying in. It would be best to keep this sector quiet. You also want to remove any plants from the SOUTH this month, as these would only strengthen the No 3 Star. Combined with the annual No 9 Star you can expect heated arguments, that can lead to serious fights.
The best cure would be the Magical Cosmic Apple, Lillian Too's 5 Prosperity Bats Red Carpet, or a happy laughing Buddha. This can be a figure or a picture/painting.
The Harmony Lock will also help to calm the energies.
SOUTHWEST (2/5)
The SW is highly afflicted this month and those of you staying here must be very careful as the monthly No 5 Misfortune Star joins the annual Illness Star. All mothers are affected by this, also those born in the Years of the Sheep or Monkey. Bad luck is a real danger and can also come in the form of illness affecting the limbs, liver or neck.
To protect your health, a Wu Lou with Joyous Cranes or a more plain metal Wu Lou are highly recommended.
Do not have bright lights in your SW this month and certainly no open flames (ie candles). It would also be good to avoid excessive noise here. Just keep the SW as quiet as possible and avoid spending time there.
All mothers and matriarchs and those born in the Years of the Sheep or Monkey ought to carry a Heart Sutra Pagoda Amulet or a 9 Dragon Kuan Kung Talisman.
EAST (3/6)
Positive energy enters the EAST thanks to the No 6 Heaven Star, promising unexpected windfall luck and help from heaven.
You can activate this with a Golden Earth Dragon Tassel or a Jade Emperor Windchime. You can also carry a Jade Emperor Amulet or place this on your work desk. It might be a period of slow growth though.
Unfortunately, the elements of the two stars clash, which can bring illness, neck injuries or liver problems. For protection, carry a 28 Hums Protection Amulet and place a metal Wu Lou in your EAST to safeguard your health.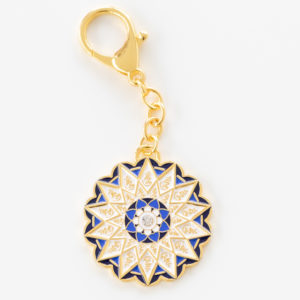 CENTRE (5/8)
While the No 8 Star brings new wealth prospects this month, it also strengthens the annual No 5 Misfortune Star, so having a strong cure remains paramount. Make sure you have a Heart Sutra Pagoda on display here.
The lucky No 8 Star does have a positive effect though and calms some of the existing stress. You can activate this with the Supremacy of Heaven Energy Activator, a Prosperity Tree or a simple Wealth Bowl filled with gold coins and ingots.
WEST (7/1)
The energy in the WEST improves greatly thanks to the No 1 Victory Star, bringing good career and wealth luck to those staying here. However, you must also be prepared for strong competition at work.
If you are planning to climb the career ladder, you should definitely activate the No 1 Star with a Sky Horse with Flag of Success and carry a Sky Horse Amulet. This will attract promotion luck and commercial success for entrepreneurs and those running their own business.
To further boost your career, hang a mountain picture behind your seat for support from your superiors.
Those of you who are investing in the stock market or other high-risk investments ought to carry or display the Wealth Lock Amulet in the WEST. Although the windfall luck is good, the annual No 7 Star here still brings risks – don't forget.
NORTHEAST (8/2)
The monthly No 2 Star brings illness and health problems that affect the stomach. Elderly people and those who are already suffering from ill health should sleep in a different bedroom this month and generally avoid the NE. Place a Wu Lou with Joyous Cranes in your NE and if illness is a concern, also carry a Stay Healthy Amulet this month.
Having said that, the two stars here also form the very auspicious Sum of Ten, bringing completion luck! This is indeed very lucky and can be activated with an Activating Prosperity Tree or a Sacred Resource Cow. If your home office or work place is in the NE, you can place a Sacred Resource Cow Amulet on your desk.
NORTH (1/4)
This combination of stars particularly supports students, artists, writers, and anybody who works in an academic or creative profession. Students want to study in the NORTH if they can, especially if they have exams coming up. Those of you who are in employment can activate the NORTH for promotion luck.
The Manjushri Wisdom Stupa is always good to boost education and creativity luck and students also benefit from carrying the Dragon Carp Amulet.
If you are looking for romance, you can display a love enhancer in the NORTH this month or a Romance Lock.
NORTHWEST (6/9)
The No 9 Multiplying Star enhances the No 6 Heaven Star this month, promising long term wealth luck to those staying in the NW and also those born in the Years of the Dog and Boar. May will be a good month for investments.
If you wish to activate wealth luck, you can display the 9 Rainbow Horses or a Red Mystic Knot Tassel in the NW (but not in a bedroom).
Unfortunately, this combination of stars could also cause disagreements between the younger and older generations. To suppress the hostilities, you can display the Harmony Lock, a Magical Cosmic Apple Amulet, or a happy smiling Buddha.
The clashing elements also bring danger of illness to the lungs and nose, which can be cured with 6 smooth crystal balls.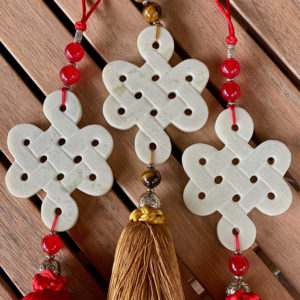 Source: World of Feng Shui
29 April 2022