8th November – 6th December 2019  
In each of the 9 grids below you will see two numbers. These are the so-called "Flying Stars". The number on the upper left represents the annual star (red = afflictive, blue = auspicious – these should have been taken care of at the beginning of the year) and the black number in the bottom right represents the monthly star, which will influence your luck during this current month.
If you are not yet familiar with the compass orientations of your home, then please use a reliable compass to take the directions. I recommend to take one compass reading from your main door, looking out, and another one from the center of your living room, looking towards your balcony or picture window. These two readings should enable you to determine the compass directions and locations of your home, so you can ascertain which stars fly into which area.
Please take particular note of the location of your front door and your master bedroom, as the stars in those sectors will affect you the most.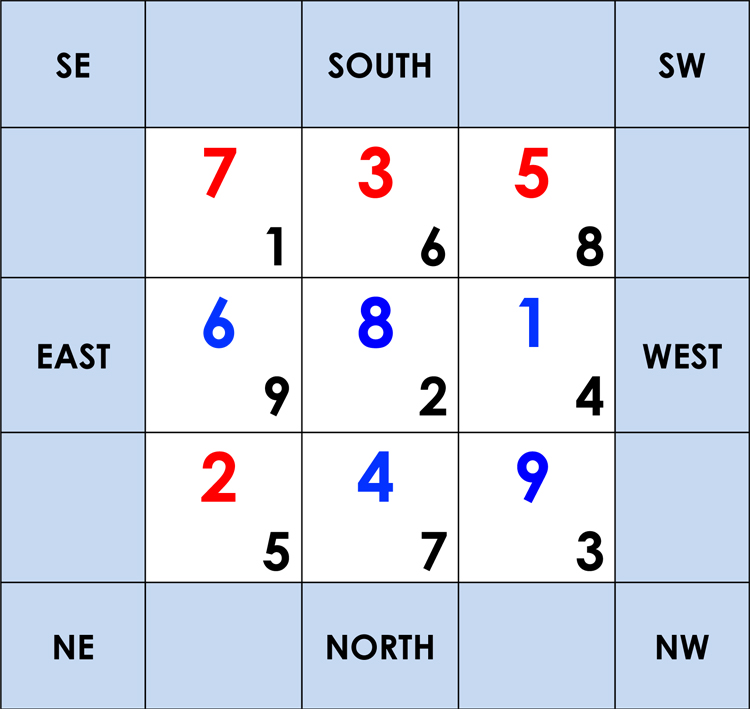 SOUTHEAST (7/1)
Those staying in the SE can look forward to improved prosperity and career luck thanks to the monthly No 1 Victory Star. However, with it comes stiff competition, which is not always pleasant! Please take care and do not trust others too easily.
To enhance your wealth and career luck, place 3 Water Vases for Success filled with water in your SE. In addition, display the Victory Banner on your desk to help you beat the competition. Carrying a Victory Banner amulet with Mystic Knot and Evil Eye will also support you.
Remember the annual No 7 Star though and do take care when handling metal objects, as you might get injured easily – especially if you are born in the Years of the Dragon or Snake or your bedroom or office is located in the SE.
If you would like to enhance your general good fortune you can wear a Green Tara Protection Wheel Brooch.
SOUTH (3/6)
Luck is much improved in the SOUTH thanks to the influence of the monthly Heaven Star bringing divine luck. Those with bedrooms or main doors in the SOUTH will enjoy good speculative luck, possibly even an unexpected windfall. Take your chance and play the lottery.
To enhance heaven luck, you can display 6 Chinese Emperor Coins or hang a Gui Ren windchime in your SOUTH. You can also carry the Lucky Mah Jong Tiles amulet or a Wish Granting amulet when you are out and about to bring wealth luck with you wherever you may go.
There is danger to the health of young women though as the stars indicate possible eye or heart problems caused by metal objects. Those staying in the SOUTH are advised to avoid long distance travel and fast driving to minimize the risk.
The elements of the two stars clash, but this can be balanced out by placing the 3 Water Vases for Success here. If this is your bedroom, it is better not to fill them with water though.
SOUTHWEST (5/8)
The No 8 Prosperity Star flies into the SW this month, promising wonderful good fortune and money luck, especially to those staying in the SW and those born in the Years of the Sheep and Monkey.
To enhance, display a pair of Bejewelled Carp and/or carry the Bejewelled Carp amulet. Spend more time in the SW, play music or leave the TV running to create positive yang energy.
The energy here also favours the matriarchs but do remember to also carry a 5 Element Pagoda amulet to protect yourself against loss. You should already have a large 5 Element Pagoda placed in your SW to keep the annual Five Yellow Star under control. This will help you to enjoy the good luck that is coming here this month.
However, there might be minor health issues with the stomach. If your bedroom is located in the SW, you are advised to place a Healing Herbs Wu Lou on your bedside table and carry an Anti-Illness amulet for protection.
EAST (6/9)
There is heaven luck and monetary gains in the EAST this year, which is multiplied by the monthly No 9 Star! This is fabulous news for those staying in the EAST or living in EAST facing homes.
You can further enhance this luck by displaying a 9 Rings Sword for wealth and power in your EAST.
On the downside, the combination of stars might bring problems with the liver. Please avoid drinking in excess. Tempers are also volatile and could rise quickly – so it is best not to make any rash comments. Think before you speak. Conflicts between the younger and older generations are also possible, especially in families with teenagers in the house. Place a Red Apple Peace Hanging here to support harmony in your household. If this is your dining room, keeping a bowl with 6 red apples on the table will also help to foster peaceful feelings.
CENTRE (8/2)
There is illness chi in the Centre this month, leading to health problems which could befall anyone in the family. Take precautions by eating healthy and taking vitamins.
Place a Healing Herbs Wu Lou in the Centre of your home and those prone to falling sick would benefit from carrying an Anti-Illness amulet this month.
Having said that, the two stars form the powerful "Sum-of-Ten", which promises excellent prosperity luck for all family members. Those with open plan floor plans will benefit particularly as that makes it easy for the auspicious energy to spread into other parts of the home. Spend more time here and increase activity in this area. The lucky stars promise business luck for entrepreneurs.
To enhance, place a Bejewelled Pair of Carp in the Centre of your home (or office) or display a Great Increasing Vase to boost financial luck.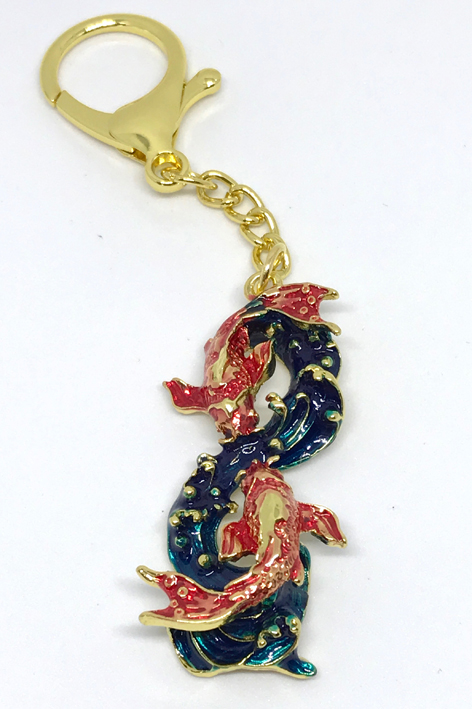 WEST (1/4)
There is great luck for students, writers and people in communications related professions in the WEST this month. Promotion luck is also fabulous for those looking to advance in their career and can be enhanced with a Sage on Tiger figure displayed in the WEST of your home or office.
If it is exam luck you need, display a Crystal Point with Wisdom Mantra in your WEST and carry a Scholastic Success amulet.
Those staying in the WEST and those born in the Year of the Rooster will also enjoy wonderful romance luck. If you are single, you might well meet Mr or Mrs Right this month! Those wishing to boost their luck in love can display Kurukulle's Banner of Love in the WEST.
NORTHEAST (2/5)
The monthly Five Yellow flies into the NE and brings serious financial troubles as well as arguments, which can lead to loss of wealth. If your bedroom is located in the NE, you might find yourself embroiled in major financial disputes.
Display a 5 Element Pagoda or a 5 Element Ringing Bell to keep the negative energy under control. Keep this area quiet and take down any windchimes you might have hanging here.
In addition, female adults are at risk of developing health problems, so it would be better for them to avoid the NE. Those staying in the NE are advised to wear the 15 Hums Protection Wheel Brooch or carry a 5 Element Pagoda amulet.
NORTH (4/7)
The No 7 Star has a negative effect on the romantic vibes of the NORTH this month. Those staying in the NORTH might well find themselves affected by infidelity problems.
The elements of the stars clash, which does not help. This leads to frequent arguments and conflict, especially for female family members. The combination also brings illness energies, which particularly affect the kidney area. Placing a water feature here will calm the clashing elements.
Protect yourself by carrying an Anti-Robbery amulet when you are out. Stay away from quarrels – they could easily get out of hand and cause you to be harmed as injury through violence is prevalent this month. Keep sharp objects away from the NORTH.
NORTHWEST (9/3)
The Quarrelsome Star brings serious trouble to the NW as it causes disagreements, which could lead to you battling fiercely in court.
Remove any plants you might have in this area and control the aggressive energy with a Pi Yao with Flaming Sword. Keep the area quiet and avoid noisy activities. Too much movement and noise here are definitely not a good idea for this month. Switch off your radio/hifi and leave the TV off too if you can.
Married couples will experience relationship problems. If this is a concern, you can wear a Jade Disk with Mystic Knot to improve harmony with your spouse.
Carry out an energetic space cleansing or at least burn some incense to clear the argumentative energies in your home.
Source: World of Feng Shui
29 October 2019