7th November – 6th December 2021
November is a month to be more cautious as the Misfortune Star flies into the Centre sector, bringing danger to everybody. It doesn't help that the earth element of the sector enhances the malicious attributes of the Misfortune Star, hence strong cures are needed. The best Feng Shui cure is the 5 Element Pagoda with Tree of Life however, you can also use metal elements in the form of metal ornaments or sculptures. This is very important.
Spend more time in the SOUTH, NE, NORTH or NW instead to enjoy the positive energy there.
The Flying Stars chart below shows nine fields, each containing two numbers. The bigger number on the upper left represents the annual star (red = afflictive, black = auspicious) and the slightly smaller number in the bottom right represents the current monthly star. These smaller numbers change every month and therefore create new energy patterns in your home and office.
To apply these monthly stars successfully, you need to map out the compass sectors in your home or office. If you are not yet familiar with the compass orientations of your home, I recommend you take two compass readings as follows:
one compass reading from your main door, looking out, and
another reading from the center of your living room, looking towards your balcony or picture window.
Please take particular note of the location of your main entrance door and your master bedroom, as the stars in those sectors will affect you the most. Obviously, for those of you who continue to work from home, the location of your home office/home work station is also important.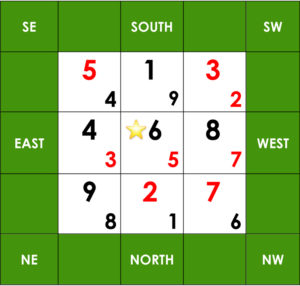 SOUTHEAST (5/4)
The energy in the SE brightens up thanks to the monthly No 4 Romance and Scholastic Star, which makes this a social and happy time for those who spend a lot of time here. If your bedroom or (home) office is located in the SE, you can look forward to a productive month. Those born in the Years of the Dragon and Snake should also feel the good energy.
You can activate romance luck with the Rabbit in the Moon enhancer or a Kurukulle Goddess of Love Mini Plaque. They will help the singles amongst you find a suitable partner and will also improve the love bond between couples. Alternatively, you can carry a Green Jade Hearts Charm.
The No 4 Star also brings study luck and motivation for students of all ages and helps increase productivity. If you need help on this front, you can further enhance your productivity and study luck with a Manjushri "Dhih" Scholastic Amulet or a Sacred Resource Cow placed in the SE.
Please check your 5 Element Pagoda in the SE is still in good condition because if you don't cure the annual No 5 Misfortune Star you will not be able to capture the good luck this month.
SOUTH (1/9)
The SOUTH is one of the most auspicious sectors this month, with the No 9 Power Star promising career success and financial luck, especially for those who live in SOUTH facing houses and those with bedrooms or offices in the SOUTH. The Horse-born people amongst you should have an excellent month too.
You can activate career luck with the 9 Golden Dragons Plaque. Placing a Windhorse Lumi Tile in the SOUTH will also be very powerful this month.
If you would like to activate your money luck instead you can place the Tree Bringing 3 Kinds of Wealth here.
Luck even gets better as the stars form the "Sum of Ten", which brings particular good fortune to occupants of the SOUTH. You can activate your completion luck with a Sum-of-Ten Amulet.
There really is a lot of potential in the SOUTH but please don't go overboard with your activation. Unfortunately, the elements of the two stars clash, which could lead to conflicts in personal relationships. If you are concerned/affected, you can carry a Four Friends Talisman to make sure your good relationships stay harmonious and strong.
SOUTHWEST (3/2)
Trying times for the matriarchs continue as the monthly Illness Star flies into the SW. This will also affect those born in the Years of the Sheep or Monkey and those living in SW facing homes/staying in SW rooms. If this is you, you definitely need to take good care of yourself and your health this month.
The best cure to suppress the Illness Star is to place a metal Wu Lou or a Healing Deer in the SW and carry an Anti-Illness Amulet when you are out and about (eg at work or at school).
The 3/2 combination of stars also indicates serious conflicts affecting your relationships. You can display a pair of Peace & Harmony Apples in your SW to prevent falling out with your loved ones.
EAST (4/3)
We will see quarrelsome energy in the EAST this month, causing conflict and clashes in relationships. At work, this can be people challenging your decisions; at home, nothing you do may seem right.
You need to calm the conflict energies with red accessories, such as a red rug or a red picture in your EAST. Putting a pair of Peace & Harmony Apples or a figure of a Buddha on display will also help restore calmness.
The good news is that the annual No 4 Star gets strengthened by the additional wood energy of the No 3 Star, bringing new opportunities for success. If you have any projects that need help to get started, you can activate the EAST with a 9 Phoenix Plaque.
CENTRE (6/5)
The No 5 Misfortune Star flies into the Centre area this month, which should not be ignored. It can bring setbacks and problems for everyone in your household, including issues like unexpected expenses due to accidents and other misfortunes.
The best Feng Shui cure is to place a 5 Element Pagoda with Tree of Life or a Heart Sutra Pagoda in the Centre space of your home. In addition, it is highly recommended to carry a 5 Element Pagoda Amulet when you are out and about.
To safeguard your wealth, you can carry the Wealth Lock Amulet. This is particularly important for those who are heavily involved in the stock market or who have high risks at stake.
As we see more and more countries opening up for travel there is also more risk of the Covid19 virus re-emerging. Please take extra precaution and carry a Buddha Vairocana Gold Card or an Anti-Illness Amulet Card in your purse/wallet when you travel to ward off any illness energies and a Peacock Key Ring for Safe Travels to ensure everything goes smoothly.
WEST (8/7)
The WEST has had a good run of positive energy, but this changes now with the arrival of the No 7 Burglary and Loss Star. Financial problems and betrayals are indicated for those who live in this part of the home, as well as those born in the Year of the Rooster. Be very wary of the people who you are working with this month, as you may get cheated. Office politics could also become a problem. Please do not ignore this.
You can display an Armoured Elephant & Rhino here for protection or use an Anti-Burglary Lumi Tile for smaller WEST spaces.
Looking at the bright side, if you CAN subdue the negative energies, you should be able to gain sufficient revenue to offset any potential losses. You can place an Ox Finding Hidden Wealth here to improve your money luck. This will activate for new wealth and at the same time counter the No 7 Star.
NORTHEAST (9/8)
The NW is another very lucky sector, as the monthly Wealth Star gets strengthened by the annual No 9 Star. Those staying in the NE and those born in the Years of the Ox and Tiger can look forward to a good month. It is a great time for serious planning for your future.
If you would like to activate your wealth luck, you can display the Tree Bringing 3 Kinds of Wealth or the Ox Finding Hidden Wealth here and carry one of the wealth amulets when you are out and about, eg an Asset Wealth Bull Talisman or a Dakini Wealth Pi Yao Amulet.
While things will be going smoothly, those staying in the NE must remember to be respectful when dealing with their elders. Keep in mind that they are speaking with knowledge and experience, so do not brush them aside. Respect their wisdom and learn from it but snub them and you might trigger a series of terribly bad luck.
NORTH (2/1)
New opportunities will be coming to those staying in the NORTH thanks to the No 1 Victory Star. Also those born in the Year of the Rat can benefit and enjoy career success and winning luck.
If you are in business, you can activate the No 1 Star with a Dragon Tortoise displayed in the NORTH and a Flag of Victory Amulet placed on your desk.
If you are in employment, you can place a Dragon Horse in your NORTH instead.
Don't forget about the annual Illness Star though and check on your Healing Deer or metal Wu Lou. Carry an Anti-Illness Amulet for Good Health & Protection when you are out.
NORTHWEST (7/6)
The wonderful No 6 Heaven Star flies into the NW and brings the luck of helpful people and financial windfalls. However, the combination of the No 7 and 6 Stars creates strong competition at work, with increased rivalry as the main prize will be big. That means you will have to put in extra effort if you would like to win.
You can activate mentor luck with a Nobleman Gui Ren Talisman and hang a mountain picture behind your seat at work to ensure you receive support from the right people.
Those staying in the NW or having their home office there should avoid confrontations of any kind this month. The metal energy is far too strong, which can lead to violence and physical injury. Do not provoke anybody and display the 28 Hums Protection Wheel here to keep you safe.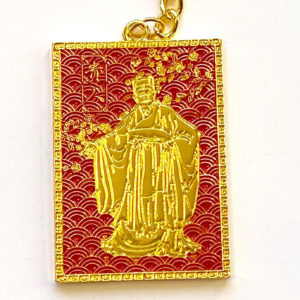 Source: World of Feng Shui
3 November 2021