8th October – 7th November 2019  
The Flying Star chart below shows 9 fields, each containing two numbers. The number on the upper left represents the annual star (red = afflictive, blue = auspicious) and the black number in the bottom right represents the current monthly star. These are the numbers (stars) that change every month and create new energy patterns in your home and office.
To apply these monthly stars successfully, you need to map out the compass sectors in your home or office. If you are not yet familiar with the compass orientations of your home, I recommend you take two compass readings: one from your main door, looking out, and another reading from the center of your living room, looking towards your balcony or picture window. These two readings should enable you to determine the compass directions and locations of your home. Then you are in a position to allocate the stars (numbers) into the correct areas.
Please take particular note of the location of your main entrance door and your master bedroom, as the stars in those sectors will affect you the most.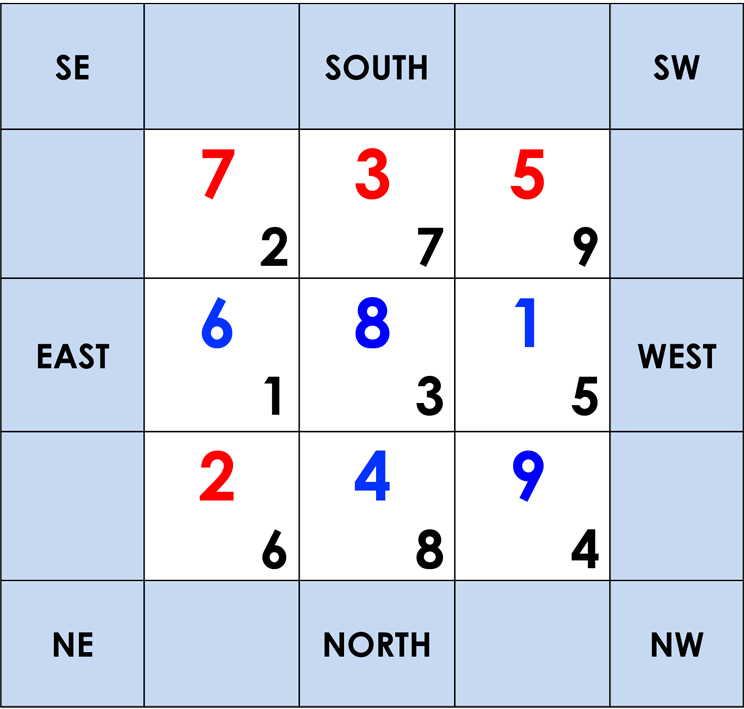 SOUTHEAST (7/2)
The monthly Illness Star meets up with the annual No 7 Star and brings danger of neck injuries to those residing in the SE. If you do have a neck condition, it would be better to move out of your SE room for this month.
If your bedroom is in the SE, the best cure is to display a Wu Lou on your bedside table and carry an Anti-Illness Amulet while you are out and about. The same goes for those born in the Years of the Dragon and Snake.
It is also important to have an Anti-Burglary Lumi Tile in your SE to protect against theft and robbery or, if your main door is in the SE, a larger Blue Rhino and Elephant figure would be a stronger cure.
Young ladies working in the SE area of the office may face problems due to work politics. If this affects you, you can display a Bejewelled Rooster on your desk to counter this negativity.
SOUTH (3/7)
Persons with bedrooms in the SOUTH need to be more careful as the monthly Burglary Star might bring money loss and theft. Also accidents.
Keep the SOUTH sector as quiet as possible this month.
Placing a water feature here this month will exhaust the unfavourable metal energy. Another cure is to display an Anti-Burglary Mountain with Secret Mantra or an Anti-Burglary Lumi Tile to protect from the risk of robbery.
Looking at the bright side, the two stars form the "Sum of Ten", which has a positive influence. If your main door faces SOUTH, you will be able to bring your current projects to a successful completion. Activate the auspicious energy with the Fu Dog Treasure Chest displayed in the SOUTH.
SOUTHWEST (5/9)
There is great danger in the SW this month and it would be best to avoid this area. The monthly No 9 Star magnifies the nasty No 5 Misfortune Star, causing all sorts of problems. Especially those with homes facing SW need to be on high alert. Female family members, in particular the matriarchs, are likely to be more short-tempered and irritable than usual.
Display a large Tri-Coloured 5 Element Pagoda in your SW to subdue the negative energy (you should have had this here since the beginning of the year). Matriarchs and those born in the Years of the Sheep and Monkey ought to carry a 5 Element Pagoda Amulet for protection while they are out.
There is also danger of fire, so please take care not to leave the stove or burning candles unattended.
EAST (6/1)
The EAST is probably the most auspicious sector this month with the No 1 Victory Star pairing up with the annual Heaven Star, bringing wonderful financial luck and career luck for those staying here. Promotions and recognition are within reach for those who seize them.
Make good use of this opportunity and boost the luck here with the Polaris Star Enhancer and a Golden Dragon.
The monthly No 1 Star brings victory luck, which will be helpful for those in competitive situations, be it in sports or in the race for a promotion. Activate with the Five Elements Victory Banner or a Wind Horse Lumi Tile.
Keep this part of your home lively and busy this month. Spend more time here, play music here or gather your friends for social activities.
CENTRE (8/3)
The aggressive No 3 Star flies into the Centre this month and therefore affects everyone! Tempers will be rising, there will be disagreements and arguments and stress due to gossip. Everyone needs to stay calm! The No 3 Star can potentially be even more dangerous than the Five Yellow and other bad stars, as it can cause irrevocable damage to relationships.
Don't wait for it to happen!
Calm the energies by placing a bowl of red apples on your dining table, display a Red Apple with Peace Symbol in your Centre or a Pair of Red Tzi Chi Kau. A red carpet or other red accessories, eg a print of the Scarlet Lotus Buddha, will also help to keep the peace.
Take down any windchimes you may have hanging here this month and keep the area as quiet as possible.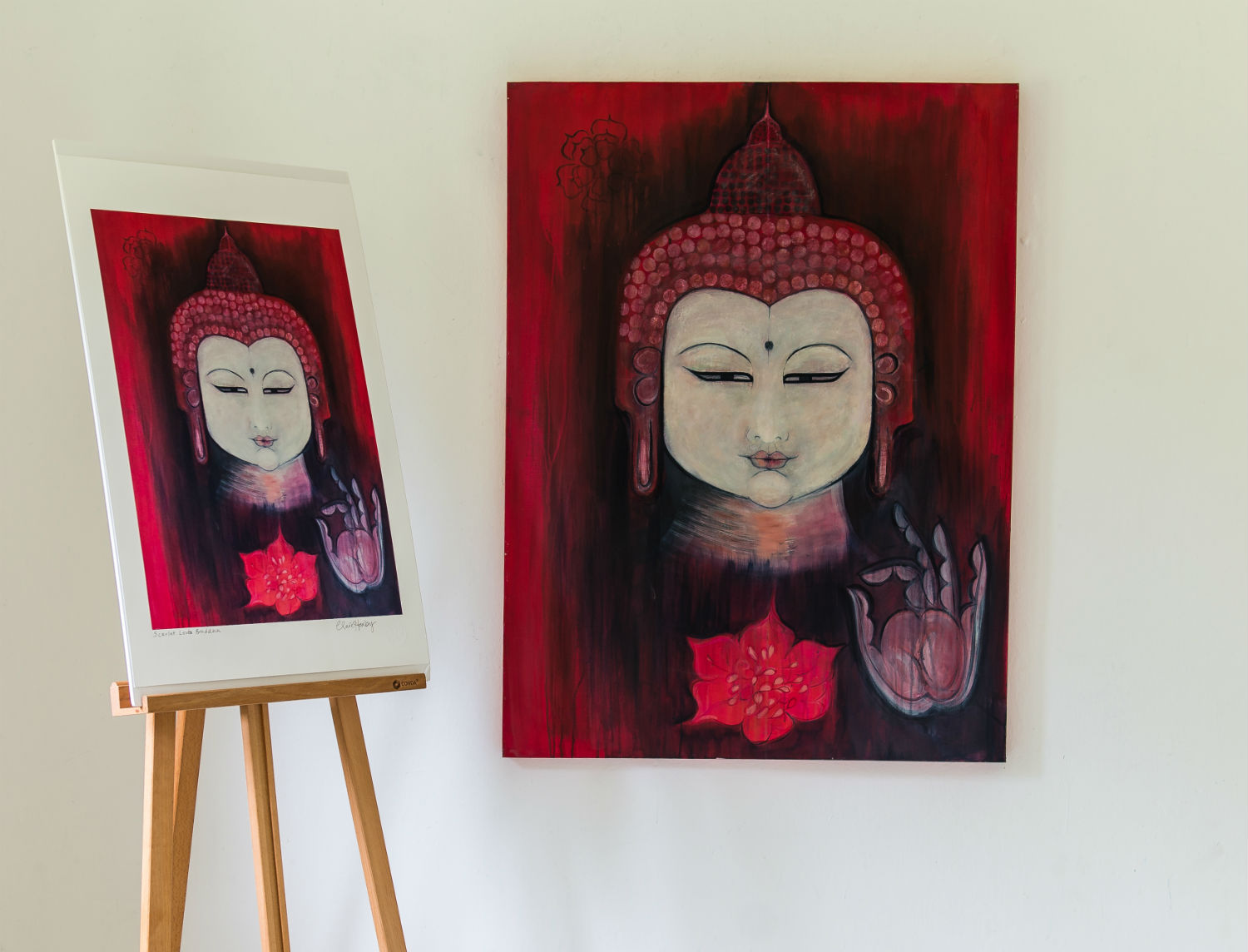 WEST (1/5)
The monthly Five Yellow Star flies into the WEST and brings with it great danger for those born in the Year of the Rooster and those living in WEST-facing houses. Those with bedrooms in the WEST also need to be aware. If this is you, it is best to lie low this month and do not do anything out of the ordinary.
Please carry the Tri-Coloured 5 Element Pagoda Amulet for protection and place a Tri-Coloured 5 Element Pagoda in the WEST of your home. Wearing white will strengthen the metal energy shield around you and help avert conflict situations.
Elderly and frail people should avoid sleeping in the WEST sector of the home this month.
NORTHEAST (2/6)
Heaven luck shines on those staying in the NE and those born in the Years of the Ox and Tiger. Those with bedroom or main door located in this sector can also benefit from the monthly No 6 Star. You are likely to be offered new opportunities and might even receive an unexpected windfall!
Activate this wonderful energy boost by placing a Treasure Vase in the NE of your home or office. You can also place or hang 6 Chinese Coins tied with red string.
Remember to keep the Illness Star under control with a Healing Herbs Wu Lou, especially if this is your bedroom.
NORTH (4/8)
The NORTH enjoys the influence of the monthly Prosperity Star, which brings wealth and prosperity to those living in NORTH-facing homes or people whose main entrance is in the NORTH.
If you wish to attract money luck, you can display a Lucky Money Frog on Waterlily Leaf in your NORTH (but not in a bedroom). Strengthen this with a Lucky Tortoise to ensure your newfound wealth will be able to grow.
If your living or dining room is located in the NORTH, spend more time here and invite friends over. You want this space to be active and lively. Installing a water feature would also be excellent.
NORTHWEST (9/4)
There is positive energy in the NW thanks to the monthly No 4 Star, which brings luck to all Patriarchs and to the heads of the households. In addition, the No 4 Star forms an auspicious Ho Tu combination with the annual No 9 Star, which brings fabulous business luck.
Those wishing to increase their profits can display a Double Humped Camel for Big Profit and Success to help.
A figure of Vaisravana, the Guardian of the North, will attract wealth and help you increase your net worth.
Students will also benefit from the energy of the No 4 Star this month and will find it easy to study in the NW, as the energies bring good concentration and focus.
Source: World of Feng Shui
29 September 2019