8th October – 6th November 2021
October could be your best month this year!
As we are nearing the end of the year it is easy to let things slip and start to make plans for the new year ahead. But please don't write off 2021 just yet! October is a month of doubles, which means the lucky sectors of the year are even luckier and offer GREAT opportunities. All that is needed is a bit of your time to make some tweaks to your Feng Shui, and October could indeed turn out to be the BEST month for you this year.
And how exactly can you do this?
Spend more time in the auspicious EAST, SOUTH and WEST sectors and make sure you activate the strong Heaven Luck in the CENTRE of your home. Keep these areas active with music and movement and don't let clutter fill these spaces.
Of course, the double stars also mean that the unlucky sectors are more dangerous, so ensure you have adequate protection in the NW, NORTH and SW. The SE is afflicted too with two Misfortune Stars, but they add up to the favourable "Sum of Ten", giving the sector a positive boost.
Please study the chart below. In each of the 9 grids you will see two numbers. These are the so-called "Flying Stars". The bigger number at the top left represents the annual star (red = afflictive, black = auspicious) and the slightly smaller number in the bottom right represents the monthly star, which will influence your luck during this current month.
If you are not yet familiar with the compass orientations of your home, then please use a reliable compass to take the directions. I recommend to take the compass readings as follows:
Take one compass reading from your main door, looking out.
Take another reading from the center of your living room, looking towards your balcony or picture window
These two readings should enable you to determine the compass directions and locations of your home, so you can ascertain which stars fly into which area.
Do take particular note of the location of your main entrance door and your master bedroom, as the stars in those sectors will affect you the most. Obviously, for those of you who continue to work from home, the location of your home office/home work station is also important.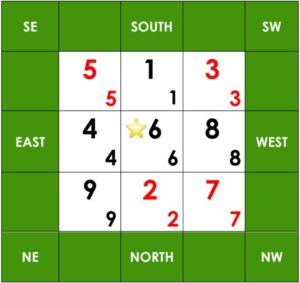 SOUTHEAST (5/5)
Here, we see the No 5 Misfortune Star doubled, but luckily this forms the very auspicious "Sum of Ten", adding positive energy.
It is important to place an additional 5 Element Pagoda with Tree of Life in your SE though to control the dangers brought by the Misfortune Stars and transform the negative energy into positive chi. This is particularly important for those living in SE-facing houses and people who spend a lot of time in the SE.
Once this is taken care of, you can activate the "Sum of Ten" by carrying a Sum of Ten amulet if you are looking for completion luck to help you bring successful outcomes to your ongoing projects.
SOUTH (1/1)
There is strong victory luck in the SOUTH this month, particularly benefitting those living in SOUTH-facing homes and people with (home) office or bedroom in the SOUTH. The No 1 Star promises good career and income luck, including opportunities for promotions and new sources of income, as well as victory in competitive situations.
To activate the victory luck, you can place a Desktop Flag of Victory in your SOUTH (or on your desk) and/or carry a Flag of Victory amulet or the Victory Banner Success amulet this month.
If you would like to boost your career luck, you can place a Blue Ru Yi with 8 Auspicious Symbols in your SOUTH or on your desk.
If you would like to boost your wealth luck, you can use the Ox Finding Hidden Wealth instead and carry an Asset Wealth Bull Talisman.
The No 1 is such an auspicious star, do take advantage of this excellent opportunity!
SOUTHWEST (3/3)
Be aware of quarrelsome and aggressive energy in the SW this month. Those who spend a lot of time in the SW will be more irritable than usual. The same goes for the matriarchs, so please be patient with Mum!
It is important to have some fire energy in your SW to help keep everyone calm, especially the mothers and those born in the Years of the Sheep and Monkey. You can also display a pair of Peace & Harmony Apples, the 9 Phoenix Plaque, or hang a red picture in your SW. The more red ornaments you place here the better.
If your bedroom is located in the SW, you would also benefit from carrying an Anti-Conflict amulet, eg the Dragon Holding Fireball amulet.
Anyone embroiled in court proceedings ought to carry the Talisman to win a Court Case.
EAST (4/4)
The double No 4 Star can spice up your love life and also help students with their studies. Studying in the EAST will improve your focus and help you retain what you learn.
If you would like to activate study luck, you can display a Bejewelled Luo Han with Qi Lin in your EAST and carry a Manjushri "Dhih" Scholastic amulet.
If you would like to activate your romance luck, display a Kurukulle Goddess of Love Mini Plaque in your EAST instead.
Married couples need to be careful not to have any water features in the EAST this month, as this could cause infidelity. You can carry a Green Jade Hearts Charm or an Anti-Infidelity Medallion to protect your marriage.
CENTRE (6/6)
Seeing the No 6 Heaven Star double up in the CENTRE area offers fabulous opportunities to improve your luck this month, as heaven's blessings will be bountiful. This can present itself in the form of new opportunities, better motivation and improved instincts. Keep an open mind, consider new ideas and listen to suggestions from others.
I always recommend to activate the No 6 Star, and you definitely want to do so this month!
To activate for overall good fortune, you can carry a powerful Dragon Heavenly Seal amulet.
To invite helpful people or mentors into your life, you can carry a Nobleman Gui Ren Talisman instead.
In addition, display a Celestial Water Dragon or the Supremacy of Heaven Energy Plate in your CENTRE area. Of course, 6 Chinese Coins or a Mystic Knot Tassel are always excellent enhancers for the No 6 Star too.
Spend more time in this area to absorb the fabulous energy, play music and enjoy family time here.
Offices can also activate their CENTRE area to take advantage of this wonderful luck to boost their business.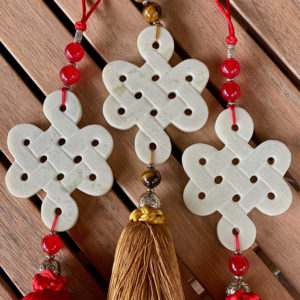 WEST (8/8)
The WEST is the luckiest sector this month thanks to the double No 8 Prosperity Star, promising double wealth, double prosperity and double happiness. This will particularly benefit those of you who live in WEST-facing houses and those with bedrooms or (home) office in the WEST. The No 8 Star also brings investment luck, especially if you are looking for long-term asset value growth.
This is therefore another sector where you want to spend a lot of time in. In addition, it will be a good idea to activate your wealth luck with a Rat & Ox Wealth Enhancer, a Wealth Bowl, or a Wealth Tree.
Carrying a wealth amulet will also send the right message to the universe. Choose between the Dakini Wealth Pi Yao amulet or the Asset Wealth Bull Talisman.
NORTHEAST (9/9)
The No 9 Star of Future Prosperity invites you to take some time for planning and laying the groundwork for the future you see for yourself. Those born in the Years of the Ox and Tiger please take note! The pace will pick up for those with bedroom or office in the NE and things will move quickly. If this is you, be careful not to take on more than you can handle.
The No 9 Star also brings good news and rising popularity. If you wish to activate, use fire energy (ie lights) and display a 9 Dragons Plaque or a few Wealth Cabinets here. Don't use candles though, as open flames are too strong and could turn the good energy into dangerous chi.
NORTH (2/2)
Here we have extremely strong Illness energy, making the NORTH one of the most dangerous places to be this month. With Covid 19 still a major concern, I highly recommend you use additional cures and be extremely careful when you go out. Pregnant ladies, elderly people and those already suffering from health issues should move into a different bedroom this month and avoid the NORTH sector altogether. Those of you born in the Year of the Rat need to be particularly watchful too.
You can place a Healing Deer or an additional Wu Lou in this area. If you do go out, avoid crowded spaces and carry one of the protective health amulets, eg a Medicine Buddha Amulet for Good Health & Protection, a Garuda Wu Lou Health Amulet, an Anti-Illness Amulet Card or a Buddha Vairocana Gold Card.
NORTHWEST (7/7)
This is another most dangerous area, as the No 7 Star brings severe danger in the form of accidents, betrayal, loss or theft. This particularly affects those born in the Years of the Dog and Boar as well as the Patriarch – meaning the father of the family, the head of the company, and anyone in a leading position (male or female). Please be extra careful if you house or main door faces NW.
Make sure you have adequate protection in the NW of your home. The metal element is extremely strong this month, which could also lead to violence. Dust and energize your cures (Anti-Burglary Lumi Tile or Plaque or a Blue Rhino with Elephant) and double up if necessary.
You can also carry a protective amulet, which is particularly recommended for the persons listed above. Choose from the Evil Eye Amulet, Anti-Cheating Amulet with Kuan Kung, or Anti-Burglary Amulet.
Source: World of Feng Shui
29 September 2021