8th September – 7th October 2019  
In each of the 9 grids below you will see two numbers. These are the so-called "Flying Stars". The number on the upper left represents the annual star (red = afflictive, blue = auspicious – these should have been taken care of at the beginning of the year) and the black number in the bottom right represents the monthly star, which will influence your luck during this current month.
If you are not yet familiar with the compass orientations of your home, then please use a reliable compass to take the directions. I recommend to take one compass reading from your main door, looking out, and another one from the center of your living room, looking towards your balcony or picture window. These two readings should enable you to determine the compass directions and locations of your home, so you can ascertain which stars fly into which area.
Please take particular note of the location of your front door and your master bedroom, as the stars in those sectors will affect you the most.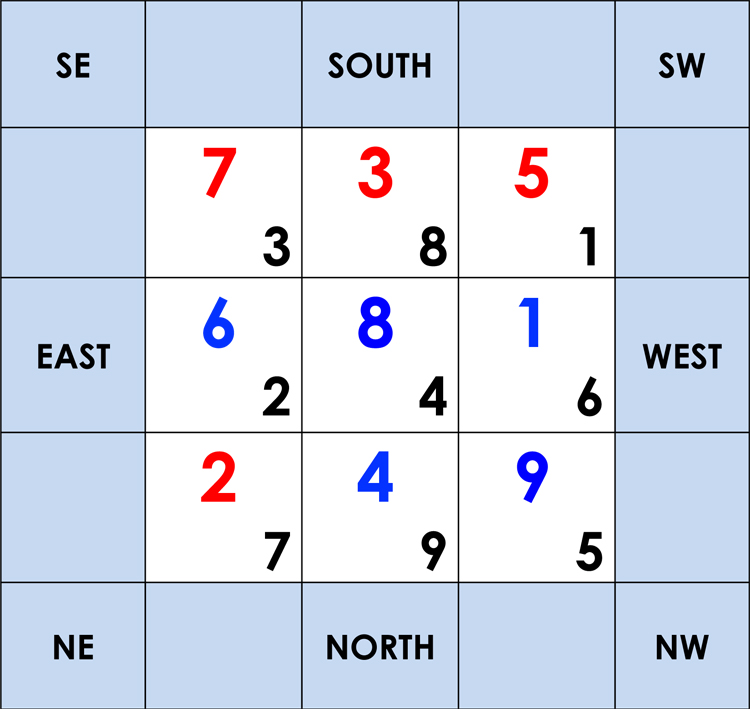 SOUTHEAST (7/3)
There is quarrelsome energy in the SE, affecting particularly those with main entrance doors in the SE and bedrooms in the SE. Those born in the Years of the Snake and Dragon and the oldest daughter are also afflicted.
Adding fire energy in the form of red accessories will help subdue the aggression. Those persons mentioned above may wish to carry a Peace Apple amulet to help them stay calm this month.
You can also carry the Sum-of-Ten amulet or display this in the SE of your home or office to activate the auspicious Sum-of-Ten formed by the two stars. This will bring completion luck.
Please avoid rough sports as there is danger of injury to the neck.
SOUTH (3/8)
The monthly Prosperity Star flies into the SOUTH, which is of course great news for those staying here! You could experience a windfall of some kind or receive an unexpected boost to your finances.
Display a Wealth Bull or a Wealth Bowl in this area (but not in a bedroom) to enhance your wealth luck. If you wish to boost your windfall luck, display a Red Treasure Chest instead. If you are aiming for a promotion or need to collect a debt owed to you, write your wish (including the amount) on a piece of paper, fold this, and place it inside the treasure chest.
Please be careful though if you have children as they might suffer injury to the eyes due to the combination of stars. Move them into a different bedroom this month if possible.
SOUTHWEST (5/1)
The No 1 Victory Star is very auspicious and if it is winning luck you are after, you can enhance this with the Three Victory Flags or a Wind Horse Lumi Tile placed in your SW.
However, the elements of the two stars clash and need to be re-balanced. The matriarchs and especially those with bedrooms in the SW need to be very careful as careless accidents could cause injuries. Spend your time in other parts of your house if you can and place a Healing Herbs Wu Lou in the SW as a cure.
There is also danger of sex-related illness and troubles in love, making this generally not a good month for occupants of the SW. Also, those born in the Years of the Sheep and Monkey might suffer from the above.
EAST (6/2)
The monthly Illness Star moves on to the EAST, so this is another area to avoid spending too much time in if you can. A metal Wu Lou placed here will help protect from illness. Art containing symbols of health is also an option. Those born in the Year of the Rabbit might also like to carry a Health amulet this month.
Despite the danger of illness, there is career luck and speculative luck for those staying in the EAST. This can be enhanced with a Lucky Money Frog on Water Lily Leaf or simply with 6 golden coins hung or placed in the EAST.
Take advantage of this opportunity and make bold moves. Show what you are made of and don't be shy.
CENTRE (8/4)
The Romance Star flies into the Centre, improving relationships in the household and especially relationships of a romantic nature.
Singles looking for a partner will have good chances of finding one! Display the Double Happiness Symbol or a Pair of Mandarin Ducks in your Centre and make sure you have sound and activity here.
The No 4 Star also benefits students and writers, as it brings a lot of creative energy and new ideas. If you feel you are stuck in a rut, put your thinking cap on. The energy is helpful and you might well find new directions.
Students wishing to enhance success luck in their exams can carry a Bejewelled Pair of Carp amulet.
WEST (1/6)
The WEST is the luckiest sector this month! Victory luck combines with the monthly Heaven Star, which brings new opportunities and new directions. This will particularly benefit those born in the Year of the Rooster and those with main doors or bedrooms in the WEST. It is also especially lucky for students and young people and they should spend more time here.
To boost academic success, place a Luo Han in the WEST and carry a Scholastic Success amulet.
To give your career a boost, place the Windhorse Boosting Victory Flag here or hang a Windhorse canvas print. Having your office in the WEST will be excellent.
NORTHEAST (2/7)
Please be particularly careful if your main door faces NE, as the No 7 Burglary Star brings serious danger of robbery and break-ins this month. Take care to lock your doors every night and turn on the alarm system.
There are several cures to counter the No 7 Star: A Blue Elephant and Rhino, an Anti-Burglary Plaque, or an Anti-Burglary lumi tile. Add a pair of Fu Dogs flanking your main door and attach Anti-Burglary stickers on your NE facing windows if they are on the ground floor.
Avoid quarrels and arguments as there is a general risk of violence and you don't want to get caught in it.
Those born in the Years of the Ox and Tiger should consider carrying an Anti-Robbery amulet this month to protect from snatch thieves and accidents.
Having said all that, the combination of stars is an auspicious Ho Tu combination promising wealth. It is possible that you can lose money but there are equally high chances of gaining money. To boost money luck, you can place a Big Profits Mirror in the NE and carry the Lock Coin to protect your wealth.
NORTH (4/9)
The NORTH is also an auspicious area this month. Those with bedrooms or office located in the NORTH can enjoy wonderful business luck. The same applies to people living in NORTH facing homes or those born in the Year of the Rat.
We see another lucky Ho Tu combination here, promising increased wealth and profits if activated correctly.
To achieve greater profits and increased sales, place a Double Humped Camel for Business Success & Big Profits in the NORTH.
Students can also benefit from this positive energy, especially if they are preparing for exams. Boost your study luck and concentration with a Crystal Point with Mantra or display a Bejewelled Wisdom Pagoda in your NORTH.
NORTHWEST (9/5)
Serious trouble looms in the NW due to the No 5 Misfortune Star flying in, which is strengthened further by the annual No 9 Star. Patriarchs and those born in the Years of the Dog and Boar please be careful!
Keep this sector as quiet as possible. Do not do any digging in your garden, no banging, no loud TV or loud music, no parties in your NW rooms.
Place a Five Element Pagoda here this month, especially if you spend a lot of time here. This is important.
If your home is facing NW, you can invoke the power of Blue Tara with the Blue Tara Gau Home Protection Amulet.
Source: World of Feng Shui
27 August 2019