7th July – 7th August 2020  
July has a very promising Flying Stars chart, featuring quite a few special combinations which are very auspicious! This brings hope for us all as the world is slowly recovering from the Covid19 trauma. There is no better time than now to look at your Feng Shui and keep it updated.
In the chart below you will see two numbers in each of the 9 grids. These are the so-called "Flying Stars". The number on the upper left represents the annual star of the sector (red = afflictive, blue = auspicious). The black number in the bottom right represents the monthly star, which will influence your luck during this current month.
If you are not yet familiar with the compass orientations of your home, then please use a reliable compass to take the directions. I recommend you take one compass reading from your main door, looking out, and another one from the center of your living room, looking towards your balcony or picture window. These two readings should enable you to determine the compass directions and locations of your home, so you can ascertain which stars fly into which area.
Please take particular note of the location of your main entrance door and your master bedroom, as the stars in those sectors will affect you the most.
SOUTHEAST (6/2)
The monthly No 2 Illness Star can cause liver problems, which could particularly affect those born in the Years of the Dragon and Snake as well as the youngest daughter or those with bedrooms or main doors in the SE.
If your bedroom is located in the SE, it is especially important to place a golden Wu Lou here to protect your health.
Thanks to the annual No 6 Star there may be good news regarding your career though, and those staying in the SE of the house can enjoy unexpected windfalls. To enhance money-making opportunities, you can place a Wealth Tree with Mongoose and Six Birds, while a Chi Lin Vase or a Pair of Dragon Horses will boost your career luck. If your office is located in the SE, you can also carry a Monkey God on Elephant or a Jade Emperor with Qui Ren Amulet or place it on your desk.
SOUTH (2/7)
The SOUTH is visited by the No 7 Robbery Star this month, bringing the danger of loss, burglary and betrayals. However, combined with the annual No 2 star it forms a Ho Tu combination, promising great wealth and increasing asset wealth luck leading to growth in your investments. This is excellent news, particularly for people born in the Year of the Horse and those with bedrooms or offices in the SOUTH! You could enjoy a lottery win, a promotion, or another type of financial windfall.
But please stay alert and wary of pickpockets and thieves and be extra careful who you trust. Display a Blue Elephant and Rhino or an Anti-Burglary Lumi Tile in your SOUTH room for protection.
I definitely recommend you also enhance the Big Wealth Ho Tu this month with a pair of Chi Lin or a Ho To Enhancer Amulet.
SOUTHWEST (4/9)
This is a very lucky sector indeed in July with the 4/9 being the Ho Tu combination bringing business luck! This is particularly helpful for those with offices or bedrooms in the SW. If you have a mobile work station at home, find your SW and work there! You will be rewarded with good commercial results and business luck, especially favouring the female entrepreneurs among you, as well as those born in the Years of the Sheep and Monkey.
This month's flying stars increase creativity, which will have a positive impact on your productivity. Writers and artists will feel their inspiration return. If you have a big decision to make, you will feel more confident in your decision.
Enhance the fabulous luck with a Bejewelled Emerald Boar. Those with high career aspirations can display a 9 Rank Badge to help achieve a promotion. Those studying will benefit from carrying or displaying a Scholastic Amulet.
EAST (5/1)
The No 1 Victory Star has a positive influence on the EAST this month. If you wish to enhance your victory and success luck you can display a Windhorse-Boosting Victory Flag in your EAST, or a Windhorse Lumi Tile. If you continue to work from home, you can also place a Victory Banner Amulet on your work desk.
The elements of the two stars are clashing, however, which might lead to physical discomfort and exhaustion. Make sure you get enough sleep and don't overwork. If you are suffering from bad health or lack of energy you can place a Bejewelled Medicine Buddha in your EAST. If this is your bedroom, use a Black Obsidian Wu Lou instead.
CENTRE (7/3)
Although both stars are afflictive on their own, combined they form the "Sum of Ten", which is excellent! This is fabulous news for everybody. Do spend as much time here as possible if you wish to benefit from this exciting energy. The "Sum of Ten" brings completion luck in many ways – new projects you start will find successful completion, you will be able to close deals easily and profitably, and there are good chances that things will generally go your way.
Carry the "Sum of Ten" Amulet to activate this luck and place the Fu Dog Treasure Chests in your Centre area.
The monthly No 3 Star will bring some quarrelsome energy though which needs to be subdued with a Fire Dragon holding a Fireball or two Red Crystal Apples. If the quarrels get worse over the course of the month rather than better, you will need to increase the fire energy by adding a larger red object, such as a red carpet or a red piece of art, eg the Chinatown print by UK artist Clare Haxby, featured in our Feng Shui Art gallery.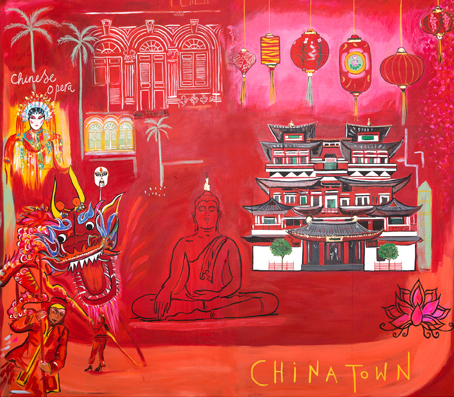 WEST (9/5)
The WEST is one of the most dangerous areas this month as the Misfortune Star gets enhanced by the yearly No 9 Star. Keep this area as quiet as possible, no loud music, no banging or drilling. There is serious danger of illness, financial loss or other disasters.
People staying in the WEST may suffer from increased stress levels and sleeping problems.
The best cure is a 5 Element Pagoda with "Om Ah Hum" placed in the WEST. You can also carry the Kuan Kung Anti-Betrayal Amulet to ensure the important people in your life continue to support you.
It will be better not to spend too much time in the WEST this month. If this is your bedroom, try to sleep in a different room.
NORTHEAST (1/6)
The NE is the most auspicious area of your home this month. Not only are the No 1 and No 6 Stars both extremely positive, they also form the Ho Tu Combination that brings superior intelligence to people who need to make important decisions. If you find yourself at a crossroads or facing a new opportunity, eg a new job offer, entering a new business partnership, investing in the stock market; this is the right time to make big decisions for yourself and your family.
This energy is particularly helpful for those with bedrooms or main doors in the NE as well as those born in the Years of the Ox or Tiger.
You will want to activate your NE with a Qui Ren Windchime or a Jade Emperor with Qui Ren Talisman. I also highly recommend you carry a Jade Emperor with Qui Ren Talisman Amulet or a Heaven Seal Amulet.
Make sure you have your enhancer for the annual No 1 Victory Star in place to give you an added advantage!
NORTH (3/8)
The monthly Prosperity Star has a positive impact on the NORTH in more than one ways! Not only does it bring wealth and prosperity luck, together with the annual No 3 Star it also forms the Natural Leader Ho Tu Combination. This promises power and influence for those in leadership positions and also boosts the persuasive effect you have over others, particularly favouring people born in the Year of the Rat and those with offices in the NORTH. No matter whether you are the leader of a company, society, club, voluntary group or your own home and family, this energy will strengthen you as a leader.
Take advantage of the positivity by spending more time in this sector and activating it with a Ho Tu Enhancer Mirror or a Ho Tu Enhancer Amulet. This will strengthen your wisdom and power. Another option is to display a Dragon & Rat Prosperity 8 or a Rat with Coin in the NORTH of your living room.
Useful amulets to carry are the Annual Amulet 2020 or the Mongoose Wealth Amulet if you wish to boost your wealth luck this month.
NORTHWEST (8/4)
The energy in the NW is also very positive and supportive. It is an auspicious month for business and salespeople as the stars promise a good outcome in negotiations. This will particularly benefit the patriarchs and those born in the Yeas of the Dog and Boar. It is the perfect time to move forward with your good ideas. A possible increase in income is also indicated.
To boost money luck, you can place a Wealth Tree with Mongoose & 6 Birds in your NW (but not in a bedroom) and carry a Mongoose Wealth Amulet.
Students and those working in research will be successful in their literary pursuits. Students studying for exams will find the energy in the NW particularly helpful and may wish to place a Scholastic Amulet here to boost their interest and talent for learning.
It will be better to keep young children away from the NW though as the clashing elements of the stars can bring injury to their limbs.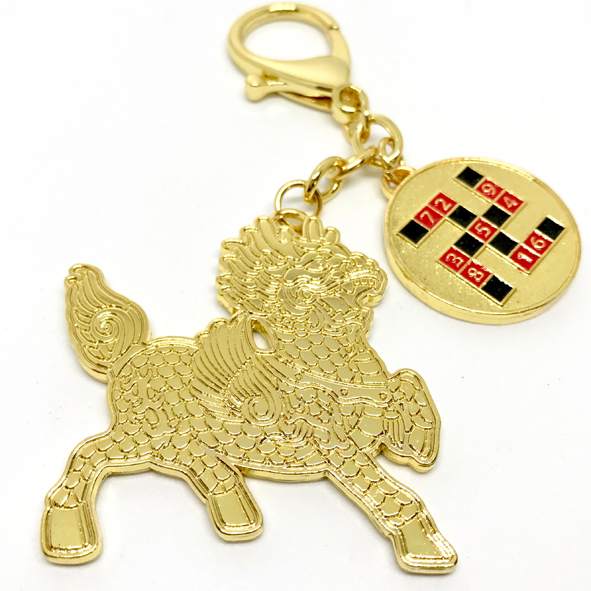 Source: World of Feng Shui
30 June 2020