I love sharing my Feng Shui knowledge and helping others achieve their goals and desires and improve their lives through the use of Feng Shui principles.
Born and raised in Germany, I have always had a keen interest in architecture and interior design/home décor. In the early 1990s life brought me to London where I enjoyed my role as Personal Assistant in an international firm of consulting engineers. It was during that time that I discovered a Feng Shui magazine and I was immediately fascinated. Not long afterwards I decided to have our own apartment assessed by a local Feng Shui advisor, which had amazing results! Needless to say, I have been a strong believer in Feng Shui ever since.
In 2005 my husband's company moved us to the Philippines; by this time we had three young sons. Two years later, we relocated to Singapore, where I met Lillian Too at her annual "Feng Shui Extravaganza" in January 2008. That was a true key event in my life. Lillian Too captivated me with her positive energy and immense knowledge and I was thrilled when I found out that the celebrated expert and best-selling author on Feng Shui also offered Feng Shui courses!
So, in September of the same year, I enrolled on, and successfully completed, the Master Practitioners Course at Lillian Too's Institute of Feng Shui in Kuala Lumpur, Malaysia. In 2010, I was ready to return to KL and learn more, and I passed Lillian Too's Master Consultants Course with distinction.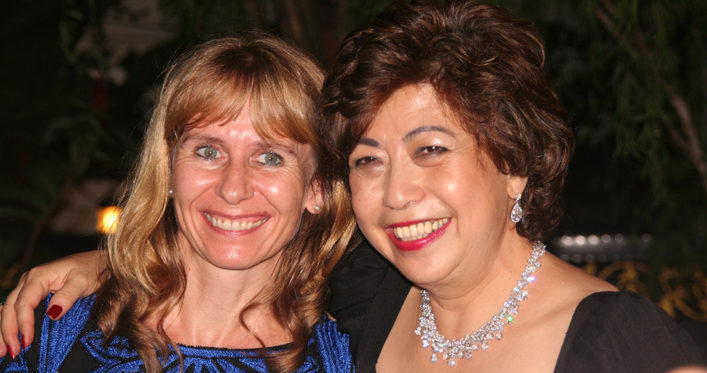 Inspired by these achievements and with the continued encouragement from my friends and husband, I subsequently set up my own consultancy business, Feng Shui Focus, in January 2011 in Singapore and I haven't looked back since.
I offer personalized Feng Shui consultations for families, businesses and corporate clients. It is my guiding principle to work with the client's existing space and décor wherever possible in order to enhance and harness the benefits of positive Feng Shui. My greatest motivation comes from my clients' success and happiness.
My Feng Shui career now also includes giving talks on a number of Feng Shui related topics. A tremendous personal success was receiving GOLD AWARD for best Feng Shui Consultant in the Readers' Choice Awards 2019 and again in 2023 of lifestyle magazine Expat Living.
I am a tea drinker and cat lover and I cherish time spent with my family and friends.