8th October – 6th November 2022
This month, the No 3 Conflict Star flies into the CENTRE and dominates the chart and therefore the energy in your home (and workplace). Arguments will flare up and if you are not careful, they can quickly turn into nasty fights or lawsuits. This is made worse as the No 3 Star intensifies the negative effects of the annual No 5 Misfortune Star. The CENTRE area will need strong protection this month.
Illness energy is prevalent in the SE and SW and elderly family members should avoid spending too much time in these sectors. The SOUTH and WEST are badly afflicted too.
Try to spend most of your time in the very auspicious NE, NORTH and NW sectors of your home instead, and also move your social activities to these areas if you can.
The Flying Stars chart below shows nine squares, each containing two numbers. The big number on the left of each square represents the annual star (red = afflictive, black = auspicious) and the smaller number on the right represents the current monthly star. These smaller numbers change every month and therefore create new energy patterns in your home and office.
If you are not yet familiar with the compass orientations of your home, then please use a reliable compass to take the directions. I recommend to take the compass readings as follows:
• Take one compass reading from your main door, looking out.
• Take another reading from the center of your living room, looking towards your balcony or picture window.
These two readings should enable you to determine the compass directions and locations of your home, so you can ascertain which stars fly into which area.
Please take particular note of the location of your main entrance and your master bedroom, as the stars in those sectors will affect you the most. Obviously, if you continue to work from home, the location of your home office/work station at home is also important.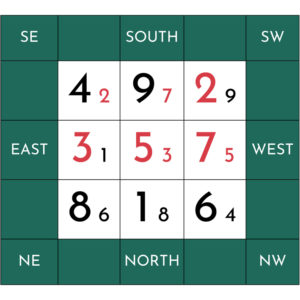 SOUTHEAST (4/2)
The monthly Illness Star flies into the SE, which is not good news for you if you are born in the Years of the Dragon or Snake. Also, if your main door or bedroom is located here, you might suffer from problems with the liver area. Elderly family members or those who already suffer from ill health should avoid sleeping in the SE room this month.
As a cure, you can place a Wu Lou with Joyous Cranes, the God of Longevity or a Medicine Buddha here. If you leave your house frequently, it is also worth carrying a Stay Healthy Amulet or an Anti-Illness Card for protection.
Do not use bright lights in this space, as this fire energy would strengthen the Illness Star.
Married ladies need to be alert, as a predatory male might enter their life. Display a Marriage Lock or the Double Happiness Symbol in your SE to strengthen your marriage and reduce the risk of infidelity and betrayal. If this affects your bedroom, you can keep a Green Jade Hearts Charm on your bedside table to protect your relationship.
SOUTH (9/7)
In the SOUTH we see a very strong No 7 Burglary and Loss star this month, as it gets strengthened by the annual No 9 Star. This is particularly dangerous for those of you who live in SOUTH-facing homes, as it means an increased risk of robbery and loss.
It is best to display an Armoured Elephant & Rhino or an Anti-Burglary Plaque in your SOUTH as protection against burglary, theft, and financial losses. For a smaller SOUTH space, an Anti-Burglary Lumi Tile would be useful.
SOUTHWEST (2/9)
The annual Illness Star is strengthened by the No 9 Star this month, making the SW a dangerous place for those of you who are already suffering from ill health. The illness energy here particularly affects the stomach and mouth. The 2/9 combination of stars also affects marriages negatively.
You should already have remedial symbols or elements in your SW (eg a metal Wu Lou) and this month I recommend you add a Marriage Lock to keep your marriage strong. Alternatively, you could also place a happy couple picture of you and your partner here.
If your bedroom is located in the SW, it would be good to sleep in another bedroom this month. If this is not possible, place a Wu Lou on your bedside table to protect yourselves from serious illness.
Elderly people should avoid spending too much time in the SW this month.
EAST (3/1)
The monthly No 1 Victory Star promises victory and success luck – no matter whether you are in a high-profile career or pursuing academic goals. Those of you who spend a lot of time in the EAST, and also the eldest son, will particularly benefit from this lucky energy.
To activate the Victory Star, you can display the New Victory Banner or a Sky Horse in your EAST. If your home office or study room is located in the EAST, you can place a Sky Horse Amulet on your desk.
Make sure that this area does not get too noisy though, or you will activate the annual No 3 Star, which you don't want. Remember that the No 3 Star brings quarrels and arguments, and you would best suppress this with the Magical Cosmic Apple or a happy laughing Buddha.
CENTRE (5/3)
The arrival of the quarrelsome No 3 Star makes the CENTRE an even more unpleasant place. Money troubles and arguments are indicated, which can be bad for business and disasterous for relationships. Being in the CENTRE, the 5/3 stars will affect everybody.
A Heart Sutra Pagoda is the best cure for the dangerous Misfortune Star. There is also danger of money loss, which can lead to serious cashflow problems. It is best to avoid speculating on the stock market or taking big financial risks. The harmony within the family unit is also afflicted – try and be more patient and understanding with each other.
Keep this area as quiet as possible and use a Magical Cosmic Apple to control the quarrelsome energy. Art is another great way to influence the energy in your home. The "Little Fiery Dragon" or Happy Laughing Buddha by Singapore-based artist Louise Hill would be great options for your CENTRE space this month.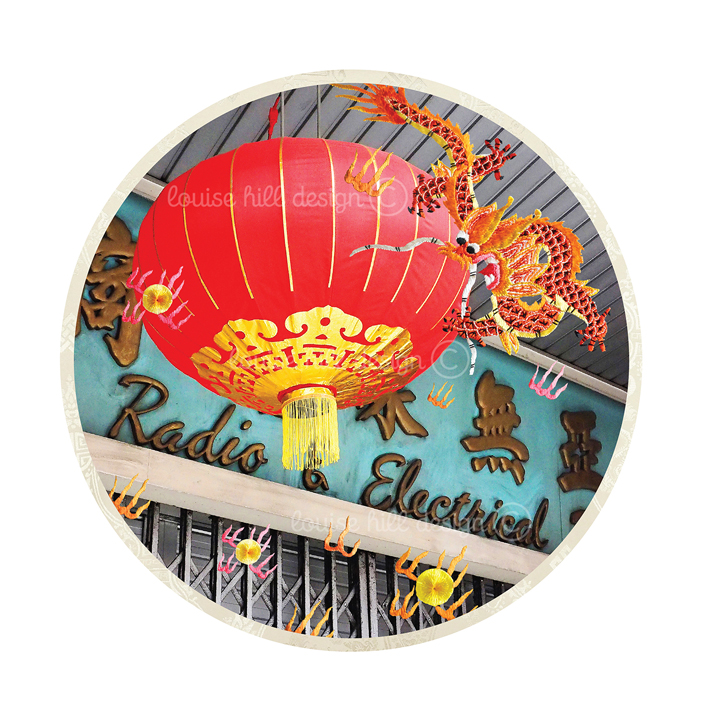 WEST (7/5)
There is serious danger in the WEST this month, as the No 5 Misfortune Star partners with the annual No 7 Robbery and Loss Star. So this month, the dangers of health issues, money loss and obstacles are very real for those staying in the WEST and also for people born in the Year of the Rooster.
Place a Heart Sutra Pagoda in your WEST sector and if your bedroom is located here, you are also recommended to keep a Wu Lou on your bedside table.
Those of you who live in WEST-facing homes ought to delay business negotiations, otherwise you might get cheated. In this case, placing a figure of Kuan Kung with Dragon in your WEST will help protect you from mean tactics being used against you. In addition, you can carry an Anti-Cheating Amulet with Kuan Kung when you are at work or place this on your work desk.
Safety should be high on your agenda this month. Please check your home security and make sure your main door is always locked at night, especially if it is located in the WEST or facing WEST. Place an Anti-Burglary Plaque facing your main door to keep the stars under control.
NORTHEAST (8/6)
The NE is one of the most auspicious areas this month, thanks to the No 6 Heaven Star combining with the annual Prosperity Star. Those of you staying in the NE might well enjoy an unexpected financial windfall. If your life was made difficult by obstacles, you might find that these will magically disappear this month.
To enhance this wonderful energy, you can hang a metal windchime (eg a Jade Emperor Windchime or a Heaven Star Windchime) or a Golden Earth Dragon Tassel in your NE.
The 8/6 Stars also promise new opportunities or promotions in your career. This can be enhanced with a Sky Salamander or a Bejewelled Blue Dragon. For work desks in the NE, I recommend a Green Dragon Lunar Mansions Harmonizing Amulet or a Dragon Heavenly Seal Amulet.
Those born in the Years of the Ox and Tiger, and also the youngest son will particularly benefit from this fabulous energy. Keep this area active with noise and music this month.
NORTH (1/8)
The NORTH continues to enjoy excellent luck thanks to the No 8 Prosperity Star flying in this month. This promises wonderful prosperity and money luck, especially for those staying in the NORTH and those of you who are living in NORTH-facing homes. The 1/8 Stars also enhance business and growth luck and bring good chances for upward movements in your career.
To enhance, you can display a Great Magic Tortoise in your NORTH sector. A water feature here would also be excellent (but not in a bedroom).
If your bedroom is located in the NORTH, carry a Sacred Resource Cow Amulet instead to increase your wealth potential.
Unfortunately, the elements of the two stars clash, which could lead to arguments and misunderstandings between family members and colleagues. If you are concerned, place a Magical Cosmic Apple in your NORTH to calm the conflict chi.
NORTHWEST (6/4)
The NW is another very auspicious sector, with the monthly No 4 Star bringing study luck, increased creativity, and love and romance luck. Together with the No 6 Heaven Star, there may also be unexpected windfalls, particularly for the men! The stars form the magical "Sum of Ten", promising powerful completion luck.
To enhance this fabulous energy, you can display the Trio of Wealth Gods here and carry a Sum of Ten Amulet.
However, water features should be removed from the NW this month, as this could have an adverse effect on married women. If it is not possible to remove the water feature, then you ought to display a Marriage Lock or a Happy Marriage Comb to protect your marriage.
Students can boost their study luck with a Dragon Carp with 3-legged Toad placed in the NW and by carrying a Dragon Carp Amulet (or place this on their study desk).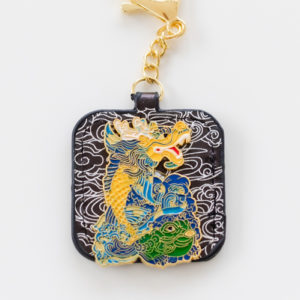 Source: World of Feng Shui
29 September 2022