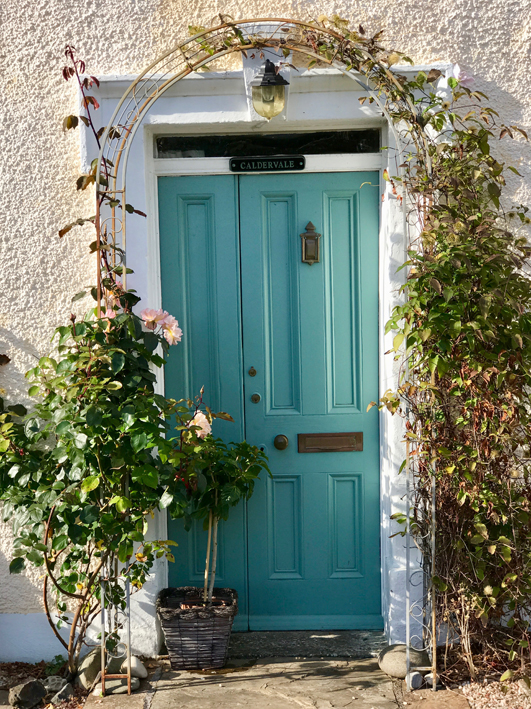 First impressions always count, and this also includes good Feng Shui for your main door. Your main entrance door is one of the most important places of your home because this is the "mouth" of your home, where the energy enters. And the state of your entrance door is a pretty good resemblance of the kind of energy that enters your home. No opportunity is going to come knocking if your entrance is uncared for or maybe even in dire disrepair!
I wish I could live in a house with a beautiful and charming entrance door like this one. But alas, I live in tropical Singapore, where shoes tend to pile up outside the door and I know many of you share the same destiny …
The reason why I am writing this blog today is because I am really inspired by Get Organised & Beyond's 30-day Decluttering Burst. Although I am not following Nathalie's suggestions every day, they certainly have a tremendous positive effect on me. So last week I finally cleared up our shoe situation.
We have two entrances to our house. The traditional main door, which was mainly used by my oldest son and occasionally by myself (for Feng Shui reasons), and the sliding patio doors at the front of the house, which everyone uses on a daily basis, including visitors.
The shoes next to the traditional entrance door were actually not THAT bad, but we were running out of space and I decided it would be nice to have a closed shoe cabinet. This has the advantage that it can hold more shoes and keeps the dust out. As this is the EAST area of our house and belongs to the wood element I added the green basket here, which is just perfect for my sons' football shoes while strengthening the wood element of the sector. This is important because the EAST is connected to the health of the residents. In addition, I cleaned up one of the old wooden shoe racks and this is now for my husband's exclusive use.
| | |
| --- | --- |
| | |
The red bench next to the sliding patio door is the place where my sons put on their shoes in the morning as they leave the house. But somehow, when they come back home, their shoes never make it back into the containers I have provided for them! I also realized that my boys now have more shoes as they get older, and they actually don't all fit into the containers any more.
I think (!) I solved this problem by allowing my youngest son to share the new white shoe cabinet with me. This means he needs to place his shoes in the new cabinet when he comes home and then walk around to the sliding door to enter the house – a long way for a casual 15-year old! But he loves his shoes and he enjoys the privilege of being allowed to use the new shoe cabinet so I'm hoping this strategy will also work in the long run. I then bought a new small shoe rack which is ideal to hold my other son's shoes underneath the bench.
Needless to say, it makes both areas look so much neater! I am very pleased with the result. Keeping your entrance area neat, tidy and welcoming really is the most important thing to do if you wish to create and invite good energy into your home!