I dare say that looking after your health and the health of your family is one of the most important things in life. In fact, maintaining the family's good health (or improving health) is one of the two main reasons why my clients contact me and ask me to assess the Feng Shui of their home. After all, what good is having money, wealth and success if you can't enjoy any of it because you don't have good health?
So, to look after the Health Chi of your home, you need to locate the EAST sector of your apartment (or house). According to the "Eight Aspirations" Formula of Feng Shui, the aspiration "Health" is connected to the EAST and to the wood element. Hence, you need to find the EAST of your home and ensure you have some wood element there. Wood element is best represented by wooden furniture or decorative objects made of wood. You can also use the colour green, any shade of green you love.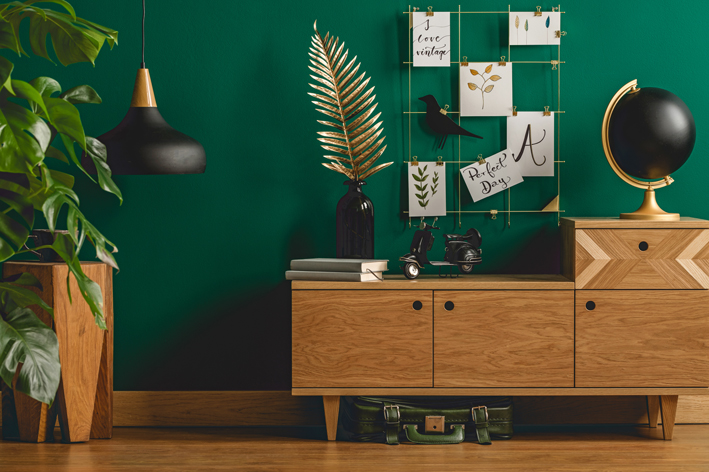 Painting the EAST wall of your EAST room can therefore not only make a fabulous feature wall, it will also have a healing effect – literally!
If it is too much for you though to go all green or you live in a rented home where you cannot paint the walls to your liking, you can also use artwork instead. A painting/picture of nature, a forest or a landscape, a botanical motive, or even a soft abstract painting in hues of green can work wonders too. The "Peranakans & Peonies at the Joo Chiat Shophouse" by British artist Clare Haxby is one such example – although multi-coloured, the painting contains many botanical features in the foreground, which makes it very suitable for your EAST sector.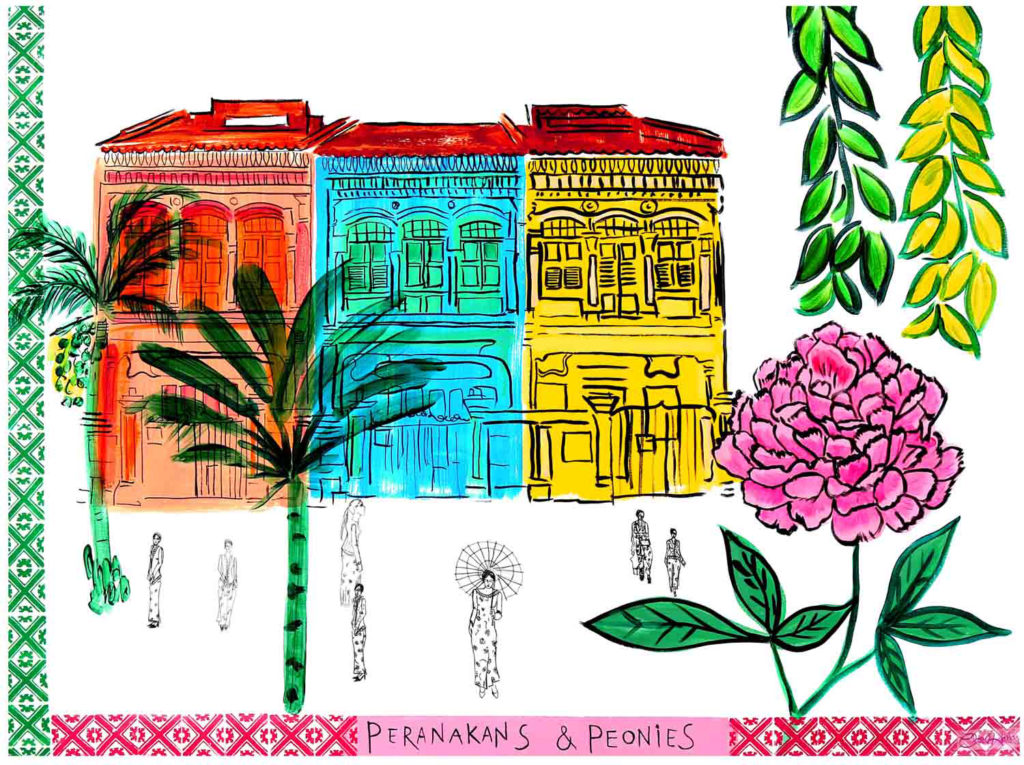 While this is the basic Feng Shui rule and recommendation to ensure good health for your family, it is also important to look at the energies of the current year. This year, 2020, the EAST is plagued by the negative energy brought by the so-called "Misfortune Star" and if not cured correctly, this can play havoc with the Health Chi of your home, as well as bringing all kinds of misfortune! It is therefore important to keep the EAST as quiet as possible and avoid any renovations here this year. Make sure your EAST is in good order, look out for wall cracks, damaged flooring or water leaks, as such issues will aggravate the bad luck brought by the "Misfortune Star".
To counter the "Misfortune Star" you ought to remove any crystals from your EAST and do not use any bright lights this year. In addition, placing a Feng Shui cure such as the Five Element Pagoda with Om Ah Hum is highly recommended. Alternatively, you can add some metal element to weaken the "Misfortune Star", however, too much metal will weaken your health luck too as metal destroys wood in the cycle of elements. As always – balance is key!
While I cannot promise you protection from the dreadful Covid19 virus, having your EAST in sync with the right elements and the energies of the current year will certainly help to strengthen your resilience and keep you and your family healthy.
Feel free to reach out if you have any questions or would like my help!