Laughing Buddha
Showing all 2 results
"Ngan Chee" Happy Buddha in Royal Purple
The Happy Laughing Buddha is the Buddha of Wealth and the Buddha of Happiness. He is one of the most loved Buddhas and his large, happy persona graces Chinese homes, offices and restaurants all over the world. The Happy Laughing Buddha is said to bring prosperity luck and is always depicted carrying a big bag. Those who regard him as the Buddha of Wealth believe that his bag is full of money and treasures. Those who think of him as the Buddha of Happiness believe he collects all the people's unhappiness, worries and problems and stuffs them into his big bag. Featured here in silver and wearing a purple robe, the words "ngan chee" – meaning "silver and purple" – when spoken together also sound like the Chinese word for "money". You can place this Happy Laughing Buddha in your living room or on your desk, anywhere really where you can see him daily (but not in a bedroom). Rub his big belly daily to enjoy his blessings! Best Feng Shui placement is in the living room, dining room, family room or on the (work) desk. [spacer height="20px"]
$

58.00
Read more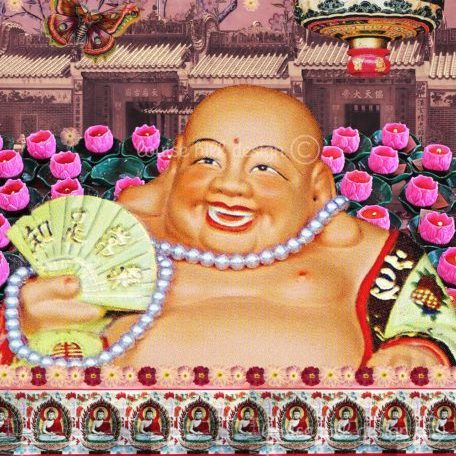 Happy Laughing Buddha
The Laughing Buddha is a well-loved Feng Shui symbol and will be a wonderful addition to any home. He removes all your worries and his smile is so infectious, you won't be able to help yourself and smile back at him!
The "Happy Laughing Buddha" also helps to suppress conflict energy and brings peace and happiness to you and your home. He can help anyone who is entangled in angry situations with colleagues, superiors, family members, or who is a victim of court cases.
[spacer height="20px"]
From S$440.00
Please note that the "BUY PRODUCT" button will take you straight to Louise Hill's website where you can purchase the artwork.
BUY PRODUCT