Wu Lou
Showing all 4 results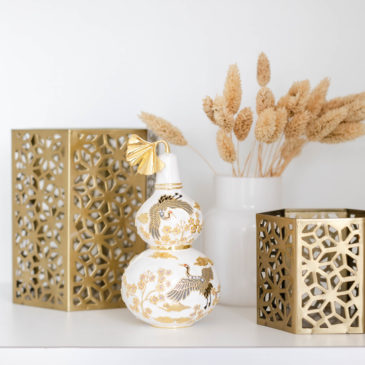 Wu Lou with Joyous Cranes
The Wu Lou has been around for centuries. Also known as the "Gourd of Immortality" it is often carried by the Sau, the God of Longevity, as an elixir to good health and longevity. It is not only Chinese wisdom that maintains that there is no wealth without health, and when your physical condition and mental state are strong, you can achieve anything and enjoy everything life has to offer. The Wu Lou with Joyous Cranes is available in the 5 element colours – blue, green, red, yellow and white. You can choose your favourite colour or you can use the whole set, which will help to balance out the elements of the year and allow you to enjoy EVERY KIND of good fortune luck. [spacer height="20px"]
In 2022 highly recommended for the following:
Every home should have one really, because we all need to protect our mothers. Place in the SW.
Those born in the Years of the Sheep or Monkey are recommended to display this on their bedside table.
Homes facing SW would benefit from a whole set of 5 placed in the facing direction.
[spacer height="20px"] Measurements:         approx.. H 14.5cm x W 7.5cm [spacer height="20px"]
$

88.00
Select options
Stay Healthy Amulet
This is the new health amulet for 2022, featuring a pair of cranes and Gingko leaf, a powerful symbol of good health and a long life. The design also includes the Anti-Illness Amulet to further strengthen your health and longevity and keep you safe from harm. Shaped in the form of the Wu Lou, or Gourd of Immortality, this amulet brings together all that protects against illness and mortality, including contagious diseases. In 2022, the matriarchs and those born in the Years of the Sheep and Monkey are directly afflicted by the annual Illness Star. [spacer height="20px"]
$

28.00
Read more
Black Obsidian Wu Lou
The Wu Lou has long been used in Feng Shui as a cure against illness and is very popular in the form of a metal Wu Lou. In addition, this gourd shaped symbol has been regarded a symbol of longevity, good health and prosperity for many centuries. Made of Black Obsidian stone, however, the Wu Lou will also protect against negative energy brought by poison arrows or inauspicious directions. Black Obsidian is a very powerful and protective stone and is believed to dissipate bad luck, repel negativity and absorb negative chi in your surroundings. It is therefore an excellent cure to place on your bedside table if you are sleeping in one of your unfavourable directions. The Black Obsidian Wu Lou is also believed to help fight stress and depression and boost self-confidence – more reasons to keep it close on your bedside table or desk. Please note that the colour intensity and exact size of the Black Obsidian Wu Lou may vary as each piece is unique. [spacer height="20px"]
$

28.00 –

$

48.00
Select options