It's the F1 weekend again and the whole city state is buzzing. This high-energy event brings thousands of people out onto the streets and into the Marina Bay area and adrenaline levels are running high.
HOW can you boost your personal chi by going to the race? Well, with so much vibrant energy around you, the revving engines at the race, the spectacular concerts and the exhilarating parties, there sure is an overdose of vibrant yang chi to rub off on you! Go and enjoy the buzz, soak up the atmosphere and recharge your own personal energy level. It's as easy as that!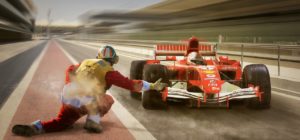 Now, if you are not that keen on Formula One racing, maybe the concerts will appeal to you? I love the fact that the Singapore F1 is not just an ordinary race – it's a massive, 3-day long party! British duo The Lighthouse Family and American funk rock legends Red Hot Chili Peppers are among the headliners. Expat Living as picked out some highlights in their article "Who to look out for at the Singapore F1".
The party people among you will totally understand what I'm talking about. You will know about the energy boost you feel as you anticipate the event. You will know about the thrilling feeling being there, being part of it. And you will know about the sparkle in your eyes when you tell your friends or reminisce with those who were there with you. A highlight in your life that keeps you going until you need (and then plan) another one. I have been at the Singapore F1 three times and loved it. I can also see this sparkle in two of my boys who went to a huge music festival in Europe this year for the first time.
Seeing the race track lit up in bright lights adds to the spectacular city setting, and nothing beats the views of the twinkling lights of the Singapore skyline in the background.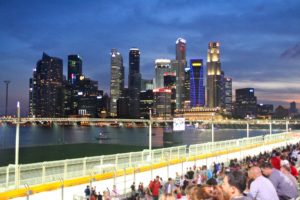 Fun Fact: The Marina Bay Street Circuit is 5.063 km long and the race takes place over 61 laps.