6th May 2023 – 5th June 2023
It's time for great caution again as the Misfortune Star flies into the CENTRE this month of May. This is a warning that there will be obstacles ahead. Please check that you have strong cures in the CENTRE of your home and be careful. Better safe than sorry is the mantra for this month.
More danger lurks in the EAST and the WEST, so if your house faces one of these two directions then you need to be very careful too.
The auspicious stars fly into the NE, NORTH and NW this month, greatly improving the energy there. Houses facing NORTH are therefore particularly lucky at the moment.
The SOUTH is home to two prosperity stars, making it a great place to tap into good energies, while those staying in the SE can enjoy increased romance luck.
The Flying Stars chart below shows nine fields, each containing two numbers. The big number on the left of each field represents the annual star (red = afflictive, black = auspicious) and the smaller number on the right represents the current monthly star. These smaller numbers change every month and therefore create new energy patterns in your home and office.
To apply these monthly stars successfully, you need to map out the compass sectors in your home or office. If you are not yet familiar with the compass orientations of your home, I recommend you take two compass readings as follows:
one compass reading from your main door, looking out, and
another reading from the center of your living room, looking towards your balcony or picture window.
These two readings should enable you to determine the compass directions and locations of your home, so you can ascertain which stars fly into which area.
Please take particular note of the location of your main entrance and your master bedroom, as the stars in those sectors will affect you the most. For those of you who work from home, the location of your home office/work station at home is obviously also important.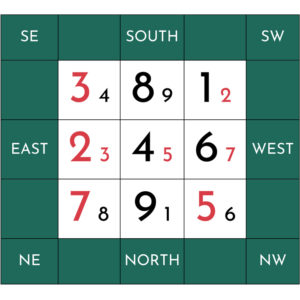 SOUTHEAST (3/4)
Thankfully, the luck in the SE improves this month thanks to the No 4 Star, which will boost love & romance, study luck and networking luck for those staying here. This will make it a good place for students to study, especially if they have end of year exams coming up.
You can activate study luck by displaying the Brush with View of 3 Mountains in your SE and keeping a Wisdom Pagoda with Scholastic Talisman amulet nearby on your study desk. Students and young people starting out in their career can also display the 3 Lions on Drums in their SE to help boost their luck and find support in their endeavours.
If you wish to activate for love & romance, you can display a Romance Comb in your SE instead.
Those looking to build a strong network and foster alliances at work and in business can place the Flowers & Apples "As You Wish" Ru Yi in the SE of their office. The No 4 Star will also improve career prospects.
SOUTH (8/9)
The SOUTH enjoys fabulous wealth and success luck this month. This is the place where you want to spend a lot of time and activate the sector by your presence and movement. Switch the lights on and play music here!
To activate further, you can display the "Ngan Chee" Happy Buddha or Choy San, the God of Wealth in this sector.
If you run your own business, placing a Sky Porcupine in the SOUTH of your office will help to boost profits, windfalls and commercial success.
Those with bedrooms in the SOUTH and those born in the Year of the Horse can look forward to increased fame and recognition luck and new opportunities to make money. This can be activated with the 9 Rank Badge or a Rising Phoenix as well as carrying a 2023 Annual Amulet with 5 Stars or a wealth amulet.
May is also a good month to take your relationship to the next level!
SOUTHWEST (1/2)
The matriarchs and people born in the Years of the Sheep or Monkey are afflicted by the No 2 Illness Star this month. This will also affect those with bedrooms in the SW and residents of SW-facing houses. You are likely to feel tired and exhausted and lack the usual effusiveness the annual No 1 Star lends you. Please also be aware that the No 2 Star is very strong this month.
For protection, it is advised to place a Wu Lou here (this can be a Healing Herbs & Longevity Wu Lou or just a plain metal Wu Lou) and carry a Healing Herbs & Longevity amulet. Elderly people or those who already suffer from health issues should avoid sleeping in a SW bedroom this month.
EAST (2/3)
You need to be careful in the EAST, as the quarrelsome No 3 Star flies in this month, bringing quarrels and disagreements. You could be an easy victim of misunderstandings that have the tendency to spiral out of control and even leading to breakdown of relationships or legal battles. You also need to be patient with family members whose bedroom is in the EAST, as they are likely to be more aggressive and short-tempered.
You can counter these hostile energies with fire element, e.g. the Fire Dragon Holding A Fireball, or red accessories, such as a red rug or a red picture.
Those staying in the EAST and those of you who are born in the Year of the Rabbit also ought to carry a Red Prosperity Elephant amulet or a Magical Cosmic Apple amulet to help you stay calm.
If your main door is located in the EAST, chances are that your whole family will be more quarrelsome. Using a red door mat would be a good idea. You can also display the Trinity of Apples in the EAST to further suppress the affliction this month or carry the Trinity of Apples amulet.
CENTRE (4/5)
As mentioned earlier, the No 5 Misfortune Star flies into the CENTRE and spreads negative energy, which will affect everybody in your household. We are all likely to experience obstacles, which can come in the form of money loss, accidents, illness, nasty arguments or loss of an important relationship.
The best thing to do is to place the Emerald Pagoda in your CENTRE area and carry an Emerald Pagoda amulet for protection. You can also increase the wood element in your sector by adding plants or display fresh flowers. In addition, it is recommended to display a Wealth Lock Mini Plaque or a Wealth Lock amulet in this area to help safeguard your wealth.
Carrying a Friendship Vibrations Mirror will help protect you from conflict situations. Married couples should display a Happy Marriage Comb instead to keep the peace in their home.
WEST (6/7)
The WEST suffers under the influence of the No 7 Star this month, bringing danger of robbery and loss. Houses facing WEST are particularly vulnerable to break-ins and people living in WEST bedrooms are at increased danger of being scammed or robbed.
It is always important to protect your home from the No 7 Star. You can do this by placing an Anti-Burglary Plaque in your WEST or attaching Anti-Burglary stickers to your WEST-facing windows. People living in WEST-facing houses or who spend a lot of time in the WEST would also benefit from carrying a Royal Elephant & Cosmic Rhino amulet this month.
In addition, you can display the Wealth Lock Mini Plaque or a Wealth Lock amulet here to help protect you from losing money.
The metal element is far too strong at the moment, which could lead to increased conflicts. You can subdue the hostile energy with the Trinity of Apples or the "Ngan Chee" Happy Buddha.
NORTHEAST (7/8)
Luck in the NE improves thanks to the No 8 Prosperity Star, promising strong money luck, especially for those who live in NE-facing homes or bedrooms in the NE. This is a very good time for residents of the NE to generate new wealth, but EVERYBODY can activate this fabulous wealth luck!
To do so, you can display a Pak Choy ornament or a Big Money Bull in your NE and carry a Pak Choy or Big Money Bull amulet.
Remember the annual No 7 Star though and continue to carry your Royal Elephant & Cosmic Rhino amulet to make sure you are protected. Also remember to be careful who you trust, especially when you meet new people.
If you are in business, you can activate for money making opportunities by displaying the Celestial Dragon Ru Yi in this sector.
NORTH (9/1)
The NORTH is one of the most auspicious areas this month. The incoming No 1 Victory Star attracts success and new opportunities. Combined with the annual No 9 Star, we also see the powerful "Sum of Ten", bringing fabulous completion luck. Make an effort to spend more time in your NORTH! Those staying here can look forward to increased energy levels and will find it easy to achieve good results. This sounds excellent for students who are facing their end of year exams.
You can activate this wonderful energy by placing a Joyous Wind Horse or a Wind Horse Lumi Tile here and carrying a Joyous Wind Horse amulet. For good results or if you need help completing your projects, you can also carry a Sum of Ten amulet.
Anyone intending to climb the career ladder can harness the auspicious energy with a Dragon Tortoise Ru Yi. It is a great time to build stronger connections at the workplace.
NORTHWEST (5/6)
Although still suffering from the annual Misfortune Star, the monthly No 6 Heaven Star improves the energy in the NW considerably. If you live in a NW-facing house or in a NW bedroom, you will experience divine help, be presented with new opportunities and might even enjoy a financial windfall. The No 6 Star also favours people born in the Years of the Dog or Boar, patriarchs and people in senior positions. It is definitely worth activating the No 6 Star!
You can do so with a Heavenly Star Windchime or a Windfall Luck Activator placed in your NW. In addition, you can of course carry a Windfall Luck Activator keychain.
To benefit from the No 6 Star at work or in business, you can carry the Nobleman Star Talisman amulet.
Remember to carry the Emerald Pagoda amulet too to continue to protect you from the yearly Misfortune Star.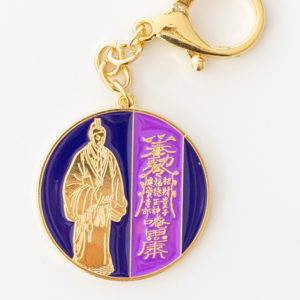 Source: World of Feng Shui
28 April 2023