7th November – 6th December 2022
In October it was anger and conflict that dominated the energy, this month it is going to be illness, as the No 2 Star joins the annual Misfortune Star in the CENTRE. This brings quite a challenging time, as the No 2 Star together with the No 5 Star is always bad news. We all need to be very careful, wear protective amulets in November when we go out and have strong cures in the CENTRE of our home. We are facing the dangers of illness, violence and accidents.
It will be best to keep the CENTRE area quiet and avoid using that part of the home this month. The same goes for the other sectors that suffer from negative influences – the EAST, NE, NORTH and NW.
Instead, spend more time in the auspicious sectors SE, SOUTH, SW and WEST. The mothers are having better luck than the fathers this month.
The Flying Stars chart below shows nine fields, each containing two numbers. The big number on the left of each field represents the annual star (red = afflictive, black = auspicious) and the smaller number on the right represents the current monthly star. These smaller numbers change every month and therefore create new energy patterns in your home and office.
To apply these monthly stars successfully, you need to map out the compass sectors in your home or office. If you are not yet familiar with the compass orientations of your home, I recommend you take two compass readings as follows:
• one compass reading from your main door, looking out, and
• another reading from the center of your living room, looking towards your balcony or picture window.
These two readings should enable you to determine the compass directions and locations of your home, so you can ascertain which stars fly into which area.
Please take particular note of the location of your main entrance and your master bedroom, as the stars in those sectors will affect you the most. Obviously, if you continue to work from home, the location of your home office/work station at home is also important.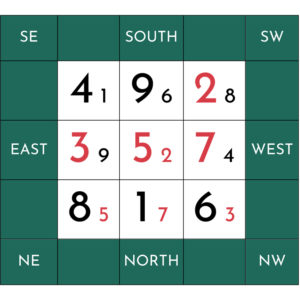 SOUTHEAST (4/1)
The SE will be an excellent place to study this month thanks to the auspicious 4/1 combination of stars. This will benefit students of all ages. The monthly No 1 Star also helps those in writing professions. If you wish to move up in your career, the energy here will also support you.
To activate for success luck, place a Dragon Carp with 3-Legged Toad in your SE. For study luck and good exams, add a Chinese Calligraphy Set and place a Dragon Carp amulet or a Manjushri Wisdom Pagoda on your desk while you study.
If your room is in the SE, you will also enjoy good romance luck. Are you looking for love? Then place a pair of Mandarin Ducks in your SE (or in the SE of your bedroom).
Remove or switch off any water features you might have in your SE for this month as this might lead to an extra marital affair.
SOUTH (9/6)
The No 6 Heaven Star flies into the SOUTH this month, promising wonderful windfalls and bringing helpful people into your life. This is magnified by the annual No 9 Star, so this is indeed very promising!
To activate wealth luck, you can display a Golden Earth Dragon Tassel or hang a Jade Emperor Windchime in your SOUTH.
Unfortunately, the elements of the two stars clash, which can lead to misunderstandings and arguments between the younger and older generations. Those staying in the SOUTH might also suffer from eye problems and bad tempers.
To calm the elements, you can place a Magical Cosmic Apple here or hang a Red Facetted Crystal Hanging in the SOUTH window.
If your bedroom is in the SOUTH, it would be a good idea to place a metal Wu Lou on your bedside table to protect you from illness.
SOUTHWEST (2/8)
The No 8 Wealth Star brings wealth and prosperity luck to the SW sector this month and those staying here. The matriarch and people born in the Years of the Sheep or Monkey will also benefit from this wonderful energy boost. In addition, the two stars form the powerful "Sum of Ten", which represents completion luck. This is the perfect time to bring projects to a successful close and put ideas into action.
To enhance the wealth luck here, display the Trio of Wealth Gods or a wealth tree here and carry a wealth amulet when you are out and about (eg. at work or in meetings). People living in SW-facing homes will also enjoy good investment luck this month.
To help with completion luck, display a "Sum of Ten" amulet in your SW or carry this when you are out.
Remember to keep the annual No 2 Illness Star under control with a Wu Lou with Joyous Cranes.
EAST (3/9)
The quarrelsome energy in the EAST is aggravated by the monthly No 9 Star, making it extremely strong. Those of you who are born in the Year of the Rabbit or are staying in the EAST are particularly in danger and may be caught up in quarrels and arguments that can lead to nasty legal problems.
As protection, you can carry a Talisman to Win a Court Case amulet. This amulet does not just help you win a court case, it also helps to keep you calm and protects you from other people's anger, just like the Magical Cosmic Apple amulet. In addition, display the Harmony Lock or a Happy Laughing Buddha here or hang a strong red picture in your EAST to further stabilize the energy.
If your main door is in the EAST, keep it brightly lit at night and place a red rug in your entrance area, eg. Lillian Too's Five Prosperity Bats Red Carpet.
CENTRE (5/2)
The CENTRE area remains very troubled this month, as the 5/2 stars here bring illness and misfortune to the whole family. You can expect trouble at work, financial disputes, loss and illness in the next few weeks.
To subdue this negativity, place a large metal Wu Lou in our CENTRE and carry a Heart Sutra Pagoda amulet or a 5 Element Pagoda Amulet with Tree of Life. Also make sure you have a Heart Sutra Pagoda or Five Element Pagoda in your CENTRE space. You can also display your metal home décor items here this month to subdue the strong earth energy of the 5 and 2 stars.
Keep this area as quiet as possible and do not use open fires or candles here this month.
WEST (7/4)
While the monthly No 4 Star brings study and romance luck, together with the annual No 7 Star though, the danger of being cheated or betrayed in increased. It is not a particularly good time for occupants of the WEST. They must take great care with their work, as errors could slip in easily and turn into expensive mistakes.
To cure this affliction, place a Kuan Kung Plaque in this area and/or carry the Anti-Cheating Amulet with Kuan Kung.
There is also a clash of elements, which leads to arguments and disagreements. The WEST is also particularly unfavourable for pregnant women this month.
Make sure you have a pair of Armoured Elephant and Rhino on display, or an Anti-Burglary Lumi Tile in smaller WEST spaces.
NORTHEAST (8/5)
The luck in the NE turns negative this month due to the No 5 Misfortune Star, which brings serious money problems and general bad luck. People born in the Years of the Ox and Tiger and those with bedrooms or (home) office here will be particularly affected.
To cure this affliction and protect against money loss, place a Heart Sutra Pagoda in your NE.
The afflicted group of people mentioned above should carry a protective amulet when they are out and about, eg. a Heart Sutra Pagoda amulet, a 5 Element Pagoda amulet or a 28 Hums Protection Lotus amulet. It is also recommended they avoid rough sports this month, as this could lead to broken bones or limb injuries. In addition, the illness chi could cause issues with the stomach, muscles and mouth.
The energy in the NE is unfavourable for young children, so it would be better they don't spend much time there.
NORTH (1/7)
The monthly No 7 Star brings burglary, betrayal, accidents and financial losses, particularly affecting those staying in the NORTH.
For protection against theft and robbery, place the Armoured Elephant and Rhino Plaque here, or for smaller NORTH spaces, the Anti-Burglary Lumi Tile will suffice. Carry an Armoured Rhino & Elephant keychain too.
If you are born in the Year of the Rat, or your bedroom or (home) office is in the NORTH, you might be facing serious competition at your work. Carry a Sky Horse amulet (or place it on your desk) to ensure you stay on top! In addition, the 28 Hums Protection Lotus amulet is recommended for overall protection against spiritual or physical harm.
NORTHWEST (6/3)
There will be disagreements and arguments troubling those staying in the NW this month, which could lead to legal problems.
Subdue the negative energy of the No 3 Star with a Magical Cosmic Apple or a Red Crystal Hanging in this area. Red accessories will help too.
There is also danger of health issues for men, affecting the lungs. As a precaution, you can display a figure of the God of Longevity or a metal Wu Lou here.
Looking at the bright side, there is still windfall luck in the NW and occupants can enjoy good speculative luck. Just keep the NW quiet this month.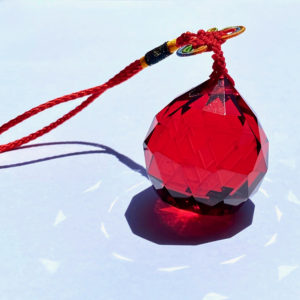 Source: World of Feng Shui
30 October 2022