There is an old Chinese proverb that says "If you want to change your life, move 27 things in your home". Well, at this time of the year it does not necessarily need to be exactly 27 things, but some things certainly will need to be moved if you want to adjust your Feng Shui for the Chinese New Year (and change your life).
This year, Chinese New Year falls on the 1st February 2022, when the Year of the Water Tiger begins. There will be a major energy shift and many of you will be feeling this already. I certainly am!
Some rooms of your home will need more changes than others. In this blog I will show you the changes I have made in my home office over the last few days so I will be ready for the Tiger year.
My office is located in the EAST sector of our house, which is troubled by the Quarrelsome No 3 Star this coming year. As always, there are some traditional Feng Shui cures you can use to subdue this unpleasant energy. Alternatively, you can also use fire element to counter the No 3 Star. Fire element means light or the fire colours red, orange, pink.
Because I spend a LOT of time in my office, I decided to use both. I have placed the beautiful new Wu Lou with Joyous Cranes in RED on the book case next to my desk and I have added some red accessories. The most eye-catching new feature is the gorgeous "Singapore Chinatown" print by Clare Haxby, which my husband had given me for our wedding anniversary back in September. At the time, there wasn't any suitable space in our house for a red picture, so I saved it for this year to hang in my office – and it makes me smile every morning when I enter. Isn't it stunning?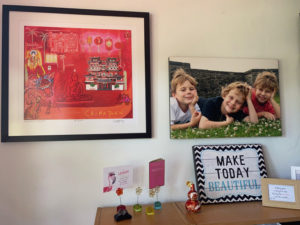 I also decided to store some of my shop products on the top shelf of the display unit, as they come in red boxes. Usually, I would have kept them in a cabinet, but this year I might as well have them out where I can access them easily, plus it is good use of the space.
Here are some "BEFORE" and "AFTER" photos so you can see the difference.

24 January 2022