As usual, we arrived early at Suntec City Convention Centre for the 2017 Feng Shui Extravaganza. Collection of the tickets was a breeze (no queue!) and filled with anticipation, my friends Karina, Josephine and I entered the hall. We were looking for the usual "GAP" seats when we were approached by a WOFS member asking "Lucy Richardson?" …. Yes! How did she know? "I will show you to your seats" … and there they were, three VIP seats in the second row with my name on it. WOW! What a surprise and what a fabulous start of the day!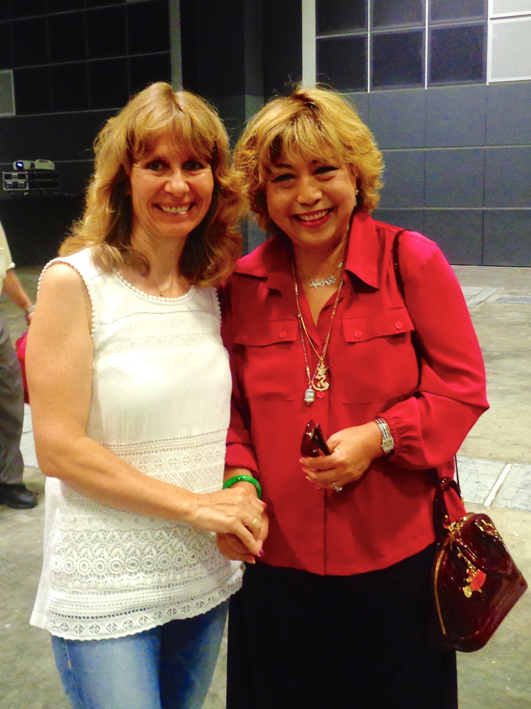 As Lillian Too walked in I had a chance to greet her and have a brief chat with her. She was radiant! My adrenaline was already high and getting this photo opportunity with Lillian so early in the day was the icing on the cake. So far, I have been lucky enough to have my photo taken with Lillian every year at the Extravaganza and this really means a lot to me as each photo accompanies me throughout the whole year.
Lillian's predictions for the coming Year of the Fire Rooster are predominantely positive. We are at the end of a black year which was dominated by the Illness Star and are now moving into a white year, which is obviously a vast improvement. The No 1 Victory Star is flying into the Centre, bringing opportunities for everyone to make changes in their lives. There are still some challenges lying ahead but we will be able to overcome them. It will be easier to make money than last year.
We also have a Lap Chun this year which is good news. This means you can start new projects and the energies favour growth and improvement. Young people, especially your oldest son, will do very well. Lillian Too recommends that all animal signs carry the new Annual Spring Amulet to activate the Lap Chun and with it the powerful energies of spring and growth, bringing you prosperity luck for the new year.
The Paht Chee Chart for 2017:
All five elements are present in this year's chart so it will be a stable and lucky year. However, three pillars have clashing elements and only one pillar is harmonious.  This means there is still a lot of antagonism in the air but we will get through it.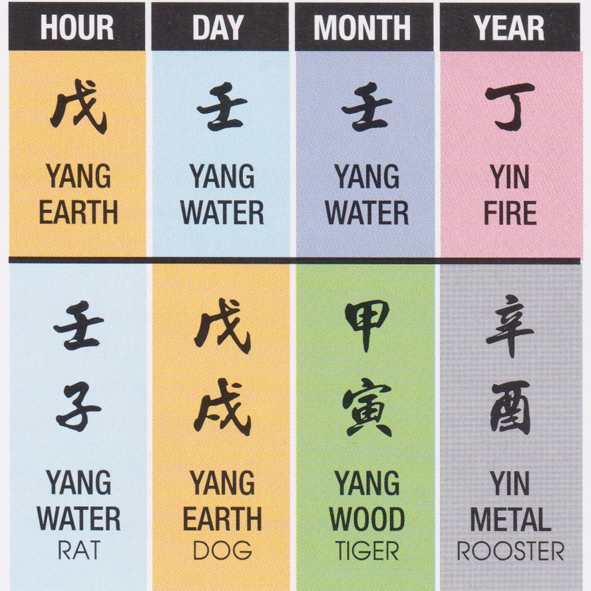 In the Year Pillar we see Yin Fire destroyng Yin Metal, indicating explosions and fire disasters as well as continued international conflicts and terrorist attacks. This is conflict energy and the USA needs to make friends with China. But remember that fire also allows you to shape metal. Therefore, giving time to allow the newly shaped metal to harden (figuratively speaking), ie using patience and diplomacy will help overcome the hostile situation and over time the year will get better. Placing crystals in your home will balance out the energies in your immediate surroundings.
Lillian commented that business luck was not so good last year, especially in Singapore, but the Year of the Rooster will be better.
The spring months are a good time to grow asset wealth. Lillian recommends placing peacocks to activate the Lap Chun.
The Month Pillar is productive with Water feeding Wood, bringing calmness and growth in the middle of the year. Share prices will go up in the summer months, this is a good time to make money and buy shares.
The clashing water and earth elements in the Day Pillar reveal problems in personal relationships. This pillar represents the autumn months, when you should retreat from the stock market. A standing figure of Guru Rinpoche on your desk will protect you from obstacles as well as investment loss. The second half of the year also sees the danger of tsunamis and earthquakes in the Pacific region. The love affair between the USA and China might come to an end.
Lastly, the clashing elements in the Hour Pillar indicate bad luck for children. During the winter months (November, December, January) it will be wise to complete as much as you can before the year end.
Overall, in 2017 the elements in the Paht Chee chart represent the following:
| | | |
| --- | --- | --- |
| Element | Areas of Life | How to Enhance |
| 1 Wood | Intelligence, Creativity | Add more wood element in your East. |
| 3 Earth | Recognition, Power, Rank | This is especially good for those in politics. Use crystals to enhance. |
| 3 Fire | Wealth, Financial Success | Plenty of opportunitites for wealth creation, use peacocks to activate. |
| 3 Water | Friends, Foe, Colleagues, Competition | Very strong competitive energy, even your friends might compete with you. But the presence of the Dog and the Tiger (zodiac allies) indicate that there is an alliance of strong powers which means enemies can become friends. |
| 2 Metal | Resource, Support, Authority | There is no shortage of resources in 2017. Hang a Dragon windchime to activate. |
There are also a number of fabulous stars in this year's Paht Chee chart which we don't see every year!
The Star of Scholastic Brilliance will bring eagerness in pursuit of knowledge.
2017 is a great year to get married thanks to the Peach Blossom Star.
The Star of Powerful Mentors brings help from an influential person in your career path.
The Star of Money Bags brings growth and recovery from an economically tough year, as well as opportunities to harness the year's wealth energies.
The Star of Good Fortune enhances happiness and protects against negative forces.
The Star of Celestial Protectors brings protection by heavenly energies!
The only unpleasant star is the Aggressive Sword Star which heightens the competitive mood and brings some negative influences.
In summary, the year needs the power of the dragon energy and each home should welcome a dragon to bring stability and add power, success and wealth to their year. There will be serious political rumblings internationally but no World War III.
The Flying Stars for 2017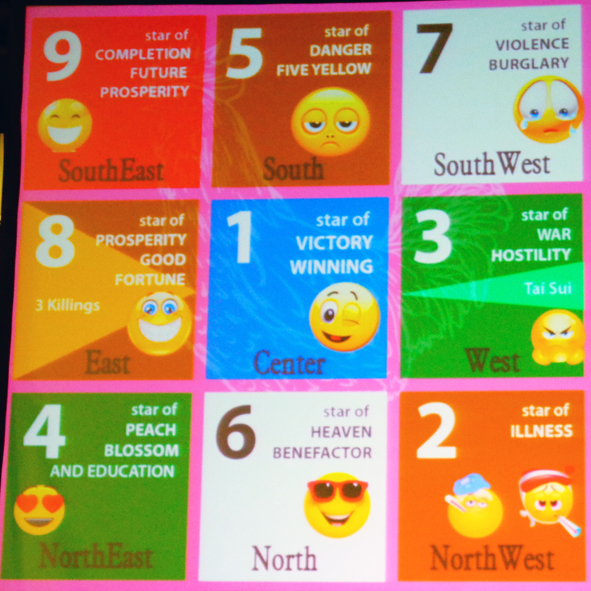 There are great winds of change as we move from a black year to a white year with the No 1 Victory Star in the Centre. This is obviously great news for everybody as it can bring tremendous good fortune! Activate the No 1 Star with the Trinity of Horses if you wish to achieve advancements in your career, success at work and/or improvements in your skills. It goes without saying that the Centre of your home must be free of clutter otherwise opportunities cannot come to you.
The No 8 Wealth Star flies into the East and in 2017 this is best energized with a golden dragon placed in the East, bringing you wealth, success and power. It is also important to reduce wood energy and remove plants from your East sector as those will exhaust the earth element of the No 8 Star. This may come as a surprise to you since the East sector under the Eight Aspirations formula belongs to the wood element and should therefore obviously benefit from wood element. But the Flying Stars take precedence and if you wish to activate for wealth luck in 2017, then it is better to reduce the wood energy in your East this year.
Those of you looking to further your career are in luck too as the Heaven Star No 6 flies into the North, bringing luck from heaven and better job opportunities if activated with a yang water feature.
Unfortunately, the patriarchs are in for another bad year with the Illness Star No 2 hitting the NW. Other areas that need strong cures are the South, which is afflicted by the Five Yellow, and the SW, home to this year's violent No 7 Burglary Star. Both these stars are very strong this year and not to be taken lightly. The No 7 Star in particular is a great danger to the matriarchs.
As always, protection is key and must be done before activating any of the auspicious areas.
Renovation Rules:
If you are plannign to carry out renovations in 2017 please avoid the following sectors:
WEST – Tai Sui
EAST – 3 Killings
SOUTH – 5 Yellow
The hours just flew by and after the tea break in the afternoon Lillian explained the luck of each zodiac animal sign.
Those in for a good year are: Rat, Ox, Dragon, Snake and Boar.
An average year for: Tiger, Sheep, Monkey and Dog.
A challenging year for: Rabbit, Horse and Rooster.
I will go into more detail on each zodiac animal in a separate post very soon. Please do look out for it!
There is always something at each Extravaganza that catches my eye, and this year it was this beautiful Rooster tray. You can place this anywhere in your home to usher in plenty of good fortune luck and since the Rooster is my secret friend I thought why not!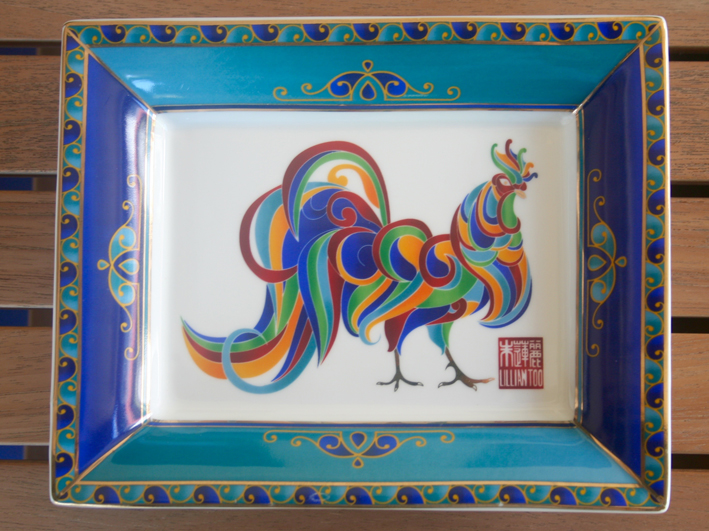 Lillian was in fantastic form, the audience loved her stories and anecdotes, and she certainly made good of her opening promise "I will give you lots of information today and I will also entertain you". Let me end this summary of the 2017 Extravaganza with my favourite Lillian Too quote of the day:
"There is magic in this world but you must know how to use it.
There is energy in this world but you must know how to transform it."
5 December 2016
 . 
 .