It is a date that has long been in my calendar: Sunday, 10 December 2017 – Lillian Too's Feng Shui Extravaganza 2018! 2017 has been a good year for me personally and also for Feng Shui Focus but still, I am ready for the New Year 2018 and I look forward to making some changes in my home.
As always, Lillian Too was stopped and greeted by many fans and friends on her way into the hall at Suntec. She enjoys connecting with people and this is something I really like about her.
Lillian's predictions for the year are interesting:
2018 is NOT a year that is good for making money as the energies are not in favour of wealth creation – so take a break and focus on improving your relationships instead! It is a year of double earth, which is a good year to stay grounded. It is NOT so good to buy property, make investments, or start new ventures that require a lot of capital.
This is the Paht Chee Chart for the Year of the Dog 2018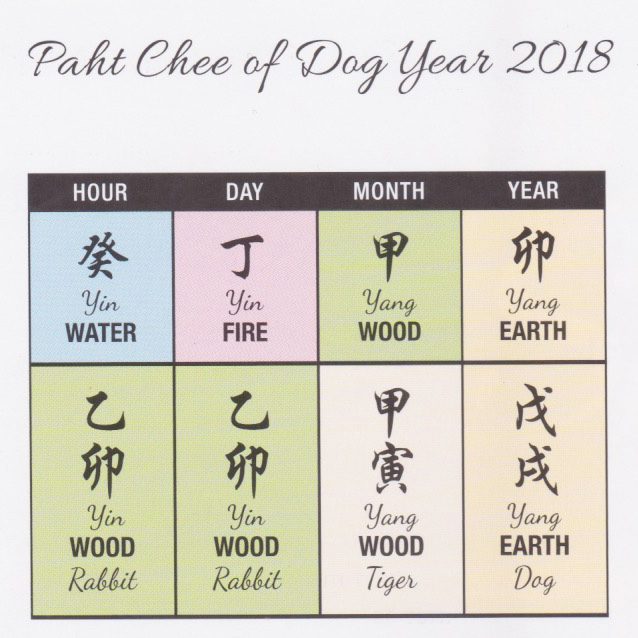 The main points to note are as follows:
The elements are unbalanced and metal is missing – wear lots of gold jewellery (real or not!) and white and metallic colours to bring the missing metal element into your life.
The excess wood element destabilizes the energy, causing natural disasters involving earth, such as landslides, earth quakes and volcanic eruptions, as well as health problems relating to the stomach and womb area.
Two earth elements in the Year Pillar make 2018 a "double earth" year indicating there will be plenty of opportunities to grow in new directions.
Double earth also brings greater harmony and less international conflict. There is no danger of a nuclear bomb exploding. (Relief!)
There are two Rabbits in the chart, who is the secret friend of the Dog – this is excellent as it brings unexpected good fortune luck.
There is no Lap Chun, which means it will be very hard to create wealth in the first half of the year.
The summer months are the right time to invest in the stock market.
The best months for making money are August and September 2018, particularly for the Snake and Dragon. This is the hidden wealth luck of the year, which can be activated with a Buddha of Wealth.
In the winter months you might like to place a mountain of gold in front of your house, which will act as a catalyst to trigger good fortune for the coming year.
Lillian Too then explained further how the Paht Chee chart of the year can be read in conjunction with your own personal Paht Chee chart. For example:
If you have a Horse in your own Paht Chee chart, you are completing the Trinity of allies: Dog – Tiger – Horse. This is a team that brings courage and confidence! If you don't have a Horse in your own chart, you can enhance the allies luck by displaying horses in your home, eg a Wind Horse.
If you are born in the Year of the Rabbit you will also enjoy the secret friend luck as the Rabbit in your annual pillar will pair up with the Dog of the 2018 annual pillar, bringing fortune that comes from your boss or older people.
If you have a Rabbit in your day pillar it means you and your spouse will enjoy good fortune.
Lillian explained other combinations too and I found out that both my husband and I have the Emperor Star in our birth chart. Isn't that interesting!
There are also a number of powerful stars in the year's chart:
The Commanding Star – which means that the people in power really have the command. New powerful leaders might emerge.
The Emperor Star – brings success. This is great for 2018 babies!
The Celestial Protector Star – brings protective energies. You can activate this to bring at least some wealth luck your way. It is unlikely to be big but it will grow slowly.
The External Flower of Romance Star – which brings external romances and subsequently lots of sex-related scandals in 2018.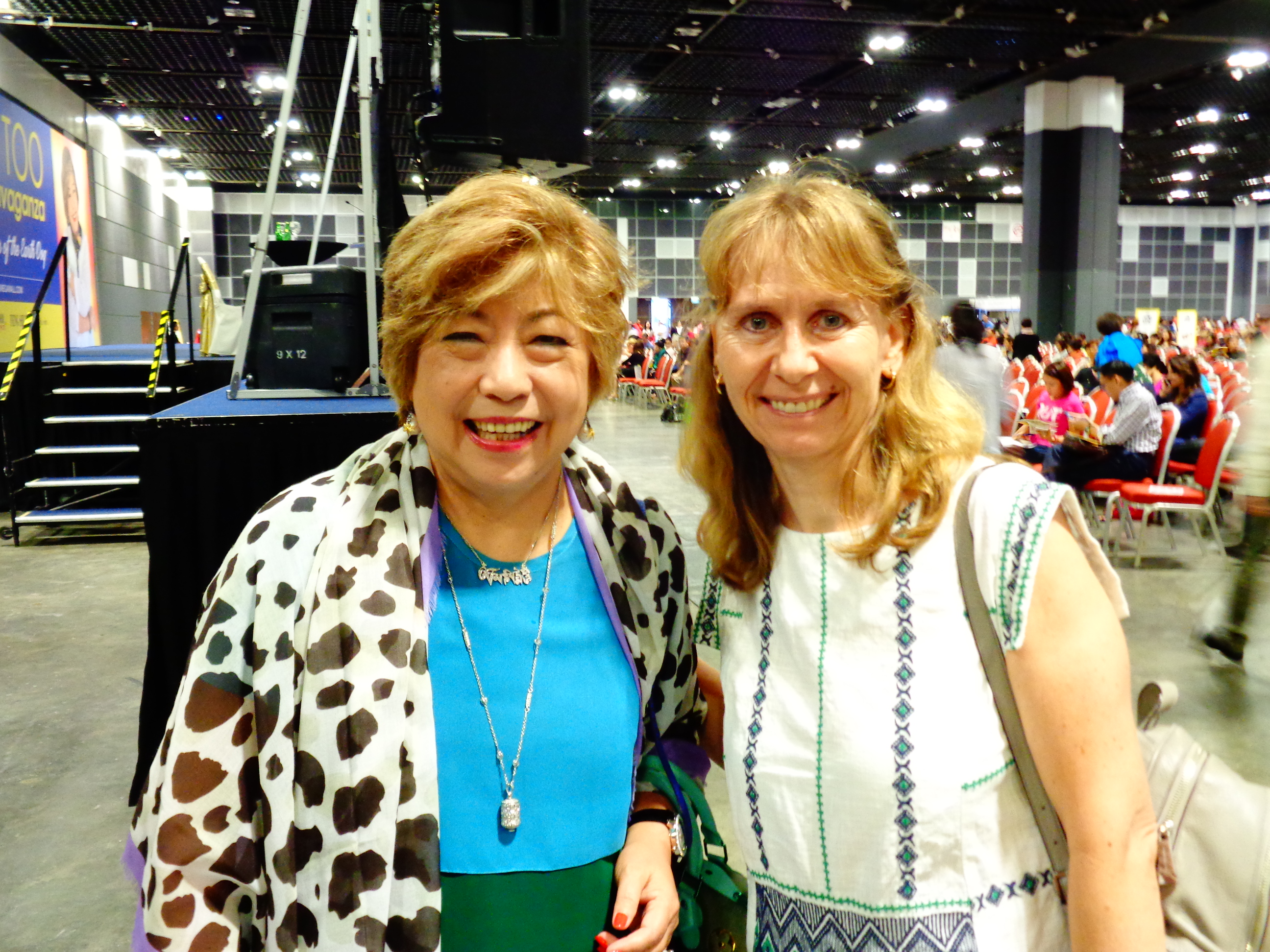 .
It was time for a break and I managed to catch Lillian for a brief chat and a photo – hooray! I always love having my photo taken with Lillian as it is a great source of inspiration and motivation for me. Did I ever tell you that Lillian is in fact my secret friend? Yes, Lillian Too is a Rooster and I am a Dragon – secret friends! 🙂
.
.
.
.
The Flying Stars for 2018
There are always big changes in energy when the New Year arrives. This year, a very notable difference is that we are moving from a year where the luck of both, the patriarch and the matriarch was seriously afflicted to a year of great opportunities for both of them. The patriarch benefits from the Victory Star No 1 in the NW, which can give a great boost to his career as it helps beat the competition and brings success. The matriarch enjoys the No 6 Heaven Star, bringing speculative luck and unexpected windfalls!
The No 9 Star in the Centre is wonderful as it brings happiness, recognition and future prosperity to the whole family. Is there anybody who would not wish to enhance this luck? Placing nine dogs in your Centre will create fabulous prosperity vibrations, but the 5 Element Victory Banner is equally powerful if you are not so much into dogs.
The Wealth Star flies into the SE this year which brings fantastic wealth and money luck to those who are born in the Years of the Dragon and Snake and whose house or main door is facing SE.
As always, protection is key and the afflicted sectors EAST, WEST, NE and NORTH need to be taken care of first before enhancing any of the auspicious sectors. The NORTH is hit the worst, suffering from the Five Yellow and the Three Killings. Be very wary because the No 5 Star not only brings misfortune of the worst possible kind, it also brings illness, which in 2018 can particularly affect the kidneys. Remove earth and fire energy from the NORTH and keep the area as quiet as possible.
These are just some highlights of the Feng Shui for the Year 2018. I will post a more detailed description in the New Year.
The Luck of the Zodiac Animals:
After lunch we heard all about the luck of the individual zodiac animals. It seems to be a good/average year for most of the animal signs. The Rat is the one who is the worst off, facing a challenging year full of obstacles and possible misfortune, lacking confidence and suffering from a weak life force.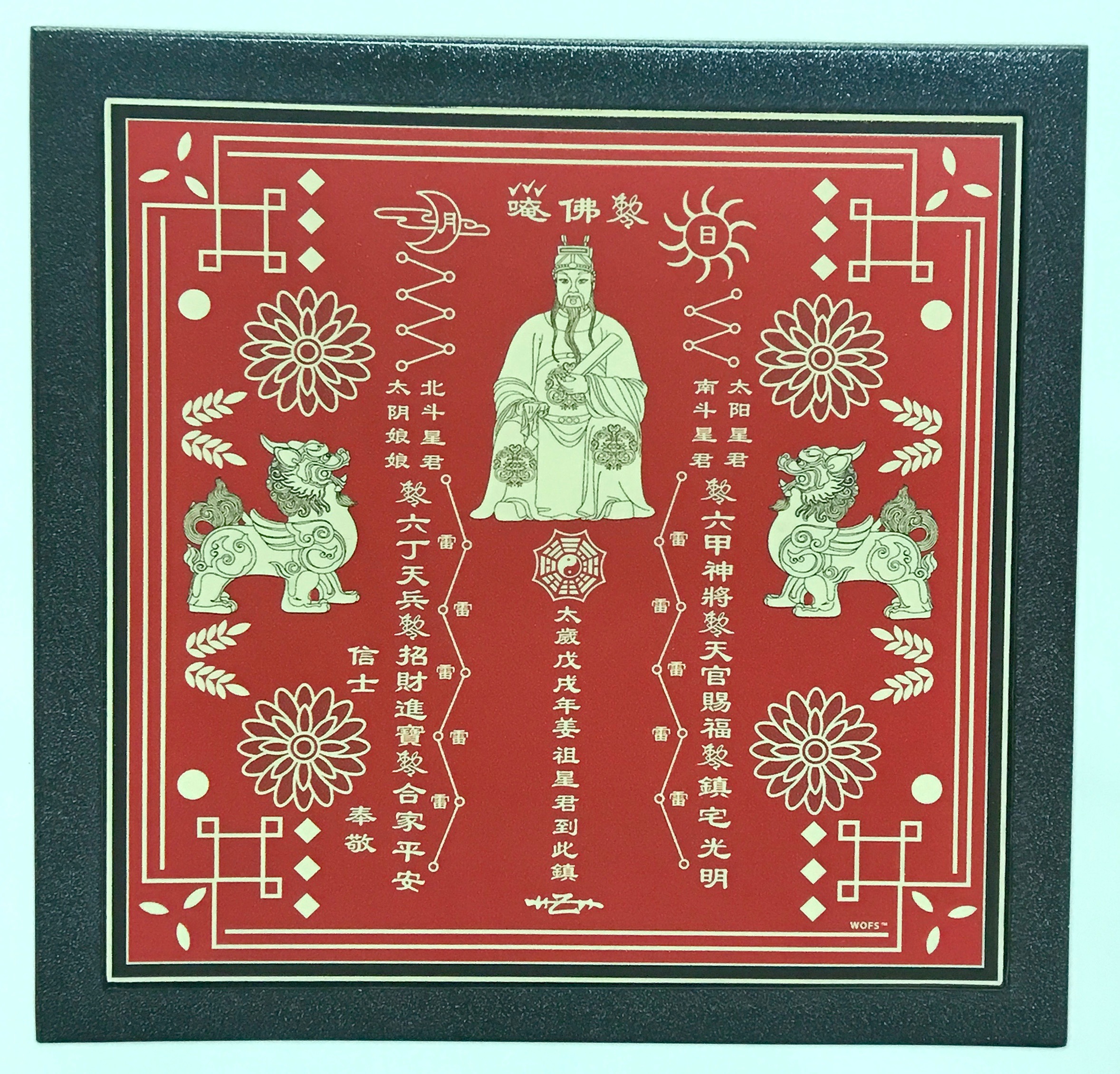 Those born in the Years of the Rooster and Snake can enjoy an excellent year ahead while the Sheep can look forward to a promising year with a high level of transformational and positive energy.
Please look out for another post covering all animal signs in more detail very soon.
If you have been with me for a few years then you will know that every year I come home from the Extravaganza with a new favourite Feng Shui piece. Well, this year I decided to invest in a new Tai Sui Plaque because this will be quite an affliction for us in the coming year. Appeasing the Tai Sui is always important but since NW is one of our major directions I felt that my cute pair of Pi Yaos needed a bit of help. I hope the God of the Year will be pleased!
But I also find the new amulets very pretty. The Jade Emperor is looking rather majestic (as you would expect) and my absolute favourite is the Annual Crest Amulet 2018, which brings the powerful energies of completion luck as well as success and career advancement. It is highly recommended for all animal signs, in particular those who are starting a new business, launching a new product, or moving into a new career. Available from my on-line shop very soon!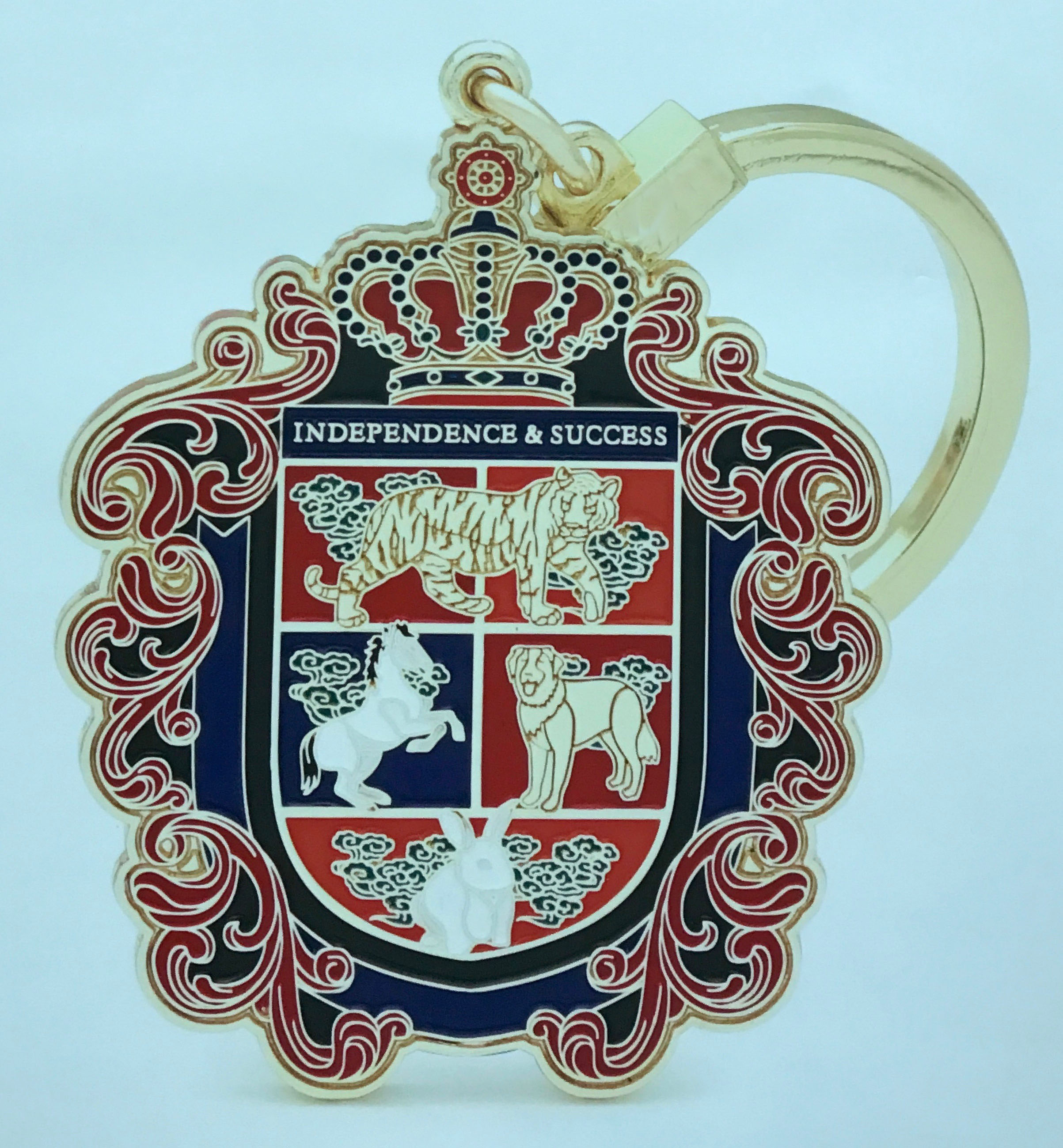 I really enjoyed the event (I always do!) and I'm still on a high from all the buzzing energy. Ready for 2018!
.
13 December 2017
;