Background
My second son has now finished school with his IB Diploma and as luck would have it, he was accepted at the same university in Scotland as his older brother. He too is staying in the student halls of residence for the first year and whilst his room is very similar to that of his brother, no halls of residence are identical as they all have different compass/facing directions and different layouts.
My second son was lucky to get a slightly larger room. It is not possible to move any of the furniture though, so we just have to make do with what he's got and create the best energy possible with the help of a bit of Feng Shui.
The room is almost rectangular, which is great, and has a spacious attached bathroom.
Analysis
Unfortunately, the compass directions in the room are not favourable for my son. The room is on an EAST – WEST axis, with the bed placed towards the EAST, which is my son's "Six Killings" direction. The desk is built in and faces SOUTH, which is "Bad Luck" for my son.
There is a wall-mounted blue pinboard, which is a nice idea (the students are not allowed to hang anything on the walls, hence the provision of the pinboard). However, this is located in the SOUTH sector, which belongs to the fire element, so blue is actually the worst colour to have in this area. Blue represents the water element and destroys the fire element of the SOUTH, and therefore my son's "Recognition" luck (according to the Eight Aspirations formula of Feng Shui). That is definitely not what you want.
Solutions
Applying the Eight Aspirations Formula of Feng Shui is always the best start. Even in a small room it is possible to add some colour elements in the right places to improve the overall harmony and energy flow and enhance the sectors of your choice. Below I have explained the main points we needed to address in my son's room.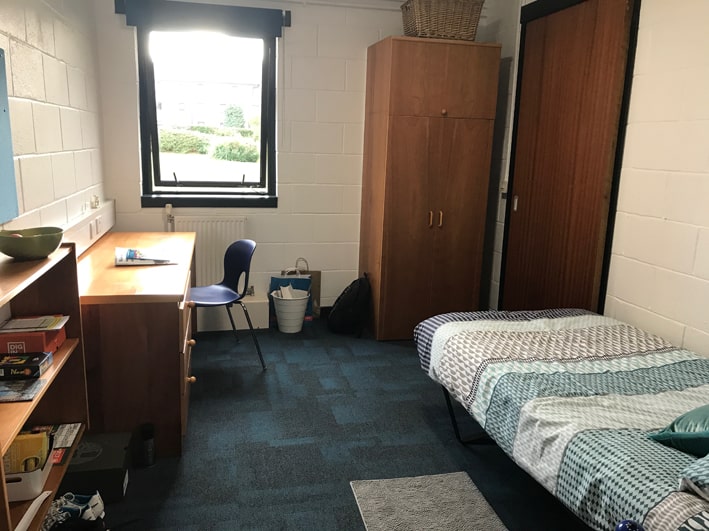 The most visible dash of colour is the bed linen, hence it is important to get this right. The biggest part of my son's bed is placed in the NORTH sector, which belongs to the water element. The "teal" colour bed linen my son chose turned out to be a bit more green than I had expected, but luckily the duvet cover is a mix of patterns and colours in teal, blue and grey, so overall it works well.
To counter the "Six Killings" sleeping direction you need to have wood element. The wooden headboard of the bed is therefore perfect. In addition, I was prepared for this eventuality and had brought a Black Obsidian Wu Lou, which we placed on my son's bedside table. This will neutralize the negative energy associated with sleeping in an unfavourable direction.
My son has made it a habit of sitting on his bed when studying/using his laptop. Whilst this used to bug me when he was still at home, he now pointed out to me that he is facing his good direction! Indeed, when sitting on his bed he is facing WEST (looking towards the wardrobe/window), the ONLY good direction he can easily face in this room (the other good directions being diagonal) – so I shall not complain any longer 😉 .
In the NE sector (the sector related to "Knowledge and Wisdom"), on the ledge above the bed, we placed an Education amulet to help his academic success.
On his key ring, my son carries an Anti-Robbery amulet, which his zodiac animal sign, the Snake, needs this year for protection, and a Monkey, his secret friend. Carrying your secret friend is always helpful to enhance your friendship luck and bring helpful people into your life.
A couple of weeks after moving in, my son reported that there had been a water leak from the room above, causing water to drip from the ceiling near the head of his bed. This was repaired promptly but thanks to this incident we found out that there was a bathroom above my son's bed! In Feng Shui, that is not a good indication. Luckily, the bedside lamp has a flexible arm and my son has now turned it up, so the light shines upwards, towards the ceiling above his bed. This will push the negative energy from the bathroom up and minimize any potential negative effect.
We are going to cover the blue pinboard with thick, red gift wrapping paper so we will have the right colour in the SOUTH sector of his room. It is an easy, creative solution to boost "Fame and Recognition" luck. This is a very important aspect when starting to build a new life in a new place!
My son's passion is football and he has been in various football teams here in Singapore, ranging from the school football team, a friendly Saturday football team, as well as a competitive club team. Many of his teams have won competitions and trophies. I have in the meantime sent him some photos of him and his winning football teams, with instructions to hang these on the pinboard. It is my son's ambition to be selected for the university's football team, so hanging the photos of his football successes in the "Fame and Recognition" area will hopefully send the necessary signals to the universe!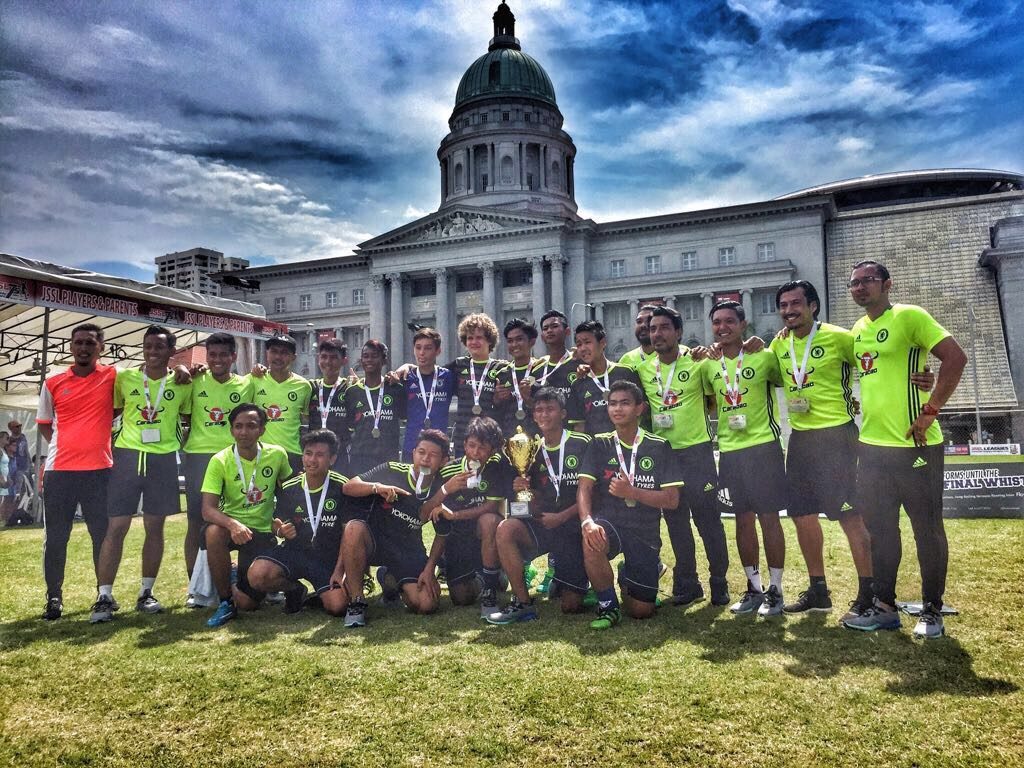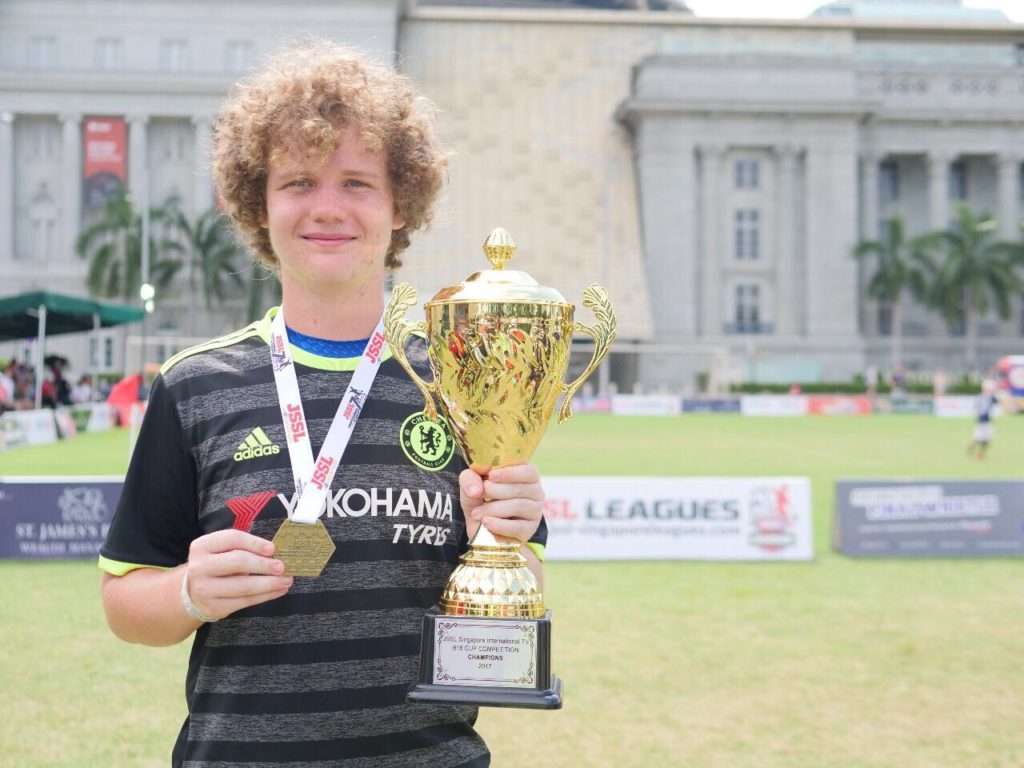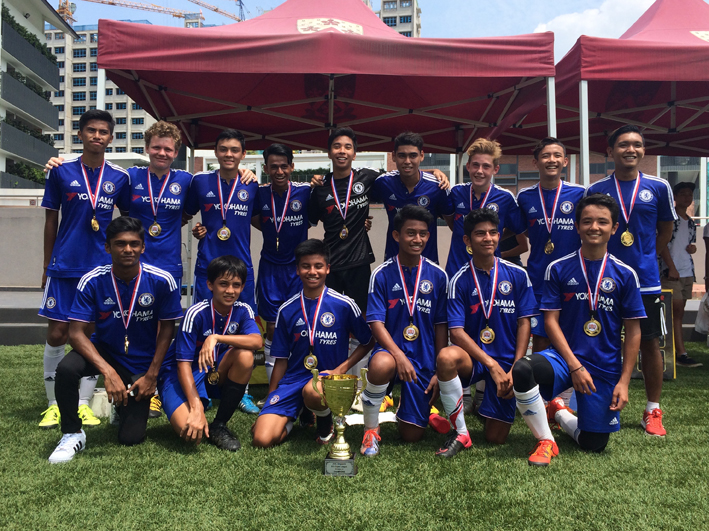 Outcome
My son seems happy and has settled in well. He is focusing on his studies and beginning to make new friends. So far so good!
If you are interested in Feng Shui Tips for education and development, please reach out to me here.
November 2019